An easy, from scratch, fudgy brownie is baked into a tart pan and topped with a classic coconut-pecan German frosting for a decadent dessert you won't be able to resist!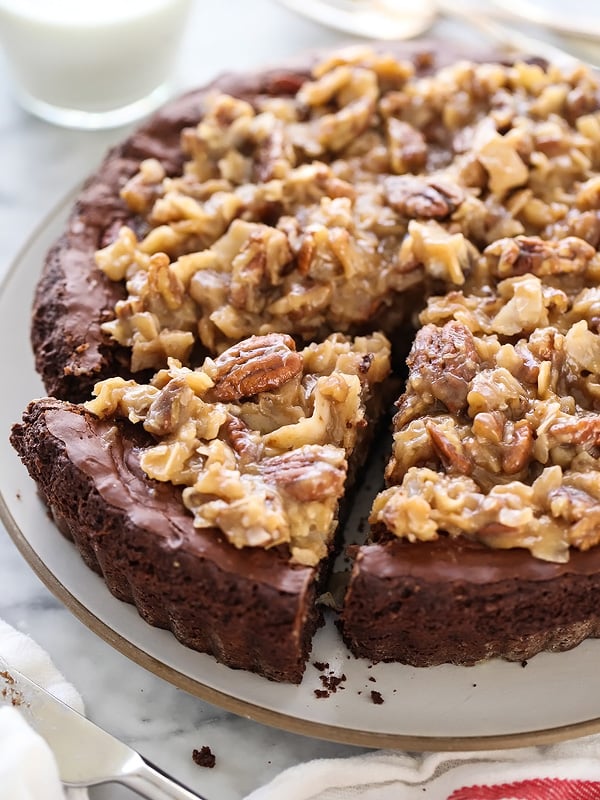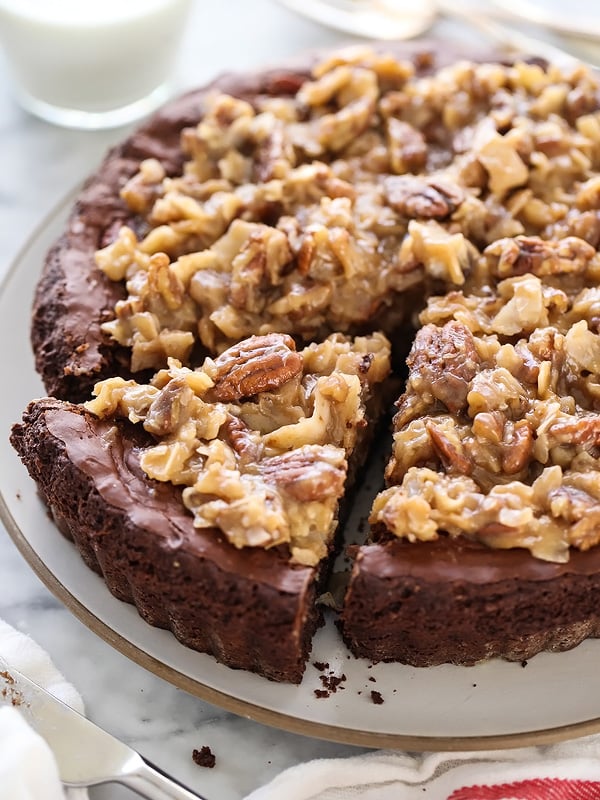 It was my birthday last week and that makes me an Aquarian. And like all water-bearing astrological believers, that means I have an affinity for chocolate.
I know! I didn't know that was an astrological trait either. But just look it up online. That fact is sure to be attributed as truth out there somewhere. Or at least…it is now.
I get it from my mom. We're both chocolate lovers. I can pass all day long on vanilla cupcakes and caramel dripping anything. But slip a piece of chocolate in front of me, and I melt.
So it makes complete sense that when the stars align, this Aquarian's all-time favorite birthday tradition is a toast of German chocolate flavored anything and everything. Cake. Jars. Heck, toss me a bite size ALMOND JOY bite-size bar and look at me go all weak in the knees like a lovelorn 13 year old who just set eyes on her crazy crush.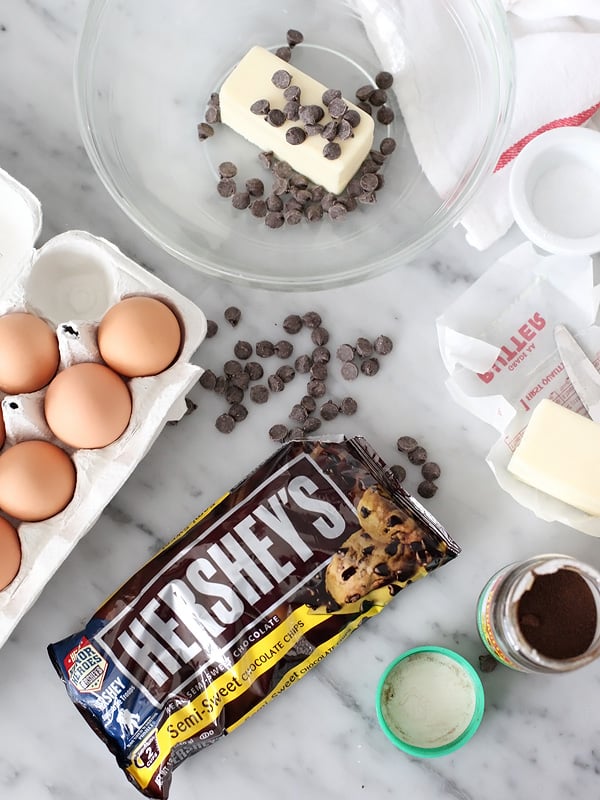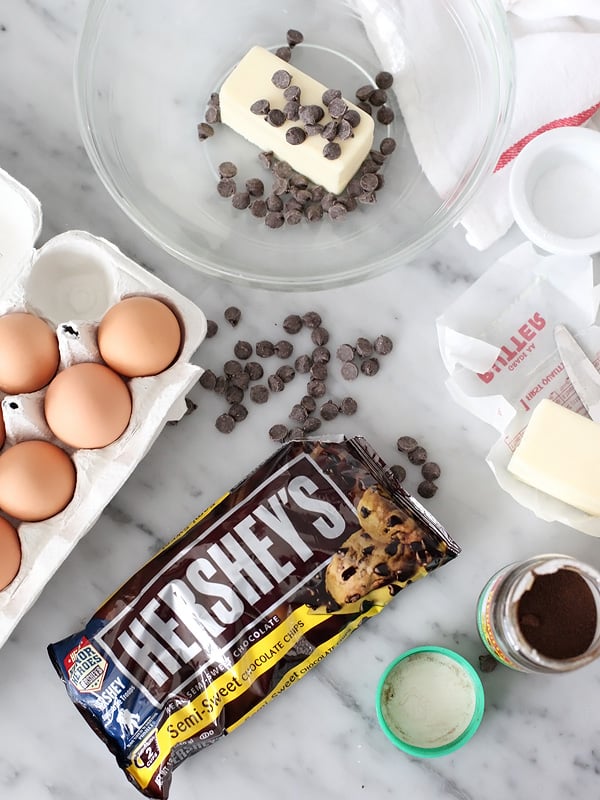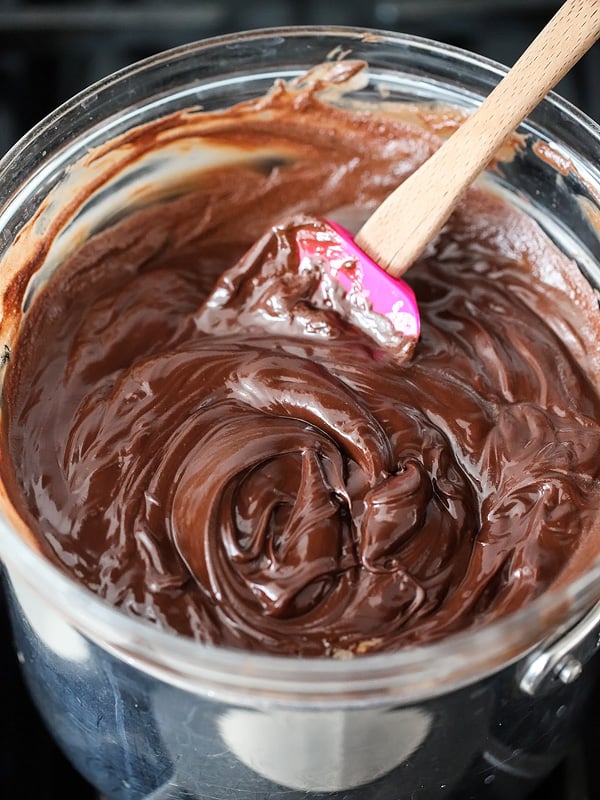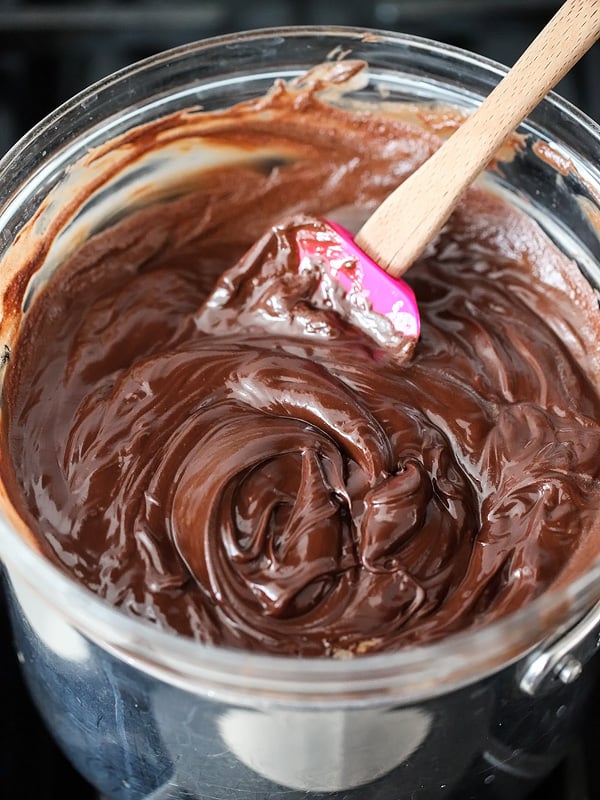 My one birthday tradition has always been my mom's German Chocolate Cake. It's our timeless classic that is as synonymous with my birthday as the off-tune singing that helps the candles hopefully, eventually, blow out. There are more and more every year.
Last year I took over my mom's GCC tradition and made this to mark the occasion. This year I put a new twist on my favorite with this rich, ultra chocolat-ey brownie pie covered in a sweet gooey frosting of coconut and pecans.
HERSHEY'S chocolate has been a tradition in both my mom's and my own kitchen ever since I can remember, just like my German chocolate cake for each and every birthday. Because HERSHEY'S chocolate has always been made with quality ingredients like fresh milk from local farmers and high quality cacao beans that are sourced safely and from only the best suppliers, it's level of high standards over the past 100 years has never wavered.
Watch this video to learn more about the timeless traditions of Hershey.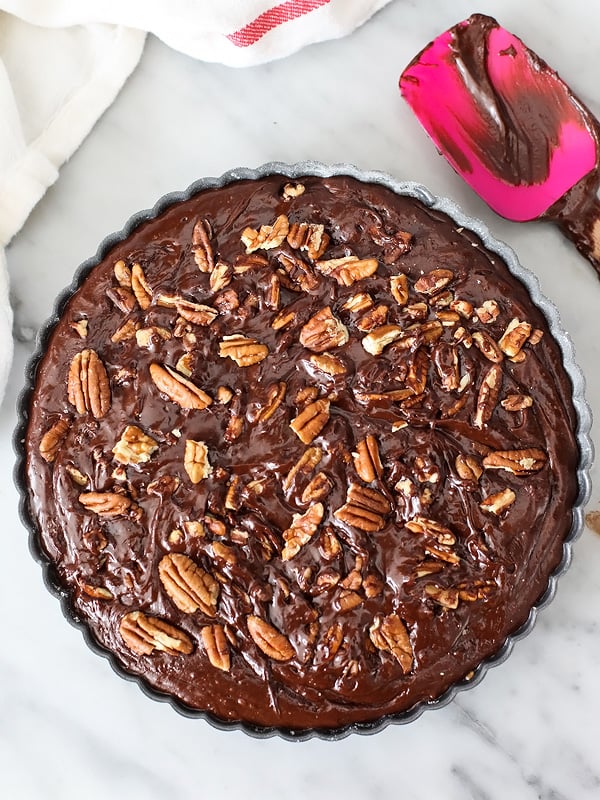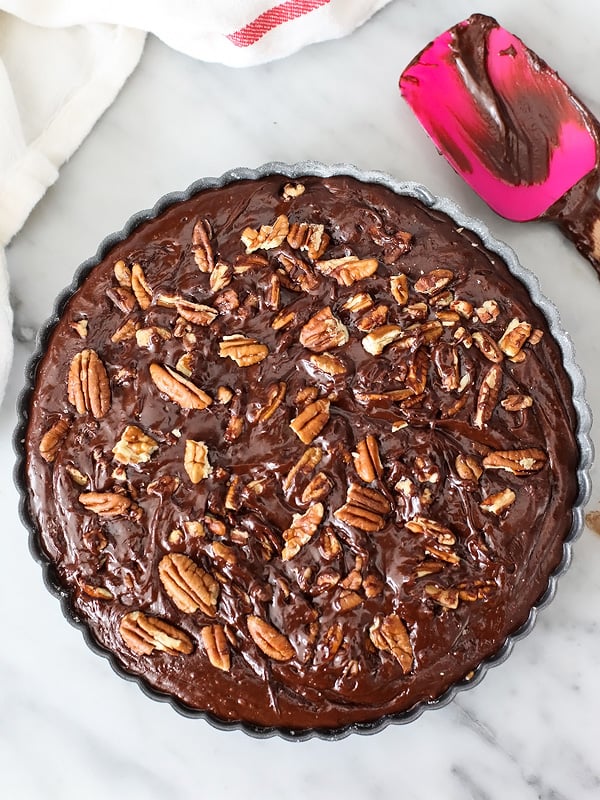 The recipe is a mash-up of three chocolate classics that have simply created a brand new tradition. The first is one I discovered on the HERSHEY'S Kitchens site, because who knows chocolate better than Hershey? The next is one from Barefoot Contessa, a recipe I've made several times after seeing it on her cooking show 943 times. And the third classic is my mama's recipe, because her frosting is the one I've always had and is the one I will forever crave.
Oh my, my, my. This brownie pie. I may never go back to cake. German chocolate in any form is my timeless tradition. What's yours?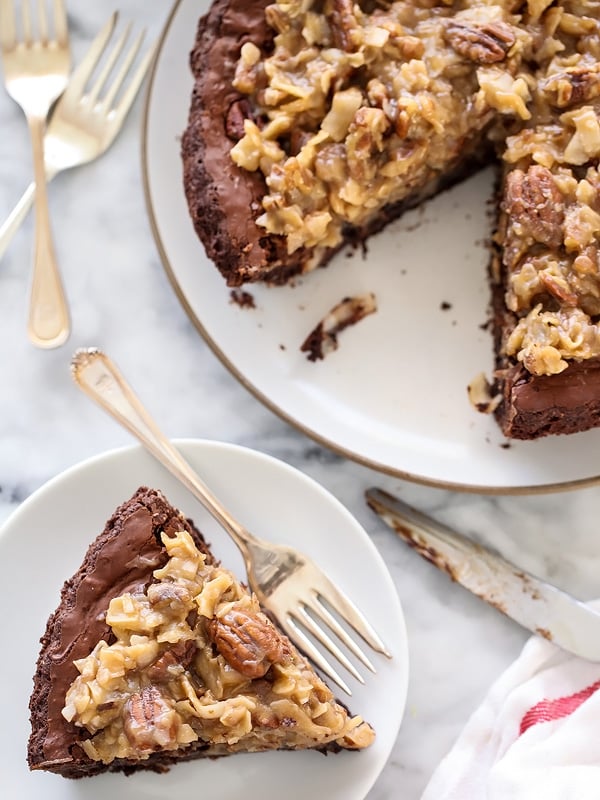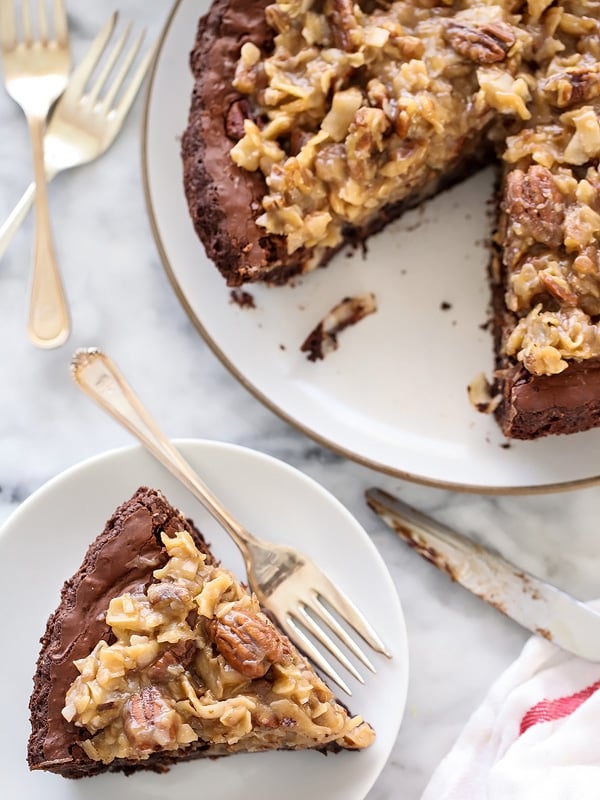 About the Recipe
This brownie is exceptionally rich, dense and chocolate flavored. I used HERSHEY'S Semi-Sweet Chocolate Chips for a rich flavor thanks to its higher cocoa content than milk chocolate.
I used this tart pan with a removable bottom to form my pie. I love it because it's non-stick and the brownie pie pops right out, making it exceptionally easy for cutting. 
Plan on allowing time for this brownie to sit and set after baking, preferably overnight. Baking the pie so it's just barely set gives it an exceptionally fudgy flavor but allowing it to rest is what makes the consistency just right.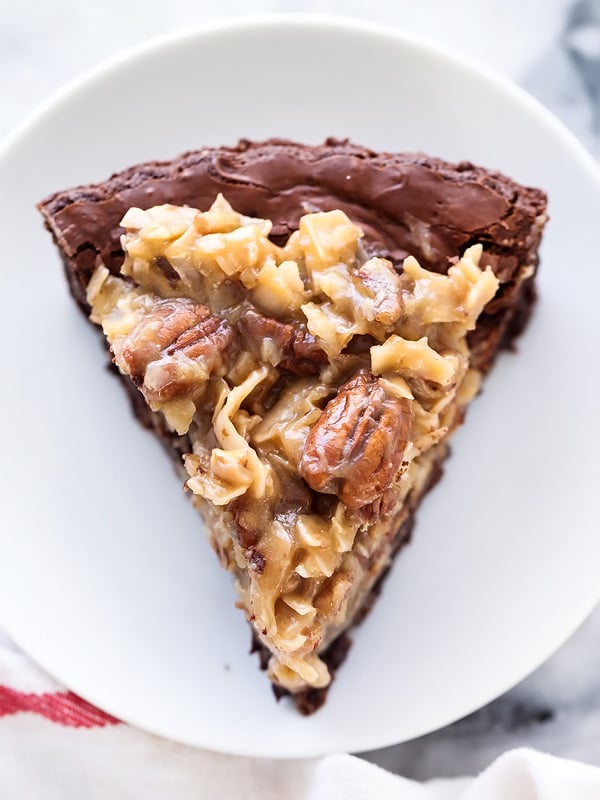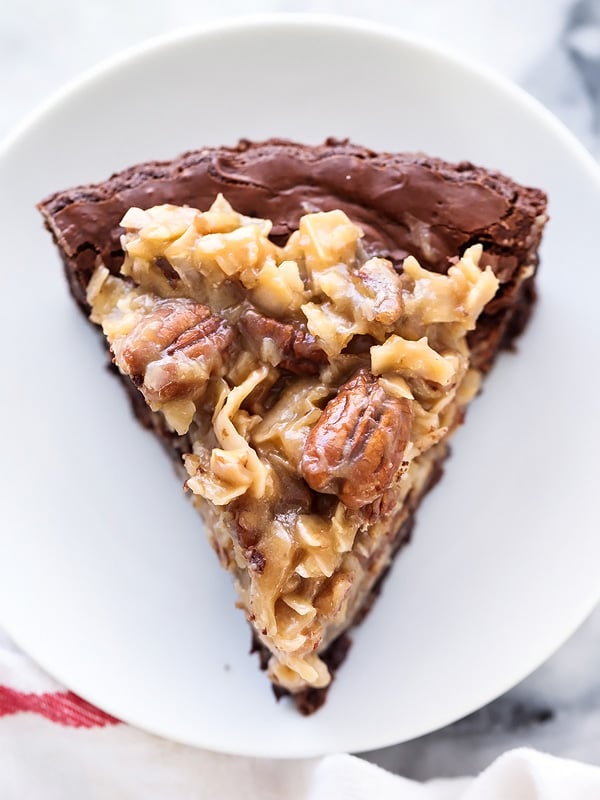 If You Liked This Recipe, You'll Like These:
If you make this recipe, please let me know! Leave a comment below or take a photo and tag me on Instagram or Twitter with #foodiecrush.  
Print
German Chocolate Brownie Pie
An easy, from scratch, fudgy brownie is studded with HERSHEY'S semisweet chocolate chips, baked into a tart pan and topped with a classic coconut-pecan German frosting.
Ingredients
For the Brownie Pie
6

tablespoons

unsalted butter

¾ of a stick

3

cups

HERSHEY'S Semi-Sweet Chocolate Chips

18 ounces

3

eggs

1

cup

sugar

1

tablespoon

instant espresso powder

1

teaspoon

vanilla

⅔

cup

all-purpose flour

¼

teaspoon

kosher salt

¼

teaspoon

baking powder

1

cup

chopped pecans
For the Frosting
1

cup

evaporated milk

1

cup

sugar

3

egg yolks

½

cup

butter

1

teaspoon

vanilla

2

cups

shredded

sweetened coconut

½

cup

chopped pecans
Instructions
For the Brownie Pie
Preheat the oven to 350 degrees F.

Spray a 9 ½-inch tart pan with a removable bottom with cooking spray and lightly flour the pan, shaking to remove excess.

Melt the butter and chocolate chips in a glass or metal bowl over a pan filled with 1 inch or so of simmering water. Stir until the butter and chocolate chips have melted and the mixture is smooth. Set aside to cool.

Beat the eggs, sugar, instant espresso and the vanilla extract in a stand mixer until blended. Add the cooled chocolate mixture and blend to combine. In a smaller bowl, stir together the flour, baking powder and kosher salt and then add to the bowl of the stand mixer and mix just until combined. Stir in half of the chopped pecans and pour into the prepared pan. Top with the rest of the chopped pecans.

Bake for 34-45 minutes or until the top begins to crack and the middle is somewhat set but still soft. The pie will deflate somewhat as it cools.

Top the brownie pie with the frosting. Remove from the tin and serve cake at room temperature.
For the frosting
Add the yolks to a small saucepan and beat with a hand mixer until yolks thicken and begin to ribbon, about 2-3 minutes. Add evaporated milk, sugar and vanilla and mix. Add butter and bring to medium heat, stirring constantly, for about 10 minutes or until mixture becomes golden brown and thickens. Remove from the heat and add the coconut and pecans. Cool to room temperature and frost your pie, cake or cupcakes..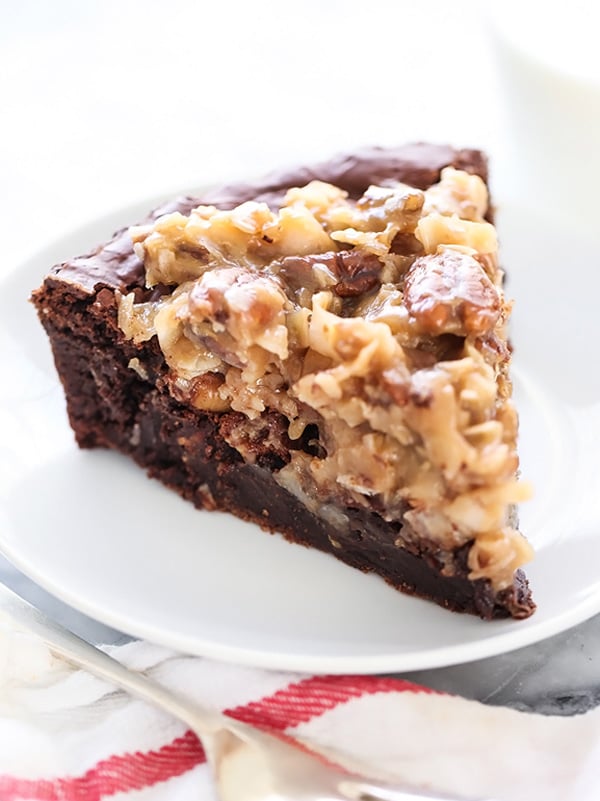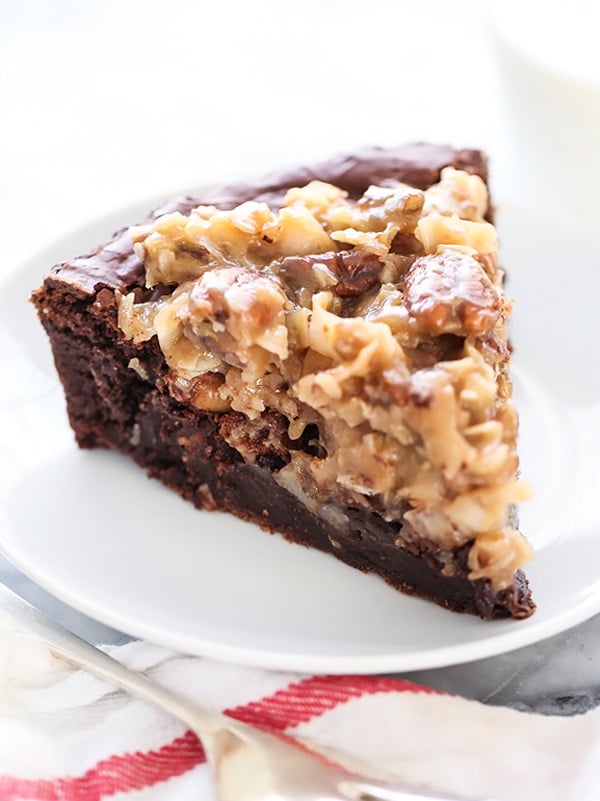 Thanks for stopping by and visiting FoodieCrush. Have something to say? I'd love to hear from you. Let me know in the comments below.
Have a great day, and make something good.
This post is part of series of partnered posts with Hershey. As always, thank you for reading and for supporting companies I partner with, which allows me to create more unique content and recipes for you. All opinions are always my own.  
Are you following me on Instagram, Twitter, Facebook and Pinterest? 
Thanks for reading and subscribe to FoodieCrush to have each post delivered straight to your e-mail box.  
SaveSave
SaveSave