Crispy on the bottom but moist on the inside, this easy jalapeño cornbread is kicked up with jalapeños, creamed corn, cheddar cheese and green onions, and is a family favorite.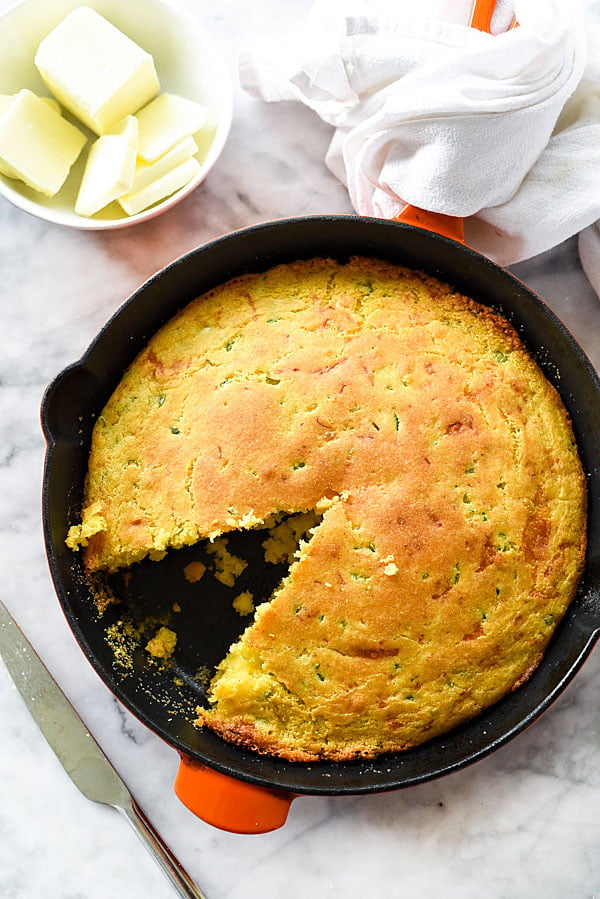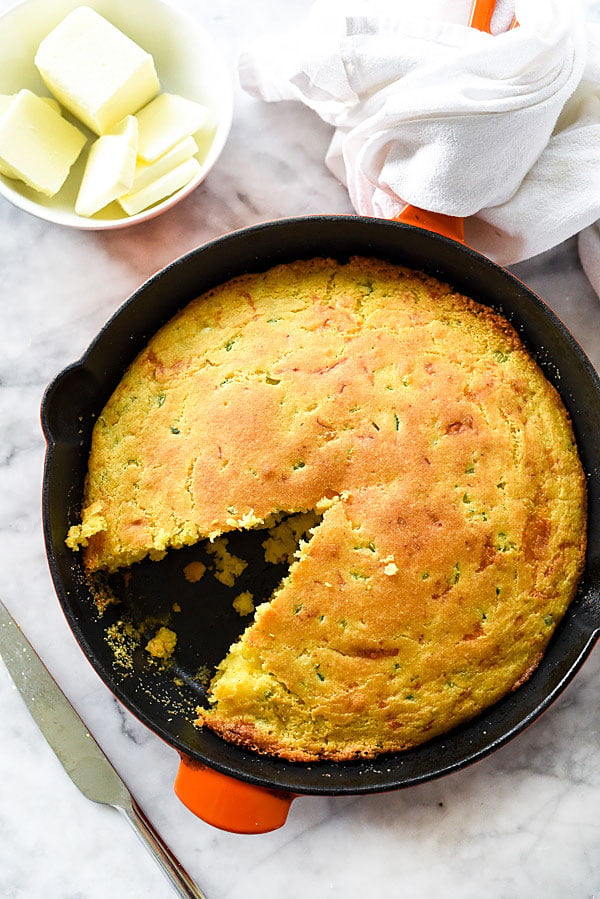 Cast Iron Skillet Cornbread Recipe
You know how they say owners start to resemble their dogs (as evidenced here)? I think the same thing may be happening to me, but with the food I eat.
Spicy and sweet…Yep, that's me. Crispy on the outside but soft on the inside…Sure, I'll admit to that. And, why yes, I do melt every time I come into contact with butter.
Just like the food I like to eat, I'm a contradiction in terms.
I've become a spicy-sweet, crispy on the outside but soft on the inside, better-with-butter humanoid version of…cornbread.
So does this mean I need to turn my bed into a cast iron skillet?
My mother-in-law, Pat, is a master at Southern cooking. As a little girl growing up in Arkansas and the second to youngest of 7 children, she would ask her her mom if she could help her cook but her mom was too busy putting from scratch food on the table for the large family to become a teacher too. "It was just easier for mother to do it herself," so my MIL was more often shushed off to set the table instead.
But Pat paid attention. She watched. She learned from the sidelines. And she took those lessons through life to develop her own cooking style.
The other night Pat made this jalapeño cornbread recipe for us. Unlike her mother, Pat is happy to share her how to's in the kitchen, even when I ask a million questions and sometimes interject a few ideas of my own.
But Pat takes it all in stride. She knows her way is the best way, and her way always starts in true Southern form.
What's in This Cheddar Jalapeño Cornbread?
The base of this cornbread is the simple part, and is basically the classic recipe from the side of the box of cornmeal. It's the way Pat's been baking it for years, so why go changing? The add-ins and the way it's baked are what take it to the next level.
Basic cornbread is doctored up, with jalapeño and green onion added for spice and spunk, with a splash of creamed corn added for moisture. Cheese is another key player. We used a medium cheddar but a colby would be tasty too.
Somewhere along the line, Pat had written down the jalapeño portion of the recipe in one of her notebooks. "Where did you get the recipe?" I asked. She couldn't remember. It had just sounded good. I wonder if she saw it on Facebook. After a quick search online, I can be reasonably sure it was adapted from the always dependable Ina Garten.
After the basic cornbread has been doctored up, the real magic and Southern charm of this recipe happens when it's baked in sizzling bacon drippings. I'd reserved a bit of drippings after making this dip recipe and this salad, so we had some on hand.
How to Make Cheddar Jalapeño Cornbread
To make this jalapeño cheddar cornbread, first mix together the wet ingredients in one bowl and the dry in another. Combine the two, then stir in the creamed corn, diced jalapeño, green onions, and shredded cheddar.
Pre-heat a cast-iron pan with the bacon drippings and enough cornmeal to cover the bottom of the pan and bake until the cornmeal turns a light brown. Then, add the batter to the hot pan. Remember your hot pads!
Bake the jalapeño cornbread with creamed corn until it's slightly browned on top and the edges are pulling away from the sides of the skillet.
You'll never want to have cornbread any other way. The drippings and cornmeal combo create a crispy, crunchy bottom you won't get any other way.
Do I Have to Use Bacon Drippings?
No. If you don't have drippings on hand, vegetable oil works too.
Can I Freeze Jalapeño Cornbread?
Yes, cornbread freezes incredibly well. Let it cool to room temperature, then slice and seal it in a freezer bag. You can reheat the cornbread in the microwave, or set it on the counter to thaw.
Tips for Making Cheddar Jalapeño Cornbread
It's very important that you buy corn meal and not a similar corn product, like grits or polenta. Corn meal is a completely different product, and there's no substitute for it.
I've only ever made this cast iron skillet cornbread recipe with fresh jalapeños, but I've had readers report success using pickled jalapeños. If you try this out too and it works for you, please let me know in the comments below.
To my knowledge, you can't substitute any other ingredients in this recipe. Real milk and butter are key to achieving the right flavor and texture in this jalapeño cheddar cornbread, and creamed corn is also a must.
More Southern Side Dishes to Master
If you make this recipe, please let me know! Leave a ⭐️⭐️⭐️⭐️⭐️ rating on this recipe below and leave a comment, take a photo and tag me on Instagram with #foodiecrusheats.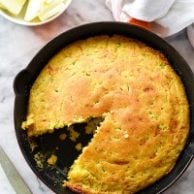 Print
Skillet Cheddar Jalapeño Cornbread
Crispy on the bottom but moist on the inside, this kicked up jalapeño cornbread is a family favorite.
Ingredients
1

cup

+ plus 1-2 tablespoons yellow corn meal

divided

1

cup

all-purpose flour

1

tablespoon

baking powder

1

teaspoon

salt

1

cup

milk

⅓

cup

melted butter

1

large egg

beaten

⅓

cup

canned creamed corn

2

green onions

chopped

1

jalapeño

seeded and chopped

1

cup

grated cheddar cheese

1-2

tablespoons

bacon drippings or vegetable oil
Instructions
Preheat the oven to 425 degrees F. Place a 10-inch cast iron skillet in the oven to pre heat.

In a medium bowl, mix the 1 cup corn meal, flour, baking powder and salt. In a small bowl whisk the milk, butter and egg together. Add to the flour mixture and stir just until blended. Stir in the creamed corn, green onions, jalapeño and cheddar cheese.

Remove the hot skillet from the oven (use hot pads!) and add 1-2 tablespoons bacon drippings to the pan to melt. Sprinkle with 1-2 tablespoons corn meal or just until the bottom of the pan is covered. Place back in the oven (use hot pads!) and bake just until the cornmeal begins to brown, about 3-4 minutes.

Add the batter to the skillet and bake for 25-30 minutes or until the top is lightly browned and the edges are pulling away from the side of the skillet. Serve warm or at room temperature.
Nutrition
Calories:
203
kcal
|
Carbohydrates:
14
g
|
Protein:
6
g
|
Fat:
14
g
|
Saturated Fat:
8
g
|
Cholesterol:
38
mg
|
Sodium:
461
mg
|
Potassium:
231
mg
|
Fiber:
1
g
|
Sugar:
2
g
|
Vitamin A:
457
IU
|
Vitamin C:
1
mg
|
Calcium:
208
mg
|
Iron:
1
mg
We send good emails. Subscribe to FoodieCrush and have each post plus exclusive content only for our subscribers delivered straight to your e-mail box.
Follow me on Instagram, Facebook, Pinterest and Twitter for more FoodieCrush inspiration.
As always, thank you for reading and supporting companies I partner with, which allows me to create more unique content and recipes for you. There may be affiliate links in this post of which I receive a small commission. All opinions are always my own.