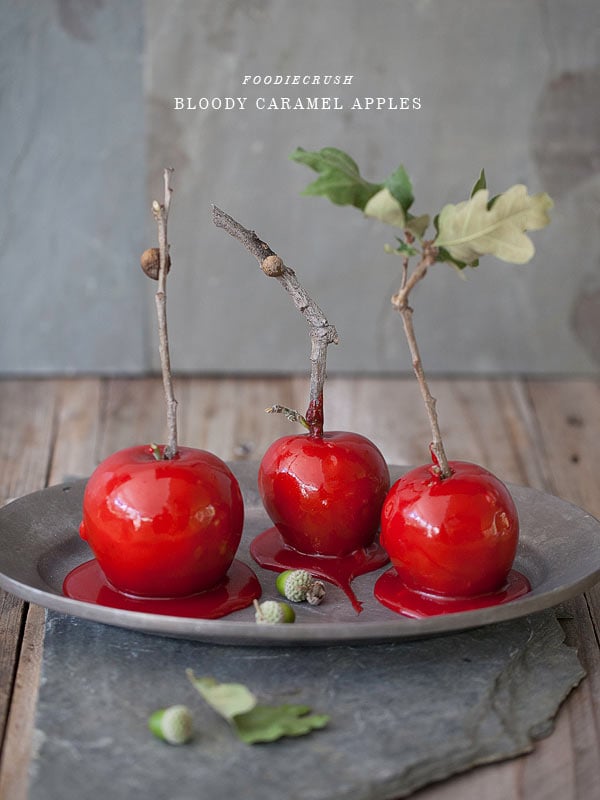 This week I had the best of intentions to stick to my diet, but I knew in my heart it was going to be four days of eating and drinking that were out of my control. I mean coooommme on! Who can go to Wisconsin on a cheese and spirits tour and stick to the plan? Not me. So I created a new plan: more cheese please. I'll be posting more about the trip later but if you haven't experienced real Wisconsin cheese, you haven't tasted cheese.
Now that I'm slowly emerging from my happy dance cheese trance, I'm craving sweets. Sweets that go with cheese.
Okay I might still be under it's spell. I've never been much of a fan of caramel apples thanks to early memories of store-bought versions that nearly drove me to the dentist to have the hard, waxy caramel extracted from my molars and the tossing of the rest in the garbage.
But my recipe is different in a big way thanks to the combination of sugar and sweetened condensed milk, creating a silky caramel coating that stays soft and supple. And deliciously 'bloody'. And that's why you need to give my Bloody Caramel Apples a try. These aren't hard coated candied apples, but rather ooey, gooey, shiny covered crunchy fruits that will have you eating the whole, darn thing.
Bloody Caramel Apples
Serves:
makes 10-12 apples
Ingredients
1 stick (1/2 cup) butter
2 cups light brown sugar
1 cup light corn syrup
1 (14-ounce) can sweetened condensed milk
kosher salt
1 teaspoon vanilla
1 to 2 teaspoons red food coloring, depending on your bloody-ness desires
10-12 medium organic apples
10-12 ice-pop sticks or other holders
Instructions
In a large saucepan, melt butter. Add brown sugar, corn syrup, sweetened condensed milk and salt and continue to stir over medium heat until mixture comes to a boil and a clip-on candy thermometer reads 235°F. Remove from heat and add vanilla and food coloring and stir. Allow to cool to 200°F.
Poke ice-pop sticks or twigs into tops of apples and dip into caramel mixture, rotating to coat. Place on a silicone baking liner or waxed paper until caramel sets.
Artisnal cheese stamps at Chalet Cheese Co-Op
On my trip to Wisconsin I met some amazing food writing talents, editors from national magazines plus some favorite food bloggers. This week I asked some of the bloggers to join in and share their favorite Wisconsin cheese from the tour and a Friday Fave with you.
1. Mackenzie isn't just a grilled cheese phenom, she's as real as she is fashionable and walked away with the most style points on the trip thanks to her favorite florals and clear specs that I'm coveting in a big, big way.
Mackenzie's favorite Wisconsin cheese: Chalet Cheese Co-ops' Limberger 
2. During the week Amanda navigates the social media seas for brands but on the weekends is an avid outdoor enthusiast who craves wool sweaters and dreams of cozying up to evening fires in any one of these idyllic getaways.
Amanda's favorite Wisconsin cheese: Belgioioso Crescenza-Stracchino
3. On a recent trip to Santa Fe, Ashley discovered she can savor her travel memories thanks to this all-natural room spray literally made in nature in a converted van outfitted with a whiskey still for on-location creation. Her favorite? As a Seattle native, naturally it's Glacier Cascade.
Ashley's favorite Wisconsin cheese: Crave Brother's Mascarpone
4. As a native New Yorker, Sean is thrilled to slurp a People's Pop and revel in this newly opened park with a bird's eye view high above the city streets.
Sean's favorite Wisconsin cheese: Widmer Cheese German Brick
5. Sara thinks there's a time and a place for a big, comfy t-shirt but knows that a little lace is the key to comfort in style thanks to her favorite cover up created by her oh so fashionable sister.
Sara's favorite Wisconsin cheese: Belgioioso Ricotta 
6. I cut my trip to Wisconsin short in order to get home in time to help my man blow out his candles. Since this is his favorite flavor and she makes it look sooo good, I'll be taking Annalise's tips to create the perfect cake in his honor—with extra vanilla ice cream on the side. P.S. honey: Please don't expect my cake to look as gorgeous as Annalise's. It will be looking more, umm, 'rustic'. I'm pretty sure you'll love it anyway. Happy bday lover!
7. I'm stocking up on holiday party gear and loving all things ikat.
8. Because I 'm often asked what I'm looking for in good pix for the blog, this reference is a good resource.
9. So many happy recipes from some very talented food bloggers to celebrate this virtual baby shower.
10. And finally, thanks to my talented friends at Skillcrush for featuring me on their blog this week. Have a great weekend cheeseheads. Thanks for reading and please keep in touch.
Subscribe to Foodie Crush and follow me on Twitter, Facebook and Pinterest and check out Foodie Crush magazine and Cookie Cravings