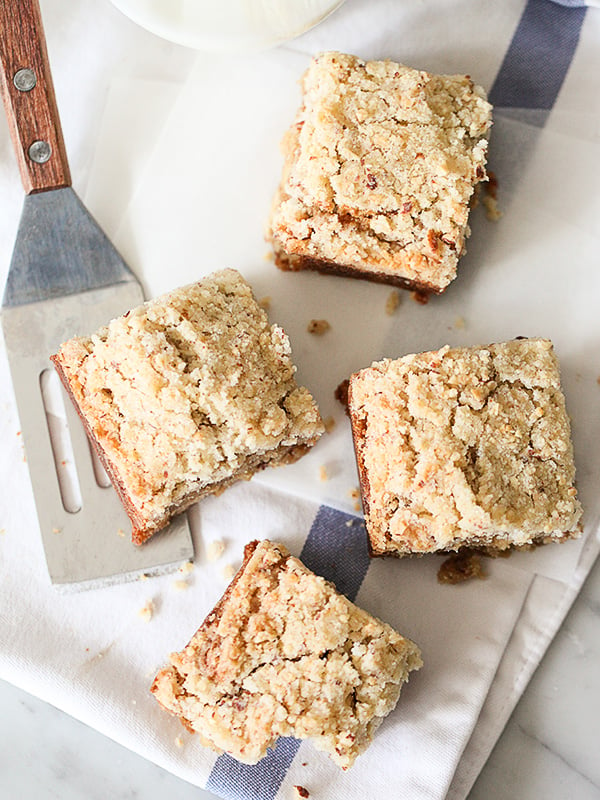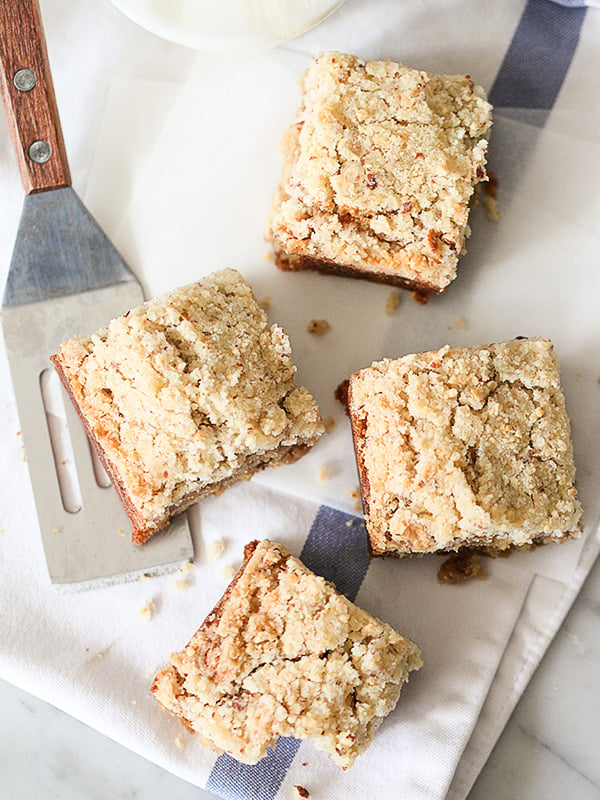 Things around here have floated back into a familiar groove.
Smudge is back in school so sleeping in is saved for the weekends and random mommy daughter excursions during the day have come to a halt. The one thing that stays constant is my little girl's request for an after school snack as soon as her backpack hits the floor. I wish she'd learn to pick that up. But then, the apple doesn't fall far from the tree.
We have our routine when she walks in the door. I tell her to wash her hands. She heads straight for the kitchen in search of sustenance.
This sweet after school treat is a mash-up of two food bloggers' recipes I've had the luck to taste for myself straight from their sugar laced ovens.
The result? I think you can tell for yourself by Smudge's reaction below.
My Apple Blondies with Cinnamon Almond Streusel is a mash-up in the first degree and I owe it to two bloggers with a knack for sweets.
If I said it once, I've said it a million times. I wish I was a baker who created sweet treats simply by intuition.
But sadly, that is simply not the case. And that's why when it comes to baking I lean on tried and true family recipes or inspiration from cookbooks, magazines and of course, food blogs.
First let's talk about the cookie / bars / blondies. They come from my first bite of Recipe Girl's Snickerdoodle Blondies. That bite was at the first Big Traveling Potluck two years ago when Lori brought them to the event. Then, I had my second taste of Lori's cinnamon sugared sweetness at the retreat she organized a few weeks ago. They're worse than Lay's potato chips. Just try to have just one.
The second part of this mash-up duo is Deb from Taste and Tell's Apple Crumb Bars with a delicious strudel topping, the apple treat my family deemed the best thing they'd ever eaten. No, I'm not kidding.
They are desserts you don't soon forget. I didn't and look what happened.
About this recipe:
I lightly adapted Lori's original recipe for Snickerdoodle Blondies from The Recipe Girl Cookbook. The recipe also appears on her blog, but that recipe makes more and is baked in a 13 X 9 pan, where her cookbook's ingredient listings are made for a 9 X 9 pan. I like my brownies and bars extra thick so I used an 8 X 8 pan, but either will do.
I replaced Lori's use of cinnamon chips with diced apples plus some chopped almonds. Blue Diamond now makes a cinnamon sugar almond that layered the cinnamon sugar flavor so I used those.
I also changed up some of the ingredient quantities to allow for high altitude baking. Less sugar, less leavening. I'll include her original recipe portions in the recipe notes below.
It's important to me to use real ingredients in my girlie gal's lunch box and after school snacks. And with a simple recipe like this, Real® ingredients make all the difference.
It tool me two tries to get the buttery strudel right. Deb's original Apple Crumb Bar recipe calls for beating the Real® butter, sugar, flour and almonds in a stand mixer to mix fine. That didn't work for me the first time I made these because I think my nuts weren't chopped fine enough. So on the second try I used my food processor and with a few pulses the strudel came out light and crumbly, almost as good as hers tasted. Doesn't everything taste better when someone else makes it?
Print
Apple Blondies with Cinnamon Almond Streusel
Ingredients
For the blondies
1 ¾

cup

all-purpose flour

¾

teaspoon

baking powder

1

teaspoon

ground cinnamon

½

teaspoon

cream of tartar

¼

teaspoon

salt

1 ½

cups

packed light brown sugar

¾

cup

salted butter

at room temperature

2

large eggs

2

teaspoon

vanilla

1

cup

diced apples

peeled

¼

cup

chopped almonds
For the strudel
6

tablespoons

salted butter

chilled and cut into small dice

⅔

cup

all-purpose flour

½

cup

sugar

¼

cup

chopped almonds

1

teaspoon

ground cinnamon
Instructions
Preheat the oven to 350 degrees F.

Spray an 8 X 8 inch pan (or 9 X 9 inch) with non-stick spray then layer with parchment paper so it hands over at least two edges of the pan and fits tightly into the corners.

Whisk the flour baking powder, cinnamon, cream of tartar and salt in a medium size bowl and set aside.

Beat the brown sugar and butter in the bowl of a stand mixer. Add the eggs and vanilla and mix until well combined. Add the dry ingredients and mix until incorporated. Add the apple and nuts and mix on low for 2-3 turns. Spread the batter in the prepared pan.

Add all of the ingredients for the strudel to the bowl of a food processor and pulse to mix. Sprinkle evenly over the top of the batter.

Bake for 40-45 minutes or until the top is lightly golden and a toothpick inserted into the center of the pan comes out clean. Allow to cool completely then pull out of the pan by holding onto the parchment overlap. For extra clean cuts, use a large knife or pizza cutter.

** If you are baking at less than 3,500 ft., use 1 ½ cups flour, 1 teaspoon baking powder and 1 ⅔ cup sugar.
She's such a ham. And she's all mine.
This recipe is part of my ongoing partnership with @Real Seal. Thank you for reading and supporting companies I partner with, which allows me to create more  unique content and recipes for you. As always, all opinions are my own. This post contains affiliate links.
Are you following me on Instagram, Twitter, Facebook and Pinterest? Thanks for reading and  subscribe to FoodieCrush to have each post delivered straight to your e-mail box.