Boiling whole Dungeness crabs are the simplest way to create a festive dinner that looks totally elegant but is actually deceptively easy to prepare.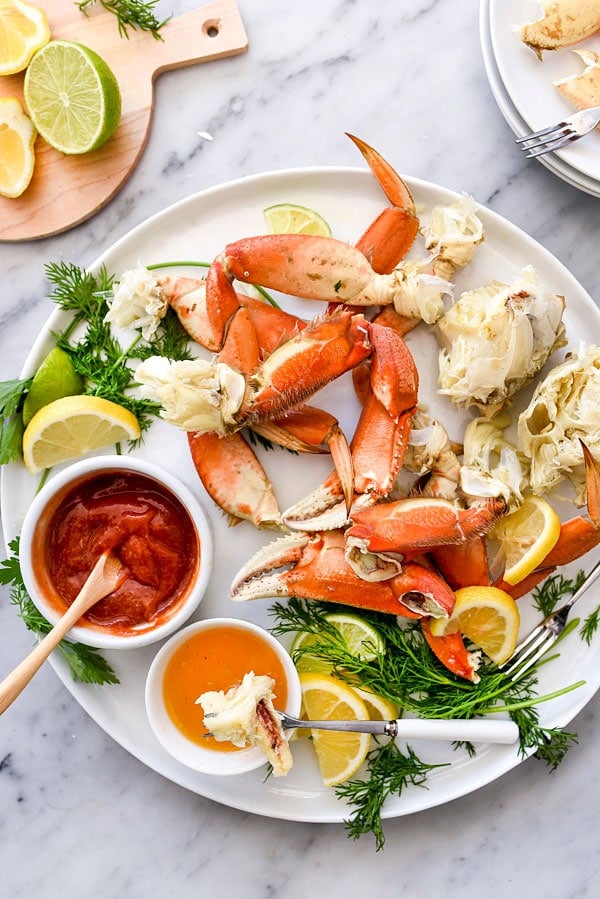 This post is in partnership with Universal Pictures
The holiday season is fast approaching and all I can think of is, "What's on the menu next?", and for a very good reason.
A few weeks ago my festive meal planning got a jump start when I received a text from my little sister (although she's actually taller than my 5'10" frame), announcing that for the first time since Smudge and my niece Lauren were babies, she and my bro-in-law and my other niece Olivia will be joining us for Christmas Eve and Christmas day. This is the bittersweet silver lining to Santa focusing on other, younger kids with the magic dust still in their eyes.
That means this celebration will be 12 years in the making, where we will be popping the champs and serving something special.
Special, but easy. Because I for one don't want to be spending all my time in the kitchen when I can be having fun with the family instead. Enter my plan to serve the easiest but still elegant dungeness crab as party of our holiday feast.
Lucky for me, my family is probably the most drama-free family of any family I know. The skeletons in the closet must be hidden really, really well, and we must have the good kid genes from Grandma Mary Jane and Grandpa Cal because there just aren't any reasons for us all to not get along.
Which makes it that much more fun to see on the big screen how families that do have a wee bit of holiday drama handle the rest of their clan in their family tree.

Almost Christmas tells the story of a patriarch (played by Danny Glover) who after losing his wife the year before, asks his family for one gift this holiday season: to get along. But with 4 adult children once again under one roof, the sibling rivalry just might be the best of them with five days of family togetherness without killing each other.
And with a bit of naughty banter, comedian Mo'Nique just about steals the show. Catch it all with your own family when this holiday flick opens in theaters this Friday, November 11.
But even with their foibles, this family is just like the rest of us, gathering around the table to create new holiday memories.
It used to be I was a bit intimidated by preparing dungeness crab, a fact that seems absolutely ridiculous now that I have more than a few cracked crabs under my belt. Because honestly…this is the easiest crab you're ever going to make.
Plan on about 1 crab per person, or if serving as an appetizer, 1 crab for every 2 people.
Because I live in a land-locked state, the dungeness crabs I can get have already been cooked, which means the crab only needs an easy warm up before eating rather than a full immersive steaming or cooking. Simply bring a stock pot of water to boil, turn off the heat, and immerse the crabs in the hot water to gently warm. This keeps the crab from becoming overcooked (for a second time) and tough. Let the crab sit for about 10 minutes or until it becomes fragrant, then drain.
If you're lucky enough to get fresh crab straight from the ocean, here is a great video showing you how to steam a live crab with ease.
About the Recipe
To serve the crab, you'll need to clean the crab. The video above shows the fastest and easiest way to clean the crab and prepare it for eating.
After the crab has been cleaned, take the back of a heavy knife and crack the legs to make it easiest to pull the crab from the shell, no crackers required. We use skinny crab forks to pull the meat from the shell, but you can also go au natural and use the sharp ends of the claws to pick through the inside of the shells.
I keep it easy with the dipping sauce and serve a lemon spiked salted butter with a bit of Old Bay Seasoning stirred in. A simple mix of ketchup and hot horseradish give a lower-cal, spicy option, too.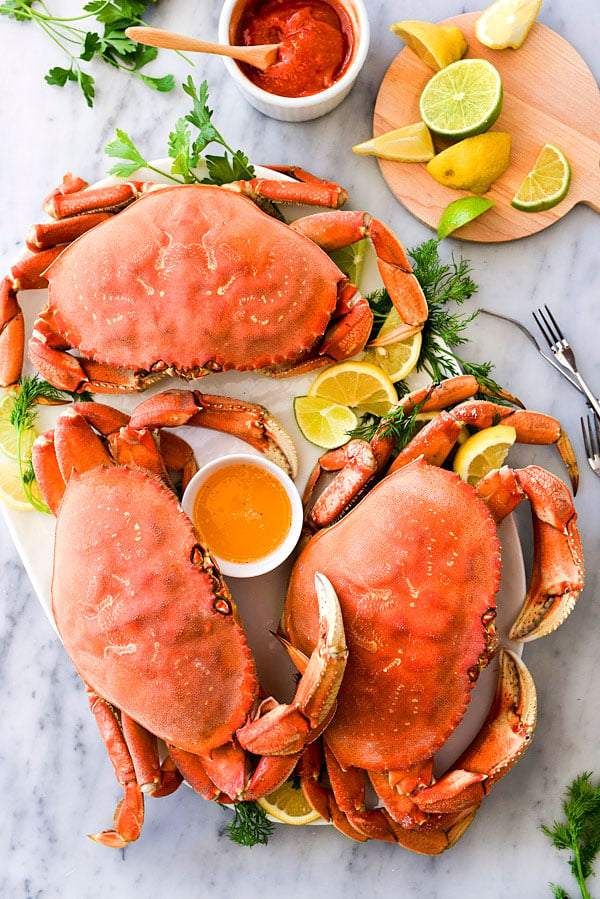 Recipe Ideas to Serve With Your Dungeness Crab
If you make this recipe, please let me know! Leave a comment below or take a photo and tag me on Instagram with #foodiecrusheats.
Print
The Easiest Whole Dungeness Crab Recipe
Whole Dungeness crabs are the simplest way to create a festive meal that looks totally elegant but is actually deceptively easy to prepare.
Ingredients
4

cooked Dungeness crabs

about 2 pounds each

1

tablespoon

kosher salt

16

tablespoons

1 cup or 2 sticks salted butter

1

teaspoon

Old Bay Seasoning

1

lemon

juiced

1/2

cup

ketchup

1-2

teaspoons

prepared horseradish

to your taste

Fresh dill and parsley for garnish

Sliced lemon and limes
Instructions
Bring a large stockpot of water to a boil, season with 1 tablespoon kosher salt. Once the water comes to a boil, remove from heat. Immerse two of the crabs into the water for 5-10 minutes until the crabs are warmed through. Remove the crabs from the water and set aside to drain. Bring the water to another boil and repeat with remaining crabs.

Clean the crabs while the other two crabs are warming in the hot water. Crack the legs with the back of a heavy knife. Serve on a platter with fresh dill leaves, parsley and sliced lemons and limes.

In a small saucepan over medium heat, melt the butter. Reduce the heat to low and skim the foam from the butter. Stir in the Old Bay Seasoning and the lemon juice. In a small bowl, mix the ketchup with the prepared horseradish. Serve the flavored butter and cocktail sauce alongside the crab.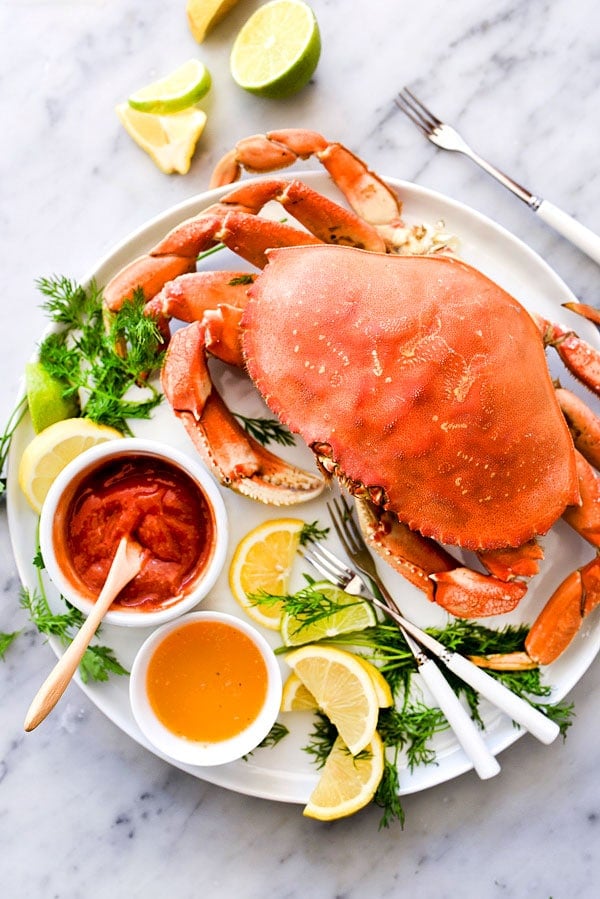 Today's post is sponsored by Universal Pictures. As always, thank you for reading and supporting companies I partner with, which allows me to create more unique content and recipes for you. All opinions are always my own.  
Are you following me on Instagram,  Twitter, Facebook and Pinterest? 
Thanks for reading and subscribe to FoodieCrush to have each post delivered straight to your e-mail box.