I look forward to this time of year, all year long. That may not make sense when you read it but try saying it out loud. Loud and proud. There you go. See, it works.
With the neighbors firing up their lawn mowers for the first spring shave (as we currently sit in the midst of a snow storm) and the grasses green and the  trees bloom (where's my hay fever meds?) I find myself craving the same foods I do every spring: Fresh, clean and flavorful. Gotcha! You thought I was going to say chocolate and cheese. No, that's every day, not just a particular season.
Flavor. That's what makes these roasted Artichokes with Chorizo Dressing leap straight to the top of the want list.
I have a lot of artichoke recipes in my go-to recipe drawer, er, filed in my head: pasta, pizzas, with eggs and chicken. So far only Chicken Tzatziki Pizza with Artichokes, Spinach and Artichoke Grilled Cheese (come back tomorrow for another grilled cheese recipe to celebrate Grilled Cheese Month) and my second post ever, Spring Artichokes have made it to the blog.
Which leaves plenty of room to develop and share a lot more with you lucky devils.
Some of my favorite recipes are from canned artichokes—my faves are from Trader Joe's—packed in water. Which is awesome because then I can cure the crave any time of year. But when fresh artichokes are in season? Forget about it. I'm going fresh.
While I usually hold out for the Ocean Mist brand at Costco because they are big, have tightly bunched leaves and I've found have the most meat on the leaf, my local store isn't carrying them yet. So I went mini. I found these baby artichokes at Whole Foods, and bingo, they're from Ocean Mist, so the first time I bought them I knew they'd be good. I was right.
This recipe is one I've kept in my piles, and I mean piles (just ask my husband who I believe is currently devising a strategic plan to rid the house of all "reference material") of recipes pulled from magazines over the past 10 years. And even more when it comes to Thanksgiving, but that's another season entirely so it'll have to wait.
It's based on a recipe from Napa Valley's Michael Chiarello aka Cooking Channel fame in a 2010 issue of Food and Wine. The idea of roasting artichokes is a favorite of mine because it makes the hearts so incredibly tender and deeelicious.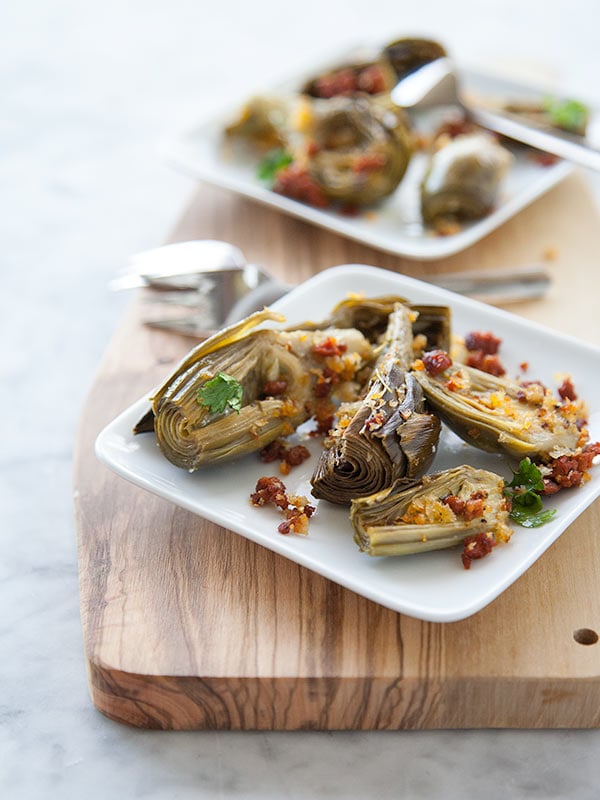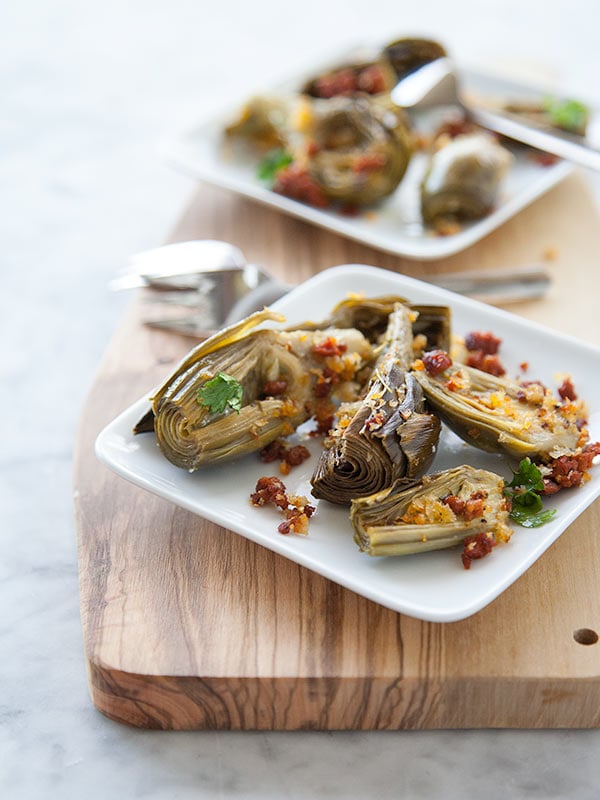 A few things about the recipe:
1. Don't skip the lemon step. Repeat, do not skip the lemon step. What is the lemon step? It's when you cut the artichoke, pretty much anywhere, and rub the cut portion with a slather of lemon juice. This helps keep the cut area from discoloring. Now it works most of the time, but you have to be Johnny Be Good quick, these things brown in a heartbeat once they get a whiff of fresh O2.
2. Be a good stripper. The other step to be very keen about is stripping the little buggers of all of the tough outer leaves because these nuggets are perfect for popping directly into the mouth. You'll feel like you don't have any leaves left on the chokes by the time you're done, but it will be well worth the effort. When boiling artichokes, the outer leaves soften and you can still strip the meat without cutting the inside of your mouth like a Ginsu warrior. With roasting, any semi-tough outer leaves will just get tougher and roastier. Think artichoke jerky. Check out this how to clean baby artichokes video if you're feeling trepidatious.
3. Winging it is for the birds. The first time I made this recipe I made the mistake of thinking, "Hey! If 3 tablespoons of lemon in the roasting liquid is good, then doubling that is sure to be better." Whoa, not. Adding more lemon turns the artichokes into bitter balls of green, and after all the work you've done slathering and stripping and anticipating the savoriness, you're going to cry. I did. After I threw them in the garbage. I learned this is one part of the recipe where it's better to be a follower than an adapter.
Print
Roasted Artichokes with Chorizo Dressing
Ingredients
Roasted Artichoke with Chorizo Dressing

2

pounds

of baby artichokes

1

lemon

halved plus 3 tablespoons lemon juice and 1 tablespoon lemon zest

⅔

cup

plus 2 tablespoons extra virgin olive oil

6

cloves

garlic

half quartered and half minced

2

sprigs fresh thyme leaves

roughly chopped

1

bay leaf

1

cup

fresh sourdough bread crumbs

¼

cup

parsley

roughly chopped

¼

pound

chorizo sausage

kosher salt and freshly ground pepper
Instructions
Preheat the oven to 325 degrees F. Fill a large bowl with water and squeeze juice from one half of a lemon in the bowl and cut the other half into slices. Working one at a time on each artichoke, pull off all of the touch dark green outer leaves of the artichokes down to the tender leaves. With a sharp knife, trim the bottom of the artichoke stem and all of the sharp tips of the leaves and cut the artichokes in half. Scoop out the inner leaves and any semblance of a furry choke, although with smaller artichokes they probably haven't yet developed. Quickly rub each cut with a slice of lemon so the cut edges don't turn brown and add to the lemon flavored water. Repeat with all of the artichokes.

Combine the 3 tablespoons of lemon juice, 3 cloves quartered garlic, thyme, bay leaf and ⅔ cup olive oil in a large oven-proof skillet. Add the drained artichokes and bring to a simmer over medium heat and cook for 2-3 minutes.

Move skillet to the oven and roast for about 40 minutes, stirring occasionally, until browned in spots and fork tender.

Meanwhile, heat 1 tablespoon of olive oil in a 10-inch skillet over medium heat. Add the 3 cloves of minced garlic and cook for 30 seconds or until fragrant. Add bread crumbs and stir to combine then let the bread crumbs cook without stirring for 1-2 minutes or until they begin to brown. Allow to cook for another minute or two stirring more frequently as the bread crumbs toast and transfer to a small bowl.

In the same skillet, heat the remaining tablespoon of olive oil and add the chorizo sausage and cook over medium heat, breaking into small pieces until cooked through. Remove from heat and add the bread crumb mixture, chopped parsley and lemon zest and stir. Season with kosher salt and freshly ground black pepper.

Once artichokes are done cooking, remove from the oven, transfer to a serving dish and add chorizo bread crumbs and drizzle with extra olive oil and serve warm or at room temperature.
Since I can't seem to get enough of my spring fling with the thorny little buggers, check out these food blogger's great recipes for the holy artichoke.
Spinach Artichoke Mac n Cheese from Megan of Country Cleaver
No Cook Sun-Dried Tomato and Artichoke Dip by Rebecca of Foodie With Family
Artichoke Lemon Pesto by Priscilla of Red Shallot Kitchen
Roasted Stuffed Artichokes from Heather of Heather Likes Food
Spinach Artichoke and Roasted Red Pepper Cheesy Squares from Averie of Averie Cooks
Pan Fried Baby Artichokes with Mint and Lemon by Kasey of Turntable Kitchen
Artichoke Biscuit Bread with Asiago Cheese and Olives from Patrice of Circle B Cooking
Lemon Chicken with Artichokes by Kate of Framed Cooks
Artichoke, Leek and Potato Casserole by Katie of Good Life Eats
Oven Braised Artichokes with Garlic and Thyme from Sylvie of Gourmande in the Kitchen
Mediterranean Chicken and Artichoke Stir Fry by Rachel and Bill of Simply Fresh Cooking
Gluten Free Tempura Artichoke Hearts with Vegan Goody-Goody Sauce from Carol of Simply Gluten-Free
Roasted Butternut Squash, Artichoke and Goats Cheese Salad by Jennifer of Le Delicieux
Chicken and Artichoke Pesto Quesadillas by Snixy Kitchen
Roasted Artichokes with Lemon Tarragon Butter by Mellissa of I breathe I'm Hungry
Hot Asiago Crab and Artichoke Dip from Confections of a FoodieBride
Buffalo Mozarella, Artichoke and Lemon Pizza from Patricia of Technicolor Kitchen
Garlic Chicken Panini by Kathy of Panini Happy
Thanks for reading and please keep in touch by subscribing to FoodieCrush and follow me on Twitter, Facebook, Pinterest. This site includes affiliate shopping links of which I receive a small percentage of sales to allow me to create new and special content like this for my readers, so thank you for your support. All opinions are my own.