The best part of breakfast is when it can be eaten anytime of day and for just about any occasion. Like for a virtual baby shower for a waffle making queen who will soon bequeath us a mini waffle eating princess.
I bet that's exactly the occasion you were planning for making Monte Cristo Waffle Sandwiches.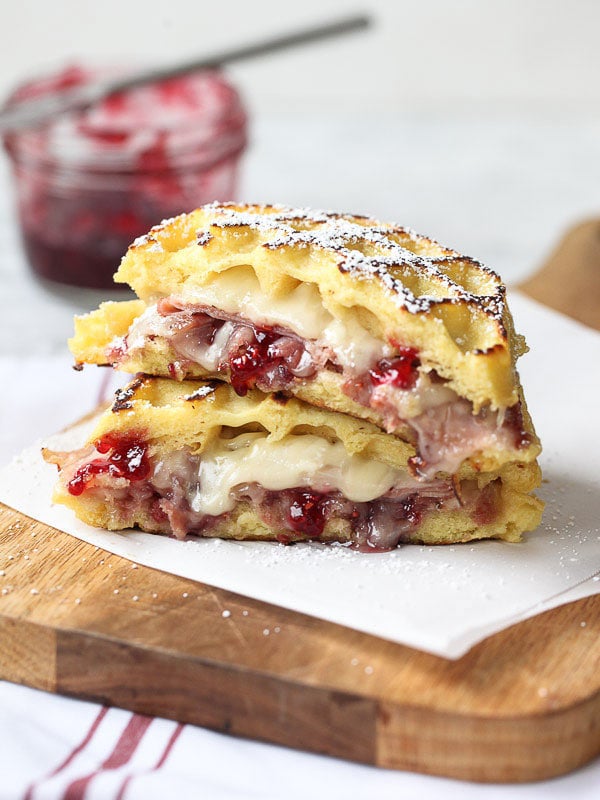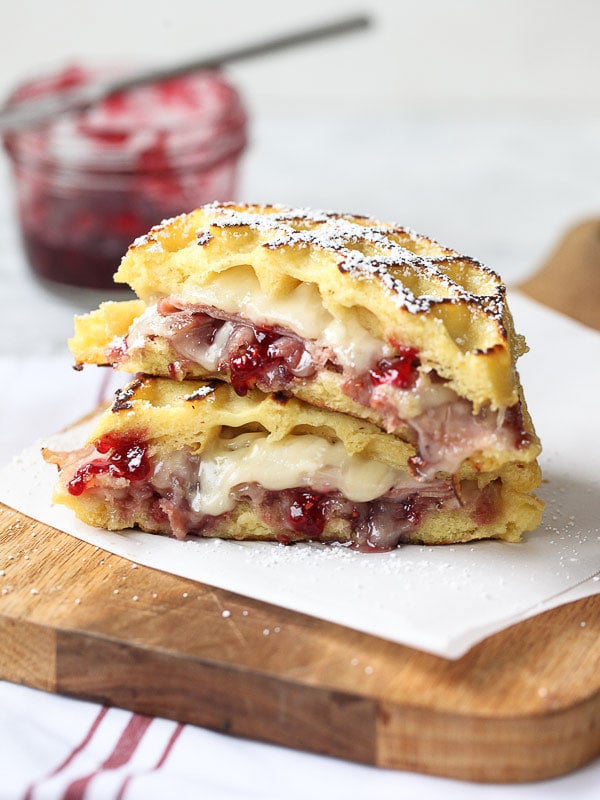 It's really been 9 months already? Really? It truly seems like maybe a month ago when I drove to the airport to pick up Melissa, the exceptionally talented recipe creator/food blogger/designer behind the lens and in front of the oven at The Faux Martha.
She and a few moree food blogging friends were making their way to SLC for the blogging conference Alt Summit and we were setting up camp at my house. Sure we'd be hitting the conference, but we were all looking most forward to some quality after-conference time of dinners, cocktailing and the usual friendly merriment.
But Melissa had a secret to share, and she needed a confidante to help with her cover.
On the drive to my house from the airport she spilled the beans to me that she was pregnant.
Melissa was giddy with excitement but reluctant in making a full announcement because it was still a little early along. But since she was 'with nugget' she wouldn't be participating in the merry-making and didn't want to raise any eyebrows when passing on the partaking.
So we hatched a plan that resulted in a weekend of dodging questions and sharing knowing looks. Somehow we passed the watchful eyes of Kathryne, Erin, Jeanine and Kelsey with nary a second glance. I was honored to be in 'the know.'
And now here she is with a bun in the oven that's nearly fully baked. Soon it will be the best thing she'll have ever made.
Thanks to Erin's stealth coordination, several of us are joining in her celebration with this virtual baby shower to celebrate.
So why the waffle theme? Because if you've ever checked out Melissa's Instagram feed, you'll see that she is a waffle sensei and her whole wheat waffle recipe is pretty near perfection. In fact, she took over my kitchen and made a special batch for all of us Alt Summit-goers that weekend for Sunday brunch (you need to see it to believe it.) The girl knows her way around a patterned syrup catcher.
I took a little diversion from the rest of the virtual baby showering tribe in creating a waffle recipe. Instead of trying to improve upon Melissa's version, I yielded to my back-to-school, gotta-get-food-on-the-table schedule and opted for the easy route.
My Monte Cristo Waffle Sandwich is a great anytime treat thanks to frozen multi grain waffles slathered with raspberry jam and topped with honey baked ham that's dipped into an eggy batter then cooked until the swiss cheese runs melty. Don't be fooled by some of the mass market brands, this list of frozen waffles can be food for you too.
Do I even need to mention the sweetness of the dusting of powdered sugar for further enticement? I didn't think so. Nor the added layer of jam on top. As if it wasn't enough to have it smooshing out from the sides. Make it your own, it's the fun part of cooking and eating.
Smudge couldn't help herself and photo bombed my set and quickly made work of finishing off this sweet and savory treat. And who could blame her?
A few recipe variations to give a whirl:
Instead of the swiss cheese, gouda or other melty white cheese would make a great alternative.
Some regions include turkey breast along with the ham in their sandwiches. My Smudge is a ham queen so we skipped the turkey. She also isn't a fan of mustard which is a traditional addition, so we left that out. Give yours a slather if you desire.
Blackberry, lingonberry or another wild berry jam would make the sandwich golden.
Take a look at the round-up of recipes from the rest of the party and join in the waffle making fun with a healthy whole foods theme and send a toasty toast to Melissa in honor of her big day.
Print
Monte Cristo Waffle Sandwich
Ingredients
4

whole grain toaster waffles

½

cup

Swiss cheese

, shredded

¼

pound

shaved honey baked ham

Raspberry jam

¼

pound

shaved turkey

, optional

2

eggs

¼

cup

milk

2

tablespoons

melted butter
Instructions
Top two toaster waffles with some shredded cheese, then a handful of ham (and optional turkey) and then more cheese. Slather the other two toaster waffles with raspberry jam and use as a top to the cheese topped waffles.

Bring a frying pan to medium heat and melt 1 tablespoon of the butter in it.

Whisk the eggs and milk together in a shallow bowl.

Dredge one sandwich in the egg batter then place in the frying pan. Top with a cover and cook until the sandwich is browned, flip and cook the other side until the cheese is melted. Repeat the process with the additional butter and other sandwich and serve immediately.