This easy to make recipe is made with deli ham, smoked gouda, fried egg, tomato, and arugula, and it's everything you want in a breakfast sandwich!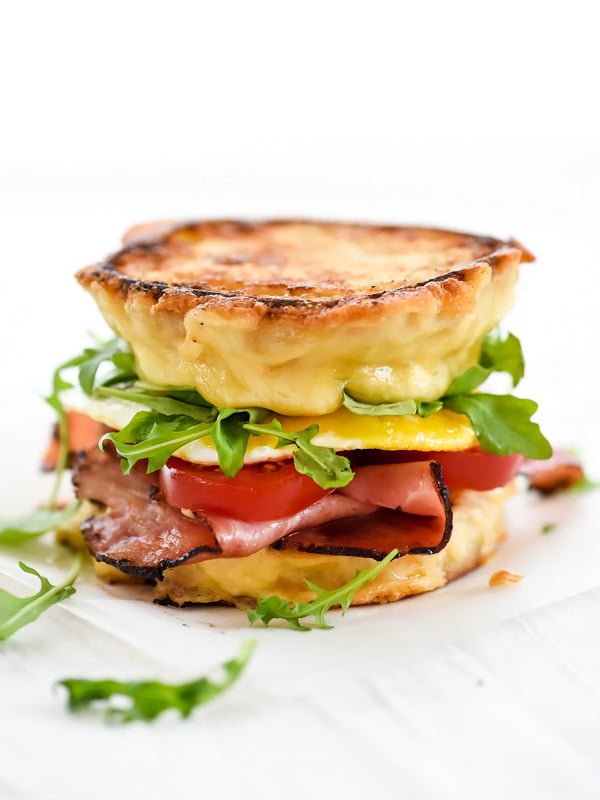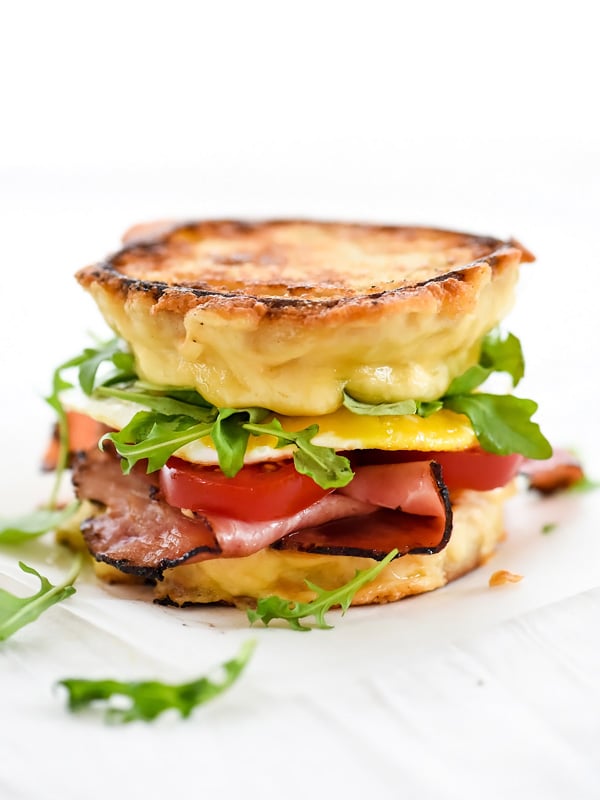 I once had a boss who had a habit for emphasizing the sensational.
He gauged quality and effectiveness by his gut, his intuition. By his visceral reaction. With a squint of his eyes, he'd push his glasses back up his nose, clench his hands and fist pound the air in front of him as he said the word visceral. "Back when I worked at [insert company name here], we created x, y, z product to get consumers to respond with a VISCERAL reaction." You always knew he meant business when the word visceral spit out of his mouth with an extra dramatic paused slur in the middle of the word. 
After pulling this sandwich from the grill, I had a flashback to those days of hearing that statement over and over. This sandwich. I had a visceral reaction to it. Visceral! My gut, my intuition, it all said that his sandwich, even before tasting it, was a fist-pump-in-the-air success.
My former boss would be proud.
Suddenly we're at the end of April. Which in my world translates to the end of National Grilled Cheese Month.
As I've shared throughout the month, during April I partnered with one of my favorite cheese makers, Wisconsin's Arla Dofino, to create and share three recipes featuring some of my favorite, meltable cheeses: Dill Havarti, Creamy Havarti and Smoked Gouda in the recipes shown below:
Recipe #1: Spicy Smashed Avocado & Asparagus with Dill Havarti Grilled Cheese for a savory lunch or dinner, which led to a sweet tooth craving for…
Recipe #2: Brown Sugar Pecans and Sweet Bacon with Havarti Grilled Cheese for lunch or better yet, let's make it for dessert, too.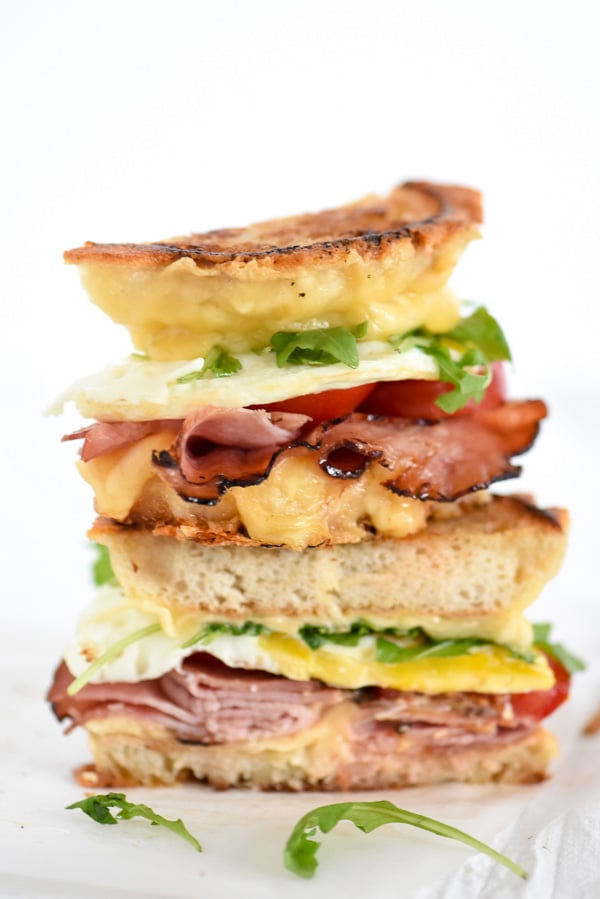 And now, Recipe #3: This Ham and Smoked Gouda Grilled Cheese Breakfast Sandwich that keeps us rolling in cheese for the most important meal of the day, breakfast.
I've been a fan of Arla Dofino cheeses for years. Seeing the badge that Arla Dofino's Smoked Gouda is made in Wisconsin shows they hold onto old world craftsmanship but take advantage of the newest cheesemaking technology. Both practices result in fine natural ingredient cheeses with no added hormones or preservatives.
About the Recipe
This recipe gets tons of flavor thanks to Arla Dofino Smoked Gouda. The cheese is simply their regular Gouda that gets it's smoky flavor from a dance with hickory wood chips. Because it's a softer cheese it melts like a dream.
I flipped the usual English muffin on it's cut side for this recipe. I buttered the cut side and made it the outside of the sandwich. It provides a flatter base to crisp in the pan.
I buttered the outsides of the bread, but used a bit of oil in the pan as well, which added to the golden outsides.  From there, I stacked just the cheese on top of the bread, grilling them open face. The ham gets warmed in the pan on the side of the bread. To assemble, I transferred it all to a plate then topped one of the cheesy slices of English muffin with fresh cut tomato, fried egg and spunky arugula then put the other slice on top, cheese side down. Yep, I sandwiched them.
If you make this recipe, please let me know! Leave a comment below or take a photo and tag me on Instagram or Twitter with #foodiecrusheats.  
Print
Ham and Smoked Gouda Grilled Cheese Breakfast Sandwich
Ingredients
extra-virgin olive oil

2

English muffins

, split in half

6-8

ounces

Arla Dofino Smoked Gouda

, grated

4-6

slices

Thinly cut ham

2

large eggs

1

medium tomato

1

cup

arugula leaves

3-4

tablespoons

butter
Instructions
Spread ½ tablespoon of butter on each of the cut sides of the english muffin slices. Drizzle a little olive oil in a non-stick fry pan over medium heat. Depending on the size of your pan, you will want to cook one sandwich at a time. Place the sandwich halves in the pan, buttered side down, and top each slice with about ¼ cup or more of the grated Arla Dofino Smoked Gouda. Add 2-3 slices of ham to the pan, cover with a lid and cook for about 2 minutes, then turn the ham. Cook for another 2-3 minutes or more until the cheese has melted and the bread on the bottom side is golden.

While the cheese bread is cooking, fry the eggs in a small fry pan, either together or one at a time.

Transfer the english muffin halves to a plate, cheese side up, and layer with the ham, slices of tomato, one fried egg and arugula. Top with the remaining smoked gouda english muffin slice and serve hot.
Aaaaaand, we all fell down.
Thanks for sharing another month of grilled cheese. Why limit our visceral reactions to just one month? Let's keep the cheese melting all year long.
Have a great day, and melt something good.
This post is part of a series of partnered posts with Arla Dofino to celebrate the #GooeyGoodness of Grilled Grilled Cheese Month. Yes! As always, thank you for reading and supporting companies I partner with, which allows me to create more unique content and recipes for you. All opinions are always my own.  
Are you following me on Instagram,  Twitter, Facebook and Pinterest? 
Thanks for reading and subscribe to FoodieCrush to have each post delivered straight to your e-mail box.