Easy to prepare and customize, this Asian hot pot recipe is the perfect dish to whip up when you have friends and family over.
This post is brought to you by McCormick
If there's one simple cooking method that crosses over nearly every Asian cuisine, the hot pot may be it. Chinese, Japanese, Korean, Vietnamese, Thai, Mongolian, and more.
Hot pot cooking is similar to fondue. It's communal. It's active. It's social. And that's what makes the hot pot just as perfect for entertaining as it is for a simple but fun dinner at home where everyone gathers around the simmering brothy pot and jockeys for position and that perfectly cooked shrimp. And with a hot pot, everyone gets to eat exactly what and how much of whatever they want, so long as it fits in the pot.
What Goes in Asian Hot Pot?
There are multiple components that comprise a hot pot, but they're super versatile.
Here's the basic rundown:
Broth (chicken, beef, seafood, or veggie)
Noodles or rice
Meats/seafood/protein
Vegetables
Leafy greens
Fresh herbs & aromatics (spices and curry paste, garlic, fresh ginger slices, chili oil, Thai basil, scallions, cilantro, lime)
Sauces for dipping (soy sauce, sesame oil, Thai peanut sauce)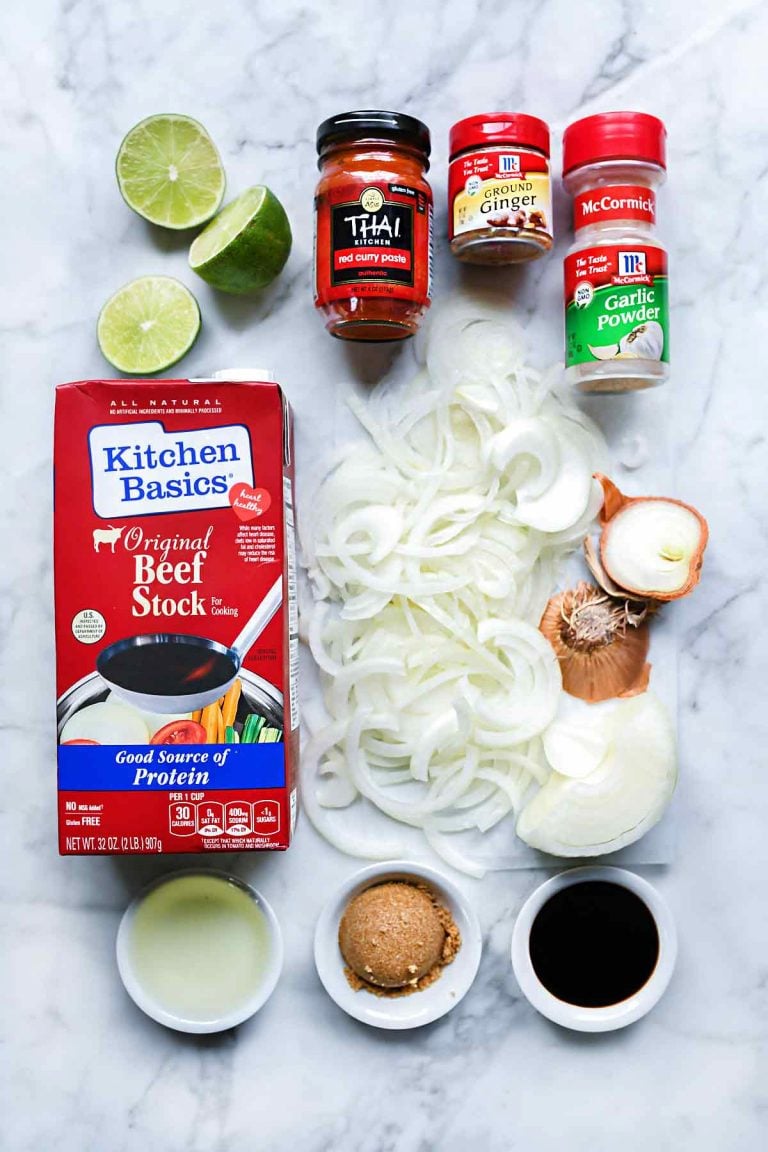 The Best Vegetables for Hot Pot
The sky is really the limit here. Just think about veggies that go with Asian flavors and you pretty much have your recipe for deliciousness.
Greens like spinach, baby bok choy, morning glory, kale, watercress Tatsoi, and always chopped Napa cabbage
Mushrooms of any and every variety like shiitake, oyster, brown, enoki
Bean sprouts
Onions like green onion, sliced red or sweet yellows
Bell peppers or spicy peppers
Asparagus
Snap peas
Green beans
Baby corn—and the funniest clip of eating baby corn ever
Baby bamboo
Tomatoes
Carrots
Small baby potatoes
Garnishes like Thai basil, cilantro, mint and sliced limes
Choosing Rice or Noodles for Hot Pot
The beauty of the hot pot lies in its versatility. You can use noodles or steamed white rice as your carb of choice. At our house it's usually all about the noodles. Sometimes we use fresh egg noodles (think: long strands of Asian-style fettuccine), ramen noodles (spiraled and toothy), rice noodles similar to what we use for Pho (thicker, slicker and long), or vermicelli noodles like we use in our Vietnamese chicken curry noodle salad bowl (thinner and more delicate rice noodles.) Whichever I use, I cook the noodles while the broth is simmering and have them available in a bowl just like all the rest of my ingredients.
Choosing Your Hot Pot Proteins
There are tons of ideas when it comes to proteins for your hot pot:
Thinly, VERY thinly sliced beef (and or pork). This is pretty much a non-negotiable. I buy it pre-sliced from my Asian market where they sell wagyu cuts in paper thin slices that cook in about 30 seconds.
If you slice the beef yourself, choose a high grade, fatty cut like ribeye or short ribs and pop it in the freezer for 15-30 minutes so it becomes firmer and easier to slice as thinly as possible. When boiling the meat in the hot pot there's no need for seasoning or marinating the meat (if grilling, yes! it's delicious that way!)
Asian beef meatballs. These are usually found in the freezer section and are pre-cooked so really, the just need to be warmed in the broth. They come in a variety of flavors, depending on how daring you feel, including unusual seafood flavors I've yet to experience.
Tofu. I looooove fried tofu and while I can fry it myself, it's pretty easy to just buy it packaged. It's not as crisp but it does the job. If fried tofu isn't your thing, use a firm or extra firm tofu so it holds up to cooking with the other ingredients.
Shrimp, crab, or fish. Next to the tofu, shrimp is my favorite addition to my hot pot bowl. If using crab or lobster, precut the shells so they are easy to extract the meat from. Mussels, clams and other crustaceans are also popular. And the classic florescent fish cake is kind of fun to throw in too. Mild white fish and scallops are also great seafood options.
Eggs. Quail eggs are a traditional addition, but to keep things tidier, I'll cook some soft jammy ramen eggs to slice and add on afterward.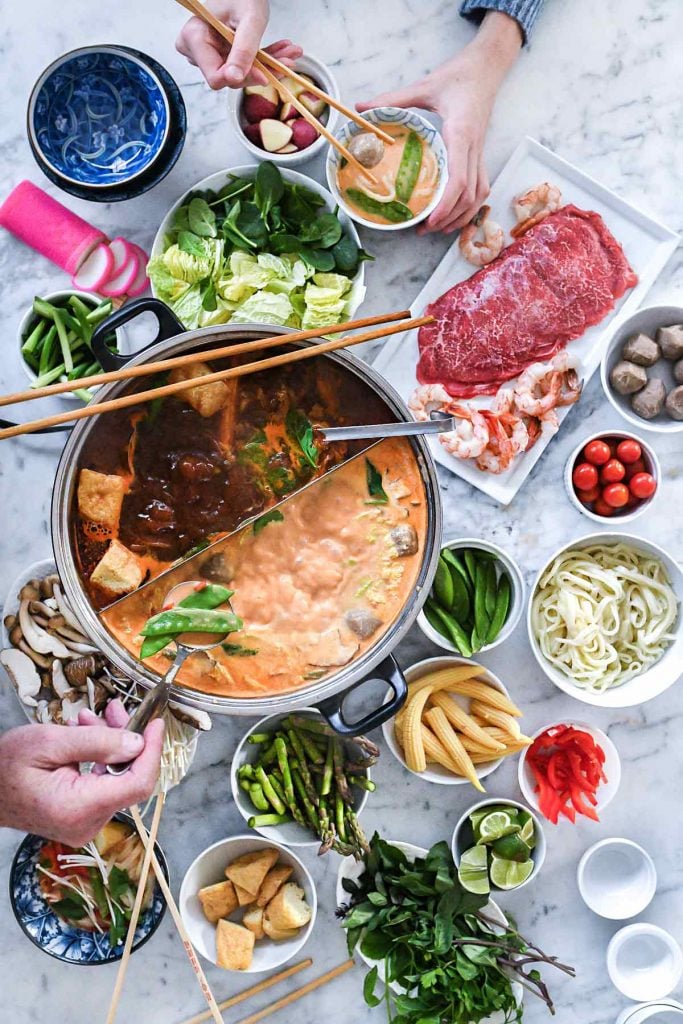 Hot Pot Broth
No.1 : Asian Red Curry Hot Pot Broth
I recommend choosing two broths, but make sure they're very different—think one mild and one spicy, or a broth that goes with beef and a broth that works with veggies or seafood. I went with two different broths for our hot pot. The first is a simple beef broth flavored with sliced sweet onion, Thai Kitchen red curry paste, and McCormick's ground ginger and garlic powder straight from my spice drawer. I pulled the recipe straight from the McCormick recipe website after reading about it in the McCormick Flavor Forecast report.
Add more or less red curry paste to the red curry hot pot broth recipe listed below depending on your desire for spiciness, and add a squeeze more lime to balance the heat and flavors.
No. 2 : Thai Curry Hot Pot Broth
The second broth recipe for our hot pot adventure comes from my friend Ali's recipe for her Easy Thai Curry Hot Pot, a coconut-based broth similar to the one in my 5 Ingredient Thai Pumpkin Soup recipe, minus the pumpkin.
I only made a couple of changes to Ali's recipe, using chicken stock in lieu of vegetable stock, and adding 2 tablespoons of brown sugar and 2 tablespoons of fish sauce similar to the flavors in my Slow Cooker Thai Chicken Soup.
What You'll Need to Make a Hot Pot
Cooking at the table is the essence of the hot pot. To do so, you can either go classic-style with a divided pot for serving more than one broth, or if you go simple style with just a single broth, you can hack the hot pot and use a deep sided electric fry pan or your Instant Pot instead.
Because I make this frequently, I invested in a stainless steel divided electric hot pot. You can also find hot pots with grills at their base to grill your meats and seafood before combining with your broth in the pot that sits on top. Hot pots are also available as the pot only that can be warmed at the table on a butane heater or an electric burner.
Other things you'll need for your hot pot cooking:
Small serving bowls for your diners to load as the food cooks. Keeping the bowls small keeps the soup hot and encourages your fellow hot potters to continue cooking.
Chopsticks and soup spoons for slurping and diving for what's cooking. Be sure to use chopsticks designated for eating and those for cooking. Plunging your eating chop sticks into the communal broth is a big no-no.
Small strainers (one for each diner) for fishing for your ingredients or keeping them contained as they cook.
Ladles for serving the individual broth(s).
More Asian-Inspired Recipes to Make the Meal
If you make this recipe, please let me know! Leave a ⭐️⭐️⭐️⭐️⭐️ rating on this recipe below and leave a comment, take a photo and tag me on Instagram with #foodiecrusheats.
Print
Red Curry Hot Pot Broth
Add more or less red curry paste to this beef stock based broth depending on your desire for spiciness and add a squeeze more lime to balance the heat and flavors.
Ingredients
2

teaspoons

vegetable oil

1

large sweet onion

, thinly sliced

2

containers

, 32 ounces each Kitchen Basics® Original Beef Stock, (8 cups)

¼

cup

Thai Kitchen® Red Curry Paste

2

tablespoons

reduced sodium soy sauce

1

tablespoon

packed light brown sugar

1

tablespoon

McCormick® Garlic Powder

1

teaspoon

McCormick® Ginger

, ground

2

tablespoons

lime juice
Instructions
For the broth, heat oil in 6-quart stockpot over medium-high heat. Add onion; cook and stir until tender, about 3 minutes. Stir in stock, curry paste, soy sauce, brown sugar, garlic powder and ginger. Bring to boil. Reduce heat to low; cover and simmer 20 minutes. Stir lime juice into broth just before serving.

Place proteins, vegetables, noodles, and garnishes in bowls or on plates for guests to customize their meal.

To serve, pour broth into one or both sides of the hot pot, depending upon whether you're offering one broth or two different broths. Cook the vegetables and proteins in the broth and ladle over noodles or rice.

NOTE: Instant Pot or Pressure Cooker Method

Multifunction Electric Pressure Cooker Method (Saves 1 hr. cooking time): Heat oil on medium sauté setting in pot of multi-function electric pressure cooker (instant pot). Add onion; cook and stir until tender, about 3 minutes. Stir in stock, curry paste, soy sauce, brown sugar, garlic powder and ginger. Cover and lock lid into place. Set to cook 10 minutes on high pressure (or Soup setting). Vent pot and release pressure before opening and carefully remove lid. (Check manufacturer's manual for safe operating instructions.) Set on low sauté setting. Stir in lime juice. Allow guests to cook steak in broth, about 2 to 3 minutes or until desired doneness. Customize individual bowls and serve as directed.
Notes
Hot pot is best enjoyed right away, but if you have leftover broth you can certainly save it and reheat it the next day.
Nutrition
Calories:
69
kcal
|
Carbohydrates:
14
g
|
Protein:
2
g
|
Fat:
1
g
|
Saturated Fat:
1
g
|
Polyunsaturated Fat:
1
g
|
Monounsaturated Fat:
1
g
|
Sodium:
277
mg
|
Potassium:
157
mg
|
Fiber:
2
g
|
Sugar:
8
g
|
Vitamin A:
2334
IU
|
Vitamin C:
7
mg
|
Calcium:
44
mg
|
Iron:
1
mg
More Easy Soup Recipes You'll Love
We send good emails. Subscribe to FoodieCrush and have each post plus exclusive content only for our subscribers delivered straight to your e-mail box.
Follow me on Instagram, Facebook, Pinterest and Twitter for more FoodieCrush inspiration.
This post is in partnership with McCormick. As always, thank you for reading and supporting companies I partner with, which allows me to create more unique content and recipes for you. There may be affiliate links in this post of which I receive a small commission. All opinions are always my own.