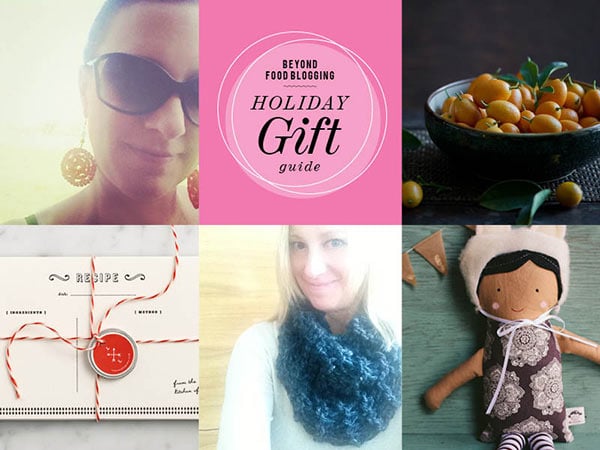 It's holiday time and gift giving is grand! Next week you'll be seeing some talented bloggers in the new Holiday issue of FoodieCrush, so I'm not going to wax on a lot today about how you should think of others instead of just yourselves and give gifts to those in need.
That said, we all deserve a little holiday trinket or two of joy, am I right or what? Hells to the yeahs!
In the next two weeks I'll be hosting some giveaways that you don't usually see on food blogs, a few of my favorite finds this year. What is this? Oprah? Nah, just a thank you to all of you awesome readers for sharing your love of food bloggers, photography and good eats with me.
Until then, here's a taste to wet—or is it whet?—your appetite. Below are a few multi-talented food bloggers whose creativity isn't limited to the kitchen and whose wares would make great discoveries under the Christmas tree or alongside the menorah.
Garlic Girl's Crocheted Earrings
If you've seen me at all this year, then you've seen my favorite earrings, the pair that I can hardly bear to let leave my ears. I bought these straight out of Jodi's ears when I saw her wearing them at Blogher Food this past spring, and I haven't stopped receiving compliments since. Crocheted by hand and light as a feather, they're the only accessory you need to make a statement and brighten that purdy face of yours.
read the blog:  Garlic Girl
shop the store: Enchanted Style on Etsy
Love and Lemon's Letterpress Recipe Cards
Yes we like to keep our recipes online, but think of how amazing it is to stroll through your recipe card index and feel chunks of cookie dough or see smears of red wine on the dogeared cards in your grandmother's handwriting. You know, the recipes that are your all-time favorites? Now think about how you could record some of your creations that could one day be a loved ones treasure. Thanks to Jeanine of Love and Lemons, one of my favorite foodie typophiles, you now have that chance with her gorgeous letterpress recipe cards. Cue the prop room, she's also selling off some of her favorite vintage kitchen finds.
read the blog: Love and Lemons
shop the store: Shop Love and Lemons 
The Faux Martha's Chunky Knit Cowl
I am a scarf whore. I love them. I love them as an accessory but more than that I love them because they keep my long neck warm. My dad's nickname in college was "Os"—as in Ostrich—so I suppose I come by this need naturally. Anyway, if you haven't seen Melissa's chunky crocheted cowls making the rounds, you just might live in a cave. And if you do,  you really should have a cowl to keep your cavewoman neck warm. Get one as a gift. Get one for yourself. We could start a food blogger's cowl movement and give those fashion bloggers a run for their money thanks to The Faux Martha.
read the blog: The Faux Martha
shop the store: The Faux Martha Knits
White on Rice's Photo Cards
In this world of instant responses and expectations, the art of sending a letter has gotten lost in this evolution of communication. I cannot tell you of one single person who doesn't enjoy, and miss, receiving a note in the mail. Maybe it's become a dying art because we've missed having art to send. Miss no more. From roses to kumquats, Todd and Diane's tranquil scenes create the perfect reason to send lettered art thanks to White on Rice Couple's photo cards. Give a set to someone you like and you'll surely receive something signed, sealed and delivered in return.
read the blog: White on Rice Couple
shop the store: White on Rice Couple Collections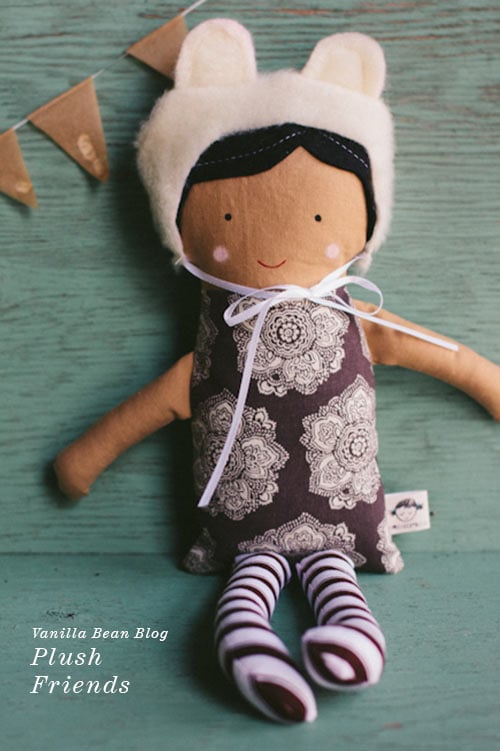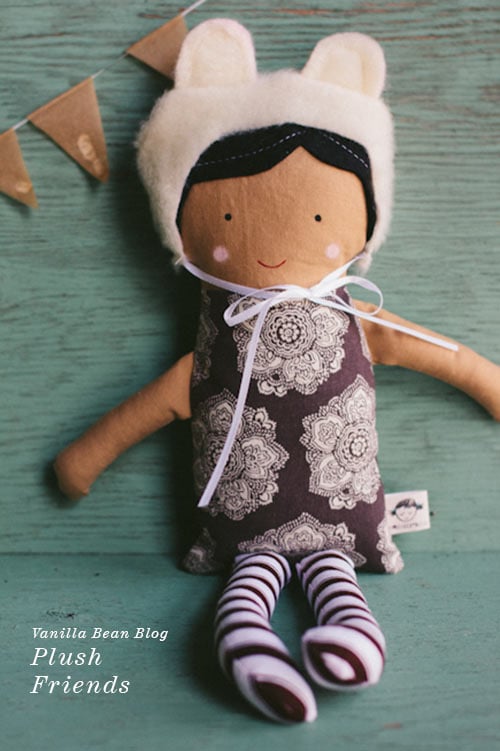 Vanilla Bean Blog's Plush Friends
Just like the calming feel of her amazing photography and her delish recipes, Sarah's sweet creations are a true reflection of her style and sensibility. Made by hand with recycled and vintage fabrics, these plush dolls are squeezably delicious for any age or collector of one of a kind finds made with love. Just like her recipes. By the way, you'll be seeing more of Sarah in the Holiday issue of FoodieCrush so stay tuned.
read the blog: Vanilla Bean Blog
shop the store: Threaded Basil on Etsy
And now, presenting………………..a few Friday Faves.
1. Alert your credit cards and raise your limits stat. If you're looking for a definitive gift guide you can pretty much skip any other source or site and head over to To & From created by Katie and Meg , with products curated by some killer style mavens aka bloggers. Seriously, you do not want to miss this one.
2. After meeting the lovely Arianna from OXO last weekend, she filled me in on the details of Cookies for Kids Cancer, an amazing charity started by two of her co-workers in honor of their young son Liam who lost his battle to cancer at the age of six. Until December 31, 2012, OXO is matching donations up to $100,000 for the cause. Remember, its the season of giving, so here's how you can help.
3. Cookies, cookies, cookies. We can't get enough! Get more blogger's cookies thanks to the talented food bloggers participating in Katrina's 30 days of cookie recipes. How did Shortcut Pie Dough Cookies not make the cut? HA!
4. Download a free ebook from the talented Dana with recipe contributions from some of my favorite bloggers who want to raise $1000 for the Charity Water campaign. Get and give back.
5. Pets need healthy homemade snacks too and 52 weeks of treats ebook by Serena and Sarah is ADORABLE enough that even if you don't have a pooch, you will want one. My dogs are so jealous. Good thing I bought a copy. 40% off 'til Saturday.
6. Need help with your not so mad food stylin' skillz? Nancy to the rescue.
7. I think Kristen likes to send me all of the parody/junk/videos she doesn't want to post on her site, and I'm eternally grateful for that. Are you on Instagram? Take a look in the mirror, this video is you. And it might be the only way I could ever in my life listen to Nickelback and not change the channel.
8. Loving Sneh's free printable Gingerbread Muffin recipe greeting card. Would be so cute to include the ingredients and give as a neighbor gift. Done!
9. Favorite tweet of the week: "@Buns_In_My_Oven Can I bury myself in a really large burrito and eat my way out? That sounds like heaven…" via @CountryCleaver
10. Watch for FoodieCrush Holiday launch next week. Oh wait, did I already say that? :)
And, get your copy of Holiday Cookie Cravings and get your cookie on! Happy weekend everybody.
Make sure to subscribe to FoodieCrush for sneak peeks and the first reveal of the Holiday issue. Follow me on Twitter, Facebook, Pinterest and Instagram too.