It's officially here. Summer!
The best part: swimming with my Smudge, backyard barbeques and playing outside 'til the night sky glistens with stars as the moon crests the mountain tops.
The worst part: The longest day of the year has officially come and gone. June 20, my dad's birthday marked summer solstice and the march toward the days all food bloggers dread: winter. Which equals shorter days. Which means come dinner time we've lost all the natural sunlight to shoot our beautiful food.
But that's a long time away yet and we have much to savor and stock up on.
Like my Honeyed Sriracha Chicken Wings recipe that are sweet and spicy with a flavor that's rounded out rather than blistering. Kind of like my summer so far.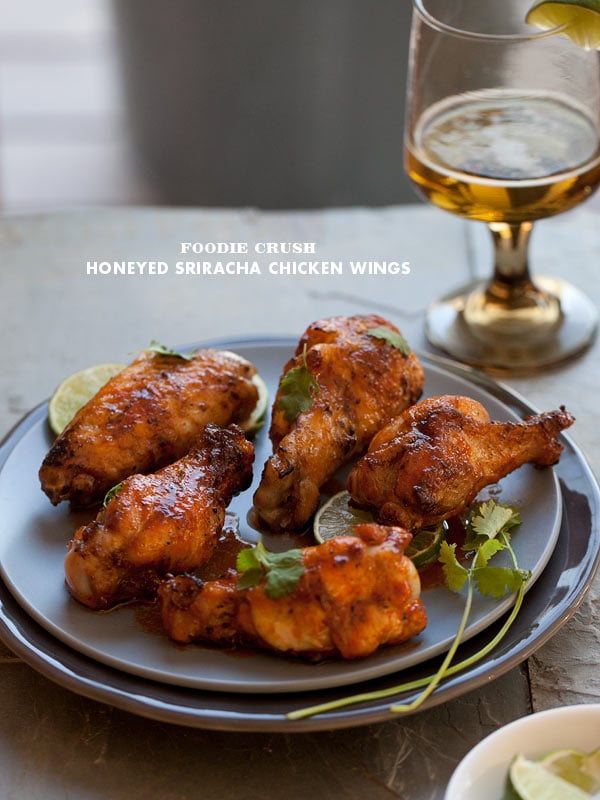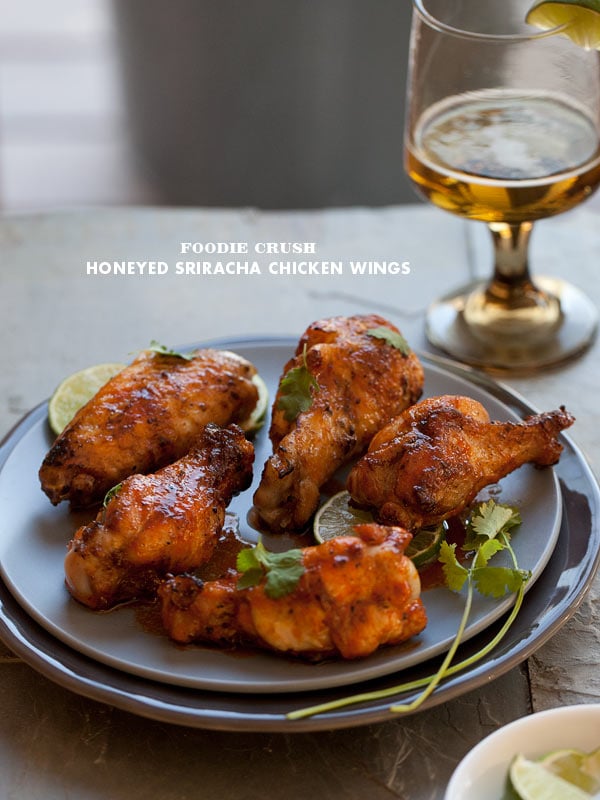 Print
Honey Sriracha Chicken Wings
Ingredients
For the wings:
3

pounds

chicken wings

skin removed

1

tablespoon

vegetable oil

2

teaspoons

ground coriander

½

teaspoon

garlic salt

ground pepper
For sauce:
6

tablespoons

butter

⅓

cup

sriracha

2

tablespoons

honey

1

lime

juiced

½

orange

juiced

3

tablespoons

cilantro
Instructions
In a large plastic freezer bag combine chicken wings, vegetable oil, coriander, salt and pepper. Place in refrigerator and chill for 2 hours or overnight.

Bring grill to medium-high heat, place chicken on grill, and grill for 18-20 minutes, turning wings every 4 minutes or so.

Meanwhile, melt butter over medium heat in a small saucepan. Add sriracha, honey and juices and mix well to combine.

Remove wings from grill. In a large bowl combine wings and sauce, garnish with cilantro and serve.
On another note, the next issue of Foodie Crush is coming along nicely and includes so many amazing bloggers who have contributed. I can't wait to share their recipe creations, stories and insight with you. Do you want to know who some of the food bloggers are that will be featured or would you rather be surprised? Here's a sneak peak…can you take a guess who might be featured?
And now for a few Friday faves:
1. Are you a food blogger and want to be featured in the summer issue of Foodie Crush mag? Then this Friday Fave is for you! Just send me a photo of your favorite kitchen tool snapped with your camera phone. It's so super easy and will take all of about 2 minutes of your non-blogging/non-tweeting/non-recipe developing time. Click! Check out the deets here.
2. Are you on Google +? I am and I would love to extend my circles so look me up will you? Last week I mentioned Irvin of Eat the Love's blog post that explains why Google+ is essential for bloggers, and I think its worth another mention since so many of us are still getting our toes wet.
3. Quote of the week, "I predict future humans will look back on food-splattered cookbooks the way we look back on medieval folks who changed their underwear only every few months or so." What else does L.V. Anderson thinks about the future of cookbooks? (via Twitter @RamiblingEpicure)  Looking forward to your comments below.
4. For you obsessive Instagrammers: who want to see your pals Instagram timelines all in one collective spot or the ability to browse on your computer? Here's two desktop versions to give a try: Followgram or my new favorite statigr.am, which provides stats of which pics your friends like the best. If you're that kinda stat obsesssed person…I personally don't know anyone like that :)
5. And finally, set aside a full day and discover a new food blogger favorite thanks to Sommer with A Spicy Perspective's mega food blogger blog roll. Excellent line-up Sommer!
Happy Friday friendlies!
Related Posts
Friday Faves and My View of Blogher Food 2012
Friday Faves and a Burger Bash
Friday Faves plus Truffled Mushroom with Prosciutto and Tallegio Grilled Cheese
Thanks for reading and please keep in touch. Subscribe to Foodie Crush and follow me on  Twitter, Facebook and Pinterest and check out  Foodie Crush magazine and  Cookie Cravings cookbook.