Hello hello and welcome to Friday Faves.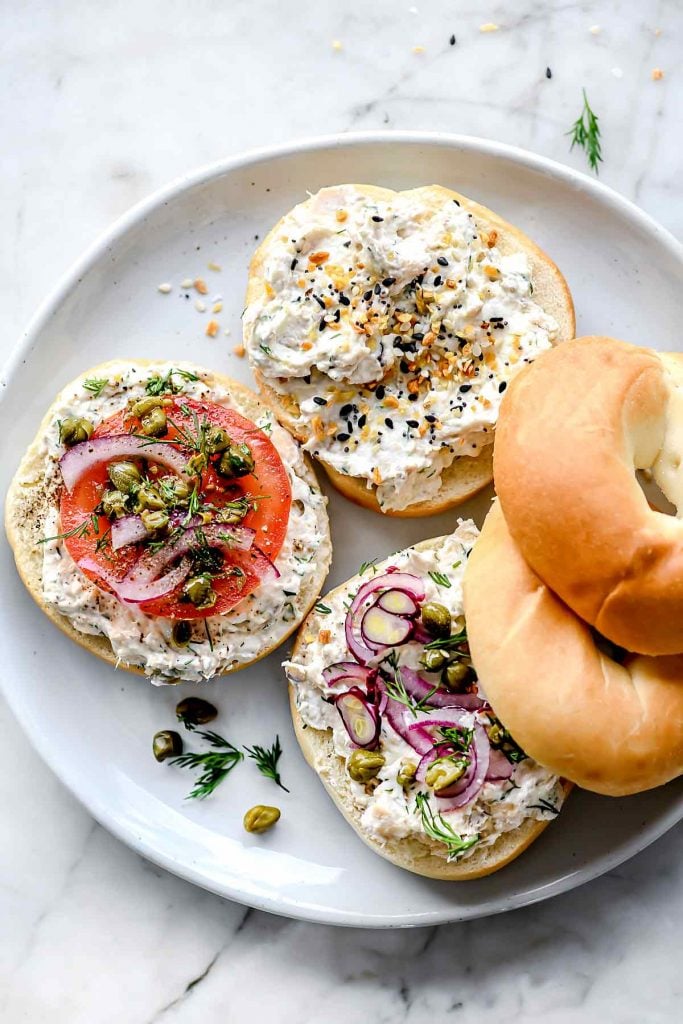 I don't know what it is but warmer spring days give me all the bagel cravings making them the best for pulling together for an easy weekend brunch.
Chef José Andrés is the best humanitarian working right now. Nothing stops him. Earthquakes. Hurricanes. No matter what the disaster he and his team are there. And now, what he and his World Kitchen are doing for the people of Ukraine is a blessing.
In this era of disinformation, there are reports of plenty of Ukranian war photos going around that aren't real. But this photojournalist on assignment for the New York Times is putting her life on the line to get incredibly heart-achingly and startling shots like these.
A good read –> I learned we can keep helping Ukraine along with former RHONY's Bethany Frankel who has raised $5 million in new donations to go along with $10 million she already had tagged for relief aid through her BStrong initiative in conjunction with nonprofit Global Empowerment Mission, where 100% of money and donations goes to those who need it. "Listen, most people care about fashion week and their eyelashes," she told Bustle. "But there is a select group of people that really do care."
and speaking of giving…
As I do while watching my Sunday CBS This Morning, I was once again totally inspired and a little teary-eyed while learning about the non-profit Hope Chicago started by two millionaire philanthropists. It awards full-ride college scholarships for both students and their parents, helping to close the intergenerational wealth gap. Now that's how to put the wealthy's money to work.
42 best shows on Netflix in March worth raving about. What are you watching?
and…
I'm SO READY to start watching this.
I LOVE yellow death aka boxed mac and cheese. Don't blame me for the name, it's what my college friends named it because they obvi had zero taste. Anyway, I'm still a fan and I NEVER would have believed the top spot in this taste test would have gone to the brand it did. And no, Kraft did not come out the winner (which I gotta agree with because it's not the same as it used to be.)
If you love shrimp like I do, you'll love these spicy peanut noodles.
This fish dinner looks so yummy, and perfect for spring.
and…
These spring-flinged fish cakes with citrus salad would make any table a stunner.
Dessert for dinner or for breakfast too is what this mango panna cotta has on it's to-do list.
This is one of my all-time favorite sandwiches so I'm thinking I need to try it as this recipe in casserole form.
and…
One of my all-time favorite dips is ready for the softest pita to scoop it up with.
Speaking of dips, how gorgeous and springy is this crudités board?
Time to warm up with this epic hot and sour soup.
Craving these saucy meatballs.
Okay, I'm in: Air fried pickles!
I'm pretty loyal to my chocolate chip banana bread, but this one caught my eye the other day and it got my mouth watering.
but…
This lemon cake might be getting made first.
This pie looks luscious.
Okay, this it's a little spendy but this ice cube box would be a fun gift and what cool-shaped ice cubes!
I've been on a spring cleaning binge and I'm not stopping yet. Kitchen, you're next! Here's how to clean your stainless-steel kitchen appliances.
If you have curly hair like my daughter, you'll want to read this.
My sister and I are planning a trip with my mom to Charleston and Savannah and this guide will def help. If you have suggestions of what to do, see, eat, please e-mail me!
Shedding season is here and this dog brush is a must.
Has anyone tried these teeth whitening strips? With over 16,000 5-star reviews I'm thinking I need to try them.
31 dresses from Target you'll want on your wish list.
I'm not much of a Birkenstock fan (except for these that I seem to have lived in last summer), but these high-gloss big-buckled babies are what I want for summer and since I'll wear them every day, they'll be worth the investment.
And finally, 16 tips for falling asleep faster. I'm a big advocate for #7. Good night.
And with that, have a happy weekend everyone.
We send good emails. Subscribe to FoodieCrush and have each post plus exclusive content only for our subscribers delivered straight to your e-mail box.
Follow me on Instagram, Facebook,Pinterest, and Twitter for more FoodieCrush inspiration.
As always, thank you for reading and supporting companies I partner with, which allows me to create more unique content and recipes for you. There may be affiliate links in this post of which I receive a small commission. All opinions are always my own.