I have a long tradition with the Superbowl, and most of them I even remember past the 3rd quarter.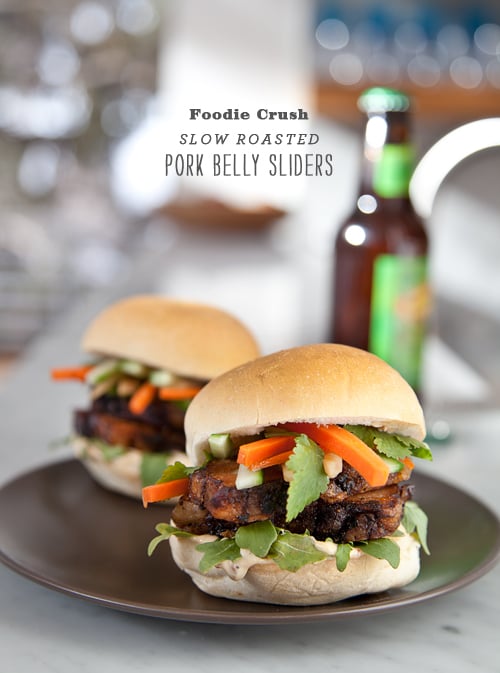 Now let me just say, in my defense, those memories usually depended upon which team I picked to win. And sometimes I wasn't such a good picker.
Back in the day when my friends and I still thought we could hang like we did in college, if your chosen team was scored upon in any which way, it was a side game bet for our fellow party goers to see just how easily us losers could traverse crawling OUT the living room window, dropping DOWN to the driveway and partaking of a penalty shot. Oh. How. Dumb. In. Our. Youth. Yet another reason I'm thankful my twenties are in my rear view mirror.
This year, given my beloved 49ers are out of the running, it REALLY, really, really is all about the food: making, eating and grazing again.
G-dawg was fiddling around with
a recipe for Pork Belly
—which turned out deliciously—to top Ramen—that failed miserably—so we had a bunch of the bacon-ey slabs of love left over.
Always a fan of pork in any form—especially when it's salty, peppery and crusty—he pulled together a quick and delicious version of a Banh Mi sandwich but in a manageable mini variety.
He's a good cook that boy.
Pork Belly Sliders. Perfect for a crowd, easy to assemble and tangily tastily delicious. Take that Tom Brady.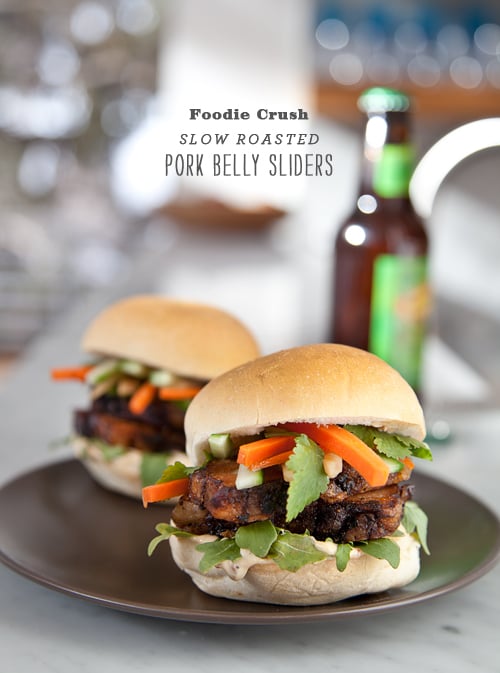 If you make this recipe, please let me know! Leave a comment below or take a photo and tag me on Instagram with #foodiecrusheats.
Pork Belly Sliders
Slow roasted pork belly slider recipe with these quick easy steps.
Ingredients
For the Slow Roasted Pork Belly
5

pounds

pork belly

kosher salt and freshly cracked black pepper
For the Asian Slaw
2

carrots

peeled and julienned

1/2

English cucumber

seeded and julienned

1/2

Fuji apple

julienned

1/2

red onion

thinly sliced

1/4

cup

cilantro

1/4

cup

rice wine vinegar

1/4

cup

mirin

1

teaspoon

sugar

2

tablespoons

light soy sauce

pinch

or more of red pepper flakes

to taste for spicy heat
For the Chipotle Mayonnaise
1/3

cup

mayonnaise

1

medium canned chipotle pepper in adobo sauce

finely chopped

1

teaspoon

adobo sauce
To assemble Sandwiches
dozen slider buns or dinner rolls

arugula
Instructions
For the Slow Roasted Pork Belly
Preheat oven to 250 degrees.

Remove skin from the piece of meat. Score the fat cap in criss cross sections through the fat but not into the meat itself. Generously coat with salt and pepper, rubbing into the criss cross sections and on all sides of the meat.

Place in a roasting pan fat side up and roast in oven for 3 hours. After 3 hours, increase heat to 400 degrees and bake for another half an hour basting every 10 minutes until crunchy on top.

Remove from oven and let cool. You can make this ahead of time and put in refrigerator until ready to make sandwiches.
For the Asian Slaw
Combine all ingredients. Put in refrigerator to chill for an hour or longer for flavors to blend.
For the Chipotle Mayonnaise
Combine ingredients. Chill in refrigerator until ready to assemble sandwiches.
To assemble Sandwiches
Slice pork belly into 1/4" slices. If pork has been reserved in refrigerator, reheat slices in fry pan.

Slice slider buns in half, slather sides with chipotle mayonnaise.

Layer arugula, two pork belly slices and a heaping of Asian slaw mixture. Top with bun and serve.
Nutrition Facts
Pork Belly Sliders
Amount Per Serving (8 g)
Calories 0
* Percent Daily Values are based on a 2000 calorie diet.
Let's not go getting all stuffed with big portions okay? Here's a few slider ideas to keep your appetite at optimum grazing levels.
Easy to pull together for a grazing crowd, Alexandra's recipe for
I Adore Food
's
Mini Pulled Pork Sliders 
are slow cooked in beer and then topped with a chipotle and tequila BBQ sauce. Game on!
Susie keeps her Sundays tuned out of T.V. and focused on family time but is breaking her ban on Sunday T.V. thanks to the big game. But it there's one television event to bring the fan together, do it with
Return to Sunday Suppe
r's S
uper BLT Bites on Sourdough with Tarragon Mayonnaise 
.
How easy, and how BAD do I NEED to curb my chicken wing fix for game day? Here's a new twist:
Blog Chef
's recipe for
Buffalo Chicken Sliders
  on those lil' bitty buns! Bobby pulls this recipe together easy peasy reminding us you don't have to spend all day in the kitchen to make it taste gooooood.
Oh lookey there, with an oozey–gooey–surprise in the middle,
Live Love Pasta'
s
Meatball Sliders with Basil Pesto
 is a multi-napkin event thank to Kelly's easy marinara topping.