Store-bought flatbread is the base to summer's favorite flavors: juicy grilled peaches and a bright pesto that make for a fast appetizer or main meal.
Once in a while this gal's gotta let her man take over the reigns in the kitchen. Actually, I ask and I plead. He is usually more than happy to abide.
Earlier in the day we'd gone to lunch and he'd helped me with some brainstorming for new recipes for a project I'm working on. More on that soon (it's gonna be good!). Once we got home, his creative juices were still going strong so I put his creative foodie cravings to task.
"What should we make with this arugula pesto?" I asked.
Apparently, like me, he's been feeling the gravitational pull toward eating seasonal, and he went straight for the peaches.
The weekend before, we'd made our first foray to the farmers market and found the last of the cherries that I used in this Skillet Cherry Pie and the first of the Utah peaches.
About an hour outside of Salt Lake City in a town called Brigham City is the famous Fruit Row, an old highway lined with local farm stands. It's probably the largest producer of Utah's local produce. Especially peaches. On the weekends these are the folks you'll find at the Salt Lake farmers markets. I picked some up from one of my favorite vendors, Granny's Produce (I mean, how can you go wrong with a name like that?) and home they came with me.
While at the farmer's market I also picked up some arugula for this pesto that is so freaking good, and is incredibly simple to make. I've shared how to do just that in this post here. Arugula you ask? You bet! It's a great alternative to basil and one thing I really like is that when it's chopped up in the food processor it doesn't lose it's vibrant green color.
About the Recipe
For a quick appetizer, lunch and definitely dinner, store-bought flatbread can be the saving grace to your day. Sure, I love making homemade when I can, but let's face it, sometimes you just need to get food in your face. I've really like the Stonefire Naan brand, but I haven't tried many others since that's what's sold at my local Kroger. It's light and fluffy. I like that. For this flatbread we used the garlic flavored but regular works great too.
My husband tried fixing the peaches two different ways. First, he simply sliced them, gave them a light brush of olive oil and then grilled them. The other batch he let soak in balsamic vinegar for about 10 minutes, then grilled. The balsamic infused peaches were a little more sweet and tangy, and came off the grill looking darker. I used the plain peaches for the photos but really, both were good. Grilling peaches simply brings out the sweetness in them. One of my favorite tricks.
We double layered arugula flavor with both my homemade arugula pesto and then topped the whole thing with fresh arugula as well. The fresh leaves add a little texture that I really like. Fresh mozzarella chunks give this flatbread a bit of a caprese flavor. One of my favorites.
And because I don't think I can ever eat grilled peaches without balsamic, I drizzled the whole thing with my favorite store-bought balsamic glaze. Seriously, it might be the best sous chef in your kitchen. If you're feeling industrious, I have a recipe for homemade balsamic glaze here.
If you make this recipe, please let me know! Leave a comment below or take a photo and tag me on Instagram or Twitter with #foodiecrusheats 
Print
Grilled Flatbread with Peaches and Arugula Pesto
Store bought flatbread is the base to summer's favorite flavors: juicy grilled peaches and a spunky pesto that make a super fast appetizer or main meal.
Ingredients
1

package naan flatbread

, (garlic or plain flavor)

2

peaches

, pitted and sliced

extra virgin olive oil

½

cup

arugula pesto

, (recipe here)

4

ounces

fresh mozzarella cheese

, sliced and quartered into chunks

1

cup

fresh arugula leaves

Balsamic glaze

, if desired
Instructions
Preheat the grill to medium high heat and prepare your clean grate with a swipe of a paper towel moistened with grapeseed oil.

Lightly oil the peach slices and place on the hot grill grates. Nudge them after about 1 minute to be sure they don't stick to the grill. Flip after about 3 minutes or when you see them becoming caramelized and grill marks are forming. Cook for another 3 minutes then transfer to a plate and cover to keep warm.

Spray your naan breads with cooking spray or lightly brush with olive oil. Place the naan on the grill grates for about 2 minutes or until grill marks form. Flip the naan and spread each with half of the arugula pesto. Remove from the grill and top each bread with the half of the grilled peaches, mozzarella and arugula. Drizzle with balsamic glaze if desired.
Aaaand, If You Need a Few More…
Here are two more FoodieCrush favorites from the recipe archives.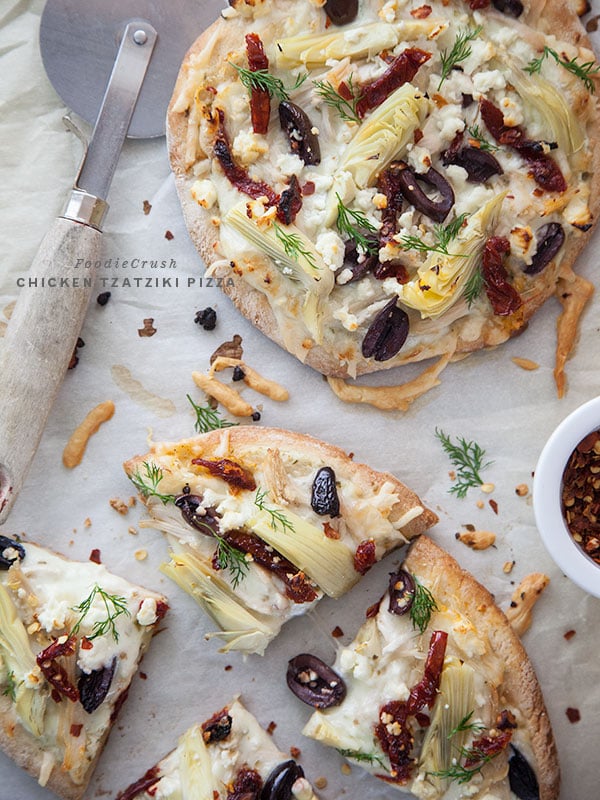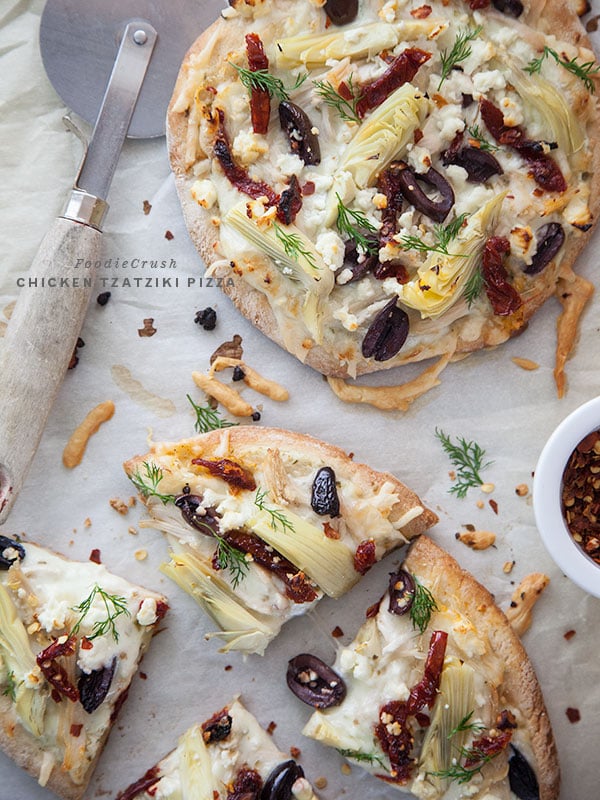 Pumpkin and Fried Sage Flatbread Pizza
Thanks for stopping by, have a great day, and make something good.
As always, thank you for reading and for supporting companies I partner with, which allows me to create more unique content and recipes for you. All opinions are always my own.  
Are you following me on Instagram, Twitter, Facebook and Pinterest? 
Thanks for reading and subscribe to FoodieCrush to have each post delivered straight to your e-mail box.