These chewy bars are full of protein thanks to almond butter and sliced almonds and are naturally sweetened with honey and dried fruit, for a healthy snack or breakfast on the run.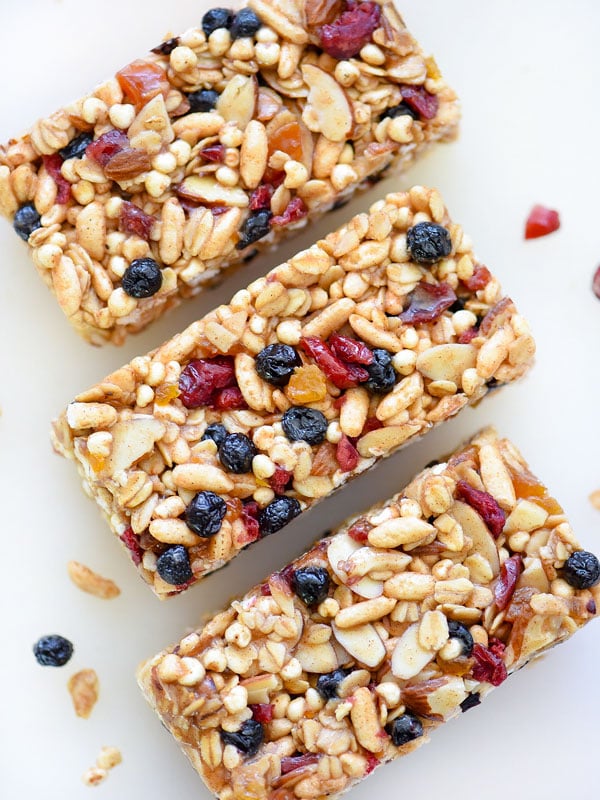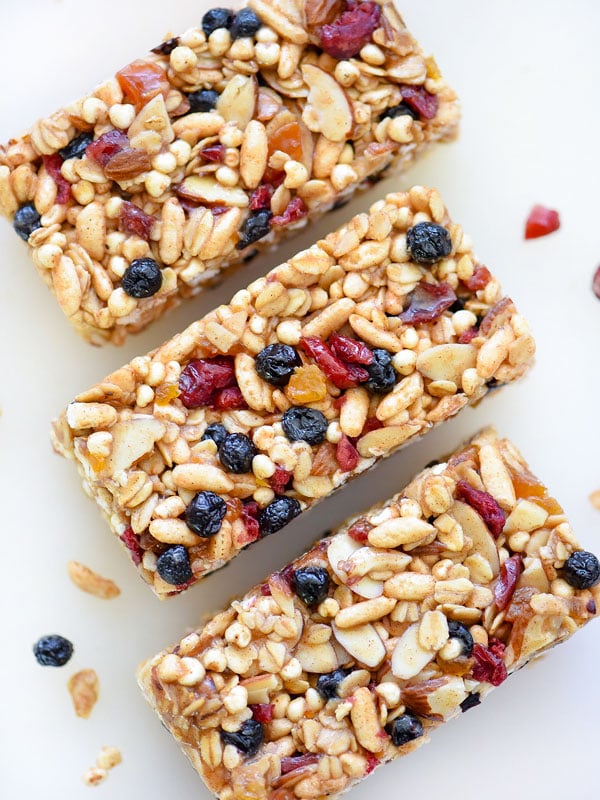 I consider myself a fairly friendly neighbor.
I put thought into my holiday neighbor gifts. I wander over with a smile to say "hey, how've you been?" And I'm always in search of people to deliver food blogging leftovers to.
You gotta share the love. Just don't expect reciprocity.
So when one of my neighbors dropped by to deliver a Ziploc bag of homemade power bars last week, I was impressed. Not only because it was the man of the house who made them (kudos to guys who cook beyond the grill), but also because he didn't take the usual course of action to think that just because I'm a food blogger that I wouldn't appreciate them.
Let's get something clear. I'm no snob when it comes to free food.
No Time for Formality
Standing at the doorway I dug right in and handed one to Smudge.
I was immediately impressed with the precision of my neighbor's square cutting skills. How'd he get them so aligned, so straight, and his cuts so clean? Judging by the his clutter-free garage, I have a feeling that's just the way he rolls.
Smudge couldn't tell me if she liked them or not because her mouth was delightfully full. I took that as a good sign.
After just one bite, I knew I needed the recipe to share. I immediately asked for it. He obliged. Some neighbors might forget about that request. Not him. In 5 minutes he was back at my door with a copy in hand.
See, it pays to be neighborly.
About the Recipe
These bars are chewy and sweet, thanks to the honey and dried fruit. Looking at them now, they kind of look like bars of bird seed. But they sure don't taste like it.
The puffed brown rice and puffed millet give the bars a texture akin to rice cereal bars, minus the refined sugar and marshmallow. I had a heck of a time finding puffed quinoa or puffed millet but finally discovered Arrowhead Mills puffed millet at Whole Foods. You can also order it online here. Do your best to find the millet, I loved the difference in visual texture to the oats and brown rice they added to the bars
Almond butter and honey are the binder for these bars. I used Justin's vanilla flavored almond butter because it was in the pantry. Trader Joe's has a good store brand version of regular almond butter and I saw a big bottle of the Costco private label on my other neighbor's counter the other day. I visit a lot of the neighbors. You could also use peanut butter if almond butter isn't your thing.
I used regular oats for the recipe and toasting them makes a difference. It deepens their flavor and takes away that dry gritty taste. Don't skip this step. To toast, I simply dumped them into a dry, non-stick skillet and heated them on medium for 2-3 minutes, stirring so they didn't get too bronzed on any side.
My neighbor doctored up the original recipe by adding dried blueberries. I took it another step further and added dried apricots. If they're in the pantry, better put them to use.
If you make this recipe, please let me know! Leave a comment below or take a photo and tag me on Instagram or Twitter with #foodiecrusheats.  
Print
Chewy Almond Butter Power Bars
Ingredients
½

cup

almond butter

½

cup

honey

1

cup

rolled oats

toasted

½

cup

puffed brown rice cereal

½

cup

puffed quinoa or millet

½

cup

sliced almonds

¼

cup

roughly chopped dried cranberries

¼

cup

dried blueberries

¼

cup

roughly chopped dried apricots

kosher salt
Instructions
Spray an 8-inch square pan with cooking spray and line with parchment paper. Heat the almond butter and honey together in a small saucepan over low heat, stirring, until melted and combined.

Combine the oats, cereal, quinoa or millet, almonds dried fruits and kosher salt in a medium size bowl. Pour the almond mixture int the dry moisture and stir until well combined. Transfer into the pan.

Wet your hands and press the cereal bar mixture down until it's flat and even, packing it tightly. Refrigerate for at least an hour.

Remove the mixture from the pan and cut into squares.


recipe slightly adapted from Men's Fitness, December 2014
One More Bite of Energy
Bars and bites, fortified snacks have been making their way into our hearts and mouths for years and our bodies are thanking us for it. Here are a few more ideas of how to put a little more whole food energy into your day.
Chocolate Chip Cookie Dough Raw Bars
You only need 10 minutes and a desire to pack good fats into your snack. The binder for these bars? Dates!
Get the recipe  | Beard + Bonnet
Cranberry Pistachio Granola Bars
The basic granola goodies are amped up with cranberry and pistachio and keep those 'hangry' feelings at bay.
Get the recipe  | Urban Bakes
No Bake Energy Bars
A pop of energy, sweet treat or just good old fashioned snack, these bites are pop-a-licious in the healthiest of ways thanks to ground flax seed, chia seeds and oatmeal.
Get the recipe | Gimme Some Oven
Key Lime Larabars
If you have five minutes you can have citrusy bars that won't last much longer around the house.
Get the recipe | My Whole Food Life
Chocolate Peanut Butter Energy Bars
A topping of toasted coconut flakes makes these bars held together with bittersweet chocolate and peanut butter taste better and healthier than any store bought candy bar.
Get the recipe | Super Nummy
Thanks for checking out today's post. Hope it inspired you to make something good.
As always, thank you for reading and for supporting companies I partner with, which allows me to create more unique content and recipes for you. All opinions are always my own.  
Are you following me on Instagram, Twitter, Facebook and Pinterest? 
Thanks for reading and  subscribe to FoodieCrush to have each post delivered straight to your e-mail box.