Cottage cheese subs in for mozzarella in this healthy and simple avocado toast that's perfect for a favorite breakfast, lunch and snack, plus 10 more toasts to try.

Easy Avocado Toast Recipe
Does the world really, Really, REALLY need another avocado recipe post?
Likely, not.
I mean, the recipe isn't really even as much a recipe as it is a formula. Toast. Avocado. Extra stuff you put on top depending upon your cravings and whatever is in the fridge.
And flaky salt. Always flaky salt.
But when I made my breakfast the other day and stopped myself mid-bite to get a snap of it for Instagram, I realized that this hum-drum and routine breakfast for me is indeed a blog-worthy recipe/formula to share.
Because often those routine recipes are usually the best. Even if they've already cycled through the trend scene.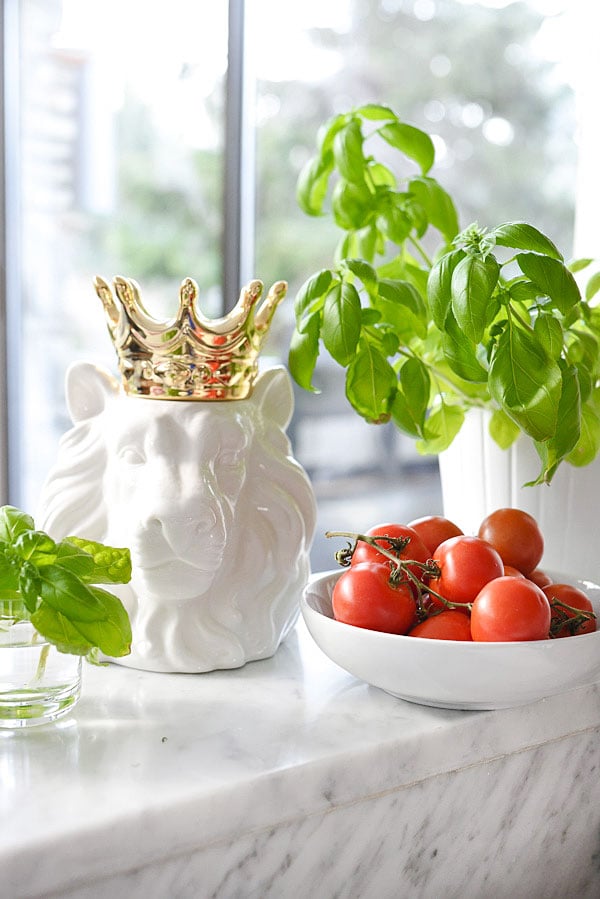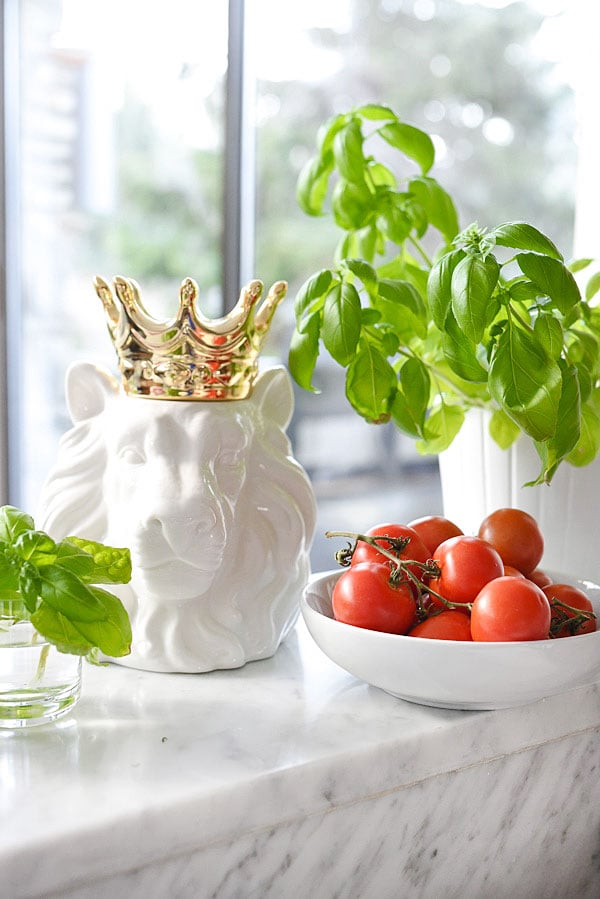 Just about every single weekday morning I have one of two things for breakfast: Scrambled egg whites with loads of cooked spinach (at least 4 cups of fresh!) and sliced tomatoes > OR > a tasty slice of nutty wheat bread, toasted, then topped with avocado, cottage cheese and tomatoes.
I pretty much grew up on cottage cheese and toast for breakfast. It was my grandma's favorite.
When Grandma Frieda would come to visit, her morning started with coffee. Then we'd sit at the kitchen counter, each of us making our own breakfast and copying Grandma's toast topped with strawberry or raspberry jam and cottage cheese. The sweetness of the jam paired with the tartness of the cottage cheese hooked me right off the bat.
It was years ago that I adopted her affinity for this simple breakfast, and I've been eating it ever since, sometimes with a few adaptations along the way.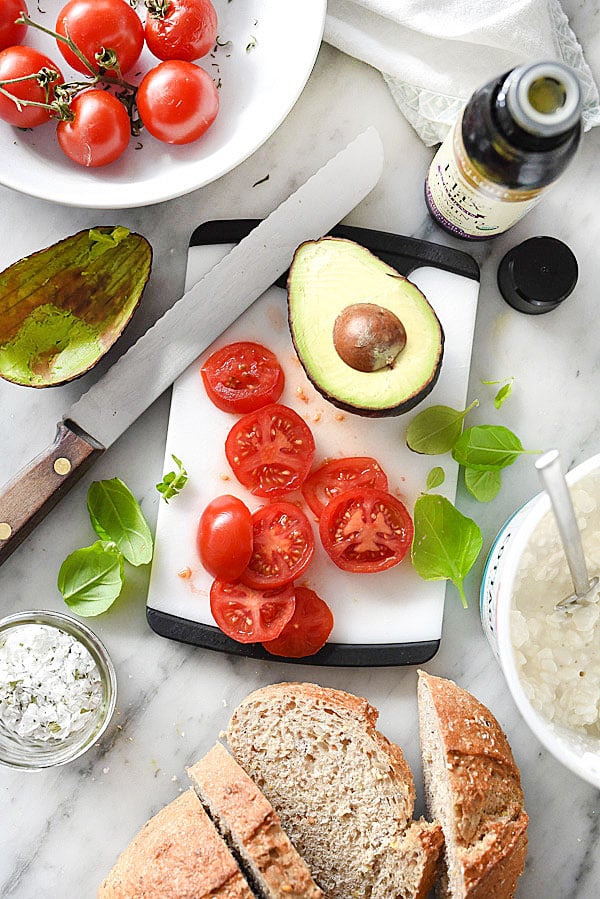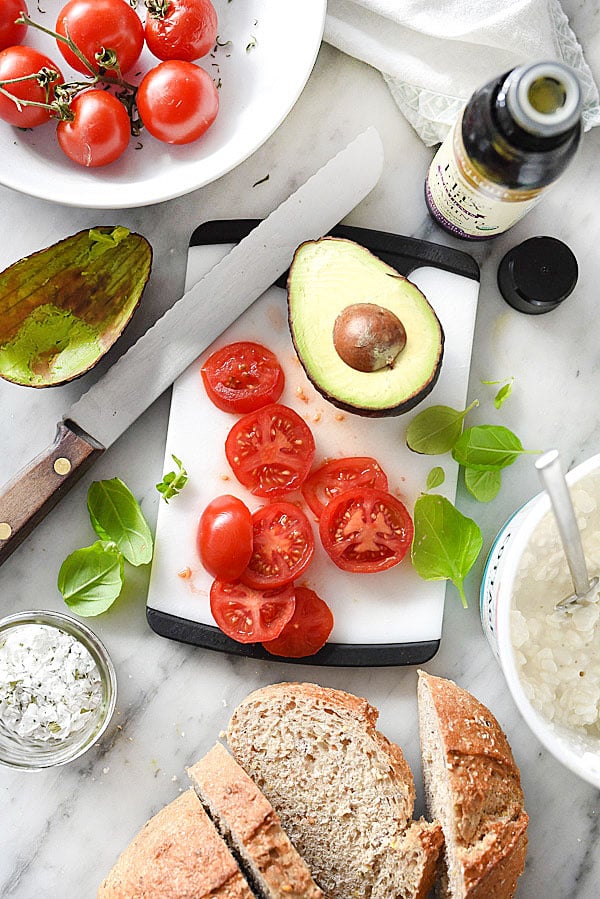 What's in This Avocado Toast?
This simple avocado toast recipe is really all about your cravings and mine are always tomatoes and basil. Now, a classic caprese sandwich is obviously those two ingredients accompanied by mozzarella cheese. But for breakfast eats, I went with my kiddo cravings and stuck with the tartness I love that comes with a scoop of cottage cheese.
One of my favorite flavors of this toast is drizzling a bit of flaxseed oil on my toast (this is the brand I like). Flaxseed oil gives a nutty flavor to the bread that I absolutely crave and if I skip it, the toast is simply missing something.
Fresh plucked basil leaves and flaky salt (this is my favorite) are always welcome finishing touches. During the winter I keep a pot of basil on my counter and summertime I plant it right outside my front door. I sometimes dress my caprese avo toast with a bit of balsamic glaze if I'm feeling the mood.
see more: 15 Healthy Breakfast Ideas to Get You Through the Week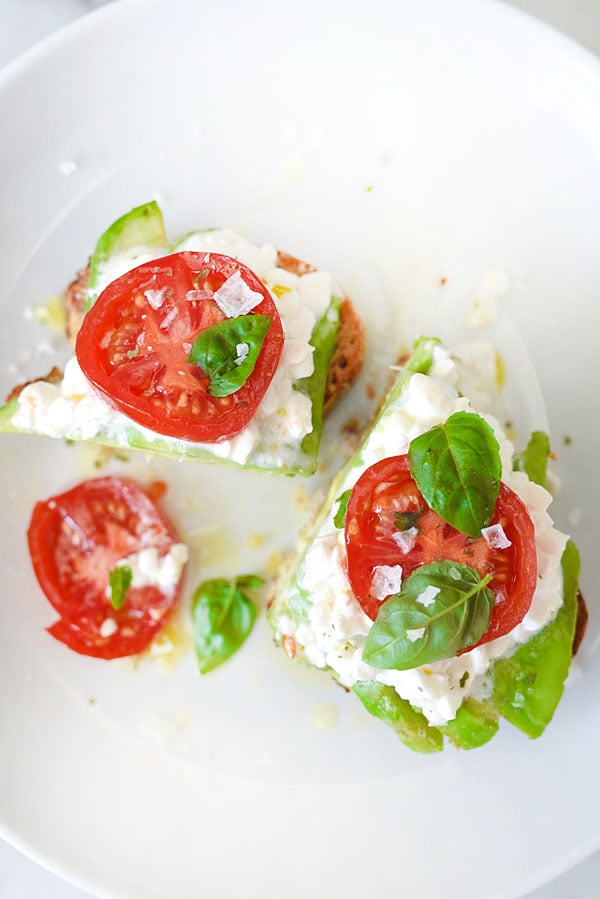 How to Make Avocado Toast
Spoiler: avocado toast is stupid simple to make. Toast up some hearty wheat bread (or your bread of choice), drizzle with flaxseed oil, then top with avocado, cottage cheese, and sliced tomatoes.
Finish it off with a sprinkle of salt and a few fresh basil leaves and tuck in.
Can I Use Another Type of Cheese?
If you're not a cottage cheese fan, choose a fresh mozzarella or slice a few hard boiled eggs on top. That's another favorite adaptation of mine.
What Type of Bread Should I Use?
In my opinion, the best bread for avocado toast is a thick-cut, hearty wheat bread. But use whatever bread you like!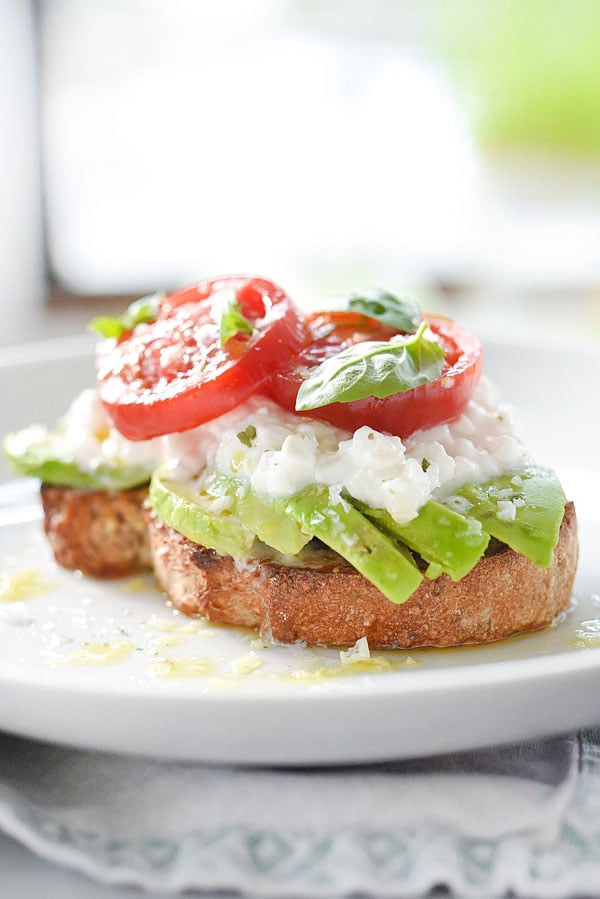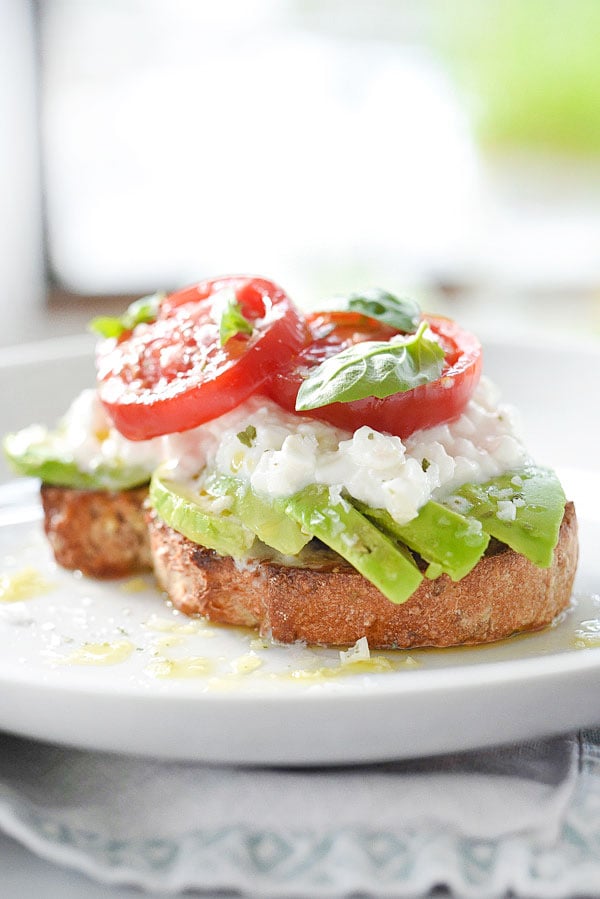 Tips for Making the Best Avocado Toast
Avocado is obviously center stage of this recipe or else why would it be called avocado toast? Sometimes I mash mine, sometimes I slice it. The ripeness of the avos dictate that part of the equation. To tell if an avocado is ripe, simply pluck off the baby stem of the avocado and look at the hole left behind. If it's bright green, the avo is ready and ripe. If the stem doesn't want to budge, it needs more time to rest and ripen. If it's brown and mushy, it's time to toss.
A quality cottage cheese is key. I prefer mine low-fat and with a creamy curd.
Flaxseed oil can be found in the refrigerated organics section of most grocery stores or in health food stores. Like salmon, flaxseed oil is high in omega-3s and fiber and has shown to help in lowering cholesterol, improving the health of hair and nails, and is really helpful to those suffering with colitis or Chron's disease—hello fiber! However, if you are taking medication, always check with your health care provider for harmful drug interactions.
More Easy Breakfast Recipes to Make
If you make this recipe, please let me know! Leave a ⭐️⭐️⭐️⭐️⭐️ rating on this recipe below and leave a comment, take a photo and tag me on Instagram with #foodiecrusheats.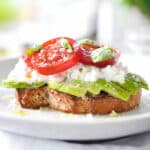 Print
Caprese Avocado Toast
Cottage cheese subs in for mozzarella in this healthy avocado toast perfect for a favorite breakfast, lunch and snack.
Ingredients
1

slice

whole-wheat toast

1-2

teaspoons

flaxseed oil

½

avocado

, peeled and sliced or mashed

⅓

cup

low-fat cottage cheese

1

small

tomato

, (I like campari tomatoes)

Basil leaves

, for garnish

Flaked sea salt

, (I like this one)
Instructions
Toast the bread and drizzle with flaxseed oil.

Layer with the avocado, cottage cheese and tomato.

Garnish with basil leaves and flaked sea salt and drizzle with a little more flaxseed oil if desired.
Nutrition
More Toasty Goodness to Bite Into
We send good emails. Subscribe to FoodieCrush and have each post plus exclusive content only for our subscribers delivered straight to your e-mail box.
Follow me on Instagram, Facebook, Pinterest and Twitter for more FoodieCrush inspiration.
As always, thank you for reading and supporting companies I partner with, which allows me to create more unique content and recipes for you. There may be affiliate links in this post of which I receive a small commission. All opinions are always my own.