My mantra? The simpler the recipe, the more imperative the need for extraordinary ingredients. Case in point: my Burrata and Heirloom Tomato Caprese Salad.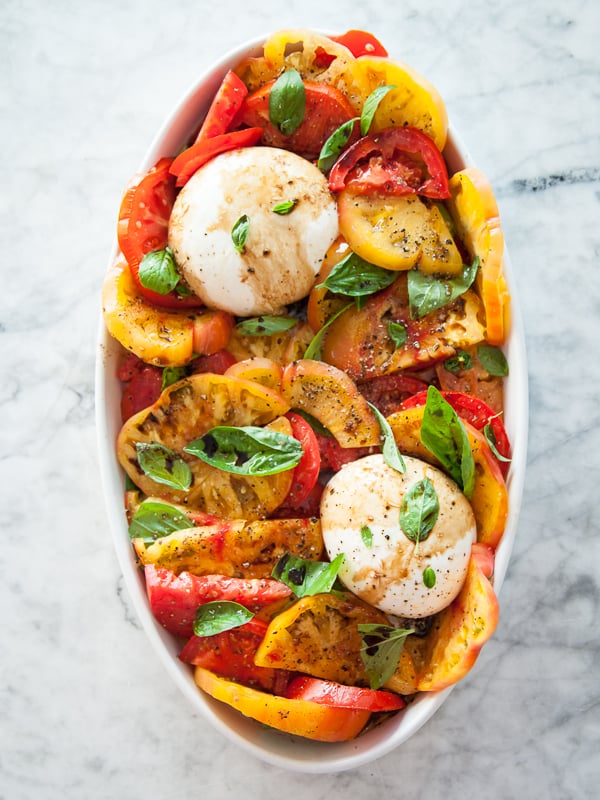 Okay, Okay. I'm pretty sure I know what you're thinking.
Yes, I have gone a bit bonkers on the tomato recipes of late. And yes, this basic summer salad barely constitutes an entire blog post. But I realized something when I was looking over my recipes that include the summertime C word, like my Avocado Caprese Wrap, Grilled Caprese Skewers, Quinoa and Burrata Caprese Salad and my Caprese Sandwich with Arugula and Olive Spread.
I realized that the actual basic caprese salad was the missing link in my recipe repertoire.
Plus, once we pulled this dish together I knew those heirloom tomatoes were too darn pretty not to share.
Let's call this recipe an impulse post. Sadly I have no new impulse-purchased shoes to go with it.
Eaten two nights ago with a smattering of friends who were the targets of the photo shoot I had conned them into being the subjects of, they consumed the entire platter in about 5 minutes flat. No kids allowed. And even I barely snuck in a bite.
That's the way burrata and fresh heirloom tomatoes (like this recipe) should be consumed, with a tight reign and a secret knock to enter and certainly not wasted on palates that could potentially underappreciate their lushness.
The tomatoes came from the farmer's market. This was a 1 1/2 pound beauty Smudge couldn't quite wrap her head around. She says it was more like holding a small pumpkin. Oh those recipes will be creeping their way into the round ups soon. But for now, I'm sticking with tomatoes.
The cheese came from Wisconsin. Have you heard? They sort of have a knack for cheese.
And with a few quick slices of the knife by my friend Michelle and a run to the garden for fresh basil leaves by Smudge & E, the crowd was then polled, "Balsamic or not?" and with an enthusastic "YES!" Angie added a generous drizzle of balsamic vinegar.
There was no over-thinking the food styling, just push it all in the platter and make it fit.
And then this. The simpler, the better and the ingredients spoke for themselves. 'Nuff said.
Print
Burrata and Heirloom Tomato Caprese Salad
Ingredients
2

balls fresh burrata cheese

4-6

heirloom tomatoes

sliced

handful of fresh basil leaves

extra virgin olive oil

the fruitier the better

good quality balsamic vinegar

kosher salt and freshly ground black pepper
Instructions
Arrange the tomatoes on a platter around the burrata cheese balls. Sprinkle with fresh basil leaves then drizzle with a healthy pour of extra virgin olive oil. Drizzle with balsamic vinegar and season with kosher salt and freshly ground black pepper.

Serve at room temperature.
So if you aren't completely over this tomato onslaught, check out these caprese tricks up some fab food blogger's sleeves.
What? Jessica has leftover wine? All the better to marinate with (I'm talking about the meat here people) in How Sweet Eats Red Wine Marinated Flank Steak with Cherry Tomato Caprese Salad.
Jeanine was in the mood for a briny tang, which led to grilled veggies and an almond studded spread shusch up Love and Lemons Veggie Caprese Sandwich with Olive Pesto.
Stacked in a cup for a pretty presentation with a topping of pesto, My Apron Strings Tomato Caprese Parfaits will rock your world.
Flavored cream cheese makes for a creamy interpretation in a perfect little cup in Deb's Caprese Tartelettes from Taste and Tell.
What's the secret to getting 5 bajillion pins on Pinterest? Jessica has the secret: Make it ooey, make it gooey and make it The Novice Chef's Caprese Chicken.
Karen knows what makes for good Caprese-ing: "Bread, toasted in olive oil. Tomatoes. Lots of them. Basil. Lots of that. And, yes, cubes of fresh mozzarella." That's enough of a reason for me to dig into The Hazel Blooms Caprese Panzanella.
Cook it up in the oven or toss it on the grill. Whichever way you do it is up to you, but just do it. Baked Caprese Garlic Bread from Ally's Sweet and Savory Eats.
Laurie's gardening skills are the fruits of her labor in Simply Scratch's Pressed Caprese Sandwich.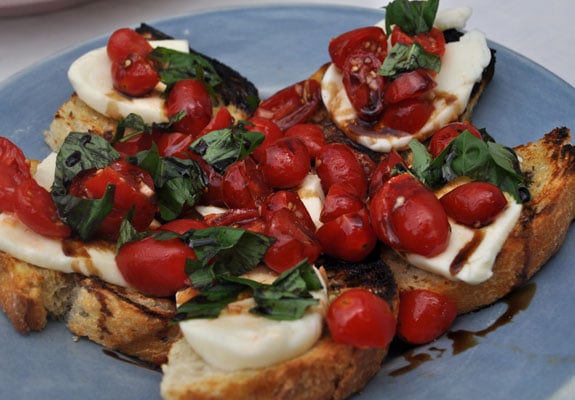 Not much more to add to Kelley's description of Mountain Mama Cook's Grilled Crostini with Garlic Marinated Tomato Caprese. "Easy-peasy-yum-scrum." What she said.
Lindsay has come up with the perfect recipe to gently nudge us from the glory of summer's fare to fall's bounty: Pinch of Yum's Baked Caprese Rigatoni
Thank you Wisconsin Cheese for sending me some of my favorite burrata. I could live on that stuff. And thanks to my readers for supporting my partners which allows me to create new and special content for my readers. All opinions are my own.
Are you following me on Instagram, Twitter, Facebook and Pinterest? Thanks for reading and please keep in touch by subscribing to FoodieCrush.