These chicken wings may be skinless but they still bake up nice and crispy in the oven, and are served with a creamy Thai peanut sauce that's to die for.
I had a hunch chicken wings might fill the bill.
A hunch that these skinless, baked wings (say what? healthy-ish even?) might fit right into a round of lounging about with friends and family who are perfectly positioned with beverage in hand while the big game rambles on in the background because we're all ignoring the commentators and waiting for the commercials anyway.
The commercials. And the food. It's all about the food.
I say I had a hunch, but I really wanted to know, so I asked you what you craved on Facebook and here's what you had to say.
This is a recipe that begs for the reach-in. Where there will be no penalties or unfair, uncalled for whistles, except for that holy-cow-show-me-more-low-slow-whistle that you only hear on construction sites when a hot chick ambles by.
Woot-twoo. Whistle away. These Baked Chicken Wings with Thai Peanut Sauce deserve every pursed lip.
I love chicken wings. I DO NOT love the skin.
When they're baked, they're soggy. When they're deep fried, they're too dang crispy, and, well, simply too many calories to justify.
That's why when my man says, "Sure, I'll skin the little suckers," I count my blessings and give him a big-old, fat kiss, because skinning chicken wings is not my cup of tea.
Sure, it takes an extra 15 minutes. But on our table, it's well worth the effort. And like doing the dishes. It's always best when someone else is doing it for you. It's worth a foot rub or whatever you have to negotiate to make it worth your while. I'll leave it at that. (Stand down, G.)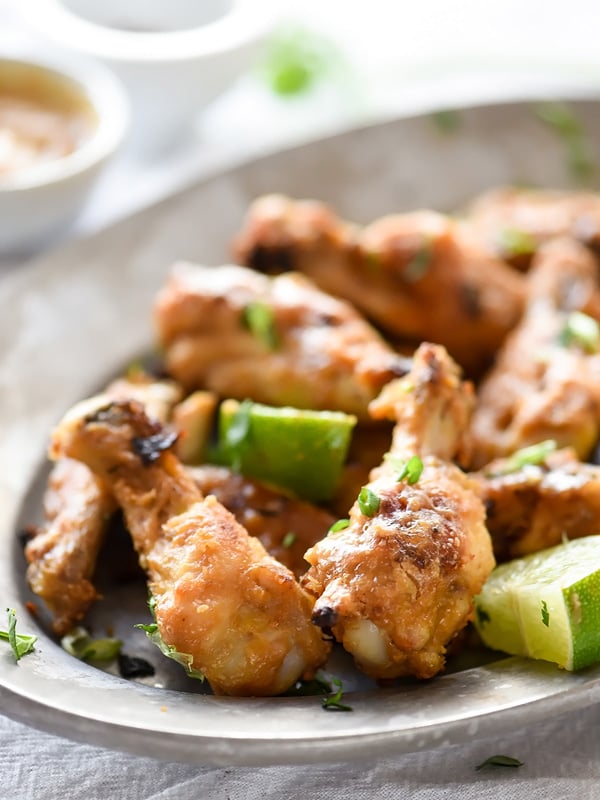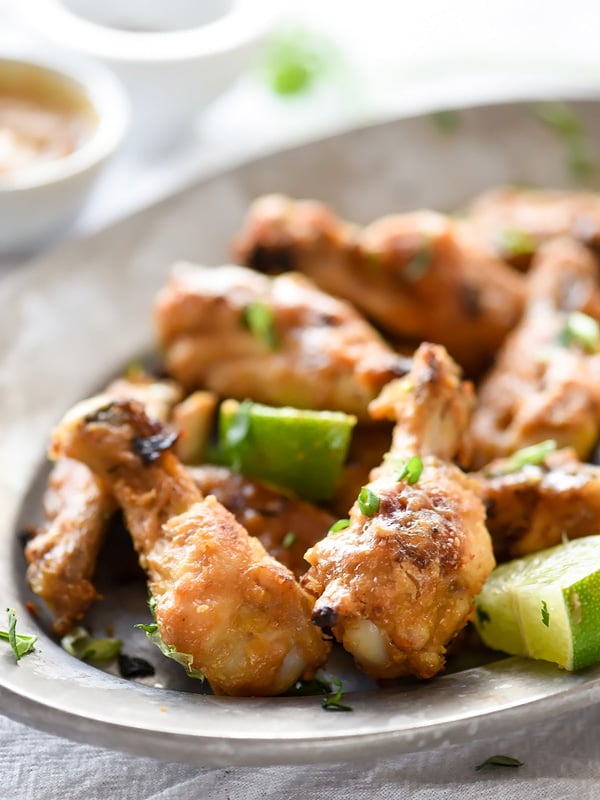 About the Recipe
These wings fore-go the skin, but in my mind, the extra detail work is worth the effort. Especially when I can get someone else (butcher, housemate, sucker) to do it.
These guys are baked naked (aka no skin to crisp up) and yet they still have a nicely crispy crunch. To achieve this, I set the wings on a baking sheet that's been set inside the pre-heating oven so it rises in temperature at the same rate as the oven. When the chicken is set on the hot baking sheet, they start to sizzle from the get go, giving the exterior a head start on crisping up. I got the idea from this crispy chicken wing recipe that promises crispy wings every time. And guess what? It works!
However, if you baste with more peanut sauce late in the baking game, the oven's heat won't have enough time to crisp the wing's exteriors—unless you bake the interior to a version of chicken leather—resulting in a more succulent, yet still-delicious-just-not-as-crispy exterior. So choose your preference and baste to your taste.
There should be plenty of extra peanut sauce after marinading for post-baking dipping. But if you're a big sauce fan, you may want to double the peanut sauce.
If you make this recipe, please let me know! Leave a comment below or take a photo and tag me on Instagram or Twitter with #foodiecrusheats.  
Print
Baked Chicken Wings with Thai Peanut Sauce
These chicken wings may be skinless but they still bake up nice and crispy in the oven, and are served with a creamy Thai peanut sauce that's to die for.
Ingredients
2

cloves

garlic

peeled and roughly chopped

1 ½-

inch

knob ginger

peeled and roughly chopped (about 1 tablespoon)

1

cup

coconut milk

½

cup

smooth peanut butter

½

lime

juiced (about ½ lime)

2

tablespoons

brown sugar

2

tablespoons

fish sauce

1

teaspoon

sesame oil

⅛

teaspoon

red pepper flakes

5

pounds

chicken wings

skinned with tips removed and drumettes and flats separated

cooking spray

lime wedges

chopped green onion, chopped cilantro for garnish
Instructions
Add the garlic and ginger to the bowl of a food processor and process for 30 seconds or until minced. Add the coconut milk, peanut butter, lime juice, brown sugar, fish sauce, sesame oil and red pepper sauce. Process until smooth, about 30 seconds to 1 minute. Scrape into a bowl and set aside.

Put the skinned and separated wings into a gallon size freezer bag and add ¾ cup of the peanut sauce. Close the bag and massage the peanut sauce into the chicken wings. Add ¼ cup more sauce if needed. Refrigerate for 2 hours up to 12 hours.

Preheat the oven to 425 degrees F. Spray a baking sheet with cooking spray and place in the oven to preheat as well.

Place the wings on the preheated baking sheet and bake for 30 minutes. Flip the chicken wings, they should be crispy on the bottom. Baste with peanut sauce and bake for 15 minutes more or until golden on top and crispy on the bottom. Flip the chicken once more, baste again and cook for 5 more minutes if desired.

Garnish with a squeeze of lime, chopped green onion, chopped cilantro and reserved peanut sauce for dipping.
If you make this recipe, please let me know! Leave a comment below or take a photo and tag me on Instagram or Twitter with #foodiecrusheats.  
Just Wing It
There are as many variations on wing touch-downs as there are winner-winner-chicken-dinners. Here are just a few.
Turmeric Chicken Wings
Wings are flavored in the best way with lemongrass, turmeric, garlic, cilantro rub to make for an easy marinade to toss on the backyard grill. Yes! Winter too!
Get the Recipe | Yummy Supper
Diane's Vietnamese Fried Chicken Wings
Diane's marinade of fish sauce studded with garlic and other simple spices is what gives this fried chicken a kick-up savory flavor.
Get the recipe | White On Rice Couple
Pok Pok Wings
These tiny wings pack a punch of salty, sweet, umami and spicy all into one little bite. The secret is the fish sauce.
Get the recipe | Eat the Love
Honey Mustard Chicken Wings
Marinate the wing drummettes in a mixture of honey, mustard, olive oil, soy sauce, and garlic, roast them and then power them down with a cold brew.
Get the recipe | Simply Recipes
Oven Baked Chicken Wings
It may not seem the most delectable, but gnawing on the bone is where the flavor IS AT
Get the recipe | Dine and Dish
Thanks for stopping by and visiting FoodieCrush. Have something to say? I'd love to hear from you. Let me know in the comments below.
Make it a great day and cook something good.
As always, thank you for reading and for supporting companies I partner with, which allows me to create more unique content and recipes for you. All opinions are always my own.  
Are you following me on Instagram, Twitter, Facebook and Pinterest? 
Thanks for reading and  subscribe to FoodieCrush to have each post delivered straight to your e-mail box.
SaveSave