Lay out all of your preferred Italian salad fixings on a platter instead of mixed in a bowl, and give everyone the chance to make their own favorite salad version.
Welcome to my new, favorite party trick. Say goodbye to the cheese plate and say HELLO to the salad platter!
This past Monday I had some friends over for lunch. These are friends who have known me forever. We have history. And we're such good friends we keep the skeletons in the closet. All of them. But even though I've been having dinner parties and brunches at my home for years, I still get anxiety about making everything just right.
It's dumb.
Why put the pressure on when it's just a simple lunch with life-long friends? Or new friends? Or even worse, family. 
For the past two years I've visited one of my favorite sponsors here on the blog, DeLallo Foods in Pittsburgh, PA., and worked with their marketing director Giuliana and her team on some fun projects you've seen here on the blog.
One thing you should know about Giuliana is she is the epitome of an Italian grandmother in a 30-something-year-old body. And like every amazing Italian grandmother, this girl has EXACTLY the right idea on what brings people together around a table. Her mantra should be "Don't sweat it, just serve it," as evidenced by this dinner.
In short, when it comes to entertaining, I want to be her.
Last time I visited, Giuliana prepared a meal that has left a very, very, very lasting impression on me, a) because it was so simple and so satisfyingly delicious, and b) because it was completely effortless in her execution. She had just returned from a 2-week trip to Italy the night before. I would have imagined the LAST thing she'd be in the mood for was cooking dinner for a crew. Not the case. Giuliana said she was going to make a dinner of what she was craving: fried potatoes, an amazing fritatta, and a smattering of sausages to die for.
But the menu item that totally enraptured me was the salad platter she prepared. One big plate of salad with all of the fixings on the sides instead of everything tossed together in a bowl. It was brilliant and totally inspired me to try it myself.
The Trick of the Salad Platter
When you serve the salad family-style in the middle of the table, everyone can add "just a little more" and take that one last artichoke "because we'd hate for it to go to waste." The whole meal becomes more relaxed, the conversation more lively, and everyone snacks on the platter as they languish over the food and fellowship.
This salad platter is less of a recipe and more an assemblage of toppings. Feel free to adapt and switch up according to your tastes and favorites, or simply by whatever you might happen to have on hand for those unexpected, but totally welcome drop-ins.
First, I started off with some amazing greens I found at my local farmer's market, complete with nasturtiums and other edible flowers. But really, any lettuce of your choice (arugula, kale, etc.) will absolutely work in its favor.
The beauty of a salad platter is everyone can pick and choose the toppings they're craving instead of having everything mixed together. Picky eaters, rejoice!
For this Italian-inspired theme, I hit the deli counter at my local Kroger aka Smith's Marketplace. Through September they're featuring their Taste of Italy event and have brought in authentic Italian products to showcase through the month, it matched my idea perfectly. Stuffed olives, marinated artichokes, roasted mushrooms and peppers and Italian salami all made my cut.
I already had tomatoes and cucumbers from my friend's garden to round out the fresh factor, and I served store-bought baked Parmesan "crackers" for crunch and that salty cheesy bite.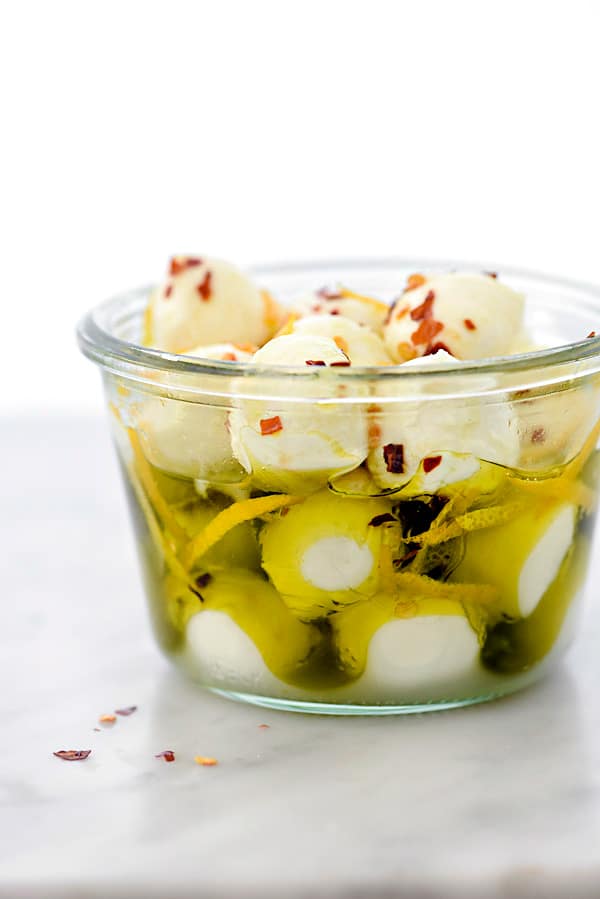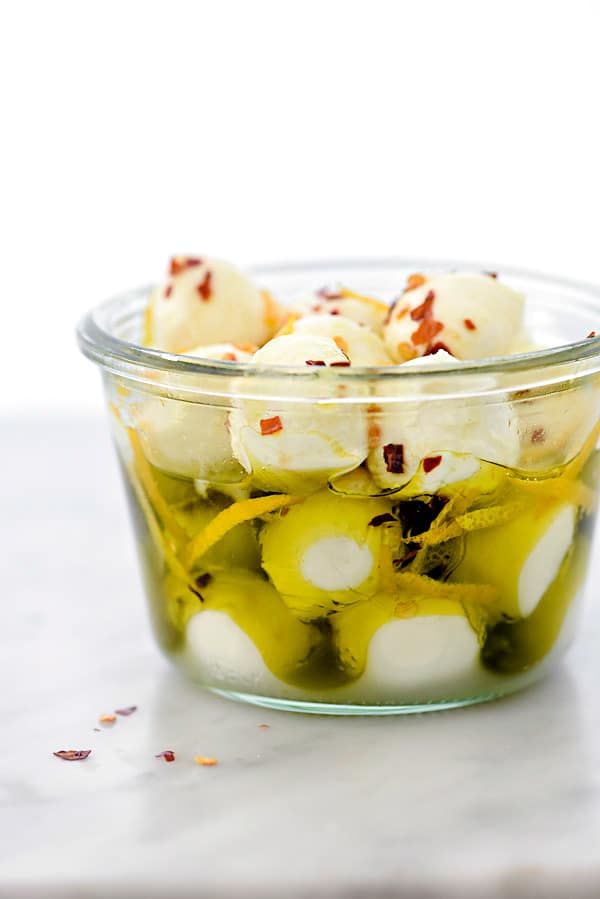 To keep the Italian theme flowing, I made my own marinated mozzarella balls. They're incredibly easy and after a short time in the fridge add a tasty depth of flavor.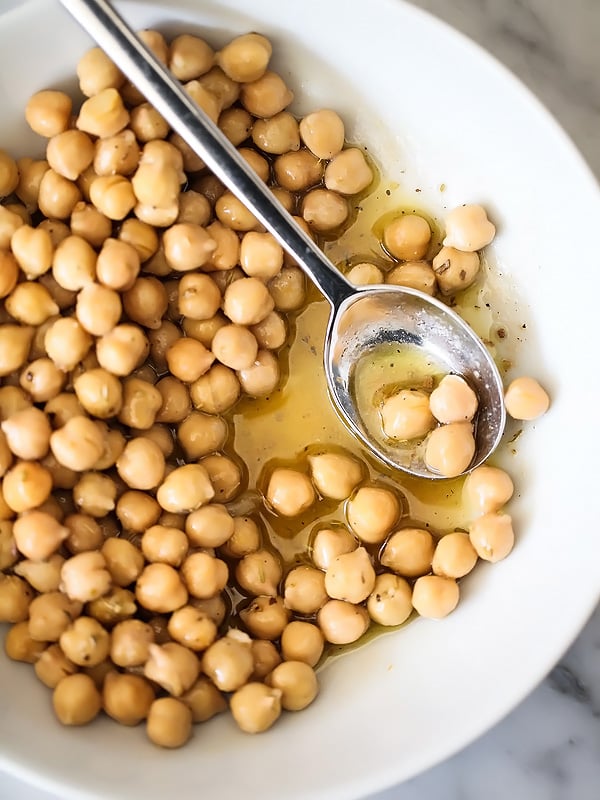 For added protein and even more flavor, I served my marinated chickpeas. The recipe is simply canned garbanzo beans with olive oil, garlic, dried salt and oregano. I have a version of this salad dressing with dried mustard and red wine vinegar here if you want to add more pucker to the beans.
To finish the salad off, I serve my go-to salad dressing on the side so that everyone can add as much, or as little, dressing as they want. This is my favorite Tarragon Vinaigrette. It's my standard and can always be found in my fridge, but of course, feel free to use whatever flavor of dressing you desire.
Along with my killer salad platter I served this gazpacho with avocado and quickly seared shrimp in a bit of fresh-pressed garlic and olive oil, some fresh sourdough bread and fresh-from-the-farmers market plums.
I kept it easy with dessert too, when my quick-and-easy-to-make-ahead Classic Tiramisu made everyone smile.
If you make this recipe, please let me know! Leave a comment below or take a photo and tag me on Instagram with #foodiecrusheats.
Print
How to Create the Ultimate Italian Salad Platter
Lay out all of your favorite salad fixings on a platter instead of mixed in a bowl, and give everyone the chance to make their own favorite salad version.
Ingredients
6

cups

salad greens

Roasted or marinated artichokes

, quartered

Stuffed green olives

Black olives

Sliced salami or prosciutto

Marinated mushrooms

Roasted red bell peppers

, sliced

Sliced cucumbers

Cherry tomatoes

Parmesan crisps

For the Marinated Mozzarella Balls

1 8-

ounce

carton of mozzarella cheese balls

(bocconcini), drained

½

cup

extra virgin olive oil

Peel from ½ lemon

, cut into long strips

⅛

teaspoon

red pepper flakes

⅛

teaspoon

kosher salt

For the Salad Dressing

⅓

cup

extra virgin olive oil

2

tablespoons

golden balsamic vinegar

1

tablespoon

Dijon mustard

1

teaspoon

sugar

1

teaspoon

dried tarragon

½

teaspoon

freshly cracked black pepper

¼

teaspoon

kosher salt
Instructions
On a large platter, place the lettuce greens in the center of the plate. Arrange the rest of the ingredients in groups on the outsides of the platter. Let your guests create their own salads and serve with the salad dressing on the side.

To Make the Marinated Mozzarella Balls

Place the mozzarella balls in a jar or bowl. Pour the olive oil over the mozzarella. Stir in the lemon strips, red pepper flakes and salt. Marinate for 1 hour up to 1 week.

To Make the Salad Dressing

In a small jar with a lid, add the olive oil, golden balsamic vinegar, Dijon mustard, sugar, tarragon, pepper and salt. Cover the jar tightly with the lid and shake until the dressing is mixed thoroughly.
This is NOT a sponsored post, I'm just inspired by the clients I work with. As always, thank you for reading and for supporting companies I partner with, which allows me to create more unique content and recipes for you. All opinions are always my own.  
Are you following me on Instagram, Twitter, Facebook and Pinterest? 
Thanks for reading and subscribe to FoodieCrush to have each post delivered straight to your e-mail box.