This roundup of 50 holiday cocktails and Christmas appetizers has all the best festive inspiration you need to entertain this season!
50 BEST Holiday Cocktails and Christmas Appetizers
It's no secret I love to entertain—especially for the holidays. There's just something about this time of year. Making festive drinks and Christmas appetizers to share with loved ones with the fire crackling and the Christmas songs playing— it's magic.
You can never go wrong with classic staples like shrimp cocktail or spinach artichoke dip, but I'm all about mingling new and old. This roundup of 50 holiday cocktails and party appetizers is the perfect blend of the two. It runs the gamut, from sweet and savory snacks to eye-catching cocktails perfect for a crowd. So go on, eat, drink, and be merry as you feel the warmth and joy of this holiday season.
Cheesy Goodness
Whether it's gooey baked brie or whipped ricotta, it's just not a party without some cheese.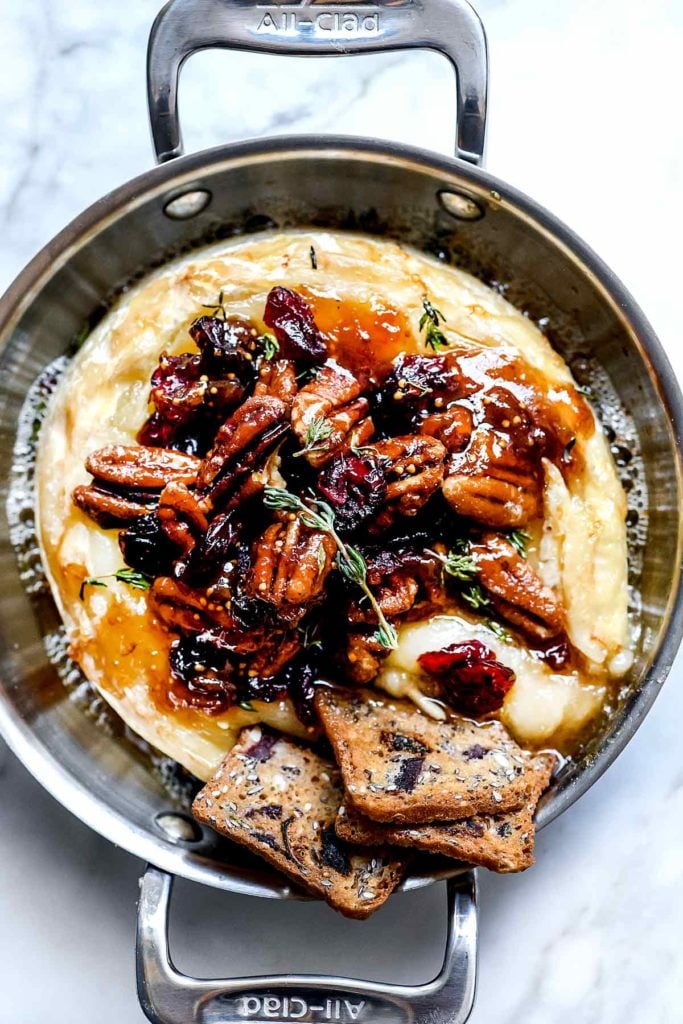 from FoodieCrush
Is there really anything more holiday-appropriate than a wheel of gooey, melty brie? This baked brie recipe is topped with sweet dried cranberries, fig jam, nuts, and fresh thyme and is a huge party magnet.
from Recipe Runner
This easy appetizer is made with mini phyllo shells stuffed with goat cheese, pesto, and sun dried tomatoes, and is creamy, crunchy, and wonderfully delicious.
from FoodieCrush
Linn commented: "I made these jalapeño poppers for some friends we were visiting in Phoenix Arizona. They now make them for every party they're invited to… It's (demanded) requested on the invitation!"
from Fork in the Kitchen
10 minutes is all you need to whip luscious ricotta into a creamy oblivion. Honey, lemon, and herbs bring a touch of sweetness and brightness to this delicious dip you can spread onto crostini or dip hot pita bread slices in.
from Ahead of Thyme
Creamy on the inside and crunchy on the outside, this bacon cheddar cheeseball is an easy appetizer to make that's always a hit. It's loaded awesome flavor and texture thanks to crispy, salty bacon, cheddar cheese, green onions, and crunchy pecans.
from Stephanie Simmons, via Lulus
What's not to love about gooey parcels of Brie cheese snuggled inside golden puff pastry and topped with cranberry sauce, pecans, and fresh rosemary?
from The Original Dish
Get your bread or crostini ready. This super creamy whipped goat cheese is topped with a caramelized mixture of dates, shallots, vinegar and honey, plus salty bacon and fried rosemary for the best blend of sweet and savory.
from Recipe Girl
Festive, colorful, and so playful, this caprese board arranged in the shape of a candy cane will definitely spread holiday cheer!
Crunchy Bites
From crispy crostini rounds to a classic party mix, you can't go wrong with any of these crunchy appetizers.
from Gather and Dine
This easy sweet and savory crostini comes together in mere minutes. Toasty rounds of baguette are topped with a creamy blend of fresh ricotta and goat cheese, fresh pear, and walnuts, and then drizzled with hot honey for an irresistible snack.
from A Farmgirl's Dabbles
This easy appetizer features a mix of nuts tossed with olive oil, herbs, and a bit of cayenne for spice, then roasted in the oven until toasty and fragrant. You and your guests will keep sneaking handfuls all night long.
from FoodieCrush
These sweet and savory crostini are irresistible. Thinly sliced onions and chunky mushrooms caramelize in cultured butter before getting a dose of Marsala wine to top crisp crostini bread.
from Gimme Some Oven
A classic party food, this addictive Chex mix is made extra bold and savory with more zesty, garlicky sauce.
from FoodieCrush
Christina commented: "Real talk – I want to face plant into that sheet pan of crostinis. Anything with cheese, ESPECIALLY mozzarella cheese is my weakness, so that app would last less than a nanosecond in my house."
from Crunchy Creamy Sweet
These baked artichoke hearts are a breeze to make. Artichoke hearts are dipped in a garlicky butter then coated with Parmesan breadcrumbs and baked until perfectly buttery and crispy. Serve with melted butter or a lemony aioli.
from Midwest Foodie
Made with store-bought puff pastry, these caramelized onion tarts are topped with sweet fig jam and tangy blue cheese and drizzled with honey for a sweet and savory appetizer everyone will love.
from FoodieCrush
These Italian marinated olives are steeped in an herb and garlic infused olive oil with lemon zest are such an easy appetizer to make and keep on hand, you'll always be ready to party.
Dreamy Dips
Grab the chips because if there's one party magnet that keeps your guests coming back for more, it's always the dip. These dips are rich, creamy, and oh so good.
from FoodieCrush
This easy recipe for baked hot and cheesy spinach artichoke dip leaves out the mayo and adds extra cheese to give you every reason to dip your chip.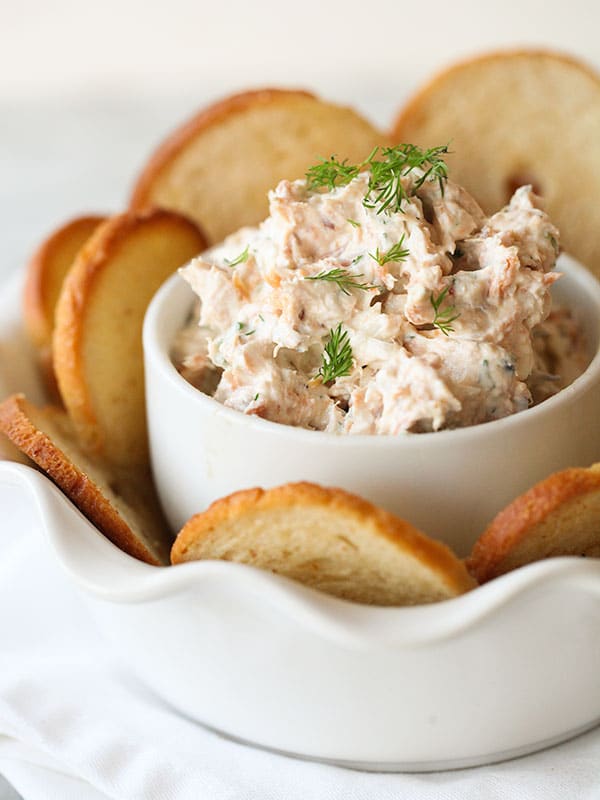 from FoodieCrush
This smoked salmon dip is super creamy (thanks to cream cheese and Greek yogurt), and is brightened up with lemon and fresh dill. It's actually perfect to serve year-round, but I especially love it during the holidays and it's always a hit at any party.
from FoodieCrush
Say hello to your favorite soup in dip form! This addictively good dip is just begging for crispy, salty chips. Sweet, jammy caramelized onions mingle with creamy sour cream and Greek yogurt and soy sauce and garlic powder lend delicious umami flavor.
from FoodieCrush
Wendi commented: "I love your Baba Ganoush recipe….. thank you so much- this is the real thing. Delicious and easy to make."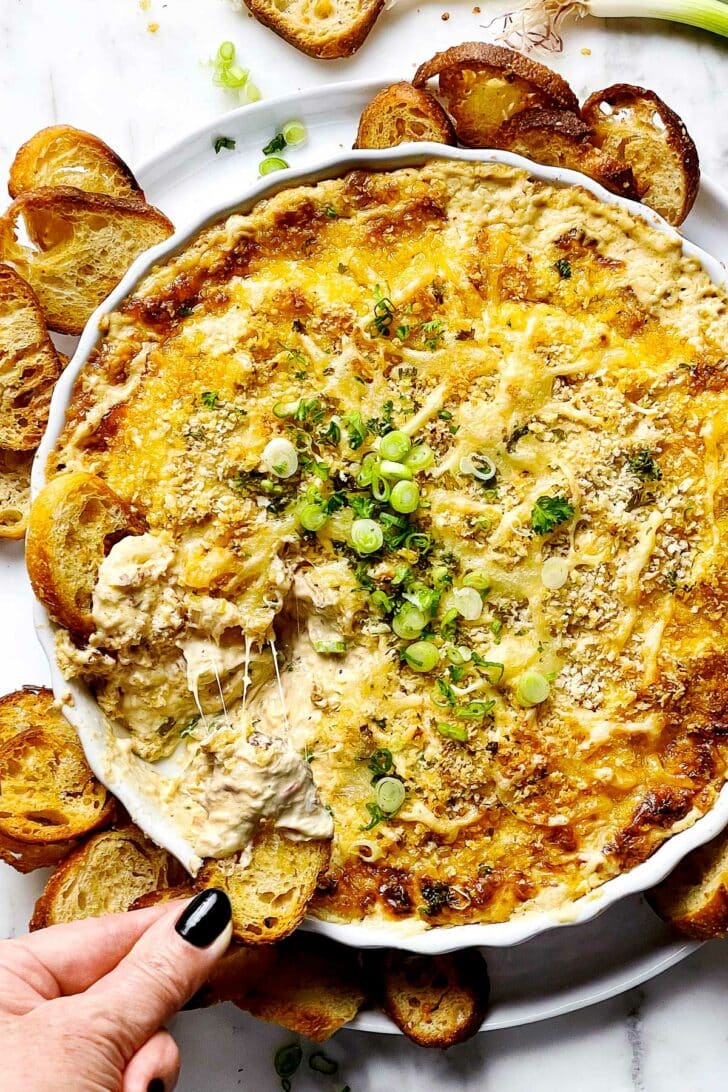 from FoodieCrush
With less than 10 minutes prep, this hot crab dip is a crowd pleaser every time. It's simple, but oh so good!
from How Sweet Eats
Dress up store-bought hummus with pesto, sun dried tomatoes, and herbs for a fancy and festive dip that takes no time to make but is super impressive.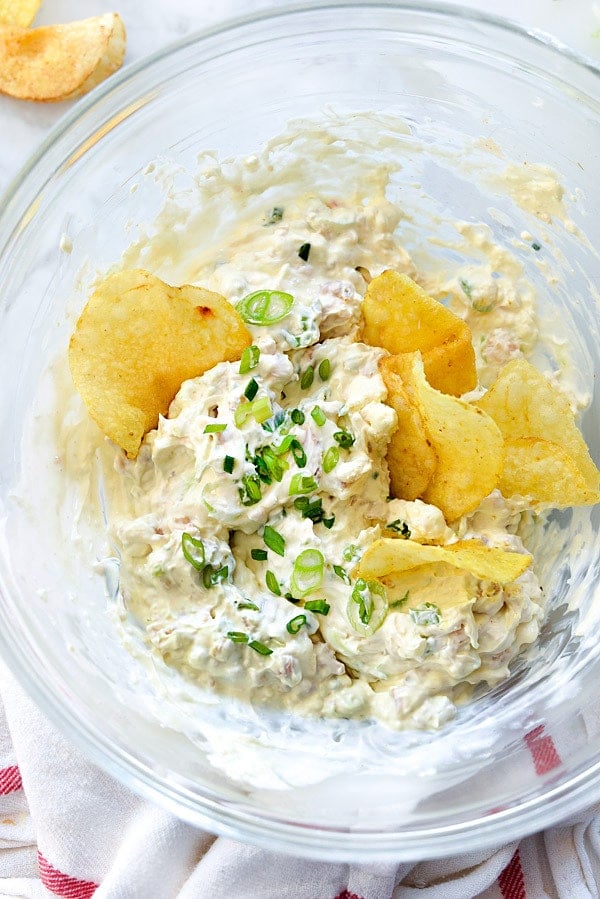 from FoodieCrush
Gerry commented: "5 stars all day. We loved this tasty treat. The clam dip was wonderful served with potato chips and celery sticks. Thank you so much for sharing a recipe that I will enjoy again and again. Made for What's on the Menu? tag game, as the appetizer for our Thanksgiving Meal."
Super Savory Hits
From juicy cocktail meatballs and stuffed mushrooms to the most jolly charcuterie board, these savory appetizers are perfect for your holiday soirée.
from Whisk it Real Gud
These sweet and savory, juicy meatballs in grape or strawberry jelly and chili sauce are the perfect party appetizer. Save time by making them in the slow cooker or pressure cooker.
from FoodieCrush
This quick and easy antipasto board shaped like a Christmas wreath appetizer is sure to add cheers, nibbles, and noshes to any festive Christmas potluck or party.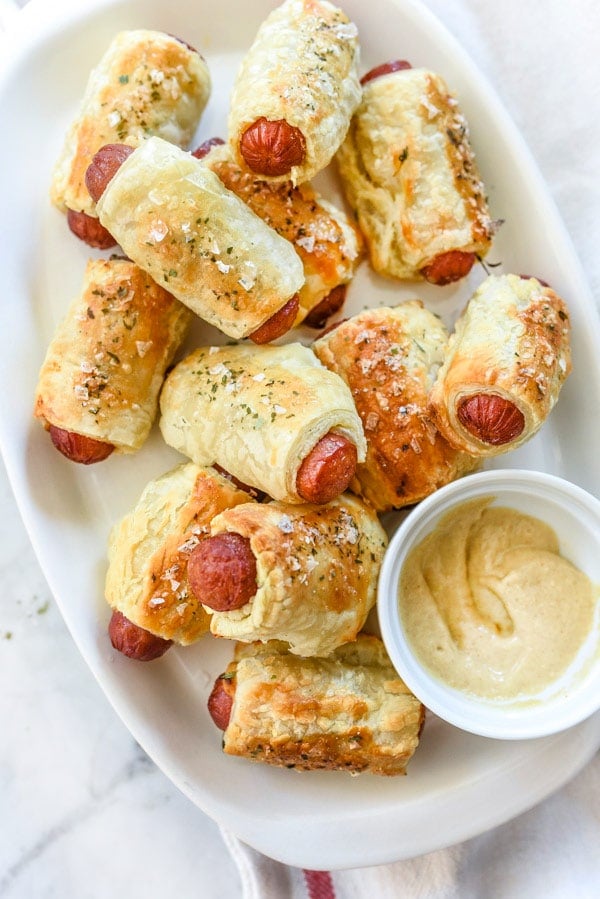 from FoodieCrush
Who can resist a pig in a blanket? Especially when that "blanket" is made of tender, buttery, flaky puff pastry. Fresh herbs and flaky salt also fancy these up.
from Spoon Fork Bacon
These classic potstickers are made with pork and are pan seared for a wonderfully crispy texture. Bonus? These can be made ahead of time and kept in the freezer for an easy app on the fly.
from FoodieCrush
These baby portobello mushrooms stuffed with cream cheese and Italian sausage and drizzled with a rich and creamy hollandaise are the perfect appetizer for your next party.
from Alpine Ella
These super savory puff pastry appetizers are studded with salty prosciutto, cheesy gruyère, and fresh sage and sure to be a hit among your guests.
from FoodieCrush
These addicting, buttery, oregano-flecked garlic knots are made with pizza dough and sprinkled with lots of Parmesan cheese. These will definitely disappear quickly at your next holiday mingle.
from FoodieCrush
Ana commented: "Yummy recipe! Made these yesterday for a cookie decorating party and it was a great way to offset all of the sweets we were consuming."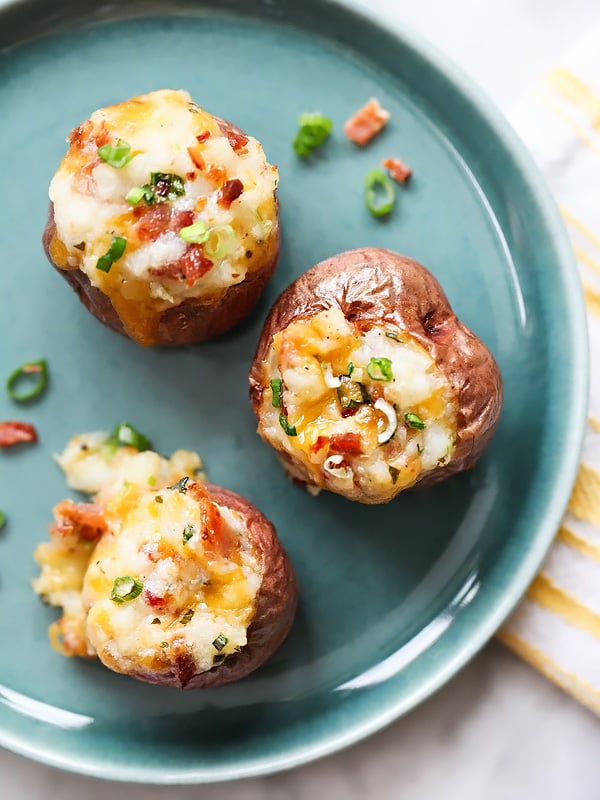 from FoodieCrush
These mini baked potatoes are loaded with sour cream, bacon, cheddar, and green onions (I mean just picture these snuggled up next to your shrimp cocktail).
Sophisticated Seafood
Whether you make an easy shrimp cocktail or melt in your mouth crab cake poppers, these seafood bites are sure to impress.
from FoodieCrush
Nothing says party like shrimp cocktail. My shrimp cocktail platter platter features my favorite 5-ingredient homemade cocktail sauce, and is one of my secrets for a quick and easy appetizer to throw together on the fly.
from The Modern Proper
These melt-in-your-mouth scallops are marinated in a soy sauce and orange marinade, then wrapped in bacon and broiled until the bacon is crisp. A zesty Sriracha mayo is the perfect addition to complement their delicious flavor.
from The Defined Dish
This stunning smoked salmon carpaccio appetizer is sure to impress your guests! It's drizzled with a garlicky mustard-shallot vinaigrette and topped with crispy capers and fresh dill for a beautiful presentation.
from FoodieCrush
These crab cake poppers are so delicious and easy to make and a spicy aioli for dipping is the perfect pairing. I love making these for easy appetizers year-round, but especially during the holidays.
from Immaculate Bites
Fresh shrimp are dipped in coconut batter, then rolled in a flavorful breading of coconut flakes, breadcrumbs, and spices for a decadent, crunchy, pop-able appetizer.
Cheery Cocktails
From punches that serve a crowd to classic spiked eggnog, these lively holiday cocktails are sure to make you and your guests merry.
from Platings and Pairings
Who says spritzes are strictly for summer? Cranberries add a festive spin on the classic Italian Aperol Spritz, making this the perfect holiday libation.
from The Thirsty Feast
This pretty and refreshing cocktail is a sweet, fruity, and effervescent mix of bourbon, pear juice, and champagne.
from FoodieCrush
Ed commented: "This was a huge hit at Christmas. I'm going to make another round for NYE. Family members that don't normally drink we're drinking this punch because, "it's not too sweet, not too strong". Meanwhile, they all got terrifically tipsy. This recipe is a must, and fit perfectly in my Rubbermaid one gallon container."
from Simply Whisked
Cranberry juice and ginger beer dress up these tart and lively margaritas for the holidays.
from Simply Recipes
Bright, sweet, tart, and delightfully bubbly, this pomegranate-spiked tequila cocktail festooned with a sprig of rosemary totally hits the spot.
from Craft & Cocktails
This rich and creamy homemade eggnog is actually so simple to make, is spiked with rum, and serves a crowd.
from Fraiche Living
This refreshing sangria is made with white wine, apples, cranberries, bubbly prosecco, and festive garnishes and can easily be doubled for a crowd.
from Foodiecrush
Sandy commented: "We do a cook off with my sister and the ingredient was Pomegranates. Everything we make (appetizer , main dish, dessert and cocktail) has to have the chosen ingredient. I had to make a cocktail and I made the Pomegranate martini. It was DELICIOUS.!!!! thanks for the recipe."
from Sugar and Soul
Hot wassail is a super cozy drink made with warm apple cider, juice, brown sugar, and spices. It's made in the slow cooker, so you and your guests can easily refill throughout the course of your holiday gathering.
from Cookie and Kate
This holiday punch with pear juice, vanilla, cinnamon, tequila, and club soda is smooth, not too sweet, and perfect for a crowd.
from FoodieCrush
This festive and fruity punch with bubbly champagne and DIY frozen ice cubes is a party favorite to serve a crowd and can easily be made non-alcoholic too.
from So Much Food
This ultra festive apple cider is spiked with warm bourbon, toasty cinnamon sticks, vanilla bean, tart lemon juice, and sparkling wine for an easy big batch cocktail you can make right in the pitcher.
from The Social Sipper
This beautiful, rose-hued spritz is made with a cranberry-rosemary syrup vodka, Meyer lemon juice, rosé, and sparkling water, and is aromatic and bright.
If you make this recipe, please let me know! Leave a ⭐️⭐️⭐️⭐️⭐️ rating on this recipe below and leave a comment, take a photo and tag me on Instagram with #foodiecrusheats.
Print
50 BEST Christmas Appetizers and Cocktails | Marinated Olives
These Italian marinated olives with lemon zest, garlic, and herbs, are such a fast and easy appetizer, you'll always be ready to party.
Ingredients
1

5.3 ounce jar

Castelvetrano olives

1

5.3 ounce jar

kalamata olives

1

cup

extra virgin olive oil

5

cloves

garlic

, peeled and smashed

4

sprigs

fresh rosemary

4

sprigs

fresh thyme

6-8

black peppercorns

½

teaspoon

red chile flakes

¼

teaspoon

kosher salt

zest of 1 lemon
Instructions
Drain the olives in a colander and rinse in cool water. Set aside to drain.

In a medium skillet, add the oil, smashed garlic cloves, half of the fresh herbs (reserve the rest for packing with the olives), lemon zest, red chile flakes, and black peppercorns. Bring to medium heat and cook for 3-4 minutes, swirling the herbs in the oil, until the garlic is fragrant and the herbs sizzle. Remove from the heat, season with the kosher salt, and set aside.

In a quart jar with a fitted lid, layer the olives with the garlic, and cooked and reserved fresh herbs. Pour the flavored oil over the olives. Cover and refrigerate for at least 30 minutes. The olives taste better the longer they sit in the flavored oil, up to 3 days before serving.

Serve on slices of toasted crostini with whipped ricotta cheese and drizzle with the marinated juice or honey and minced fresh herbs.
Nutrition
Calories:
97
kcal
|
Carbohydrates:
1
g
|
Protein:
1
g
|
Fat:
11
g
|
Saturated Fat:
1
g
|
Polyunsaturated Fat:
1
g
|
Monounsaturated Fat:
8
g
|
Sodium:
32
mg
|
Potassium:
6
mg
|
Fiber:
1
g
|
Sugar:
1
g
|
Vitamin A:
26
IU
|
Vitamin C:
1
mg
|
Calcium:
3
mg
|
Iron:
1
mg
We send good emails. Subscribe to FoodieCrush and have each post plus exclusive content only for our subscribers delivered straight to your e-mail box.
Follow me on Instagram, Facebook, Pinterest and Twitter for more FoodieCrush inspiration.
As always, thank you for reading and supporting companies I partner with, which allows me to create more unique content and recipes for you. There are affiliate links in this post of which I receive a small commission. All opinions are always my own.