These crab cake poppers are so delicious and easy to make and a spicy aioli for dipping is the perfect pairing. I love making these for easy appetizers year-round, but especially during the holidays.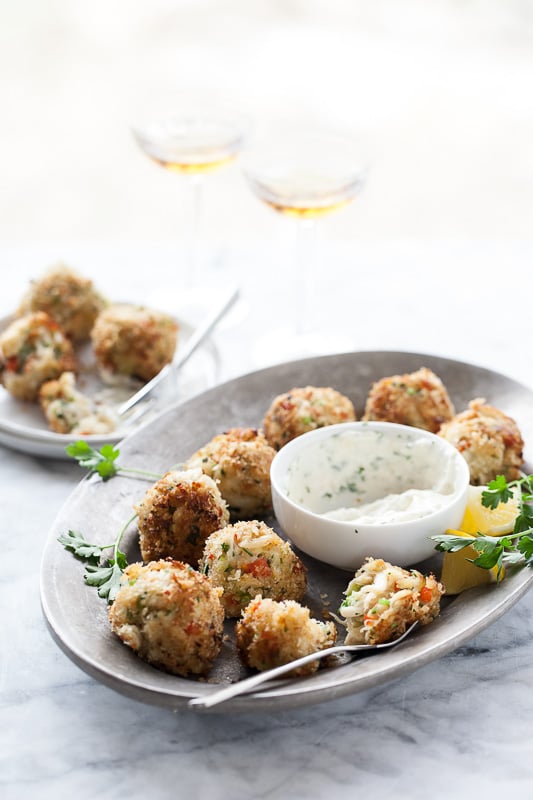 These past few weeks I've spent an absurd amount of time with some amazing food bloggers. Absurd to me only because I'm not sure I could have ever imagined the reality of my journey from an office stiff to a travel-when-the-opportunity-strikes online content creator.
While the time I spend ensconced in my home office or toiling away at the library allows me plenty of alone time, these blogging trips and the relationships I've created with my fellow bloggers are the glue that binds my love for what I do.
I love creating ebooks, magazines and photography, but creating recipes is the part of the job that truly, mainly because it's part of my life, it's what I do to survive. To make food and eat it.
So when I get to create recipes for partners, it's surprisingly rewarding. Working within a theme, surprising myself with what I come up with and then sharing them with you.
Like these Crab Cake Poppers. A little bit of heaven in each bite and perfect for this time of year given tailgate time, playoffs and the looming of holiday entertaining right around the corner.
If you make this recipe, please let me know! Leave a ⭐️⭐️⭐️⭐️⭐️ rating on this recipe below and leave a comment, take a photo and tag me on Instagram with #foodiecrusheats.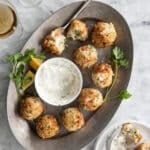 Print
Crab Cake Poppers with Spicy Aioli
Servings
6
makes 24 crab cake poppers
Ingredients
1

pound

jumbo lump crab meat

2

tablespoons

butter

¼

cup

green onion

, diced

2

tablespoons

red bell pepper

, diced

2

tablespoons

celery

, diced

Kosher salt

1

tablespoon

parsley minced

1

egg

¼

teaspoon

Worcestershire sauce

¼

cup

mayonnaise

¼

teaspoon

dry mustard

¼

teaspoon

cayenne pepper or Sriracha sauce

1 ¼

cup

Panko breadcrumbs

1 ½

cup

canola oil
For the Spicy Aioli
½

cup

mayonnaise

1

tablespoon

lemon juice

1

clove

garlic

, minced

1

teaspoon

chili sauce
Instructions
Rinse lump crab meat and pick through for any shells Drain well and add to large bowl. In medium sauté pan, melt butter and cook green onions, red bell pepper and celery. Season with kosher salt and cook for 3-5 minutes or until vegetables have softened. Add to lump crab meat with parsley. In small bowl combine egg, Worcestershire sauce, mayonnaise, dry mustard and cayenne pepper and add to crab meat. Stir gently to combine. Fold in ¾ cup Panko bread crumbs. Roll crab meat mixture into 1 inch balls, and coat in remaining Panko bread crumbs. Refrigerate crab balls for 30 minutes.

Heat 1 cup of canola oil, or about ½ inch of oil, in large cast iron skillet over medium high heat. Fry crab cake poppers in batches making sure not to crowd pan, gently turning balls so all sides are golden brown, about 3-4 minutes each side. Drain poppers on paper towel lined plate while frying remaining crab cake balls, adding more oil as necessary. Serve hot with Spicy Aioli.
For the Spicy Aioli
Mix all ingredients together until smooth and serve on the side as a dipping sauce.
Nutrition
Serving:
6
g
|
Calories:
848
kcal
|
Carbohydrates:
10
g
|
Protein:
17
g
|
Fat:
83
g
|
Saturated Fat:
10
g
|
Polyunsaturated Fat:
29
g
|
Monounsaturated Fat:
42
g
|
Trans Fat:
1
g
|
Cholesterol:
81
mg
|
Sodium:
962
mg
|
Potassium:
236
mg
|
Fiber:
1
g
|
Sugar:
2
g
|
Vitamin A:
440
IU
|
Vitamin C:
12
mg
|
Calcium:
72
mg
|
Iron:
1
mg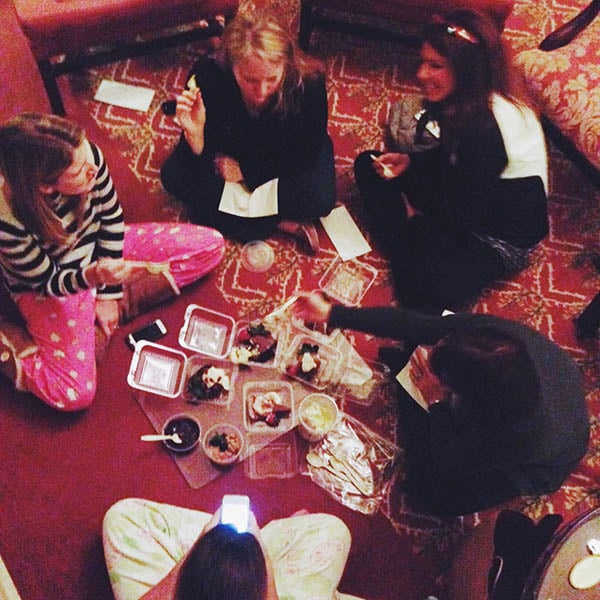 Last week when I was in Kohler, WI (more on what I learned coming soon) I became aware of this thing called the Love Language. I've referred to it plenty of times in the abstract, aka, macaroni and cheese is 'my love language,' but it wasn't until I was sitting in front of a roaring fire in my pajamas with a crew of other food bloggers sampling 43 desserts and  chatting about life, that I discovered what it really meant.
Basically it categorizes your personality by the philosophy "what you give of yourself is what you desire most" as outlined here and here.
While everyone in the group was sharing what their love language was, I was stumped as to what mine was. Then suddenly I had an epiphany.
"Words of affirmation" is my love language, because it's what I give most to people, but don't always get back. So is that what I'm looking for?
See, I'm always asking people about themselves, some have called it being nosy (who, me?) and I have certainly been pegged as "the interviewer."
But one thing I know for sure is that people like to talk about themselves. So instead of sitting in an awkward silence during a conversation, it's way easier to make others feel comfortable by asking them about themselves. But, rarely do people ask me about myself other than what I do to pay the mortgage or where I live.
So, how about we get to know each other a little better? Here are 10 things you probably don't know about me.
1. I met my husband when we were working as servers at an upscale restaurant. My live-in-almost-to-be-engaged-boyfriend was not amused.
2. I snore.
3. In my lifetime I've been blessed with 5 dogs as my babies, and now one of them is dying of cancer.
4. I call my husband GDawg and he calls me GWhiz because on the inside we're really gangsters.
5. My favorite color is orange.
6. I photographed the cast of Grey's Anatomy and I designed Tori Spelling's business cards.
7. I take a tub every. single. night.
8. I hate the words, "shut-up" and much prefer "be quiet."
9. I've lost my big toenail so many times I now have an acrylic one in its place.
10. My favorite karaoke song is "Summer Lovin'" from Grease.
Have a great weekend friends, and get out there and cook something good.
We send good emails. Subscribe to FoodieCrush and have each post plus exclusive content only for our subscribers delivered straight to your e-mail box.
Follow me on Instagram, Facebook, Pinterest, and Twitter for more FoodieCrush inspiration.