These 11 recipes are sure to answer question of what to make with zucchini and cure your healthy recipe cravings at the same time.
I am 100% for fresh produce–but things can get a little out of hand in the garden this time of year, know what I mean?
If you're like me, your counter tops are covered with zucchini and if you don't have your own garden, I bet you're getting doorbell ditched with tons of the stuff from friendly neighbors, desperate to offload their bounty.
Not that I'm complaining.
With so many ways to use this versatile veggie, you can eat squash every day through September without getting sick of it.
This roundup features 11 healthy, delicious recipes, guaranteed to help you make the most of summer's most popular veggie.
Foodie Crush
This salad has been on repeat at my house and even better, it's ridiculously easy and no cooking required. Delicate ribbons of yellow squash and zucchini are twirled with fresh corn, creamy goat cheese, and a simple herbed vinaigrette for an easy but impressive favorite side dish.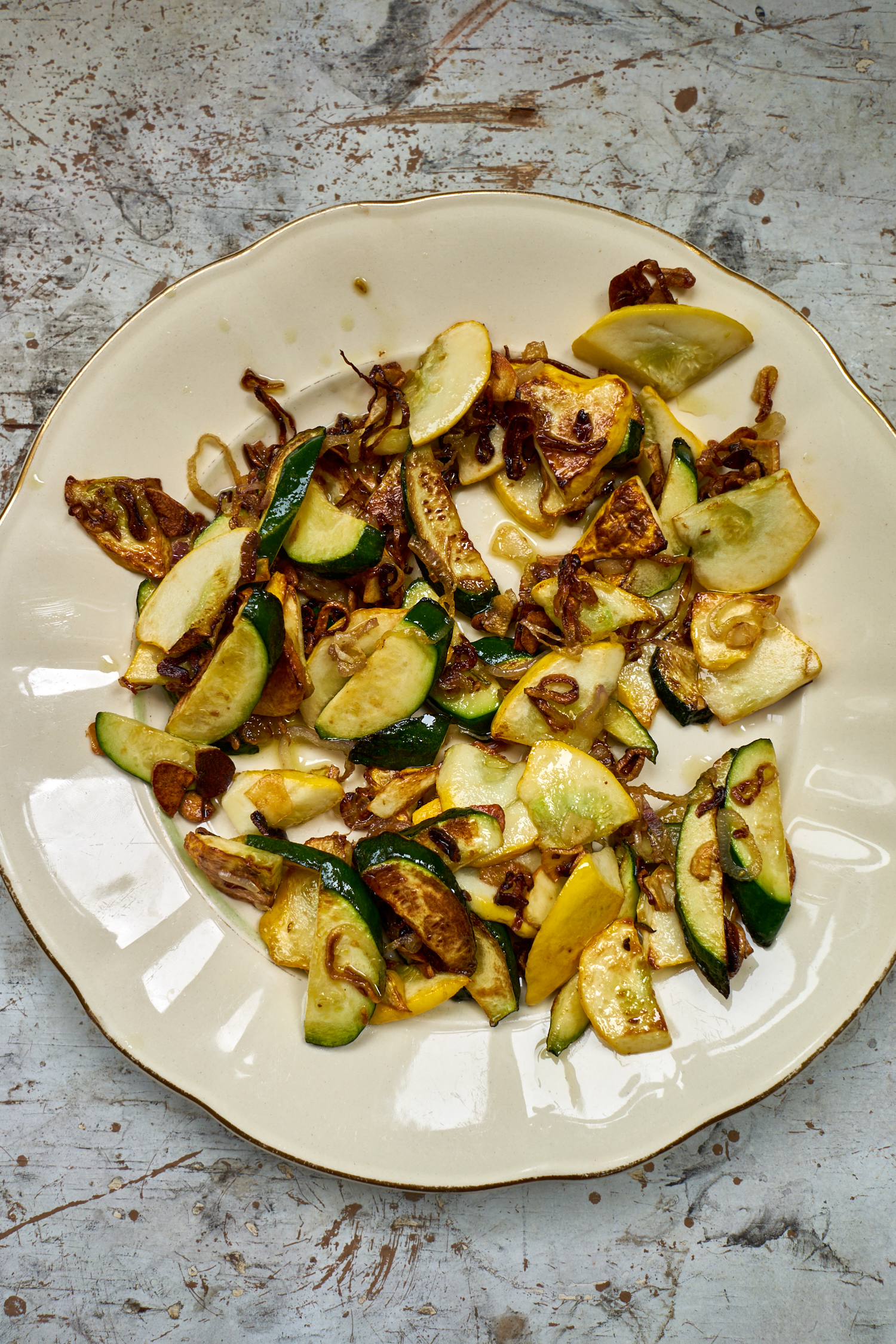 101 Cookbooks
This one-skillet wonder is easy to throw together fast, and is the perfect addition to pasta, eggs, or even perfect on its own.
Cotter Crunch
This easy recipe is a healthy (and Whole 30 approved) winner for its seasonal simplicity and blue-ribbon use of fresh herbs.
Ambitious Kitchen
You know how much I love a good sheet pan dinner here at Foodie Crush, and this is definitely one to try. Grated summer squash keeps these meatballs tender and juicy with an enticing kick of exotic coconut curry sauce.
Foodie Crush
As if the world needed another zucchini bread, but it really needed this chocoholic version. It has a decadent dose of two kinds of dark chocolate, but keeps dessert (or breakfast–I won't tell!) healthy with added zucchini.
The Modern Proper
You may be all zucchini-noodled out by this time in the season, and the geniuses over at The Modern Proper have stepped in to offer a brilliant take on this popular pasta swap. Dive into layers of gooey cheese and savory meat sauce that will leave your belly happy, even without the carbs.
FoodieCrush
These zucchini crisps are the perfect fake-out to fried zucchini because they're baked instead of fried with a light ranch dressing that's perfect for dippin'.
The Real Food RDs
Just 5 ingredients, plus a store-bought salad dressing make this zuchinni-fied classic a cinch to pull together for a last-minute potluck or light dinner dish.
How Sweet Eats
You say "zucchini," I say "PIE!" Yes, really! Shredded summer squash adds structure to this gorgeous frittata, rounded out with juicy burst tomatoes, zesty garlic, and lots of cheese goodness.
Skinny Taste
This recipe does pasta light and right just like Gina always knows how to do, adding finely spiralized zucchini to matching angel hair, for a perfect meatless dish that comes together in just about 30 minutes.
Foodie Crush
Twirling your favorite pasta doesn't can have a lighter touch with whole wheat pasta mingled with zucchini noodles and garlicky shrimp for a one pot main meal you'll want all season long.
Looking for more ways to put this ubiquitous produce to good use? Be sure to whip up my  Zucchini and Chicken Sausage Penne Pasta Recipe, or check out even more  Healthy Zucchini Recipes to Make Now.
I'm always on the hunt for more good ideas, so tell me how you're using up your supply of summer produce???
As always, thank you for reading and supporting companies I partner with, which allows me to create more unique content and recipes for you. All opinions are always my own.
Thanks for reading and subscribe to FoodieCrush to have each post delivered straight to your e-mail box.
Learn more about my printed day-planner Nourished Planner here, and sign up for free, emailed weekly meal plans.
Follow me on Instagram, Facebook, Pinterest and Twitter for more FoodieCrush inspiration.