This post is sponsored by Tabasco as part of its 10-Ingredient Challenge. Thanks for supporting companies I believe in, which allows me to create more unique content and recipes for you.
When most of us think of chicken stewy soup-ish meal, what usually comes to mind is a chicken broth version with chunks of carrots and celery maybe with rice, maybe with potatoes. But in my opinion, It's time to broaden our horizons, and this Tabasco Braised Chicken with Chickpeas and Kale is the reason why.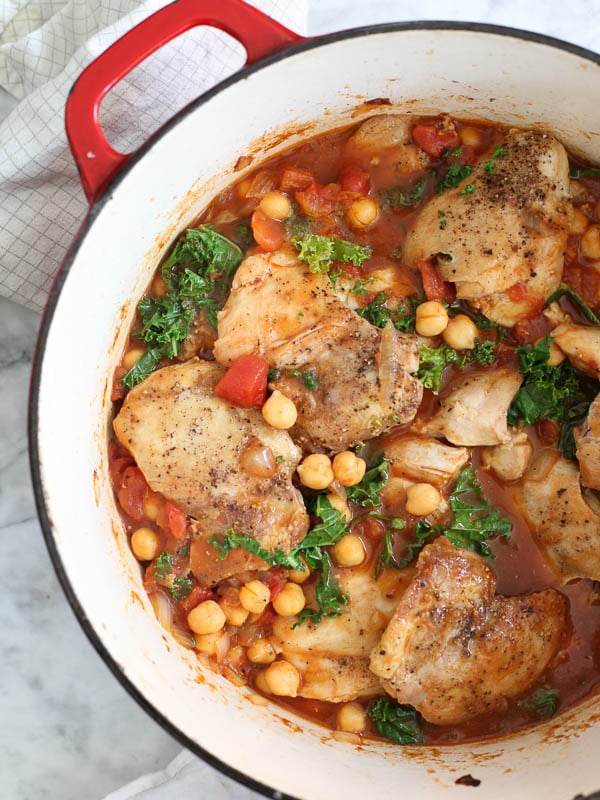 Lately I've been hearing a lot of requests for quicker, easier weeknight dinners. Yes, that was me you heard pleading for divine intervention under my breath, or maybe I was screaming it out loud.
Regardless, it's what's needed now, with high fives and knuckle bumps when you can make it all in one pot.
My Tabasco Braised Chicken with Chickpeas and Kale is my fourth recipe for the Tabasco 10-Ingredient Challenge that started with Tabasco Brined Spicy Drumsticks and Tabasco Chicken Meatballs in a Spicy Tomato and Apricot Sauce. This time around we're gathering at the table for a little comfort eating.
So what is it that makes this recipe so special that I made it twice in one week? Yep, twice in one week. Not even for recipe testing but just because it was so dang good.