These juicy, world famous garlic burgers have just three seasonings and a legion of fans, and are simply one of the very best burgers you'll every bite into.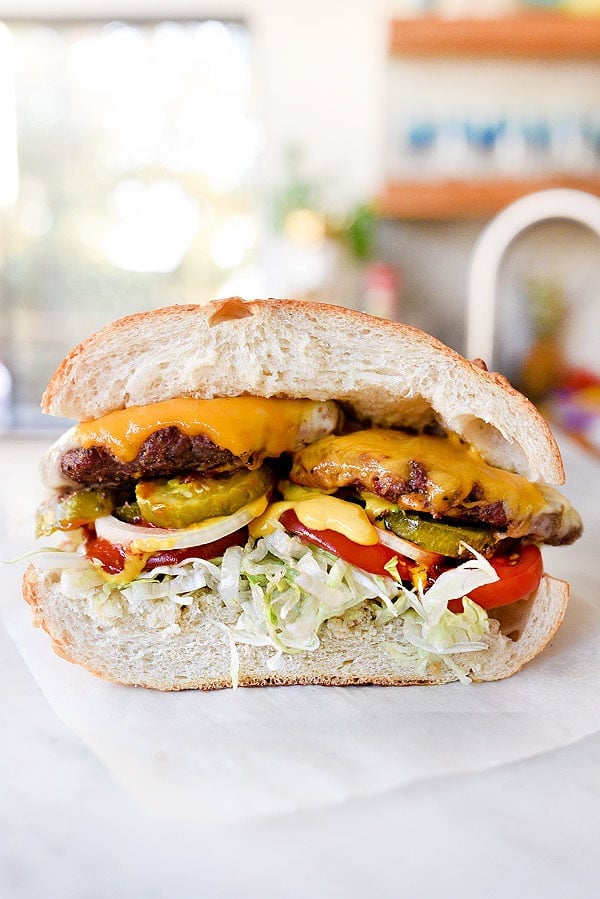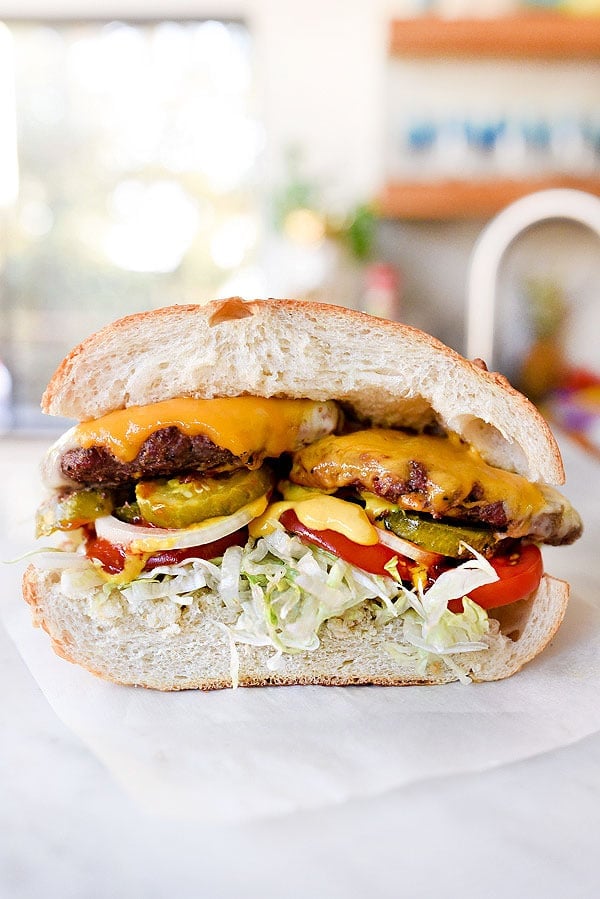 It's here! Grilling season is dead set upon us and that's just one reason I'm happy to partner on this post with Cowboy Charcoal, because just like this recipe, Cowboy Charcoal is a classic.
And this garlic burger recipe is one of my all-time, forever favorites, and the favorite of thousands upon thousands who've eaten it for themselves. Not cooked by me, but by one of the most classic joints in Salt Lake City, the spot that has held the title of Best Garlic Burger in Utah.
Until now.
The first time I had this burger was on a date with my then boyfriend, now husband, at Salt Lake City's notorious The Cotton Bottom Inn. Resting at the base of two ski canyons, this dive bar is THE spot in the city to stop in for a beer and a round of pool or two after skiing one of the Cottonwood Canyons in the winter or to soak up the sun out on the patio after hiking in the spring, summer and fall.
I don't know if anyone actually comes for the beer, and I highly doubt it's for the ambiance. No. It's the garlic burgers they're known for. They're legendary. In fact, I don't think I've EVER seen ANYONE order anything else.
And like the success of all legends, their recipe is top secret. But. I've cracked the code, and this is it.
Even though I've been eating these burgers for years, there was still research to do. My husband and I went on a fact finding lunch (or three) to dissect what the secret is to making these burgers so special and so amazing.
Sure, we asked what the secret is. They won't tell. That's okay. I'm Nancy Drew incarnate and I can sniff it out on my own.
After coming home several days in a row with mutually approved garlic breath and satisfyingly stuffed, I felt we'd figured out a few of the secrets.
Step 1: Fire Up the Barbie
After a two full weeks of rain, the sunny skies inspired me to put my theories to the test and break out the good old Weber barbecue to do the job. It was just the inspiration I needed to put my inner barbecue pit master skills to work.
I have to tell you something about Cowboy Charcoal that is so different than the type you might be most familiar with. This charcoal doesn't come in pillow-shaped briquets that you're not sure what it's made of and takes a bunch of lighter fluid to get going. No. This stuff is natural hardwood lump charcoal from a company that's been around for over 100 years, and you can 100% tell the difference.
The first thing you notice about Cowboy Charcoal is the smoke. It smells positively divine. Like a real barbecue, not lighter fluid and chemicals. The smoke flavor it infuses to the cooking food is spot on. Chicken. Steaks. Chops. And definitely burgers. Like I said, classic.
For a gal like me it's super easy to get my grilling going. I use a lighter chimney with a bit of newspaper in the bottom, then stack the charcoal on top and light it up. It's truly the easiest way to start a charcoal grill.
Step 2: Own the Q
An important part to remember about grilling is that GIRLS GRILL TOO! In fact, it's one of my favorite ways to cook. There's minimal clean up. You get to be outside. It's so not JUST a boy's game.
Cowboy Charcoal thinks girls are grillers and pit masters too and is encouraging the ladies to take over the grilling game in the first ever Fire and Ice Women's Championship Barbecue Series. They're looking for the best female pit master to barbecue chicken, ribs, pork and brisket and show those boys how it's done and $15,000 in diamond prizes (oooo, fire + ice!) and the title to boot.
Do you have the Q gene? Get more info about Fire and Ice here.
Step 3: Thinner is Better but More Garlic is Best
One of my theories has been proven true when it comes to building your patties. Thinner patties make better garlic burgers. The patties are simply seasoned with garlic powder, kosher salt and pepper. But because they're thinner, the seasonings are more pronounced because there isn't as much area or meatiness to infuse the flavor.
Now, I said they're simply seasoned, but that does not mean SKIMPILY seasoned. This is a garlic burger. You want to taste the garlic. So be generous. It might seem like you're adding lot, but once you load on all the toppings, you'll taste why you didn't want to be stingy.
There are a few key rules when shaping your burger, and here they are.
Use 80-85% fat ground chuck beef. You want the fat. It's the flavor. Make up those extra calories somewhere else during the day, maybe forget the vanilla latté instead.
Don't manhandle your meat. A light touch is all you need. Divide your mean into 4 equal portions and gently form each into a ball. The meat will shrink so keep that in mind to portion of your bun or bread.
And here's a great tip: Use the lid from one of your saucepans to smash the burger into a thin round. If it has a bit of a concave arch to it, that's all the better.
Step 4: Grin and Grill It
When grilling your burgers, gently place them on the grill grate and then leave them.
Don't nudge them. Don't move them for the first few minutes. You want them to build a crust so that when you flip them, they won't fall apart. Remember, these are thinner patties so a softer touch helps.
Like The Cotton Bottom, I use two kinds of cheese and add it just a minute or two before the burgers are done. Cover the grill with your grill lid for fastest melting.
Step 5: But Where's the Bun?
The most unique part of this burger is the bun. It's what makes this burger so extra special and why each burger gets two patties each.
Because there is no bun.
Instead, this recipe requires french bread. That gooey, soft, white bread you get at the check out stand of your grocery store. A slight crunch on the outside with gooey white bread on the inside. After slicing the bread into portions I squish it down with my hand to flatten it a bit. It usually springs back so I have to do it a few times so I can get my mouth around this doozy.
Step 6: How to Accessorize
The accessories to this burger are standard but there are several essential components.
First, raw onion. Thinly sliced. Don't leave it out.
Shredded lettuce. This might be the most important factor to get that same Cotton Bottom taste for crunch with every bite.
Juicy red tomatoes. Cut not too thin, not too thick. This isn't a BLT or caprese sandwich, so the tomato is just a supporting player.
Hamburger chip pickles. Not kosher. Not dill. Not sweet. Standard hamburger chip pickles.
Just like at The Cotton Bottom, this burger is best served with potato chips and pepperoncinis on the side for a little more crunch and pucker.
Recipe Ideas to Serve With Your Burgers
If you make this recipe, please let me know! Leave a comment below or take a photo and tag me on Instagram with #foodiecrusheats.
Print
The Best Garlic Burgers EVER
These world famous garlic burgers have just three seasonings and a legion of fans, and are simply one of the very best burgers you'll every bite into.
Ingredients
1 ¼

pounds

85% lean chuck beef

8

teaspoons

garlic powder

Kosher salt and freshly ground black pepper

4

slices

mild cheddar cheese

4

slices

Monterey jack cheese

1

loaf French bread

2

cups

iceberg lettuce

, shredded

2

slices

yellow onion

1

large tomato

, sliced

Hamburger chip pickles

Ketchup and mustard
Instructions
Prepare grill with Cowboy® Hardwood Lump Charcoal and light.

Divide the hamburger meat into 4 equal portions. Lightly form the meat into balls. Use the lid of a small saucepan (one that is slightly concave works best) and smash each ball into a patty.

Season each side of the patties with 1 teaspoon of garlic powder and kosher salt and freshly ground black pepper.

Once grill is hot and coals have ashed over, spread the charcoal in the bottom of the grill and place the burgers on the grill grate. Cook the burgers undisturbed until browning at the edges and flip once. Add one slice of cheddar cheese and one slice of Monterey jack cheese to each burger. Top with the grill lid to melt the cheese.

Cut the french bread into 5-inch lengths and then slice in half. Press the bread down with your hand to flatten slightly.

Layer each french bread bun with 2 patties, lettuce, onions, tomato and pickles. Add ketchup and mustard. Slice in half and serve with potato chips and pepperoncinis on the side.
This post was in partnership with Cowboy Charcoal. As always, thank you for reading and for supporting companies I partner with, which allows me to create more unique content and recipes for you. All opinions are always my own.  
Are you following me on Instagram, Twitter, Facebook and Pinterest? 
Thanks for reading and subscribe to FoodieCrush to have each post delivered straight to your e-mail box.