I'm like my mom this way. I love a good burger.
On our summer trips to visit my Grandma in San Francisco, my dad would make a huge bed in the back of the Suburban and my sister and I would travel the 600 miles there and 600 miles back sprawled out in the lap of luxury on a 6 inch styrofoam bed, surrounded by magic markers, books and games.
Our road trips were pre-seatbelts, pre-DVD, pre-books on tape and even pre-VHS or Sony Walkman. Raise your hand if you're wondering what those are. Oh my, oh my, oh my..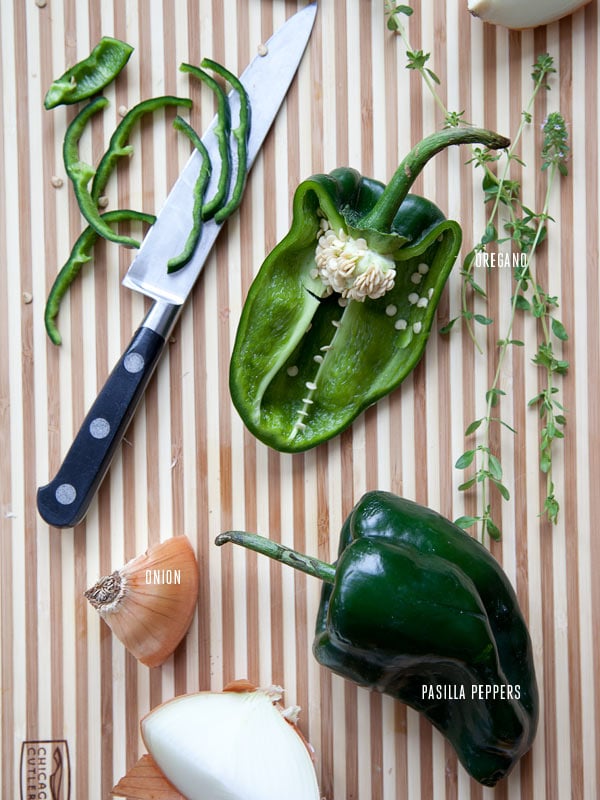 So we made our own fun: played the alphabet game from road signs and passing 18-wheelers, created solar systems that hung from the ceiling of the rig and generally had a blast when we weren't drawing invisible dividing lines defining our personal space.
Whenever we'd stop for lunch, my mom would always have the same thing: a cheeseburger. Her mantra: no matter how greasy the spoon, you can rarely go wrong with a burger.
This is one of my go-to favorite burgers, this time served up in the form of a slider. I think the secret to the burger is all about the Chipotle ketchup. I make it and keep it on hand for hot dogs too, it's become that addicting.
The ground chicken thighs give the burger a jolt of juiciness that you don't get with the leaner breast meat or ground turkey. And since ground chicken is sometimes a challenge to find, go ahead and give the turkey a try. You might just need an extra slather of chipotle ketchup but I for one don't see anything wrong with that.
Recently, Lori of Recipe Girl and her family were on their cross-country tour and made an overnight stop in Salt Lake City.
Carrian of Oh Sweet Basil, Lindsey of Cafe Johnsonia, Deborah of Taste and Tell, Lori of Recipe Girl, Dara of Cookin' Canuck, Maria of Two Peas and Their Pod and me: Heidi of FoodieCrush
It was the perfect excuse to host an impromtu BBQ, complete with a few local food bloggers pimping out their mad cooking skills plus Lori's son and pre-teen food blogger Recipe Boy getting a lesson on manning the grill and flipping burgers.
I hope it's a summer burger visit he too will always remember.
And if you haven't, check out my FoodieCrush interview with Lori.
Print
Chicken Sliders with Pasilla Peppers and Chipotle Ketchup
White meat doesn't have to be dry. Use ground chicken thigh meat for juicy burgers every time topped with spicy chipotle ketchup.
Ingredients
1

pound

ground chicken thighs

2

tablespoons

fresh oregano leaves

1

teaspoon

kosher salt

1

teaspoon

freshly ground pepper

4

slices

Havarti cheese

halved

1

pasilla pepper

seeded and sliced

1

onion

sliced

½

tablespoon

butter

½

tablespoon

canola or vegetable oil

8

slider buns

½

cup

ketchup

1-2

canned chipotle peppers plus adobo sauce

1

cup

arugula
Instructions
Melt butter and oil in a medium sauté pan mover medium heat. Sauté sliced onion and pasilla pepper and for 5 minutes, reduce to medium-low and simmer for 15-20 minutes until onion is soft and translucent and somewhat jammy.

In a large bowl combine chicken, oregano, salt and pepper and mix gently, mixture will be sticky so be careful not to overwork. Divide into 8 patties and refrigerate for a half an hour. Prepare grill.

Meanwhile blend one pepper and ketchup in a small food processor. Add another chile or more adobo sauce to taste for spiciness.

Grill burgers for 15-20 minutes, flipping once, or until internal temperature is 160 degrees. Add cheese slices. Warm buns on grill. Serve with chipotle ketchup, onions and ketchup and arugula.
Nutrition
Get more juicy ground chicken patties thanks to some of these savory food blogger recipes.
Make sure to check out the comments from Deb's post for a secret to working with ground chicken and making your own version of Taste and Tell's Chicken Caeser Kabobs
Catherine adds a few fresh herbs to the burger bash with pantry staples curry and garlic powder to create Weelicious' spiced up Middle Eastern Chicken Burger 
Nami pulls out a standard Japanese dish and adds her touch to these healthy little patties with tofu and Shiitake mushrooms added to the ground chicken mixture to create Just One Cookbook's Chicken and Tofu Burger Steak
Rochelle forgoes the standard ketchup (a kindred spirit) for the non traditional cucumber yogurt sauce , loads her patty with olives, feta and med spices and then tops it all off with pepperocinis for Acquired Life's Greek Inspired Chicken Burgers with Tzatziki Sauce
Related Posts
Pork Belly Sliders and Superbowl Bites
Friday Faves and a Burger Bash
4th of July Gorgonzola Blue Cheese Burgers
Thai Basil Chicken
Thanks for reading and please keep in touch. Subscribe to Foodie Crush and follow me onTwitter, Facebook and Pinterest and check out Foodie Crush magazine and  Cookie Cravings cookbook.