Tasty nuggets of joy aka baked turkey meatballs get a Thai twist with the addition of ginger, garlic, and red curry paste to keep them light, fluffy and moist when they're dunked in a Thai coconut milk sauced easy dinner.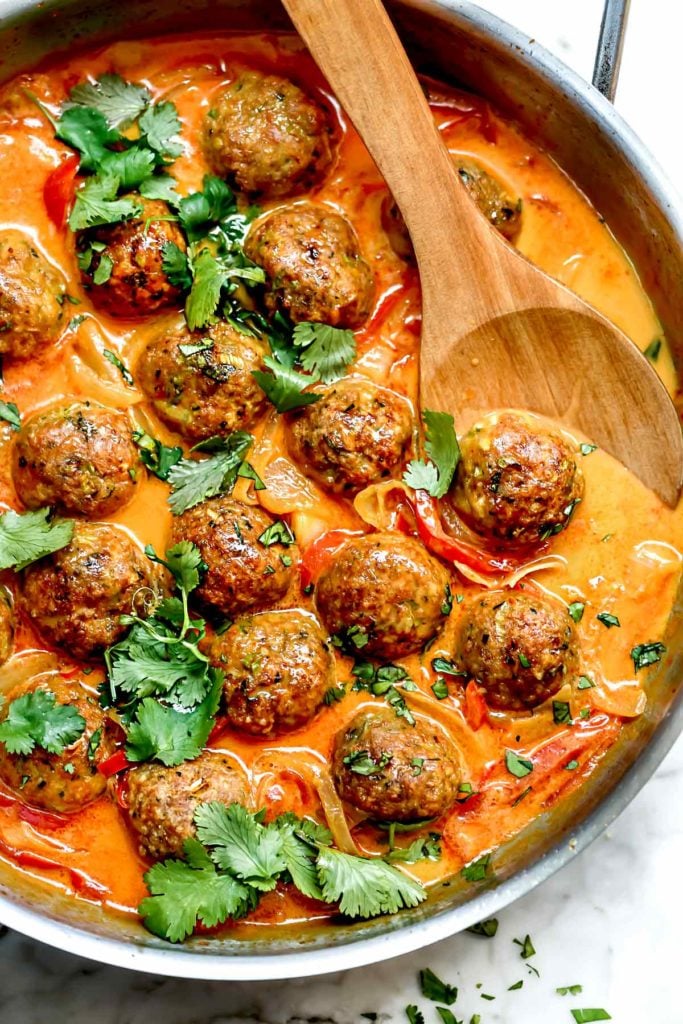 Baked Turkey Meatballs In Thai Coconut Curry Sauce
Turkey meatballs are simple. Simple ingredients. Simple to make. But don't underestimate them. They're a brilliant addition to lunch in Mexican Turkey Meatball Sandwiches and a resourceful pantry-ingredient dinner solution in loads of cultural dishes like Baked Turkey Meatballs in Marinara.
So how do you make humble brown meatballs look like the belles of the ball? Plop them in a lush, velvety red curry coconut sauce topped with sprinkles of herby freshness. Suddenly, with the christening of a spatula as the dinner clock strikes time, their fairy tale allure matches the goodness within. 
Here's how to make this easy, flavor-filled bomb of a dinner. Snap! Your dinner's fairy godmother has arrived!
What's In These Thai Meatballs In Coconut Red Curry Sauce
There are two components to this recipe—the meatballs and the sauce—that can be made at different times or the same to then come together as one.
In an effort to be pantry ingredient conscious and cut down on the grocery list, a few of these ingredients are used in both the meatballs and the sauce—read through the recipe before preparing to be sure you have enough on hand for both components.
Ground turkey (or chicken)
Egg

Panko breadcrumbs

Green onion

Garlic

Soy sauce or fish sauce *used in both the meatballs and sauce

Ginger or ginger paste *used in both the meatballs and sauce

Red curry paste *used in both the meatballs and sauce

Kosher salt and freshly ground black pepper
Coconut milk
Red curry paste
Brown sugar
Red bell pepper
Yellow onion
Fresh cilantro
Tips to Make and Roll the Baked Turkey Meatballs
Find my in-depth recipe for these baked turkey meatballs here with tips like for how to make meatballs from scratch and how to keep them from falling apart.
These are some basic guidelines:
Mix well, but don't over work the meat mixture. Mix the ground turkey with the rest of the ingredients in a large bowl, gently whisking the egg with a fork then folding everything together until lightly incorporated. Then, dig in.
Use a small scoop to keep your meatballs the same size. I use a small cookie scooper to measure out the meatball mix and place on a baking sheet. I do this step all at once, then go back and roll the meatballs all at once afterward to make it faster and less messy.
Use damp hands to mix and make the meatballs smooth. Lightly dampen hands so the meat doesn't stick to your hands when mixing and rolling into balls. Using wet hands also makes a smoother meatball that's less shaggy. If the meatballs become filmy or gummy, use less water.
Make them for now and later. The meatballs can be baked and frozen for later, or make the sauce below while they're cooking in the oven.
Best Turkey Meatballs: Baked or Fried?
There are several benefits to baking meatballs versus frying.
There's no extra oil needed for frying the meatballs so they're more calorie conscious.
Baking the meatballs is a hands off approach, with minimal monitoring involved.
Baking also produces a softer, more pillowy meatball with a more tender crust.
How to Get a Perfectly Browned Baked Meatball
The secret to taking a pallid meatball to a perfectly bronzed and browned baked meatball is to bake them in a hot oven at 400°F just shy of being cooked all the way through, then crank up the heat to broil for 5 minutes or so to create that golden brown color without drying them out.
How to Make the Coconut Red Curry Sauce
This flavorful coconut sauce calls for some easy-to-find-at-the-grocery-store Thai ingredient staples.
While the meatballs are cooking, it's time to make the sauce.
Slice the yellow onion and seeded red bell pepper into strips and sauté in a skillet with canola oil.
Stir the red curry paste and ginger into the onion mixture for 1-2 minutes or until the ginger is fragrant. Cooking the red curry paste before adding liquid removes the raw ingredient taste and adds depth to the flavor.
When the vegetables are softened, add the brown sugar, fish sauce and coconut milk, cooking for the flavors to meld and the sauce to reduce and thicken.
What Is Red Curry Paste?
This recipe calls for red curry paste for a lightly spiced curry also used in my Slow Cooker Thai Chicken Soup and Shrimp in Thai Coconut Sauce.
Curry pastes are an essential building block in many Thai recipes. Most common in red, green, yellow, each curry's individual characteristic depends on the chile it's made from and range from spicy to sweet.
A Few Thai Ingredient Notes
Use a high quality canned coconut milk, preferably full fat. I prefer an organic, full-fat coconut milk. Lower fat coconut milk or cheaper brands can be more liquid than cream, resulting in a less flavorful, watery sauce. Be sure to shake the can as best you can, and if the coconut milk has separated—leaving a solid cream usually stuck to the lid—put the contents of the can in a bowl and whisk as well as you can. The solids are the fat of the milk that should melt into the sauce when heated. And be sure you don't buy coconut cream, which is a totally different product than coconut milk.
Choose a great quality fish sauce. What is fish sauce? Simply put, fish sauce is fermented fish that has broken down to become a tangy, funky sauce. It's flavor is salty, earthy, a little bit caramel-y sweet, and totally distinct. A good quality, fish sauce hardly tastes fishy at all, and adds the unique salty bite that can't be imitated by substituted ingredients in Vietnamese and Thai cooking. When choosing fish sauce, always choose a high quality fish sauce that hasn't been left opened in your cupboard for too long (the fishy flavor will become more pronounced.) And know that smaller quantities of the sauce goes a long way. This is my favorite brand of quality fish sauce that can be found online or at many Asian grocery stores.
Finish the Turkey Meatballs In the Sauce
Once the turkey meatballs are cooked through, add them to the sauce to simmer for an additional 5 minutes to make even more tender as they absorb the sauce and curry flavor. Serve straight from the pan and sprinkle with chopped fresh cilantro or Thai basil.
What to Serve with Thai Meatballs
over white, brown, or forbidden rice
over rice noodles, pad thai noodles, soba noodles or pasta
More Thai-Inspired Recipes to Try Now
If you make this recipe, please let me know! Leave a 
 rating on this recipe below and leave a comment, take a photo and tag me on Instagram with #foodiecrusheats.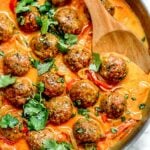 Print
Thai Turkey Meatballs In Coconut Curry Sauce
Tasty nuggets of joy aka baked turkey meatballs get a Thai twist with the addition of ginger, garlic, and red curry paste to keep them light, fluffy and moist when they're dunked in a Thai coconut milk sauced easy dinner.
Ingredients
For the Thai Meatballs
1

pound

ground chicken or turkey

1

egg

1

cup

panko

½

cup

minced green onion

3

cloves

pressed garlic

1 ½

tablespoons

grated ginger or ginger paste

1

tablespoon

soy sauce or fish sauce

1

tablespoon

red curry paste

1

teaspoon

kosher salt

1

teaspoon

freshly ground black pepper
For the Coconut Curry Sauce
1

tablespoon

canola oil

½

red bell pepper

sliced

½

yellow onion

sliced

1

tablespoon

ginger

1

tablespoon

red curry paste

1 13.5

ounce

cans unsweetened coconut milk

1

tablespoon

fish sauce or soy sauce

2

tablespoons

brown sugar

chopped cilantro

, for garnish
Instructions
For the Baked Turkey Meatballs
Preheat the oven to 400°F and spray a baking sheet with cooking spray. Set aside.

In large bowl, combine the ground turkey or chicken with the egg, panko breadcrumbs, green onion, garlic, fish sauce, ginger, red curry paste, and salt and pepper. Use a whisk to break the egg yolk and lightly fold the ingredients together. Gently knead the mix with damp hands until incorporated. Cover and refrigerate the mixture for at least 15 minutes for the breadcrumbs to soften, up to overnight.

Use a small scoop to form the meatballs into 1-inch balls and place on a cutting board. Dampen your hands and lightly shape and roll the meatballs between your palms and place evenly spaced on the baking sheet. Bake until no longer pink inside, about 20 minutes, then broil on high for another 5-10 minutes for a deliciously crispy crust. Remove from the oven and add to the coconut curry sauce.
For the Curry Coconut Sauce
While the meatballs are baking, prepare the coconut curry sauce. In a large skillet, heat the oil over medium high heat. Add the onions and red bell pepper and cook for 3-4 minutes, stirring often. Stir in the ginger and and red curry paste and cook for another 2-3 minutes, stirring often so the vegetables don't burn but become soft and fragrant.

Add the coconut milk and add the brown sugar and fish sauce or soy sauce and stir to combine. Cook for 5 minutes then add the meatballs to the sauce and cook for another 5 minutes, stirring occasionally. Taste for seasoning and if it needs more salt, add a dash or two more fish sauce or soy sauce. Garnish with chopped cilantro leaves and serve over rice or noodles.
Notes
One serving equals 4 meatballs and sauce. 
Nutrition
Calories:
351
kcal
|
Carbohydrates:
19
g
|
Protein:
23
g
|
Fat:
22
g
|
Saturated Fat:
16
g
|
Cholesterol:
69
mg
|
Sodium:
995
mg
|
Potassium:
521
mg
|
Fiber:
3
g
|
Sugar:
8
g
|
Vitamin A:
1240
IU
|
Vitamin C:
18
mg
|
Calcium:
57
mg
|
Iron:
3
mg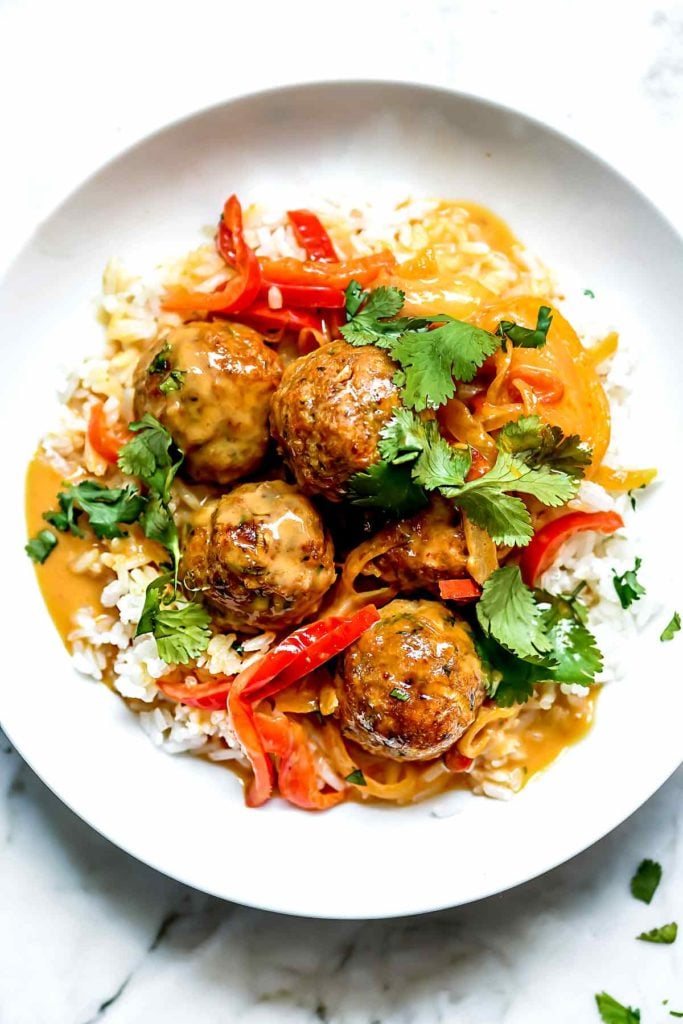 More Turkey Recipes to Try Now
We send good emails. Subscribe to FoodieCrush and have each post plus exclusive content only for our subscribers delivered straight to your e-mail box.
Follow me on Instagram, Facebook, Pinterest and Twitter for more FoodieCrush inspiration.
As always, thank you for reading and supporting companies I partner with, which allows me to create more unique content and recipes for you. There are affiliate links in this post of which I receive a small commission. All opinions are always my own.