I have a love/hate relationship with Daylight Savings Time.
I love it for giving me more time to do "fun stuff"—verses "boring stuff"—with Smudge, like flying kites or taking the dogs for walks. I hate it for making me get up earlier than my body wants to and making me eat my breakfast at work because I'm running late.
But one thing that comes of missing my breakfast routine is that since I still have the craving, why not switch it up and serve up a little breakfast for dinner? Or as I recently learned via some of my Twitter friends, brinner anyone? And that's a meal that always throws me back to my youth.
When my dad would get a March hair and decide to take over the dinner cooking duties, he had four recipes he rotated in and out: Pheasant, nachos, daddy's hamburgers and my Grandma's Scrambled Eggs.
My dad, or D.W. as we call him, really is a prep cook at heart. Mise en place, and the clean up, that's what he's all about. It must come from his German heritage, to have everything ready ahead of time and always thinking one step ahead. He'd chop all of his veggies before ever thinking of heating up a pan. Get all of the eggs cracked and mixed, patiently waiting to slither into the sizzling butter. And then make sure it was all nice and tidy in the end.
So when you saw him pull out the electric fry-pan, you knew it was time for an homage to his mother, my Grandma Frieda, and breakfast for dinner. It really was more about the process, slow and easy, creating the creamiest, savory scrambled eggs with plenty of add-ins to keep it interesting.
It was always a bit decadent, kind of forbidden, pretty much CRAZY! Hey, I was eleven. Dinner for breakfast was crazy.
Now that it's just DW and my mom, I don't know how long its been since they've had brinner. Do they serve brinner at the local Indian buffet? I'll have to ask.
These eggs are soft and moist thanks to the addition of a couple of tablespoons of water and patience. As in don't rush the process. I used to add milk, but discovered water makes an even lighter but still creamy scramble.
If you make this recipe, please let me know! Leave a comment below or take a photo and tag me on Instagram with #foodiecrusheats.
Grandma's Scrambled Egg
Scrambled eggs with delicious fillings, this recipe is quick and easy for any meal.
Ingredients
8

large eggs

I use omega-3 fortified

1

teaspoon

worcestershire sauce

1

teaspoon

kosher salt

2

tablespoons

water

2

tablespoons

butter

divided

1/2

lb

bacon

chopped into 1/3" strips

10-12

button mushrooms

cleaned, stemmed and sliced

2

green onions

chopped
Instructions
Heat a large non-stick fry pan over medium heat. Add sliced bacon and cook for 4-5 minutes, stirring so bacon fries evenly to desired doneness. Line a plate with a paper towel. Remove bacon from pan to a plate lined with a paper towel and let grease drain. Discard bacon grease and wipe pan clean with another paper towel.

Heat frypan over medium and melt one tablespoon of butter in pan. Add mushrooms and sauté for 4-5 minutes. Add in green onion and sauté for one minute. Remove from pan and set aside.

In a large bowl or quart measuring cup, crack eggs and beat until well blended. Add water and worcestershire sauce and salt.

Re-heat the same non-stick large fry pan over medium heat and melt remaining tablespoon butter. Pour in egg mixture and let cook for about a minute. AGently pull eggs from side to center of pan, allowing liquid egg to meet the hot pan until eggs have gently set but are still a bit runny. Add in bacon, mushrooms and green onion and fold gently into eggs. Remove from heat when set but still soft. Eggs will continue to cook. Plate immediately and serve.
Looking for a few more variations on breakfast for dinner, and oh lookey. Here are some here.
photo > The Year in Food
Armed with a cast-iron skillet and a penchant for a bite of spice, Kimberly rocks the brinner idea as she says "morning, noon and night" with The Year in Food's Breakfast Tacos with Avocado Radish Salsa topped with avo, hot sauce, subtle cilantro and touch of tart feta.
photo > Cookie and Kate
Giving us the sweet nod to breakfast for brinner, Kate delivers the healthy and hearty yum factor with Cookie & Kate's Banana Oat Pancakes that are so naturally sweet syrup might become a brinner afterthought.
photo > Crepes of Wrath
Breakfast for dinner, or dinner for breakfast. It's all semantics with Sydney's Sourdough Breakfast Pizza from Crepes of Wrath, giving us dippify-able crust that fits either menu perfectly.
photo > A Communal Table
Fitting mom's around the world's needs into one recipe Nancy has her eye on the dinner time clock with A Communal Table's Breakfast Potato Hash and brings a hearty, veggie option to an evening brinner.
photo > The Stone Soup
Powered with protein, Jules protein packed Baked Eggs with Chorizo & Cannellini Beans is a filling, but super easy, classic Stone Soup solution for a quick and healthy weeknight brinner.
photo > E is for Eat
Sportscaster by day, gourmet by night, Jaymee gives us our much anticipated bacon entry—what's brinner without bacon?— with E is for Eat's French Toast BLTs layering sweetened brioche dipped in eggness, sandwiched between tomato, lettuce and applewood bacon. It's a brinner winner.
And look, you made it all the way to the end of this post! Just in time for this special update!
I've mentioned that I've partnered with Maria from Two Peas and Their Pod to create their first cookbook, Cookie Cravings. In addition to the awesome new cookbook with Maria's favorite recipes from her blog, and the new ones she's created just for the cookbook, we thought it would be fun to create a bonus cookbook of sharing some of Maria's favorite blogging buddies cookie recipes.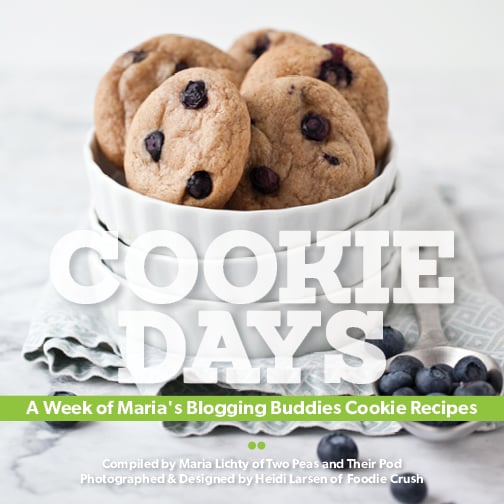 With all new photography (yep, I got to photograph and style—and better yet TASTE—all of these tasty numbers) Cookie Days features Maria's pick of recipes from Picky Palate, Brown Eyed Baker, Kevin and Amanda, Eat, Live, Run, Confessions of a Cookbook Queen, How Sweet It Is, and Recipe Girl
And check out those sweet cookies on the cover, showcasing the mad talents of Jessica from the blog How Sweet It Is. You know your cookies Jessica!
Cookie Cravings, along with the bonus Cookie Days and even more insider secrets to Maria's mad cookie skills, will be going on sale next week. Eek, I can hardly believe the day is almost here.
So stay tuned OR SIGN UP for all of the details and start your diet now, because you won't be able to resist these sweet treats once you see them.
Get more Foodie Crush breakfast for dinner recipes:
Ham and Cheese Souffle Breakfast Casserole
Dutch Babies
Chile Verde Huevos Rancheros
Frog In the Hole
Thanks for reading and please keep in touch. Subscribe to Foodie Crush and follow me on Twitter, Facebook and Pinterest and check out Foodie Crush magazine