The secret to the best barbecue ribs starts in the oven and is finished with this spicy sweet and tangy raspberry chipotle BBQ sauce.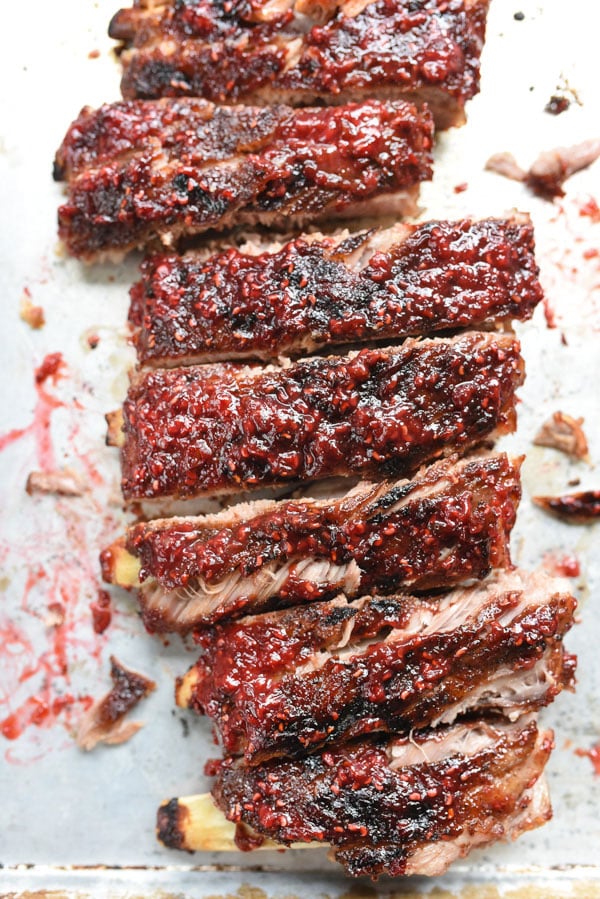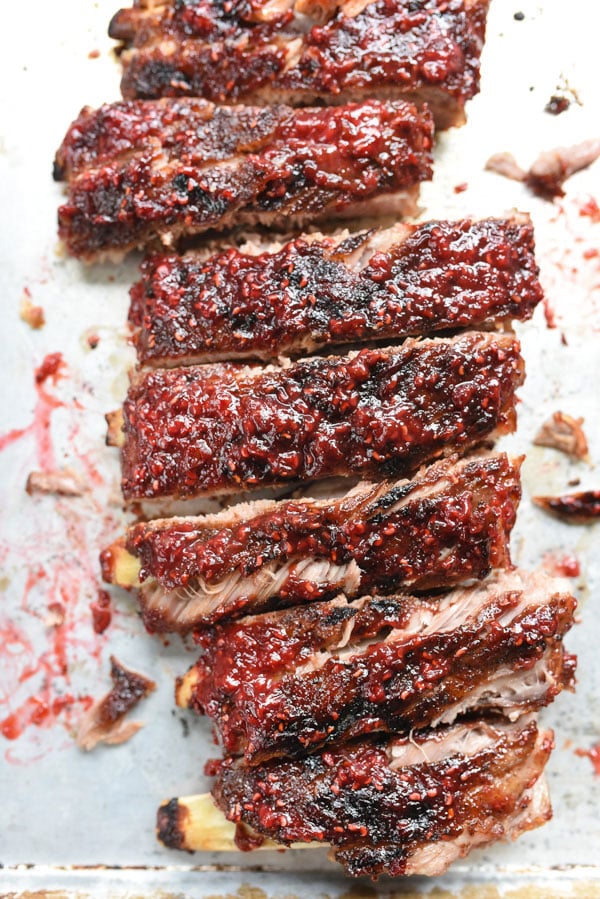 It has been our Saturday routine for years. We wake up, my husband cracks his first Diet Coke of the day and we ask each other, "What do you feel like for dinner?"
Barring Smudge's early morning soccer and basketball games, or my weekend honey-do-list, we jump back into bed, flip on the TV and take a tour of the cooking shows while eating Frog In the Hole. Our dinner time feast is typically chosen thanks to what we discover from PBS and Food Network and the talents of Tyler Florence, Jamie Oliver, Anne Burrell and one of our own, The Pioneer Woman.
Our weekend food tour inspired me to start sharing recipes on Saturdays, because I figured you're looking for ideas too. And so here we are, with the first installment of Weekend Eats.
Each Saturday I'll be sharing a seasonal recipe idea for what to have for dinner come Saturday and Sunday, with the occasional breakfast or brunch thrown in. Rounding out the post will be a few suggestions of what to pair with my main dish, recipes from other food bloggers, and some favorites from FoodieCrush too.
First off the block, ribs!
Porking Out
This recipe starts with the same method I share in my post The Secret to Grilled Baby Back Spare Ribs. Secret, eh? Not anymore, but so easy.
Before you even think of warming up the grill, the ribs are baked in the oven, low and slow, then later, finished on the grill for a smoky char. Take into account that you'll need 3 hours of baking time before grilling. If you're pressed for time, you could bake the ribs the day before, set them on the counter to come to room temperature and then finish them off on the grill right before serving.
I simply prefer pork ribs over beef ribs, but if you're a beefy kind of eater (I haven't tested this) you could try using the same cooking method checking your cooking time to allow for the larger rib size.
I used two different cuts of ribs in testing this recipe on two different occasions. First up were baby back pork ribs. They're a leaner cut of meat that cooks a bit faster and has more of an arch to their bone. You can see the arch in the last rib photo of this post.
For the next round I chose the St. Louis style cut pork ribs. Meatier and more uniform in their cut, the cut ribs themselves were bigger portion size, and the flavor and tenderness was delicious. They were my favorite and are shown in the first photo at the top of this post.
To slow-cook the ribs, my husband first gives them a coating of dry rub seasoning. While he says the ribs should then sit in the fridge for a few hours (up to overnight) to infuse the seasoning, the last time around we didn't have time and simply seasoned them then threw them in the oven. Could I tell a difference? Don't tell him, but not really.
To raise the ribs above the apple cider braising liquid, we place them on a rimmed baking sheet topped with a wire cooling rack set on mason jar rings so the meat doesn't get mushy and browns nicely on top and even a bit on bottom.
Oh, So Saucy
Once the ribs are cooked, it's time to get sauced. I shared the recipe for my Finger Lickin' Chipotle BBQ Sauce last week and it totally made the cut.
Smokey but sweet, the raspberry sauce gets its flavor from canned chipotle peppers in adobo sauce and chopped jalapeño. Don't be fearful this is a blow-the-top-of-your-head-off sauce, because it isn't. The sauce on its own may taste pretty spicy on the tongue, but once it's smeared on the ribs, it all works together.
If you're looking for a different sauce to slather, here are 10 more BBQ sauces I think you'll really enjoy, too.
Sidenote: I prefer the silicone basting brushes to the natural bristle brushes because silicone doesn't shed in my sauce.
If you make this recipe, please let me know! Leave a comment below or take a photo and tag me on Instagram or Twitter with #foodiecrusheats. 
Print
Raspberry Chipotle BBQ Ribs
Servings
4
ribs per serving, serves 10-12
Ingredients
4

racks baby back or St. Louis cut pork ribs

9 to 12 pounds

2

cups

apple cider

¼

cup

sweet paprika

3

tablespoons

dark brown sugar

2

tablespoons

pepper

1

tablespoon

chile powder

2

teaspoons

garlic powder

2

teaspoons

dry mustard

2

teaspoons

celery salt

1

teaspoon

kosher salt

1

teaspoon

cayenne pepper

Raspberry Chipotle BBQ Sauce

recipe here
Instructions
Combine all dry ingredients and generously rub over surface of ribs. Refrigerate for 4 hours or overnight.

Preheat oven to 250 degrees. Place room temperature ribs on high edged baking sheet lined with wire rack set upon mason jar rings. Pour 1 cup apple cider in baking sheet, place ribs on the rack and cook for 1 ½ hours. Add another 1 cup cider and cook for another 1 ½ hours or until meat pulls apart from bones.
Side-Dish Show Stealers
I generally love eating everything that comes off my grill but if we're talking truth, I could forgo the meat and feast only on sides. These are my classic, tried and true triumvirate of side dishes that end up on each and every one of our BBQ menus. Simply put? They are the best.

This is my number one, bring to the potluck / barbeque / picnic recipe. I'm sharing my mom's tips on How to Make The Best Potato Salad, like, ever. Recipe here.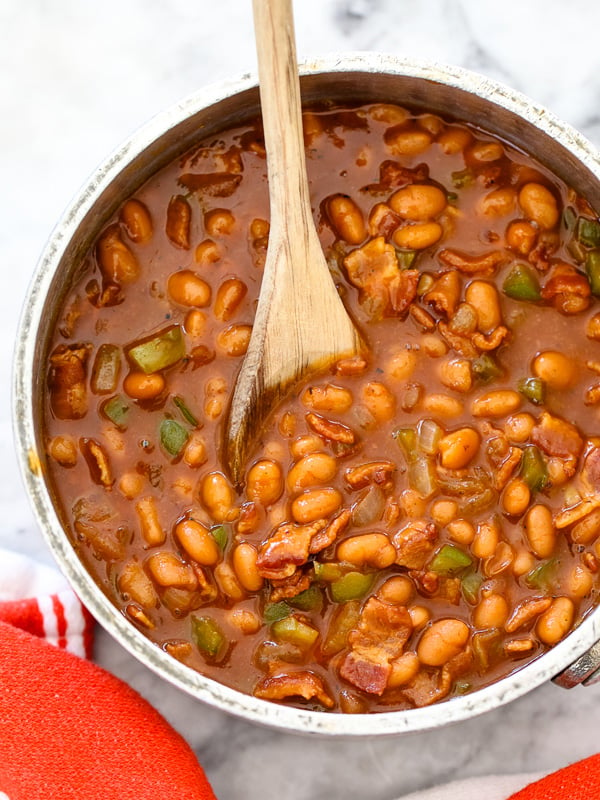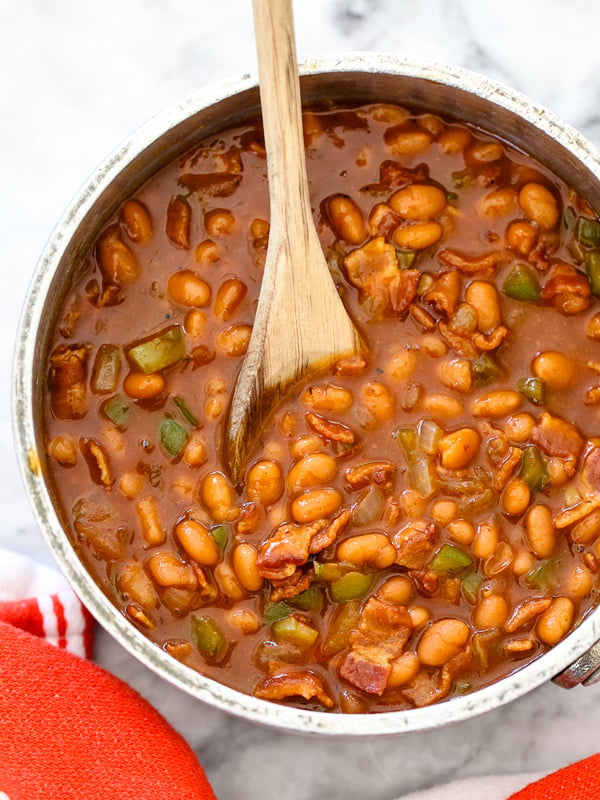 I still can't make these without scorching the roof of my mouth because I can't help but taste test as they simmer. The Best BBQ Baked Beans, recipe here.
It's not soupy, it's not goopy. It's simply The Best Creamy Coleslaw, recipe here.
You've seen my favorites, I'd love to know yours. What's your favorite side dish for grilling and BBQ-ing?
Have a great day and make something good!
As always, thank you for reading and for supporting companies I partner with, which allows me to create more unique content and recipes for you. All opinions are always my own.  
Are you following me on Instagram, Twitter, Facebook and Pinterest? 
Thanks for reading and subscribe to FoodieCrush to have each post delivered straight to your e-mail box.