April ended, May wormed its way in under a blanket of snow and announced the official end of Grilled Cheese Month. Sigh.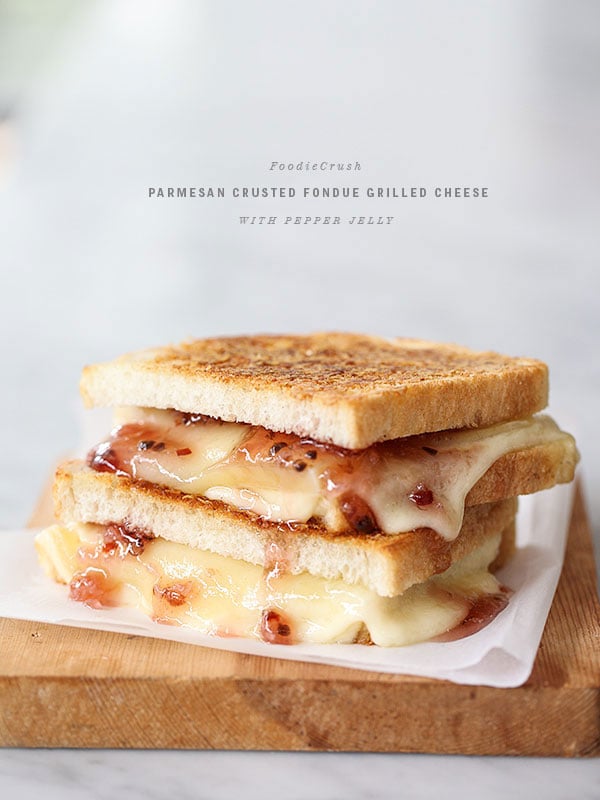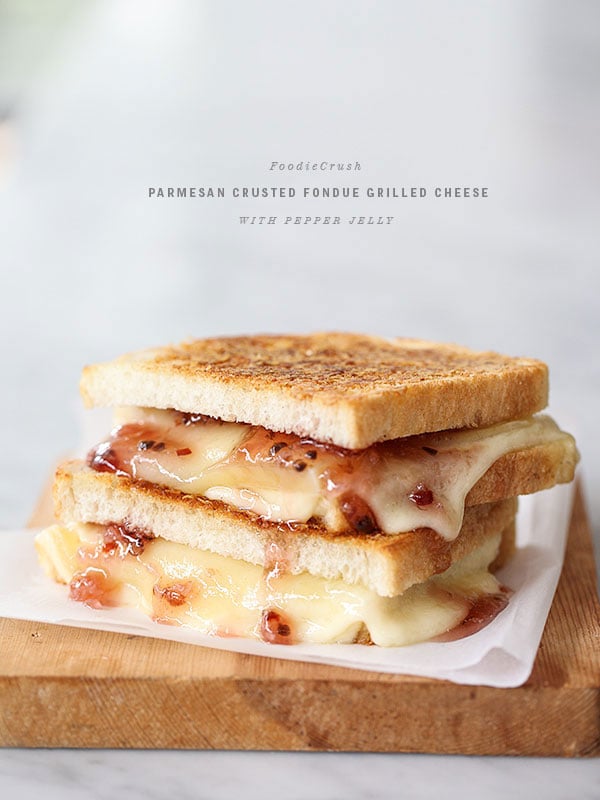 While many blogs are moving on to Mother's Day celebrations—all pretty and lacy with flowers and sweets galore—I have just one more grilled cheese to share with you. Just because I can't help myself.
And because I couldn't bear it if you missed out on the chance to win some crazy, great prizes by simply creating your own grilled cheese sandwich, I really needed to remind you just one last time about your chance to wow the world with your cheeseness.
I'll be one of the judges of the Grilled Cheese Academy's Grilled Cheese Recipe Showdown next month, eating my way through toasted bread and gooey middles to choose the finest cheese sandwich of 2013.
The entries have been rolling in but I couldn't resist giving you one more prod, one more push to enter for yourself because the prizes are just too good to not give it a go.
If I could enter, I oh so would. But I can't, so you need to.
You only have until May 12 to enter the contest, and here are over 5,000 reasons you should…
Gold Skillet Award will go to 1 Winner
$4,000 Gourmet Kitchenware including:

10-piece Copper Core Cookware Set (a serious brand name I totally covet)

7-piece Knife Block Set (from THE German knife maker)

10-piece Cast Iron Cookware Set (and more serious names)

$1,000 MasterCard Gift Card

Wisconsin Cheese Basket

Inclusion in the 2013 Grilled Cheese Academy Recipe Book
Silver Spatula Award will go 2 Winners
$500 Williams-Sonoma Gift Card

Wisconsin Cheese Basket

Inclusion in the 2013 Grilled Cheese Academy Recipe Book
Bronze Butter Knife Award will go to 8 Winners
$100 Williams-Sonoma Gift Card

Wisconsin Cheese Basket
I've had a cadre of different grilled cheese sands I've created for the blog and this is probably the most stripped down I've done yet. Although you can hardly call it uncomplicated.
My inspiration was to create a grilled cheese that embellishes the cheesiest treat around: Fondue. A sandwich that combines the essence of that popular 70's group noshing fest with the centerpieces nutty gruyere and melty baby swiss.
The bread is toasted and Parmesan crusted, brushed with garlic butter and layered with cheese and pepper jelly. I couldn't help myself in keeping it cheese only. Will I ever find my simplicity again?
Print
Parmesan Crusted Fondue Grilled Cheese with Pepper Jelly
Ingredients
8

slices

sourdough bread

4

tablespoons

butter

2

large cloves garlic

thinly sliced

⅓

cup

grated parmesan cheese

8

ounces

baby swiss cheese

sliced

8

ounces

gruyere

sliced

4

teaspoons

pepper jelly
Instructions
Melt butter in a small saucepan over medium-low heat with sliced garlic. Cook for 4-5 minutes or until butter begins to brown and garlic becomes fragrant then remove from heat and discard the garlic slices.

Brush garlic infused butter on one side of each slice of bread, then flip the bread buttered side down and repeat with the remaining bread slices. Stack the bread slices, buttered sides together and press a sprinkling of grated parmesan into each of the buttered bread slices.

Stack the baby swiss cheese then a teaspoon or so of the pepper jelly and then the gruyere cheese onto the bread slices.

Place the cheese topped bread, parmesan and buttered side down, in a non-stick fry pan over medium-high heat and top with the other slice of buttered bread. Cover with lid and let cook for 3-4 minutes or until golden.

Reduce heat to medium and flip sandwich to the other side and cook for 2-3 minutes or until bread is toasty golden and the cheese has melted. The second side will cook faster than the first so watch carefully. Repeat process with the other sandwich ingredients to make the rest of the grilled cheese sandwiches. Enjoy hot.
Can't wait to see what grilled cheese you come up with to enter in the Grilled Cheese Recipe Showdown,