The traditional Irish Stew gets an infusion of flavor with this recipe using tender pork, earthy caraway seeds, and Irish stout in a simmering broth that thickens as it cooks thanks to a surprising method: cooking with the pork bones!
this recipe is brought to you by McCormick®
Easiest Irish Stew Recipe
When McCormick asked me to create a recipe that celebrates the luck o' the Irish and can be served for a crowd tinged in shamrock green, I knew there were a few essential elements to be addressed.
First, the recipe should be easy and flexible enough to be doubled or even tripled for a celebratory crowd. #checkthat
Second, while some of us are thinking of bikini season and lighter fare, comfort food and stewy goodness is what holidays like this really call for. #checkthat
Because…
To really celebrate in Irish fashion the recipe should definitely include Irish stout as one of the ingredients. #checkthat
So, that's why this year's St. Patrick's Day recipe is an incredibly easy-to-make pork stew loaded with veggies and tinged with the nothing-says-Irish-like-flavors of Irish Stout and earthy caraway seeds. #cheersallaroundandcheckthattoo!

What's in This Irish Pork Stew?
Lamb stew may be traditional Irish fare, but I've never been much a fan of the flavor of lamb and that's why pork is the featured player here.
This Irish pork stew gets its earthy base flavor from the sautéed pork, onion, and mushroom and gets an extra Irish flavor boost with the addition of McCormick's nutty caraway seeds and bay leaves.
If you aren't familiar with caraway seeds, they are a member of the carrot family and are similar to fennel, dill, and cumin seeds. Are caraway seeds the same as fennel? Not exactly. Caraway seeds are more subtle in their and can add a load of flavor packed in their tiny seed package to potato salads, soups, coleslaws and one of my favorites: cabbage side dishes.
Here's what all you'll need to make this Guinness Irish stew:
Pork shoulder
All-purpose flour
Canola oil
Yellow onion
Brown mushrooms
McCormick caraway seeds
Irish stout
Water
McCormick bay leaves
Carrots
Yukon gold potatoes
Fresh Italian parsley
What's the Best Cut of Pork for Stew?
You may be wondering what is the best cut of pork to use to make the best stew? Just like cuts of beef, a little marbling in your pork is the fat that adds flavor, and because this stew is braised for 2 ½ hours allowing enough time for the meat and the vegetables and the Irish stout to infuse into a deliciously hearty blend, you want to choose a cut of meat that isn't too lean so it dries out over time,  but instead gets better as it cooks.
That's why I used bone-in pork shoulder blade steaks, essentially the whole cut of the pork chop. I trimmed the meat from the bone, and then trimmed the larger pieces of fat from the meat and cut into 1 ½″ or so pieces.
You may also be wondering why I chose to use pork on the bone instead of a boneless pork roast? Well, you could certainly use a roast if you'd like, but similar to my method for my easy homemade beef stock with a combination of the browned meat AND raw bones, the flavor becomes richer and thicker thanks to the gelatin released from the raw bones as they cook.
In addition to adding flavor to the broth, browning the trimmed pork meat in a light dredge of seasoned flour adds another thickening agent to the stock as it cooks down after deglazing it with the Irish Stout and water.
If you'd like to try this recipe with beef, I suggest using a chuck roast trimmed into cubes with and add 2 or more beef shanks, oxtail, or marrow bones to the mix to really impart the meaty flavor.
How to Make Irish Pork Stew
This is probably the easiest pork stew you'll ever make! After trimming the pork and cutting it into cubes, toss it with the flour, salt, and pepper.
Add the pork to an oiled dutch oven and brown on all sides. Transfer the meat to a plate, then add a little more oil to the pot and cook the onion and mushrooms until softened.
Stir in the caraway seeds, followed by the raw pork bones and cooked pork chunks. Add the Irish Stout, water and bay leaves then raise the heat and bring to a boil before popping the pork stew into the oven.
Once the meat, mushrooms, and onions have simmered with the stout, water, caraway and bay leaves for an hour, it's time to add another layer of flavor by adding the vegetable ingredients. Then, it's just a matter of removing the pork bones, stirring in the parsley, and serving.
There's not much more you need by way of herbs for this stew besides fresh parsley for a bright pick me up right before you dig on in and chase it all down with an extra swig of Irish stout (and don't forget the bread for extra dipping!)
Can I Add Other Veggies to This Pork Stew?
Of course! Root vegetables are common in stews because they don't break down during longer cooking times and are oh-so delicious. A few veggie other ideas for you to include in your stew are:
Carrots
Yukon gold or baby red potatoes (the creaminess of the yukon gold will help thicken the sauce yet again)
Turnips
Parsnips
Green beans
Can I Freeze Irish Stew?
Yes, this Guinness Irish stew can be frozen for up to 2 months and it reheats very well.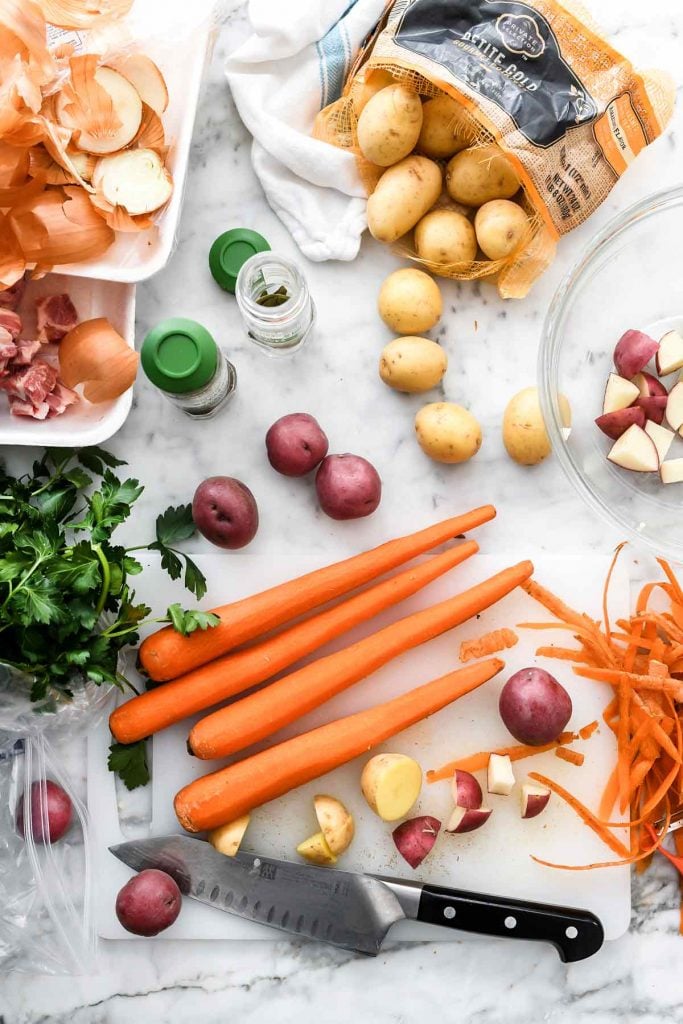 Tips for Making Irish Pork Stew
When browning the pork, make sure to cook it in batches so that the meat is seared and doesn't start steaming. You're looking for the meat to develop some nice color at this stage.
This Irish stew is delicious on its own and is so veggie-packed it doesn't need a side salad to accompany it. But serve this stew with a simple salad if desired, as well as some crusty bread for dipping.
While not traditional, I reheated my leftovers with a huge handful of spinach to add more vitamins to this already healthy pork stew. Chopped kale and even cabbage would be tasty too.
More St. Patrick's Day Recipes to Try
If you make this recipe, please let me know! Bookmark this recipe and leave a comment below, or take a photo and tag me on Instagram with #foodiecrusheats
Print
Irish Pork Stew with Stout and Caraway Seeds
The traditional Irish Stew gets an infusion of flavor with this recipe using tender pork, earthy caraway seeds, and Irish stout in a simmering broth that thickens as it cooks thanks to a surprising method: cooking with the pork bones!
Ingredients
3 ½ to 4

pounds

bone-in pork shoulder blade steak

, or about 3 pounds of cubed meat plus bones

¼

cup

all purpose flour

2 ½

teaspoons

kosher salt

, divided

2

teaspoons

freshly ground black pepper

, divided

3

tablespoons

canola oil

3

medium yellow onions

, chopped (about 5 cups)

½

pound

brown mushrooms

, quartered

1

tablespoon

McCormick caraway seeds

1 ½

cups

Irish Stout

1 ½

cups

water

2

McCormick bay leaves

4

carrots

, peeled and sliced about ¼" thick

½

pound

baby Yukon Gold or small red potatoes

, quartered

¼

cup

chopped Italian flat leaf parsley
Instructions
Preheat the oven to 300°F.

Trim the bones from the pork shoulder steaks and set aside. Trim the fat from the meat (and discard) and cut the pork into 1-inch cubes.

In a gallon-size resealable freezer bag, combine the flour, 1 teaspoon of salt and 1 teaspoon of pepper. Add the pork and shake to coat.

Heat 1 tablespoon of the oil in a large oven-proof Dutch oven over medium-high heat until shimmering. Add half of the meat to the pot so it covers the bottom of the pot evenly and cook for 2-3 minutes before moving so that the sides brown nicely for a total of about 8-10 minutes. Transfer the meat to a bowl, add another tablespoon of oil to the pot and finish browning the rest of the meat then transfer that to the bowl as well.

Reduce the heat to medium and add the last tablespoon of oil to the Dutch oven and heat until it's shimmering. Add the onion and mushrooms and cook until the vegetables just begin to soften, about 3 minutes, stirring occasionally.

Add the caraway seeds and the 1 ½ teaspoons of kosher salt and 1 teaspoon of pepper and cook for another 2 minutes or so.

Add the raw pork bones to the Dutch oven and top with the cooked pork chunks. Add the Irish Stout, water and bay leaves then raise the heat and bring to a boil, and stir and scrape any browned bits from the bottom of the pot.

Cover the Dutch oven with the lid and transfer to the oven to cook for 1 hour.

Remove the pot from the oven, give it a stir if you'd like, and add the carrots and potatoes, cover again and put back in the oven for another 1 to 1 ½ hours until the carrots and potatoes are cooked through and the sauce has thickened.

Remove the pot from the oven and the remove the bones from the stew. Add the parsley and stir everything together, taste for seasoning and add more salt or pepper if needed. Serve hot.
Notes
The stew can be refrigerated for 3-4 days and frozen in a freezer-safe container for up to 2 months.
Nutrition
Calories:
311
kcal
|
Carbohydrates:
17
g
|
Protein:
27
g
|
Fat:
14
g
|
Saturated Fat:
3
g
|
Cholesterol:
81
mg
|
Sodium:
850
mg
|
Potassium:
842
mg
|
Fiber:
3
g
|
Sugar:
4
g
|
Vitamin A:
5261
IU
|
Vitamin C:
12
mg
|
Calcium:
61
mg
|
Iron:
3
mg
More Recipes to Add the Luck of the Irish to Your Meal
We send good emails. Subscribe to FoodieCrush and have each post plus exclusive content only for our subscribers delivered straight to your e-mail box.
Follow me on Instagram, Facebook, Pinterest and Twitter for more FoodieCrush inspiration.
This post is sponsored by McCormick®. As always, thank you for reading and supporting companies I partner with, which allows me to create more unique content and recipes for you. There may be affiliate links in this post of which I receive a small commission. All opinions are always my own.