Corn. It's the new black.
It's on every corner (ehem, gas station farmer's market) it comes with color blocking in its DNA (alternating white and yellow kernals) and it looks good on just about everyone.
It used to be that one had to wait anxiously for harvest season to roll around before noshing on the sweetest corn in town. Now that new corn genes have been developed, its a rare day in the sun when cooks have to make do with sub par kernals of sunshine. Have you had enough with the trite phrases already?
In preparing to make this recipe, I did the usual routine of filling my pasta stock pot with water and dumped my farmer's market cobs into the pool, husks and all, with the intention of soaking them for 30 minutes to add a little extra moisture for roasting.
Five hours later I realized I had become completely distracted—I'm not going to admit or lay blame to anything that may or may not have been being surfed on the internet— and quickly pulled my soggy cobs to safety.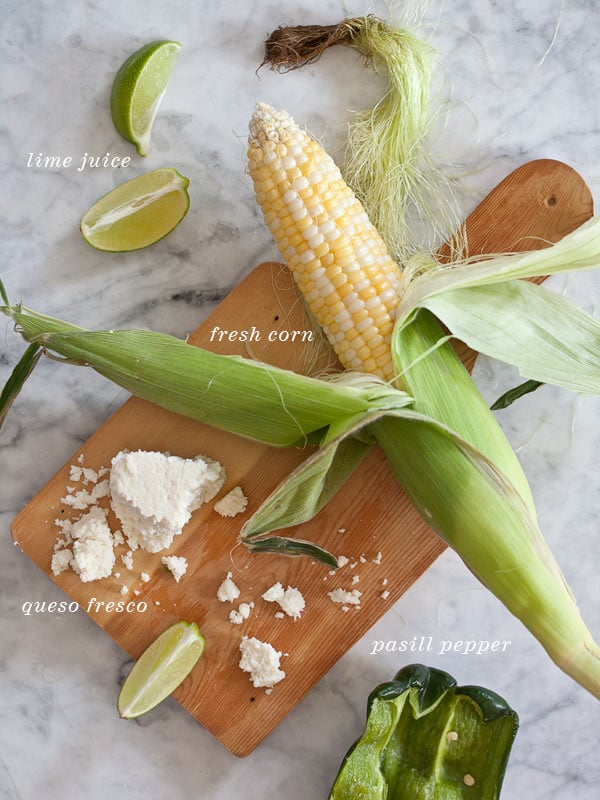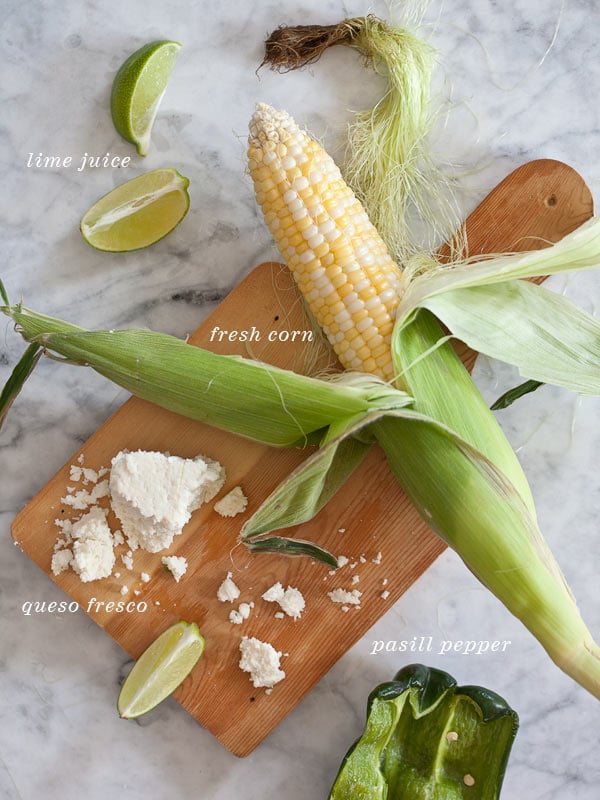 I grilled them the next night anyway, and they came out just fine. Whew.
I planned on throwing on a red bell pepper as I roasted the pasilla peppers, but alas, it had made its way into my husband's breakfast so a fresh orange pepper joined the party instead. That's the beauty of cooking, you go with the flow.
Be sure to keep the grilling time of the corn to a al dente. The longer they're on the fire the more the starches in the cobs caramelize, creating a sticky mess without much flavor.
Try this in a half of an avocado, as a topping for grilled fish or add in black beans for a vegetarian main. Or be like me and have it with scrambled eggs. And chocolate chip banana pancakes.
Print
Grilled Corn and Pasilla Pepper Salad
Ingredients
6

cobs of fresh corn

1

pasilla pepper

1

bell pepper

orange or red

5

ounces

cotija cheese or feta cheese

¼

cup

butter

1

teaspoon

cumin

2

limes

juiced

½

teaspoon

kosher salt
Instructions
Prepare grill to medium high heat. Soak corn cobs in water for 30 minutes. Remove and shuck corn cobs and remove silks. Roast corn cobs and peppers on grill for 3-5 minutes, turning frequently. Remove corn from grill. Continue to roast peppers until skin is charred. Remove from grill and let sit for 5 minutes.

Rub charred skin off of peppers and cut into thin slices. Cut kernals from cobs. Place corn and peppers in a large bowl.

In a small bowl, melt butter in the microwave or melt in a small pan on stove. Add cumin to butter, mix and add to bowl of corn and peppers. Squeeze fresh lime juice over mixture, toss and season with salt. Top with chunks of queso and serve warm or at room temperature.
Nutrition
Since we can't seem to get enough corn right now, try one of these lovelies below for a delish lunch, dinner or heck, even breakfast.
Brian keeps his cool and takes to the grill, creating an easy bite while living life la vida loca with A Thought for Food's Grilled Corn and Kale Salad with Basil-Lime Dressing
Brenda brings it all home from her local farmer's market with A Farmgirl Dabbles Sweet Corn Salad that was 'knee high to the fourth of July." She grew up on a farm, she should know.
Sheena shows you don't need much time to pull together a healthy meal with The Little Red House's Warm Zucchini, Corn and Black Bean Salad
Madhuri's adds a touch of ginger and garlicky twist for Ma Recipes's Sauteed Corn Salad 
Sydney takes basic ingredients to create the perfect summer side, bright with flavor but substantial with protein in Crepes of Wrath's Black Bean and Corn Salad 
Jess puts a simple Mediterranean spin on grilled corn thanks to earthy pinenuts and tart red wine vinegar with Hogwash's Leftover Grilled Corn Salad 
A meal in itself, Jessica's makes her salad oh so creamy thanks to the addition of cheddar cheese in How Sweet It Is' Grilled Corn and Cheddar Quinoa
Kevin takes a Mexican classic street food and strips it to the cob—DOH!—in Closet Cooking's take on the south of the border classic taste of Esquites or Mexican Corn Salad
Thanks to technology, Tiffany knows corn is good all year long and often makes Eat at Home Cook's Summer Corn Salad with freezer corn complemented with fresh ingredients.
Deb reminds us that fresh corn is the star of these salads with Taste and Tell's Fresh Corn Salad dressed in a simple vinaigrette
Related Posts
7 Great Zucchini Pastas plus Zucchini and Chicken Sausage Penne Pasta Recipe
5 Fresh and Simple Avocado Salads
10 Top Tomatillo Recipes and Roasted Tomatillo and Green Olive Salsa
Thanks for reading and please keep in touch. Subscribe to Foodie Crush and follow me on Twitter, Facebook and Pinterest and check out Foodie Crush magazine and  Cookie Cravings cookbook.