With turkey-lurkey day right around the corner everyone is scouting out side dishes to dress up the white bird.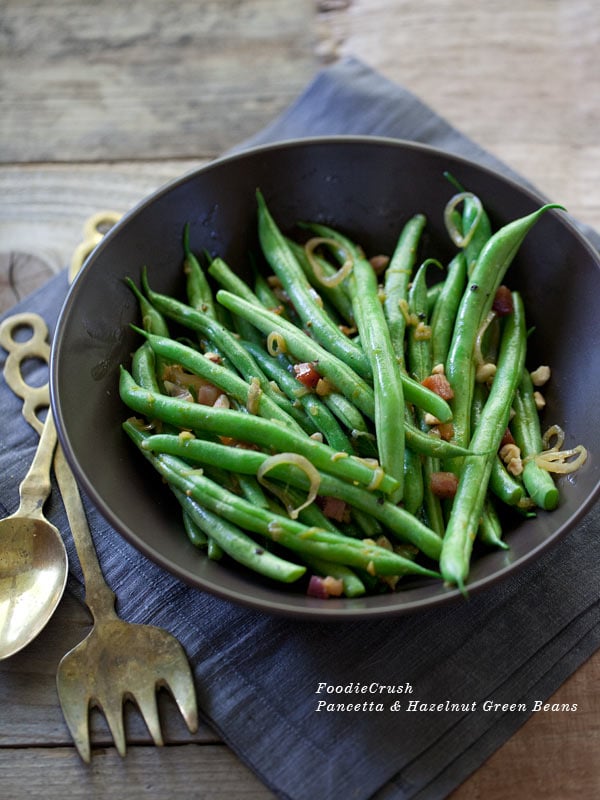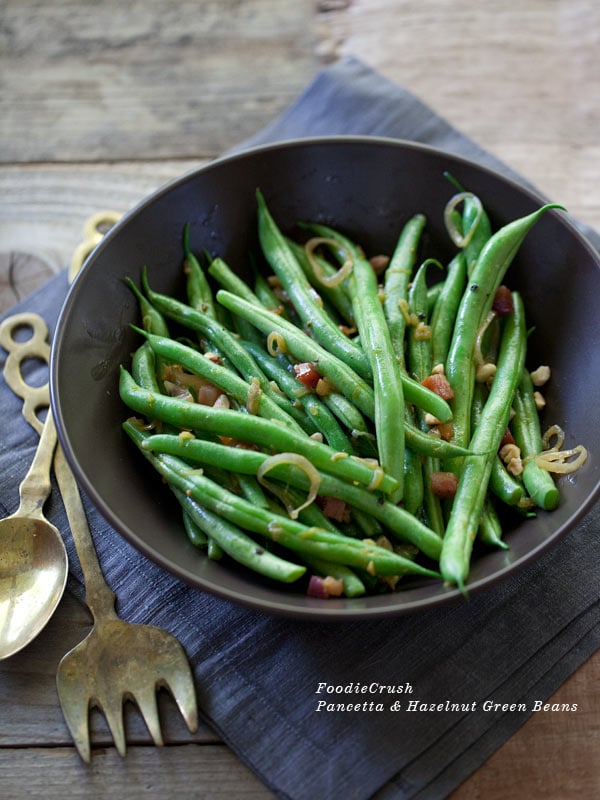 Traditional green bean casserole surely holds a soft spot in my heart and I can never turn up my nose at creamy, onion topped green beans. Of course I have to add mushrooms, but that's a different recipe.
My recipe for Pancetta and Hazelnut Green Beans is one of those dishes that is so easy to make but looks all fancy, like it BELONGS on the Thanksgiving dinner table menu rubbing wings with the golden bird and touching edges with mashers and gravy. I never did get the whole church and state edict of segregating food from one another on the dinner plate. We're not in 3rd grade anymore people. I like starting off with individual tastes for sure, but by the end of the meal each dish is happily represented with a bit of turkey, a touch of mash and gravy, some cranberry and a bean or two and don't forget the stuffing, artfully stacked on my soft, butter Parker House roll for the complete, one-bite, t-day taster.
Print
Pancetta and Hazelnut Green Beans
Ingredients
1

teaspoon

olive oil

½

pound

pancetta

diced

3

tablespoons

butter

divided

2

cloves

garlic

minced

2

tablespoon

shallots

sliced into thin rings

1

pound

fresh green beans

trimmed

¼

cup

Marsala wine or chicken stock

½

teaspoon

kosher salt

½

teaspoon

freshly ground pepper

¼

cup

toasted hazelnuts
Instructions
Heat olive oil in a large skillet over medium-high heat. Add pancetta and cook, stirring occasionally, for 4-5 minutes or until lightly browned. Remove from skillet and drain on a paper towel.

Add 2 tablespoons butter to same skillet. Once butter melts, add garlic and cook for 1 minute, stirring frequently and scraping the pancetta remnants from the bottom of the skillet. Add shallots and cook for 1-2 minutes.

Add green beans, lower heat to medium, cover with lid and cook for 8-10 minutes, stirring every few minutes. Add Marsala wine and additional tablespoon of butter, cooked pancetta and salt and pepper and cook for another 3 minutes or until beans are tender but not soft. Serve topped with toasted hazelnuts.
While all of this turkey talk is fun, we all know it's just the pre-game warm-up for the Superbowl of holidays: Christmas. Smudge has even taken awares, letting me know that she thinks Christmas is probably the most popular holiday. I wonder how she figured that out? Obviously not from the ads pimping holiday sales before Halloween or the fact that we've had a Christmas tree up in our living room since mid-October. She's a smart cookie, planting seeds for her holiday list just in case someone is listening or watching or might assume it just really isn't a big deal.
The new Holiday issue of FoodieCrush is going to be a big, big deal too.
From hipsters to Hannukah, this next issue has food bloggers sharing…

Easy yet lush cocktail and entertaining tips…
Their cookie decorating secrets…
Delectable desserts…
And even a special podcast from two of our favorite holiday homefries.
You know you can't wait. Neither can I! Check out last year's Holiday Issue for tons of great food blogging ideas, recipes and behind the scenes interviews with some of your favorite food bloggers.
But until then, my Friday Faves…
1. Even the tumult of Hurricane Sandy and 11 days of power can't keep a good food blogger down. See what Shelly can whip up with a generator, good neighbors and scammed internet connections.
2. And more food bloggers are helping the best way they know how: through food of course. Barb and Jenn  have taken the initiative to turn the tide from despair into hope. Support them by checking out the participants of Food Bloggers Support for Sandy and follow the hashtag #FBS4Sandy on Twitter and donating to national relief efforts.
3. I am coveting this Instagram-imaged calendar by one of my favorite Instagrammers, Alice, who will be donating 25% of proceeds to hurricane relief. If you aren't inspired by her photos I'm not sure we can be friends.
4. Which leads us to Instagram lurking. How much do we love that we can now stalk our favorite Instagrammers photos and interchanging header on our computers?
5. This week's new favorite food blog. I could stare at it all day long.
6. Behind the scenes of Cooking Light's 25th Anniversary issue.
7. Maria and I are working on something new for the holidays that we can't wait to share in the next few weeks but until then, here's Nicki's sweet story that's one of the reasons we're creating it.
8. It's always been the style of my birthday cake so I'm totally digging following Lora and Anuradha's  #bundamonth baking challenge.
9. Will we finally have private Pinterest boards?
10. And my favorite Tweet of the week: "Put your own mask on first. Plane safety = life mantra." via @andkathleen
Also, I'm in this little Pinterest contest and so if you haven't yet, pin this little ditty for me would 'ya? 'Preciate it.
Make sure to subscribe to FoodieCrush for sneak peeks and the first reveal of the Holiday issue. Follow me on Twitter, Facebook, Pinterest and Instagram too.