Happy Friday, friends!
I've been waiting for this weekend for months.
This year our spring break and Easter are bundled into one big holiday and we are heading out of town to Carmel and Monterey, CA. I CANNOT WAIT to show my Smudge and husb the Monterey Bay Aquarium, the rugged seaside landscape of Big Sur and the awesomely amazing resort where we'll be staying.
Forget Calgon. Carmel, take me away!
The last time I was in Carmel was with a bevy of blogging beauties. One of my favorite parts of returning to places I've traveled to is revisiting the memories made the last time I was there. My job. I unabashedly admit I love it, and the opportunities I get to share with friends and family.
My advice to you, whether you have a job or not, one you love, or a job you hate, is to live your life outside of your work. Whether it's traveling to far away places or just going outside your house for a walk.
There's pleasure in front of you as long as you see it and make it.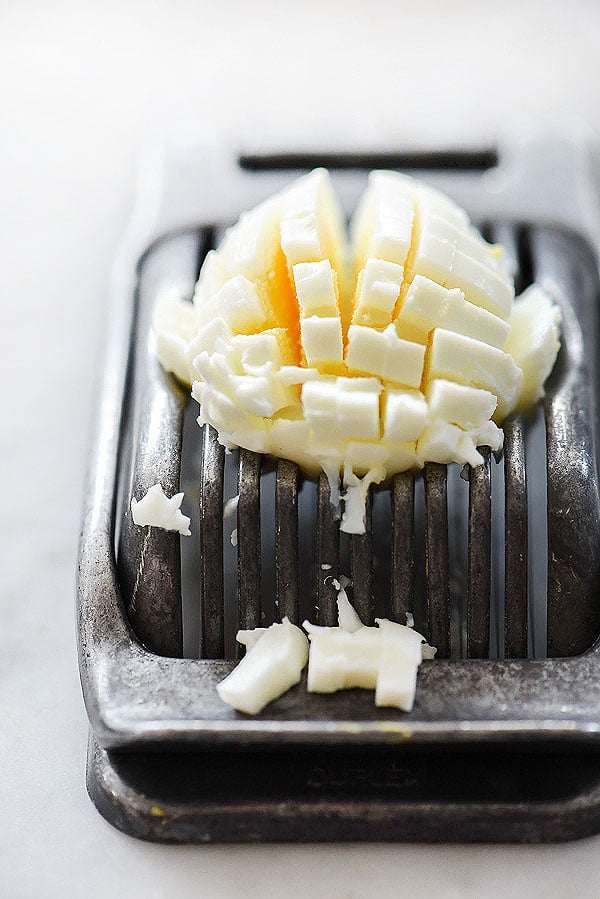 I've had an egg obsession all week long that started with these amazing egg salad sandwiches. Since it's Easter, it's no surprise I've had eggs on the brain since it's pretty much the day of the almighty egg. So this week's Friday Faves is full of some eggcellent suggestions I hope you'll enjoy!
But enough blabbering from me, let's dig into this week's list of Friday Faves. Happy Easter everyone!
You know I love a rescue dog of any flavor, and this is the best! My Zoee would be a perfect candidate.
If toddlers had Facebook (this is brilliant)
I have BIG plans for this French toast this weekend—what a stellar idea!
Obsessing over this bunny cake that is too perfect for Easter!
And this pull-apart bread. I'm so in.
A deviled egg pasta salad? Heck yes!
Oh my, THIS stunner is what I want on my brunch table.
All over this 5-course Easter menu—so much springy goodness!
54 incredible Easter egg decorating ideas. People are so creative!
5 genius Easter eggs, hidden on your iPhone! 
Oh man, this Easter bread. Gorgeous!
Here's the fool-proof way to boil eggs.
And because I'm an egg peeling moron…
I tried the technique in the video below and it was a major kitchen fail. Has it worked for anyone else?
Now, if I could just get them to peel right! Give me your suggestions in the comments below!
Shake Shack or In-N-Out. Here is the taste test winner.
5 documentaries to watch in honor of women's history month.
How the water crisis is hurting family farmers in California. Ugh.
Forget the dems and republicans, Friday Night Lights fans, here you go!
Yikes Calvin Klein, what were you thinking?
Update your Kindle, like, now, or it could go kaput.
Here's why you're not always happy for your friends success. Boo!
Movie buffs, you'll love these!
I am a pen SNOB, and I couldn't agree more with this list.
This is a wonderful reprieve from all of the hate happening in the world.
What to wear to Easter brunch.
and…
This dress. So gorgeous!
These sandals are so fun—and SO ON SALE! But could I deal with the tassles?
Just a basic top for summer. But cute!
Now THIS is a model search I can get behind.
And, another 7 reasons I love Target. My happy place.
Blog Biz Links
11 Years Of Food Blogging, Losing The Joy Of Food And Reconnecting (a great read from one of my favorite bloggers)
What to Do When Someone Steals Your Content (free download)
5 Great Ways to Engage Your Followers on Instagram
Eggcellent Pins of the Week
I've had an egg obsession all week long
A bit of herb. A bit of goat cheese. A lot of creamy yummyness.
Angel Eggs (Classic Deviled Eggs)
Sometimes you just need to stick with the basics.
Naturally Dyed Deviled Eggs
All the colors of the rainbow! So cute.
And that's a wrap folks. Have a great Easter and spring break weekend and I hope you find yourself in the kitchen to cook something good!
As always, thank you for reading and for supporting companies I partner with, which allows me to create more unique content and recipes for you. All opinions are always my own.  
Are you following me on Instagram, Twitter, Facebook and Pinterest? Thanks for reading and  subscribe to FoodieCrush to have each post delivered straight to your e-mail box