Happy Friday my friends! Er, make that…Happy 7th anniversary to FoodieCrush!
What? Can it possibly be true! Yes! Saturday marks seven years (SEVEN YEARS!) since I posted my very first blog post. And six years (SIX YEARS) of writing Friday Faves.
Now, I'm not one to keep up with momentous dates like anniversaries. I mean, I can barely remember my own birthday and for sure have to ask my mom or my husband how old I am each year.
So for me to sit down to write out today's list of Friday Faves, and have the impulse to check back to see when the first one was published, and then to discover that April 27 will mark SIX YEARS from my first list of Friday Faves and that this year April 27th ALSO FALLS ON A FRIDAY (!!?$?)
But then to think to myself, "WAIT! I started the blog in April. But what was the date?" and to discover that it's birthday is tomorrow? AND! It's been balmy as all get out and it snowed today just like it did that day???
Like, WHOA. Guys, there has to be some sort of voodoo telepathy cosmic sourced intuition going on because it is more rare than a Tasmanian giant crab (#13 on this list but check out #2!!) that I ever check back to those posts.
The Vietnamese soup photo at the top of this post from that very first blog post is mine, but the recipe wasn't, and it was my husband who chose it and made it. Back then my plan was to just feature other food bloggers, not become one myself. But I had to just take that photo, and write that first post, and get.on.it, because nothing was ever going to be perfect and I knew that if I didn't dive in then, I never would. So I did.
I didn't know then that I should be making my own recipes, or taking more than one photo (maybe I should go back to those ways!), or consider things like SEO, social media, newsletters, and so much more. Things were a lot simpler then, and boy, my first blog post proves it :) !
So happy birthday FoodieCrush, time is looking good on you. And thank you, thank you, thank you to all of you readers who have joined me in this foodie train we call food blogging, it's a serious ride. Cheers to all of us and let's eat cake.
Help Me Celebrate!
So while it's a bit late for the blog's birthday party (thank goodness so I don't end up at HomeGoods buying ALL the discounted happy birthday banners) it's not too late for Friday Faves. We should totally do something special to celebrate the birthday of Friday Fave on Friday, April 27. Don't you think?
A giveaway?
A special theme?
A new car for each of you readers? Oprah! Where are you when we really need you??!!!!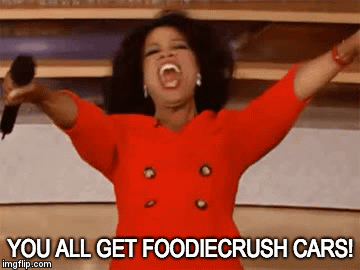 Let me know what resonates with you —I mean, besides the new car…'cause I ain't no Oprah.
But this…this is what else I want to do and I really, really hope you'll help me make it happen.
I want to make April 27th's Friday Faves about you and your favorite things. So how about a guest Friday Fave creator? Or how about a bunch of them. THAT MEANS ALL OF YOU!
Email me the link of your favorite article, book, web source, product, recipe. fashion, beauty, inspiration, or favorite resource you think others would like to know about too, and I'll put together a list of what you love and want to share.
Email your favorite things [email protected] with My Favorite Friday Fave in the subject line so it doesn't get lost. You guys know how this list thing works and what you like to learn from it so just send what you wish others could benefit from too. And please don't send political/self-promotion/naughty stuff because you guys don't want to see that anyway. We have the news for that. Ugh.
What Went Up This Week…
This week's bloggity blog creations included:
But enough about all that, let's dig into this week's list of Friday Faves.
Let's start off with this video that had me literally laughing out loud.
And on that SNL note, did you see that alum Seth Meyer's wife just had a baby…in the lobby of their apartment building ?!?! (he is the cutest but she's even more!)
And, here's the one question you should never ask a woman. Ever.
Did you know you can take this class through Yale online (and for FREE)? I'm so in.
19 shows everyone's talking about right now. I swear I need to watch more TV! Or do I? RHNY forever!! What are you watching?
And, 10 highly anticipated novels to read this spring. What are you reading atm?
ps. I need a good book for my 13 yo Smudge for her book report. Please advise.
Also, I'm really looking to broaden the genres of books I read, and you guys, this is so freaking cool.
6 ways to spring clean your life (yes to all of these, but especially #3).
I so want to try this challenge. Are any of you doing it? I'm already late. But if could just figure out what to do…
Rosés for under $20 (yes, way).
Here's why you shouldn't throw away your herb stems.
5 food myths we should stop believing. #themoreyaknow
This is exactly what I want to be eating right now.
How totally twirl-able does this yummy pasta look? And so easy too!
And I need a bowl of these addictive looking noodles pronto.
This cauliflower dish looks a-okay!
Definitely making this Instant Pot chicken recipe over the weekend.
And, this is just one more reason why you NEED an Instant Pot! (Oh man, the prices have totally come down!)
This mocha oatmeal looks so dreamy.
Can someone bring me this in bed on Saturday? #nomnomnom
It's asparagus season! Here are 5 recipes you should totally try:
8 spots to get away with your girlfriends this summer. YAAS.
If you don't have a bottle of this stuff in your home, you're missing out.
What a great list of 10 things to do to refresh for spring. I really need to do #1 and #2 more often…
And, 20 moms share their spring cleaning hacks.
Here are some amazing and creative ways to use wallpaper. I'm tempted you guys.
These pics totally make me wanna step up my entryway game.
9 plants that will help you get a better night's sleep. Want them all.
These would be super fun to add to your outdoor wall.
And this top (those sleeves though)!
Love the frayed edges on these jeans.
And hat a gorgeous dress to twirl in spring. Yes to more twirling!
Okay everyone, have a fabulous and delicious weekend!
As always, thank you for reading and supporting companies I partner with, which allows me to create more unique content and recipes for you. There are affiliate links in this post of which I receive a small commission. All opinions are always my own.  
Thanks for reading and subscribe to FoodieCrush to have each post delivered straight to your e-mail box.
Craving more life balance, less stress, and better health? Check out my Nourished Planner, the daily planner to help create simplicity and under-schedule your life.
Follow me on Instagram, Facebook, Pinterest and Twitter for more FoodieCrush inspiration.
SaveSaveSaveSaveSaveSaveSaveSave
SaveSave
SaveSave
SaveSave
SaveSave
SaveSave
SaveSave
SaveSaveSaveSaveSaveSave
SaveSave