Happy Friday my friends! Er, make that…Happy 7th anniversary to FoodieCrush!
What? Can it possibly be true! Yes! Saturday marks seven years (SEVEN YEARS!) since I posted my very first blog post. And six years (SIX YEARS) of writing Friday Faves.
Now, I'm not one to keep up with momentous dates like anniversaries. I mean, I can barely remember my own birthday and for sure have to ask my mom or my husband how old I am each year.
So for me to sit down to write out today's list of Friday Faves, and have the impulse to check back to see when the first one was published, and then to discover that April 27 will mark SIX YEARS from my first list of Friday Faves and that this year April 27th ALSO FALLS ON A FRIDAY (!!?$?)
But then to think to myself, "WAIT! I started the blog in April. But what was the date?" and to discover that it's birthday is tomorrow? AND! It's been balmy as all get out and it snowed today just like it did that day???
Like, WHOA. Guys, there has to be some sort of voodoo telepathy cosmic sourced intuition going on because it is more rare than a Tasmanian giant crab (#13 on this list but check out #2!!) that I ever check back to those posts.
The Vietnamese soup photo at the top of this post from that very first blog post is mine, but the recipe wasn't, and it was my husband who chose it and made it. Back then my plan was to just feature other food bloggers, not become one myself. But I had to just take that photo, and write that first post, and get.on.it, because nothing was ever going to be perfect and I knew that if I didn't dive in then, I never would. So I did.
I didn't know then that I should be making my own recipes, or taking more than one photo (maybe I should go back to those ways!), or consider things like SEO, social media, newsletters, and so much more. Things were a lot simpler then, and boy, my first blog post proves it :) !
So happy birthday FoodieCrush, time is looking good on you. And thank you, thank you, thank you to all of you readers who have joined me in this foodie train we call food blogging, it's a serious ride. Cheers to all of us and let's eat cake.
Help Me Celebrate!
So while it's a bit late for the blog's birthday party (thank goodness so I don't end up at HomeGoods buying ALL the discounted happy birthday banners) it's not too late for Friday Faves. We should totally do something special to celebrate the birthday of Friday Fave on Friday, April 27. Don't you think?
A giveaway?
A special theme?
A new car for each of you readers? Oprah! Where are you when we really need you??!!!!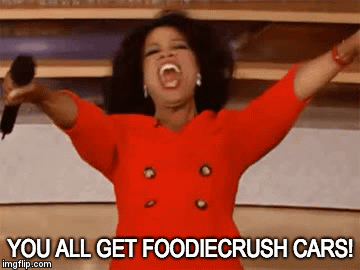 Let me know what resonates with you —I mean, besides the new car…'cause I ain't no Oprah.
But this…this is what else I want to do and I really, really hope you'll help me make it happen.
I want to make April 27th's Friday Faves about you and your favorite things. So how about a guest Friday Fave creator? Or how about a bunch of them. THAT MEANS ALL OF YOU!
Email me the link of your favorite article, book, web source, product, recipe. fashion, beauty, inspiration, or favorite resource you think others would like to know about too, and I'll put together a list of what you love and want to share.
Email your favorite things [email protected] with My Favorite Friday Fave in the subject line so it doesn't get lost. You guys know how this list thing works and what you like to learn from it so just send what you wish others could benefit from too. And please don't send political/self-promotion/naughty stuff because you guys don't want to see that anyway. We have the news for that. Ugh.