While the rest of the U.S. is checking out cherry blossoms or putting their spring seedlings in the ground, in my neck of the woods the groundhog lost his GPS and failed to alert the weatherman that spring is supposed to be sprung.
Hello 8 inches of snow.
And so back to cocooning I go, and that to me means one thing. Chicken soup. And to my husband that means another thing. Spicy chicken soup, or more specifically, Pho Ga.
We've both been a fan of Pho for a long time, since haunting spots in L.A. with names like Pho 69 or Pho 87 (so what's with the numbers anyway?) But when we moved away it took a while to discover a new fav Pho spot.
In the interim, G tried his hand at mastering Beef Pho or Bo Pho, a complicated broth that's all about patience as you roast bones and veggies and then put the broth to simmer for hours upon end while practicing infinite restraint from tasting the piping hot broth. The broth that one evening nearly set our house on fire. But that's a story for another day.
photo > Steamy Kitchen
But since moving from an area where ethnic foodie obsessions are easily remedied, we often rely on Jaden's recipes at Steamy Kitchen and are big fans of her Pho Ga or Vietnamese Chicken Noodle Soup, especially whenever we get the hankering for a simple but totally tasty broth that has just the right balance of chicken and spice thanks to the coriander, clove and star anise combo.
Get the Vietnamese Chicken Noodle Soup recipe here.
A big plus for Pho Ga versus Pho Bo is that the hours-long simmering process is shortened and  now we get to slurp our soup in under 2 hours.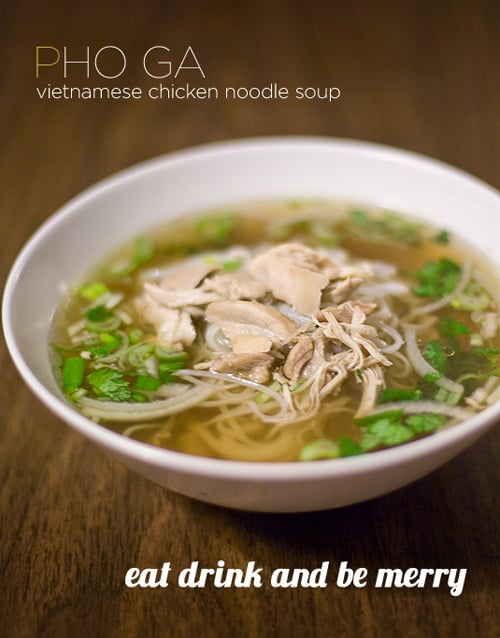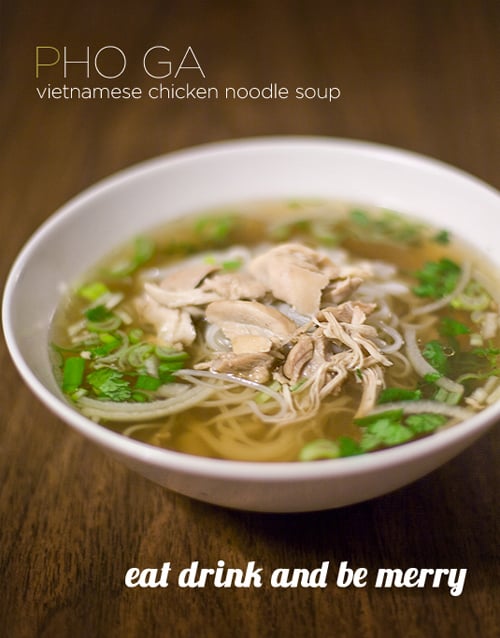 photo > eat drink and be merry
And since I'm a sucker for gorgeous photos, this Pho Ga recipe from eat drink and be merry makes me think it must smell as amazing as it looks.
photo > momofukufor2
And another gorg pic from momofukufor2 with the recipe here
Thanks for reading. If you liked this post, please subscribe to foodiecrush and follow me on twitter.