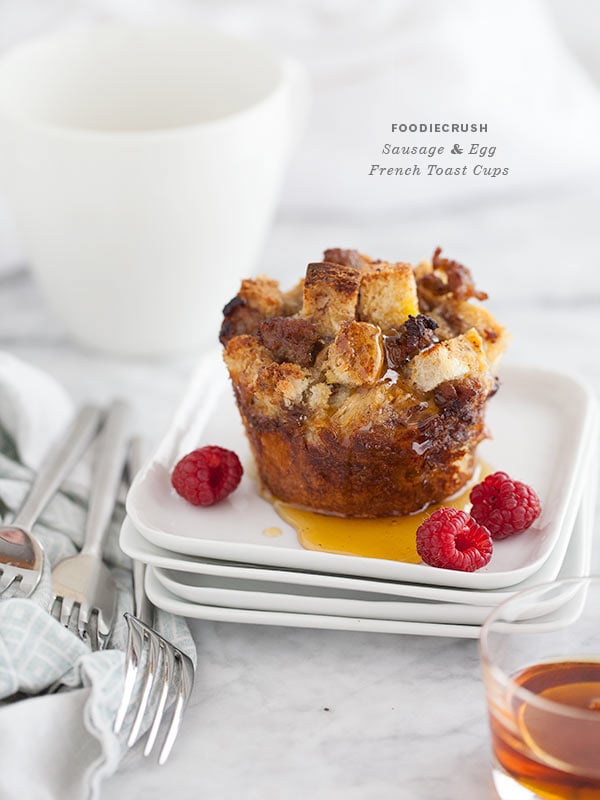 Neighbor gifts at holiday time are often a mixed bag. By the time Christmas has come to an end I usually find I've accumulated a countertop of cookies, candied nuts and hopefully a wine bottle or two from neighbors who've thoughtfully felt us worthy to share their neighborly wares.
One item that is pretty popular around our hood is Cinnamon Burst bread from Great Harvest Bakery. Naturally its tasty for breakfast—hot from the toaster and loaded with butter—or even for lunch as a sandwich with a slice of thick ham and some jammy preserves.
But after a few days of toast, I decided we needed a new treat for the sweeter side of breakfast. With sausage. And syrup. And make it easy on the cook, would you?
Nothing can really be easier than making breakfast the night before, creating a feast that's ready to load into the oven once you've opened your baby blues and brewed your first cup of wake-up juice.
That's why I love making stratas, like our traditonal, only-on-Christmas Ham and Cheese Soufflé. At least that's what  we've been calling it, or Ham and Cheese Casserole, which after looking through loads of cookbooks for the past few years I've come to the realization it's actually a strata.
This recipe has quickly become Smudge-approved, and I'm betting it will be one I'll be making for a while. Next to dipping her toast in orange juice—ew, gross—she loves mixing breakfast sausage with maple syrup and over easy eggs. The girl does not adhere to the church vs. state defined regions of food territories.
Stratas generally consist of chunks of bread, egg and milk to create a custardy, creamy concoction. Similar to bread pudding. Oh how I love bread pudding. I need to make that soon too.
A few notes about the recipe:
One of the bonus points of this recipe is you can bake a batch on the weekend and then just heat up the little muffin cups for a quick way to sweeten the start of any weekday.
For a little added vitamin power, think about adding chopped apples or dried raisins for even more sweetness to the mix.
Are you a citrus fan? If so, a tablespoon or two of Grand Marnier  or a few zests of orange will give the french toast cups an orange flavor boost.
Go with what's in the larder. If you have bacon or pancetta on hand—for those salty bits of yum—go ahead and give it a go. This recipe is all about the salty sweet combination.
Print
Sausage and Egg French Toast Cups
Ingredients
6

cups

cinnamon flavored bread cut into ½ inch squares

10

ounces

country breakfast sausage

8

eggs

1 ½

cups

whole milk

3

teaspoons

vanilla

2

teaspoons

cinnamon

1 ½

teaspoons

nutmeg
Instructions
Crumble sausage into a skillet and cook over medium heat for 10 minutes or until sausage is cooked through. Drain and set aside.

In a

4-cup measuring cup

mix eggs, milk, vanilla, cinnamon and nutmeg together until well incorporated.

Spray a 6 cup

large muffin tin

with baking spray or line with

parchment liners

. Add 1 cup of bread chunks and about ¼ cup of sausage to each muffin cup. Pour egg mixture evenly between each muffin tin, evenly distributing over the bread chunks. Refrigerate for at least 2 hours up to overnight.

Preheat oven to 350 degrees F. Bake for 25-30 minutes or until tops are golden. Serve with maple syrup.
Related Recipes
Ham and Cheese Breakfast Souffle
Banana and Chocolate Chip French Toast
Ham and Cheese Baked Egg Cups
Thanks for reading and please keep in touch. Subscribe to Foodie Crush and follow me on  Twitter, Facebook and Pinterest and check out Foodie Crush magazine and  Cookie Cravings Holiday Cookie Cookbook.