Chili dinner leftovers have found a new life in these recipe variations to take care of breakfast, lunch or dinner all week long in 5 ingredients or less.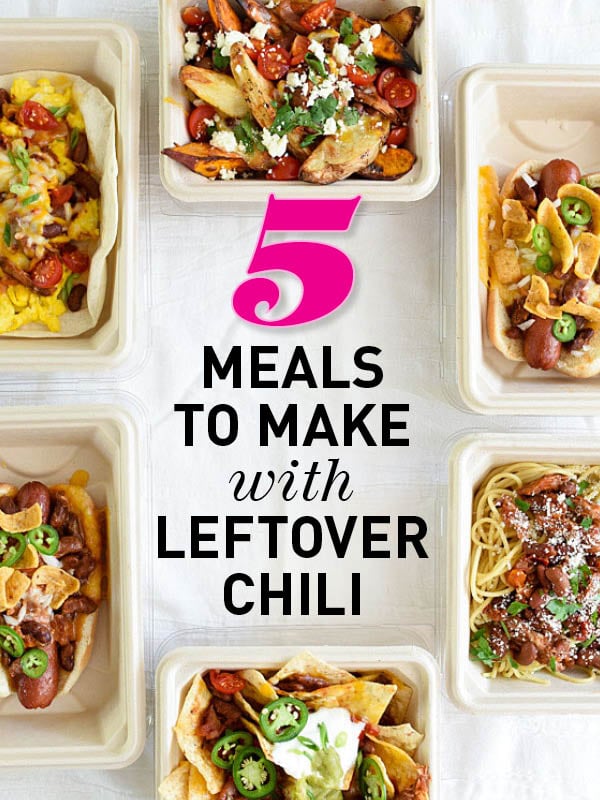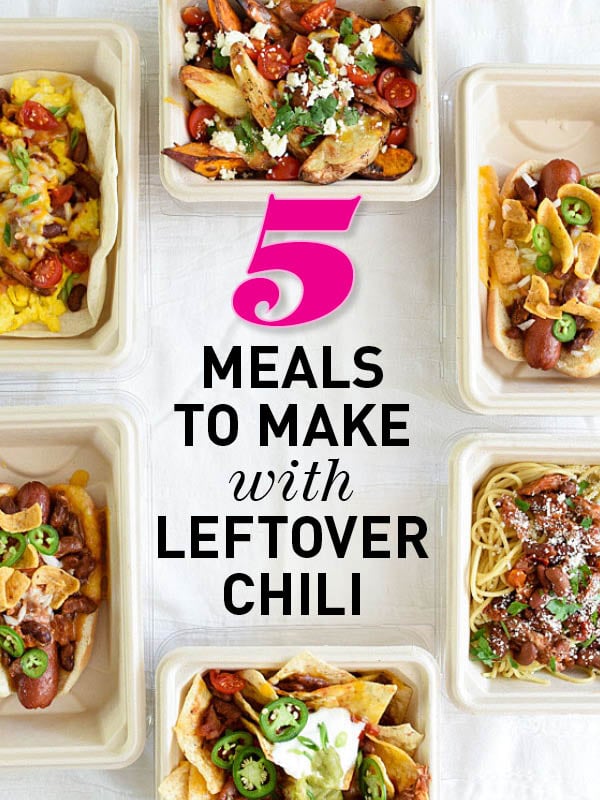 Today's post is sponsored by Reynolds™ and their cool new containers that make leftovers bearable. Dig in!
I always start with the best of intentions.
To save money. To save time in the kitchen. To make one big meal on the weekend and eat it for the week. And then, the leftovers sit in the fridge, and by the time the next weekend rolls around the garbage can is calling.
My husband isn't a huge fan of leftovers. Me? I can stand at the fridge and eat pasta, casserole, rice or stew straight from container. It drove my mom nuts when I was a kid. "Don't eat the leftovers! There won't be enough for your father for dinner!"
This past weekend I made a big batch of Slow Cooker Chicken Fajita Chili because it's fall, because my slow cooker is calling, and because we have a busy week ahead of us. Sure we dug into deep into the chili that first night, but what to do with the rest of it?
I put my thinking cap to task and came up with 5 meals that'll take care of those leftovers for every day of the week.
Recently, Reynolds™ sent me their new heat & eat disposable containers to try with my leftover recipes and here's what I discovered.
Unlike plastic, leftovers like chili don't stain these containers. They're disposable!
I feel good about microwaving in the heat & eat disposable containers because they're made from a plant-based material so they're recyclable (if the bottoms are clean like with the egg burrito recipe below) and the containers don't warp in the microwave like plastic.
Not only are they good for lunches but I like sending them home with leftovers after the big Sunday dinner. Now I can recycle all of those leftover cottage cheese cartons.
"A" Recipe = "One" Recipe
Reynolds™  asked me to create a recipe using leftovers for you. But as leftovers go, you usually need more than just one recipe. Like with chili. It can go a long way. And it can get tiresome.
So instead of coming up with one recipe, I came up with five.
When leftovers go to work with my husband under the guise of a brand new recipe, he, the leftover hater, actually becomes a fan. I guess after all of these years I've finally started to rub off on him. But for him to take leftovers to work it has to be easy to make, eat and reheat.
These recipes make that done and done in 1 minute 30 seconds. Or at least as soon as the cheese melts.
Leftover Chili Cookoff
Chili is one of those meals that you can pretty much guarantee a few leftovers of. Since that's now our main ingredient, the recipes below will take care of the remainder for breakfast, lunch or dinner in 5 ingredients or less. Use these recipes more as inspiration or a starting point and make them your own.
1. Scrambled Egg Burrito
My Smudge doesn't discriminate when it comes to egg burritos, she'll eat them morning, noon or night.
Simply place a flour tortilla in a heat & eat container and layer with 2 scrambled eggs, a generous helping of leftover chili and top with grated cheese. When ready to serve, microwave on high for 1 minute 30 seconds or until cheese is melted and garnish with chopped green onion and sliced tomatoes. A dash of hot sauce or salsa doesn't hurt either.
2. Chili Spaghetti
Noodles make the world go round and so do leftovers. Chili topped spaghetti is a natural lunch or dinner option.
Boil ¼ package of spaghetti noodles and drain. Place the noodles in a heat & serve container and top with a generous amount of chili. When ready to serve, microwave on high for 2 minutes. Garish with grated Parmesan cheese and chopped parsley.
3. Chili Con Hot Dog
What's more classic than a chili dog? One that's topped with chili, cheese and chips. Don't forget the heat!
Microwave a hot dog on high for 1 minute. Place a hot dog bun in a heat & eat container. Place the hot dog on the bun and top with a generous heaping of chili. Top with grated cheese. Microwave on high for 1 minute 30 seconds or until cheese has melted. Garnish with chopped onion, sliced jalapeño and corn chips.
4. Chili and Cheese Nachos
A pub favorite comes together in a snap for a snack, lunch or heck, let's do nachos for dinner!
Place a generous handful of tortilla chips in a heat & eat container. Top with a layer of grated cheese, then layer with a few scoops of chili and top with more cheese. When ready to serve, microwave on high for 1 minute 45 seconds or until cheese is melted. Garnish with sour cream, guacamole, chopped green onion,sliced japlapeños and salsa.
5. Loaded Potato Wedges 
A combination of sweet and russet potatoes topped with chili are about to wedge their way onto your favorites list. 
Wash the potatoes well and pat dry. Cut the potatoes into wedges, leaving the skin on, and place in a large bowl. Drizzle with olive oil and sprinkle with kosher salt and toss to coat. Place the wedges on a baking sheet and roast at 400 degrees for 15-20 minutes, turning once or twice until the potatoes are golden. Place in a heat & serve container and top with a generous serving of chili. When ready to serve, microwave on high for 2 minutes or until the potatoes and chili are warmed through. Garnish with feta cheese, sliced cherry tomatoes and cilantro.
If you make these recipes, please let me know! Leave a comment below or take a photo and tag me on Instagram with #foodiecrusheats.
Food for Thought
Do tell, what's your favorite leftover recipe remake?
Thanks for stopping by and sharing your comments. Have a great day and cook something good!
This post is sponsored by Reynolds™. As always, thank you for reading and for supporting companies I partner with, which allows me to create more unique content and recipes for you. All opinions are always my own.  
Are you following me on Instagram, Twitter, Facebook and Pinterest? 
Thanks for reading and subscribe to FoodieCrush to have each post delivered straight to your e-mail box.