A refreshing combination of coconut cream and coconut milk infuse tropical flavors into my favorite reposado tequila margarita, served on the rocks.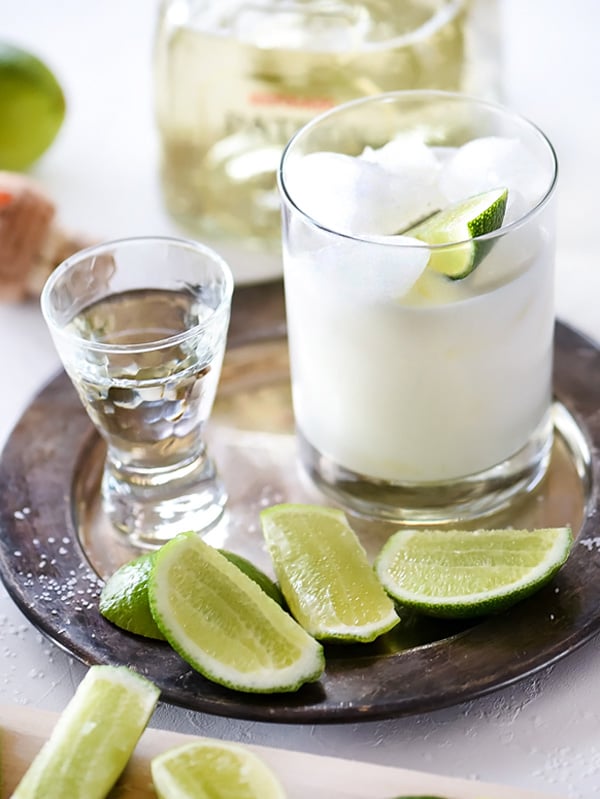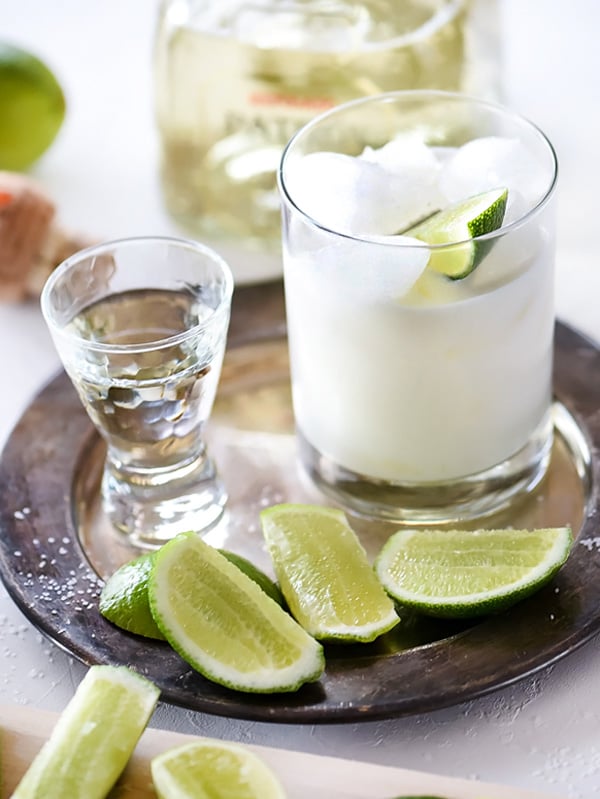 Once upon a time I went on a train ride. Sure, I'd been on trains before, but nothing prepared me for this ride of a lifetime.
This train was owned by self-made billionaire John Paul DeJoria, founder of John Paul Mitchell and Patron Spirits, and was deemed by DeJoria as, "the favorite of my 13 homes."  But unlike those other homes from New York to Hawaii, this one just happened to be powered by an Amtrak steam engine.
How in the heck did I end up there?
Lucky me, I know people who are very generous and invited me and my husband along for the ride. It's also where my love of tequila was cemented in stone.
On the rocks, of course.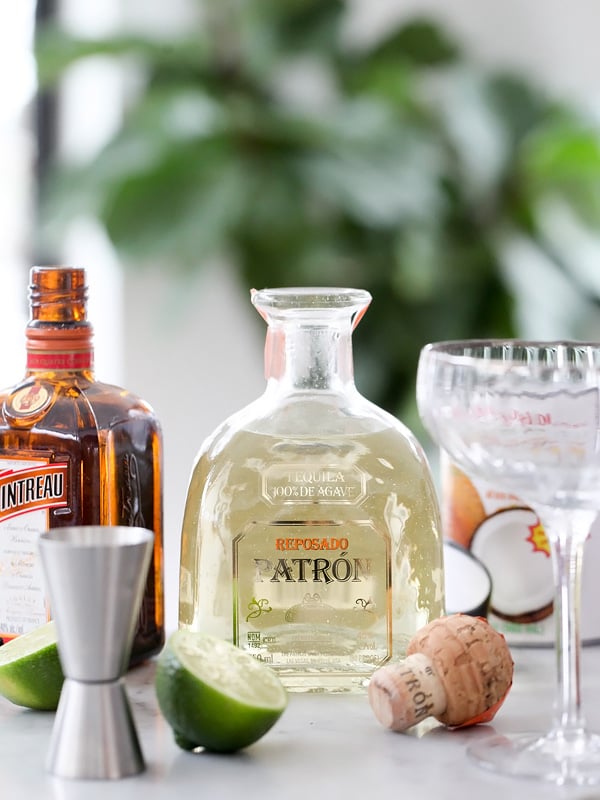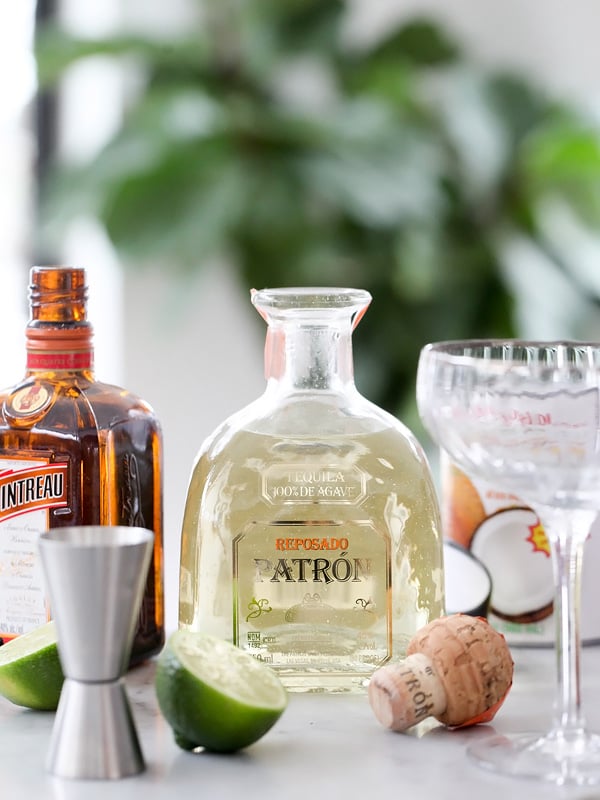 Back in the day—aka 10+ years ago and pre-child so I had plenty of extra time—I volunteered as a fundraiser/weekend adoption go-er/dog photo-taker/graphic designer and board member (all hands on deck for the animals!) for Much Love Animal Rescue in Los Angeles.
That year, our biggest fundraising event was Bow Wow Ciao, an amazing event at the Malibu estate of the previously mentioned billionaire John Paul DeJoria. 
The night was warm, it was fuzzy, and it was soooo L.A., complete with a papparzzi-studded red carpet, celebrity appearances (oh the stories we could tell and such a good thing that social media didn't exist, yet) and lots of money that was generously raised for homeless animals. 
My life was much more exciting then. 
The big ticket item of the night's live auction was an overnight trip aboard The Patron Tequila Express. The ride would be in John Paul DeJoria's private train car hitched on the tail of an Amtrak train traveling from Los Angeles to San Diego and then back the next day.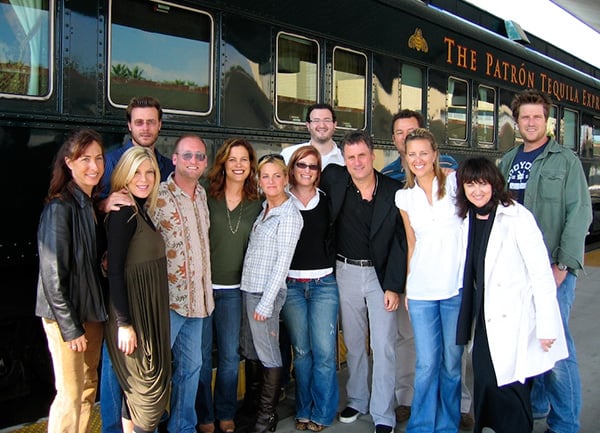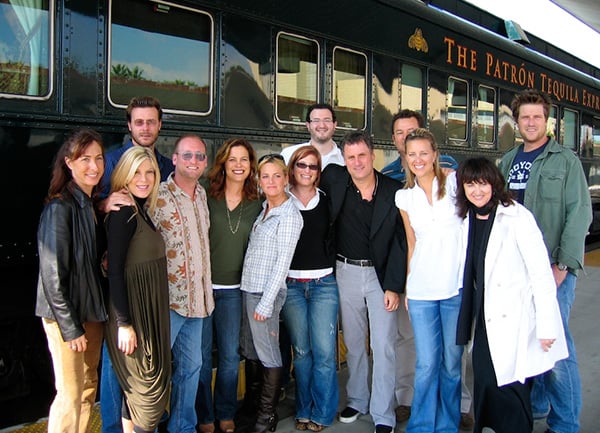 Long story short, after a heated battle that drove the price up, up and up, DeJoria called the live auction and my friends Bart and Stacy (he's the hugger in the flowered shirt above, she's the brunette beauty by his side) bought themselves a train ride.
And they invited friends! And my husband and I were two of them.
The mantra of the trip? All aboard the Patron train and break out the tequila. Arrriba!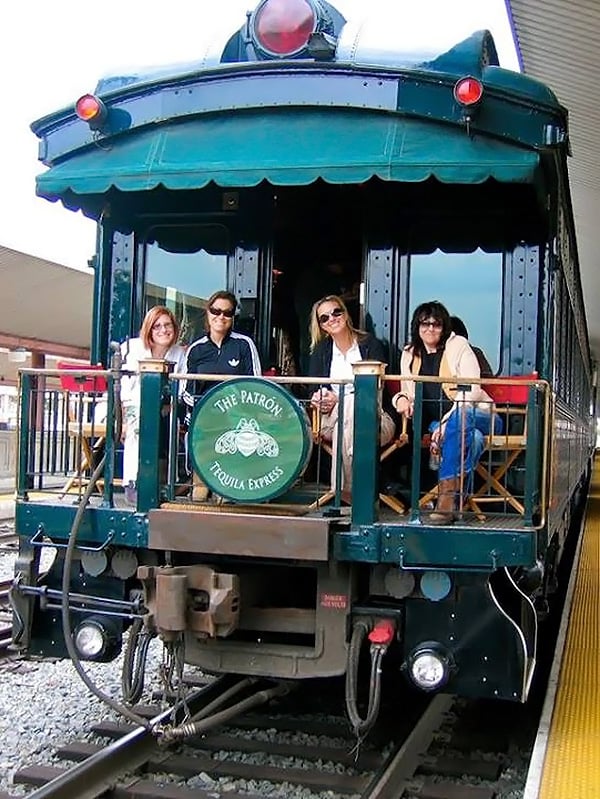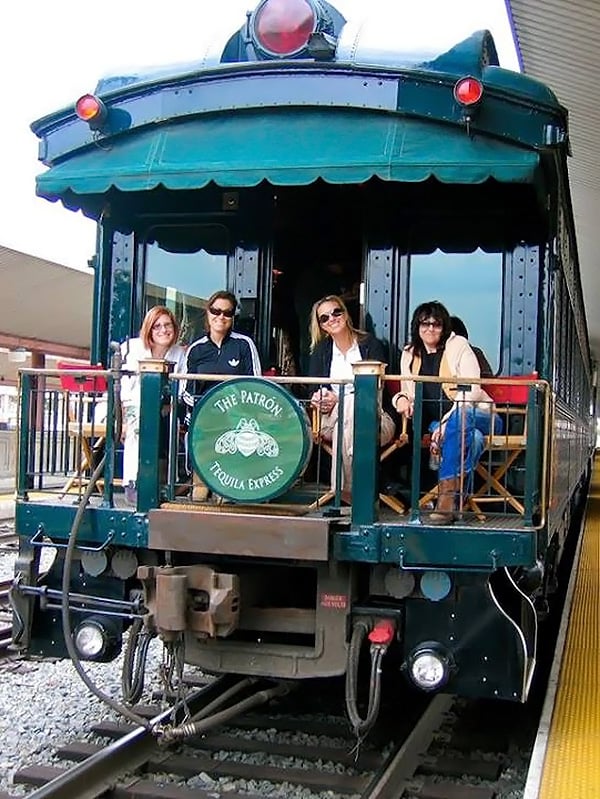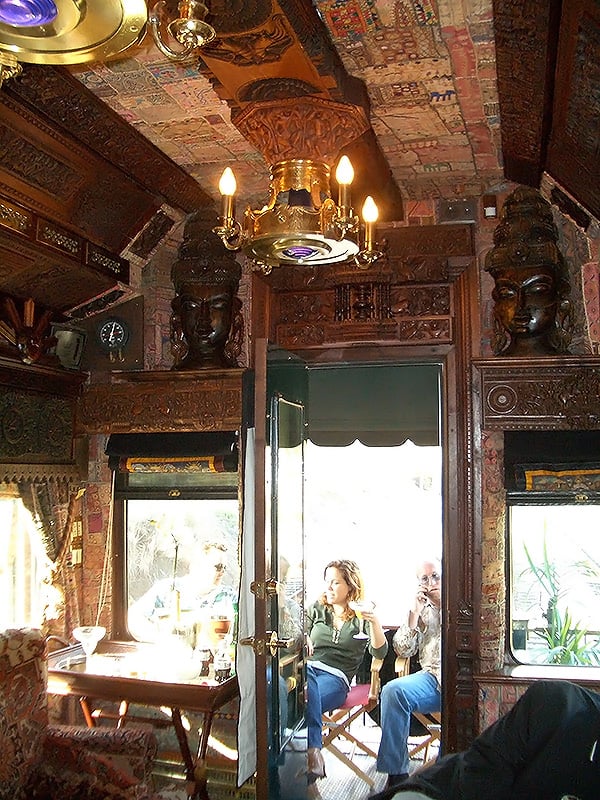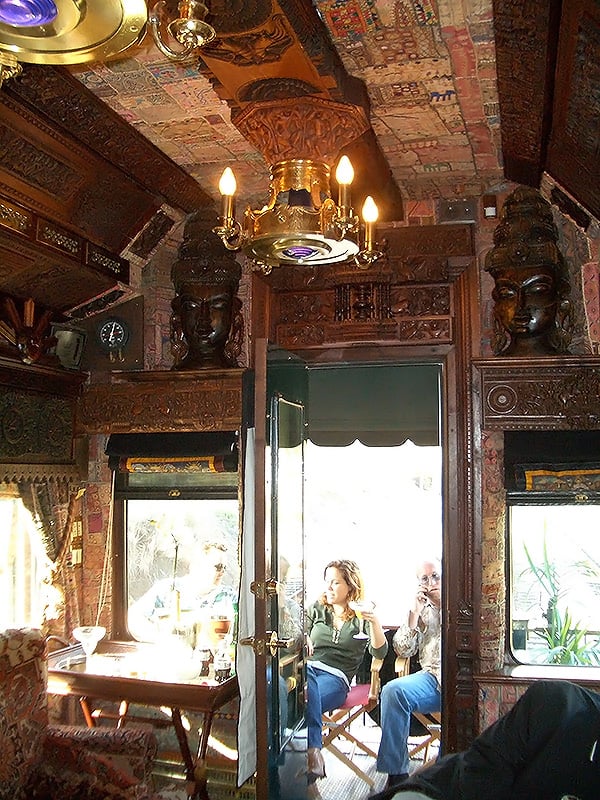 The Patron Tequila Express is known for it's extravagance and is decked out in the opulence that once decorated the original 14th century Maharajah's palace, with marble bathrooms, lavish sleeping quarters and a gourmet kitchen. One step in and you know you'll never set foot in such a space again.
We spent most of the trip gazing at the ocean as we rattled through stations, sipping Patron tequila over ice, and in margaritas with a recipe closely guarded by the Patron team—aka fresh lime juice and Patron reposado—and laughing, laughing, laughing with friends brought together due to our love of animals and the countless hours spent finding them loving homes. 
The railway trip left me with some amazing memories and a true affinity for the finer side of life (private trains, planes and automobiles!), including a penchant for sipping tequila whether it's on, or off, the train.
Since then I've had my fair share of tequila drinks. But one favorite concoction of Patron-infused drinks has stuck out from the bunch—this one because it's the best coconut margarita recipe.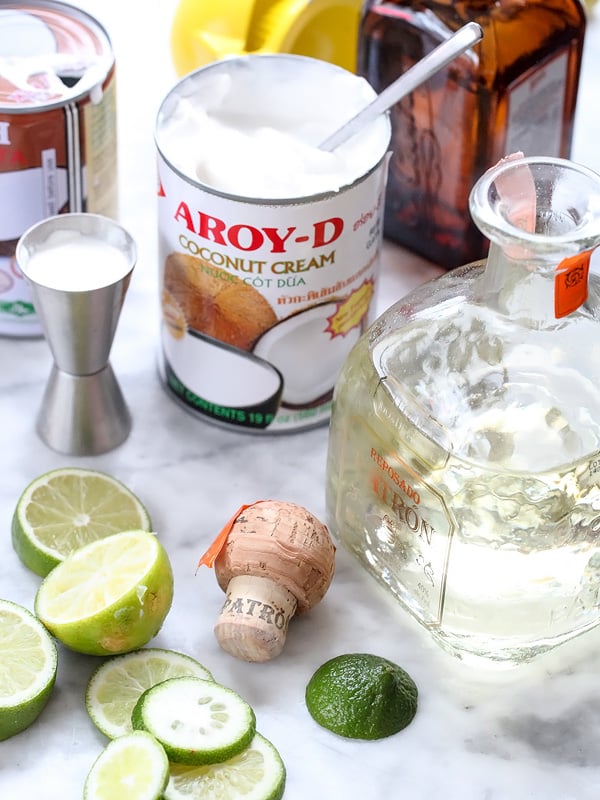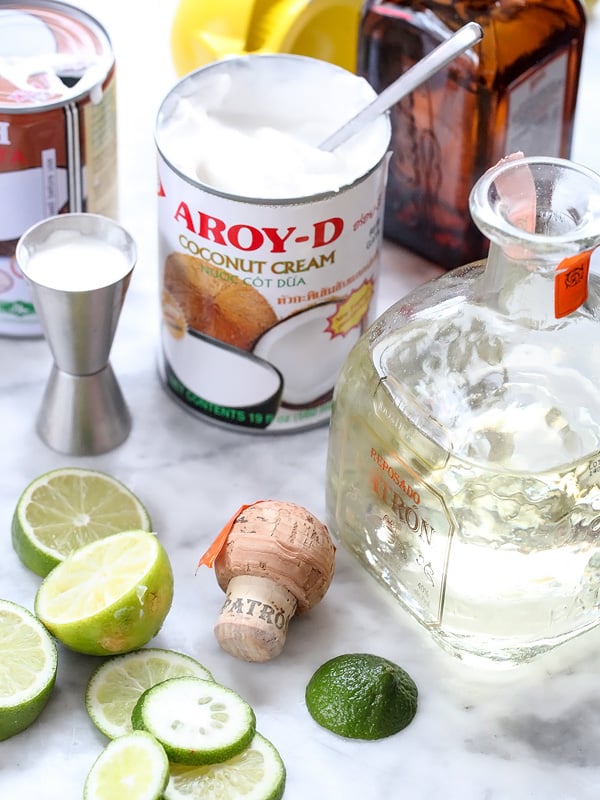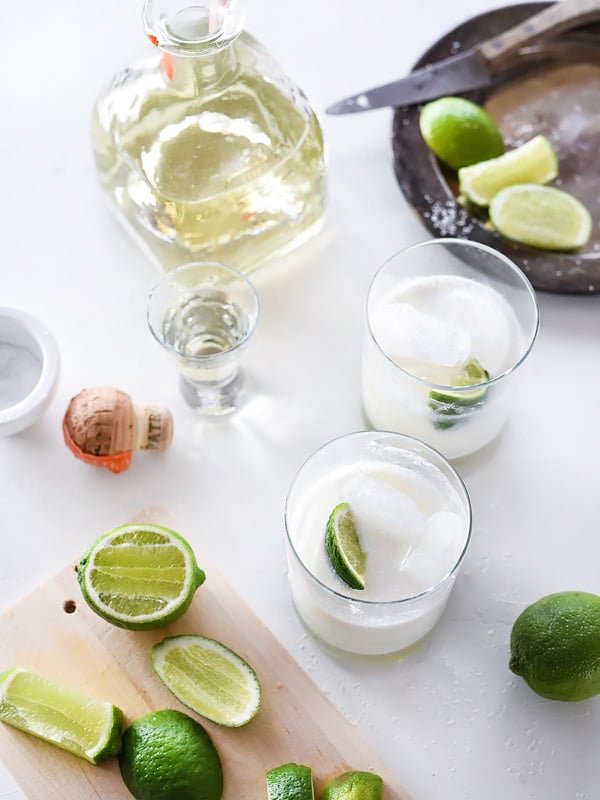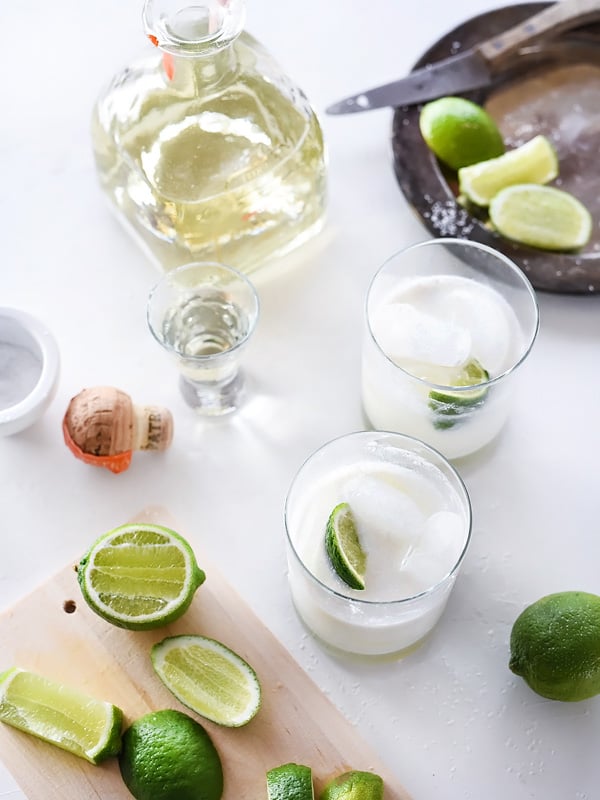 About the Recipe
My friend Joey—a mixologist and the new co-owner of Grim's Provisions and Spirits in Seattle's Capitol Hill (be on the look for an amazing revamp)—introduced this recipe to me. And man, how glad am I that he did.
I originally planned on sharing this Coconut Margarita recipe when I hosted a photography session at this year's Click Retreat as we cruised about the Caribbean. Sadly, I had to cancel my trip thanks to a medical procedure but that didn't stop me from indulging in a few of these in homage to my waylaid trip.
I use Patron's reposado tequila in this cocktail recipe. Reposado tequila imparts citrus and honey notes with a bit of earthiness after being barrelled in oak. If you're not into oak, try Patron Silver instead. 
You might feel you can skip the coconut cream and go just with coconut milk for this recipe, but I say don't do it. The coconut cream gives the drink a more intense coconut flavor and creamy texture. Coconut cream can coagulate in the can so be sure to stir it well and discard any chunks that don't smooth out. You can find coconut cream at Asian stores or online here. 
Joey's recipe didn't call for a sweetener, because this is a margarita, not a daiquiri. But I added a little simple syrup juuuuust to sweeten it up a little bit. Add more or less to your taste.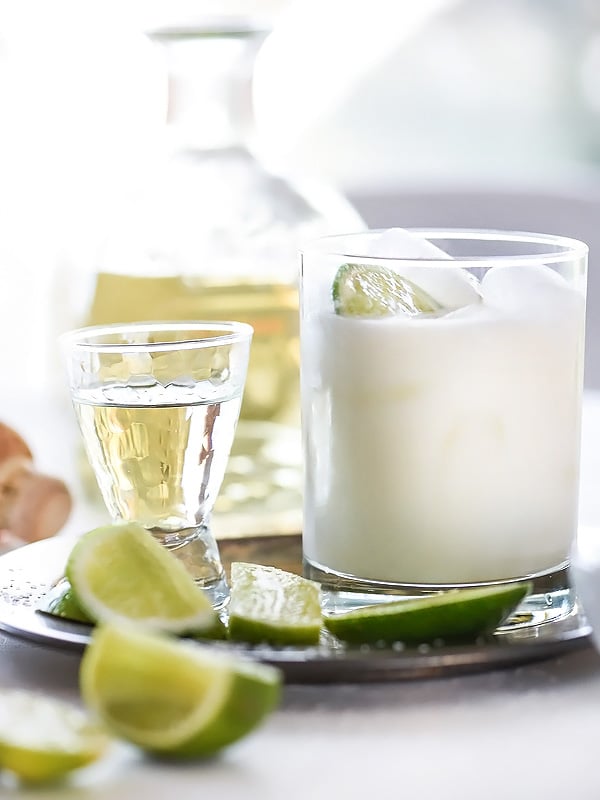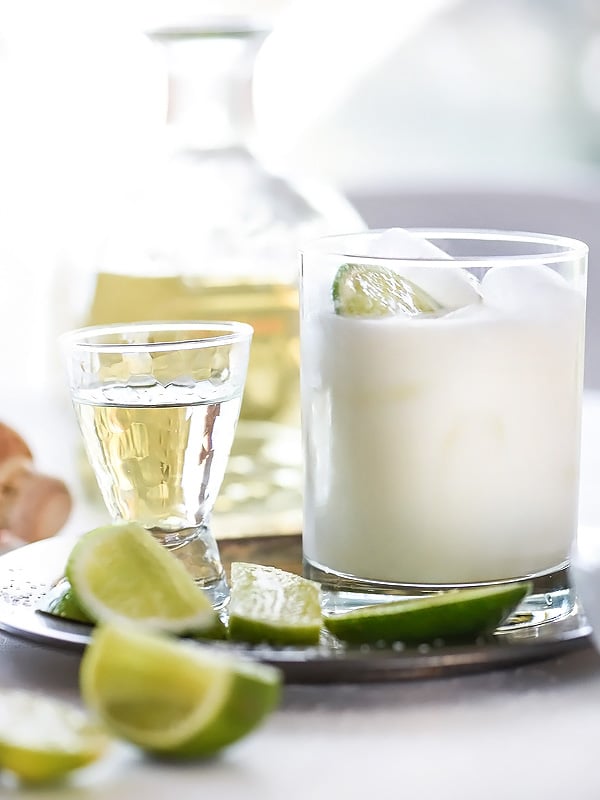 If you make this recipe, please let me know! Leave a comment below or take a photo and tag me on Instagram or Twitter with #foodiecrusheats.  
Print
Coconut Margarita
A refreshing combination of coconut cream and coconut milk infuse tropical flavors into my favorite reposado tequila margarita, served on the rocks.
Ingredients
1 ½

ounces

Patron reposado tequila

½

ounce

cointreau

1

ounce

coconut cream

1

ounce

coconut milk

½

ounce

fresh lime juice

Splash of half and half

Splash of simple syrup

, (½ cup sugar, ½ cup water brought to a boil until sugar dissolved, then cooled.)

lime wedges

, for serving
Instructions
Shake and strain into a glass and serve on the rocks with a lime wedge.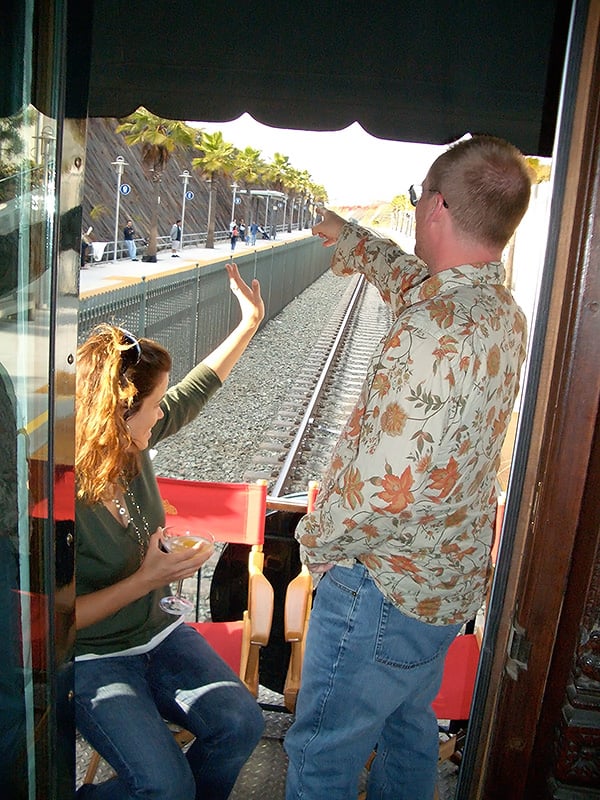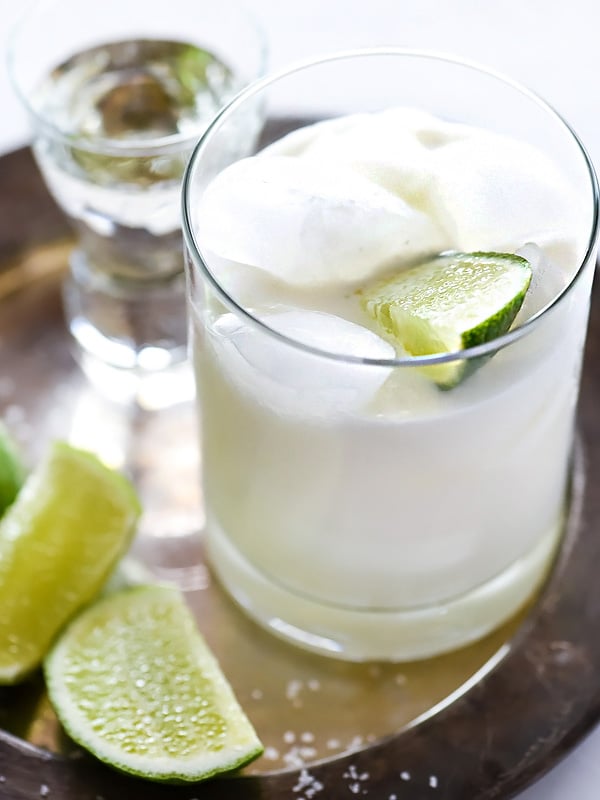 Thank you again to Bart and Stacy for being such fab friends and helping us create memories to last a lifetime.
Hey, thanks for stopping by and visiting FoodieCrush. Have something to say? I'd love to hear from you. Let me know in the comments below.
Make it a great day, friends and cook (or drink) something good.
This post is sponsored by Patron Spirits. As always, thank you for reading and for supporting companies I partner with, which allows me to create more unique content and recipes for you. All opinions are always my own.  
Are you following me on Instagram, Twitter, Facebook and Pinterest? 
Thanks for reading and subscribe to FoodieCrush to have each post delivered straight to your e-mail box.  
SaveSave