Goodbye Superbowl (ugh, my poor 49ers), see ya soon Mr. Groundhog (yes! Spring is in his sights!) but before I break out the daffodils and easter eggs, there's another holiday in the line-up that I'm more than ready to welcome. Hello my sweet Valentine.
Now, as you may or may not know, I really, really like cookies. So much so, I created two ecookbooks with Maria where we shared her top all-time favorite recipes. And while one of my favorite smells in the kitchen is that of fresh baked cookies, I have a secret affection for sweet treats that don't require me to even switch on the oven like my Nutella No-Bake Cookies  and my Mom's Fudge. See you later 350 degrees F.
This recipe is deemed to become a favorite. Well, it pretty much always has been. A favorite of mine because it's so simple to make, and a favorite of Smudge's because it involves sprinkles, all over the counter and some on the floor. What 8 year old doesn't dig that? I know the dogs do. My furry garbage disposals. The dogs, not Smudge. 
So how do you take a classic recipe like Rice Krispie Treats and make it different? Ah, the age old question. There are some recipes that just can't be enhanced, revamped or revised to make them better than the original. This recipe may, or may not be an example of that, but therein lies the beauty of rice krispie treats, the recipe is so simple that it can happily absorb a dump of something extra to give it a unique spin.  
So let's pretend we're back in kindergarten and let's play with our food. One of the beautiful qualities of working with marshmallow and cereal is that it's totally malleable, to create whatever shapes you want. I'm not that great of a sculptor so you won't be seeing any cupids with shooting arrows rice krispie sculptures on this blog. However, a few simple hearts will make the cut.
This is definitely a kid friendly recipe, one they can really get their hands into for about 30 seconds and then spend the next 10 minutes licking and nibbling the sticky marshmallow-ey krispies from their little, messy fingers. Time enough to create as many perfectly formed shapes as you want before they're back to create perfectly beautiful and haphazard creations of their own.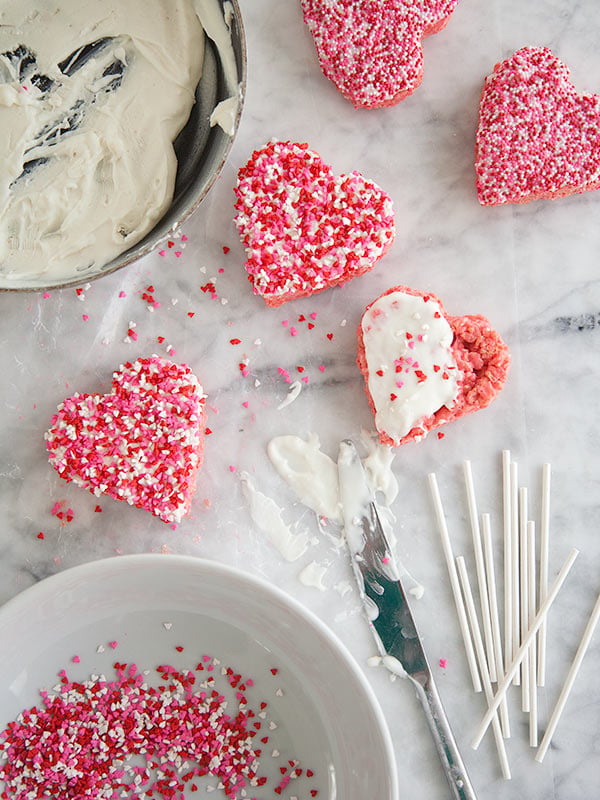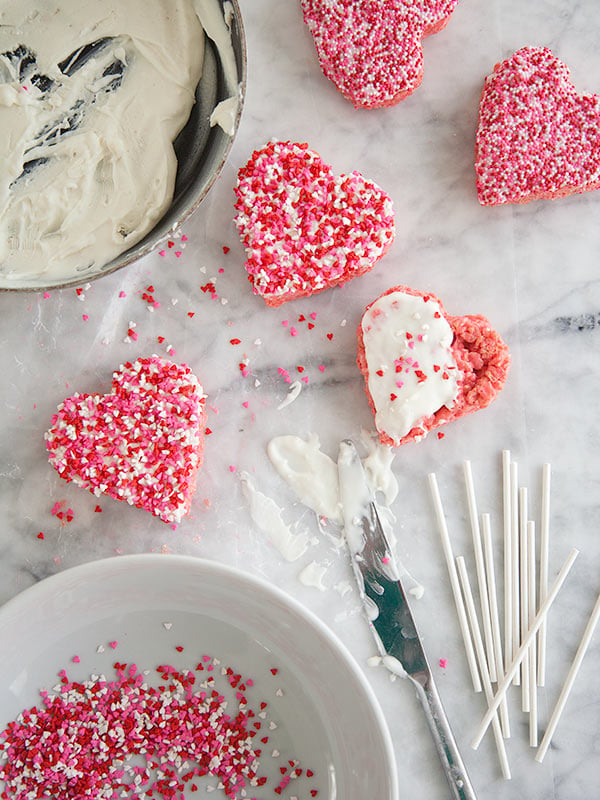 Topping the sweetness with even more sweetness in the form of vanilla candy coating makes for a perfect glue for the cookie decorations. If you can't find the candy coating, melt some white chocolate in a double boiler and try that instead.
And certainly experiment with toppings: nuts, coconut, crushed pretzels or candies. It's all fair game as long as it complements the sweetness of the base and will stick to the coating.
Cookies on lollipops? Have I jumped the shark? I'm hoping you won't think so since these came about because I am a complete imbecile when it comes to making cake pops, but they're just so darn fun. I gave them a go once and they were a miserable failure—far, far, farrrrrrr from Bakerella's 5 year anniversary of her revolutionary sweet treat—so I went the easy route on this one. But, I will conquer the cake pop one day. One day…
Until then, you'll find me happily playing with my food, making it into simple little shapes for me and my Smudge to better our decorating skills.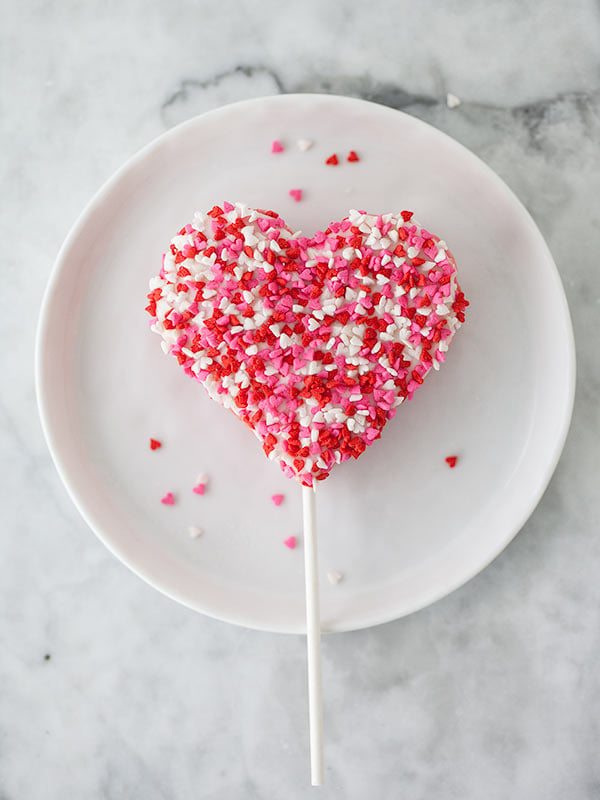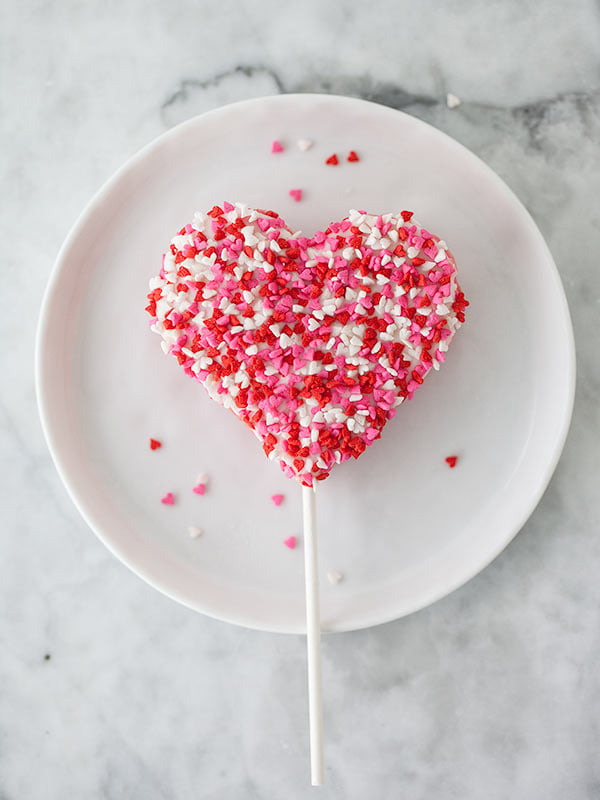 And sharing my love with my valentines. Won't you be mine?
Print
Rice Krispie Valentine Sucker Treats
Ingredients
1 10

ounce

package large marshmallows

4

tablespoons

butter

1

teaspoon

red food coloring

6

cups

rice krispie cereal

8

ounces

vanilla flavored candy coating

candy sprinkles for decorating
Instructions
Place butter and marshmallows in a large bowl bowl and heat on high in a microwave for 2 minutes. Remove, stir and heat for another 2 minutes. Take the bowl out of microwave and stir really well until marshmallows and butter are combined. Add food coloring and mix well. Add rice krispies to the bowl and stir to combine, working fast.

Mold mixture into a large square, about 9 X 13 X ½ inch thick, on a sheet of wax paper, let cool slightly and cut out heart shapes with a cookie cutter and set aside.

Melt candy coating in a small sauté pan according to package directions. Spread a thin coat of the candy coating on the top of the heart shapes, place in a wide flat bowl or on a plate and coat generously with candy sprinkles. Insert lollipop sticks in the bottom of each heart or serve on their own as cookies.
Related Recipes
Puff Pastry with Sabayon Custard and Strawberries
Sugar Cookies and Heart Shaped Food
Red Velvet Cupcakes
Thanks for reading and please keep in touch. This post may include affiliate shopping links of which I receive a small percentage of sales to help keep this blog and magazine going so thanks for your support. Subscribe to FoodieCrush and follow me on Twitter, Facebook, Pinterest and check out FoodieCrush magazine.