Raspberry Fool is a quick and easy raspberry dessert recipe. It's essentially raspberries and cream that's been swirled together to make an elegant treat!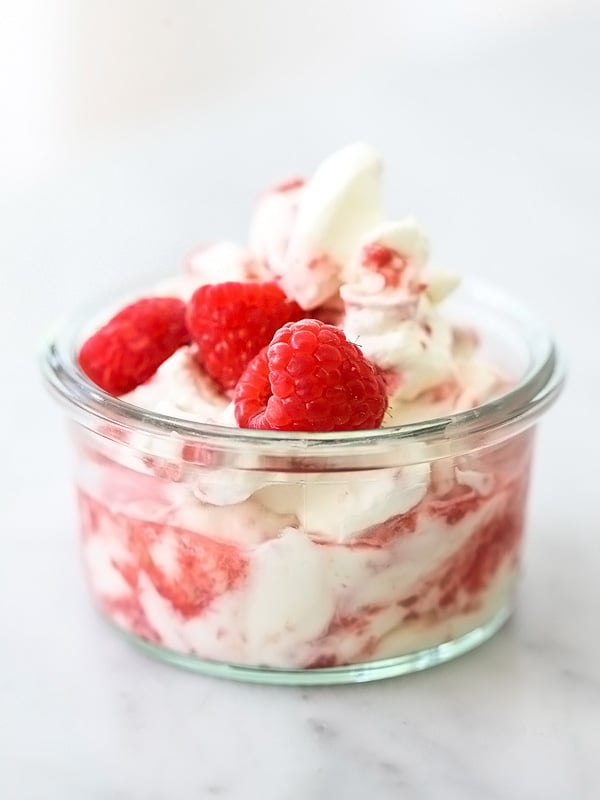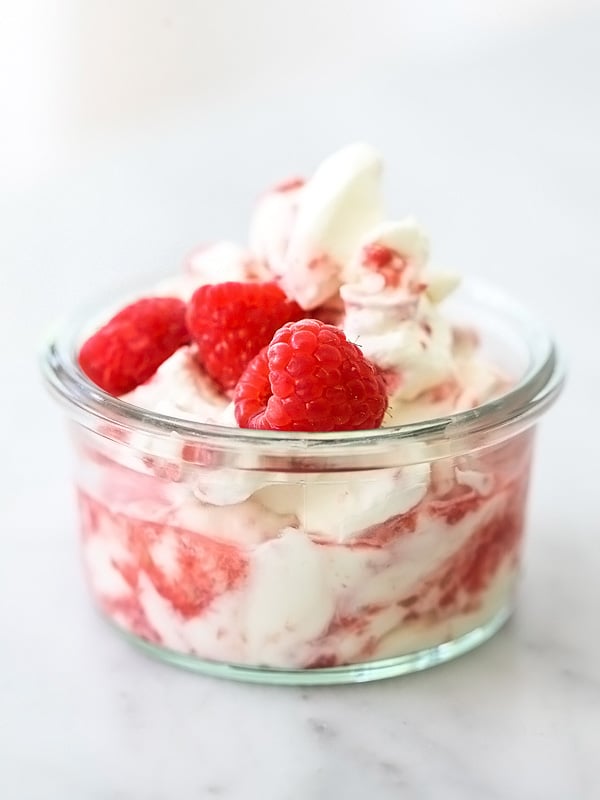 Her: "A fool? What's a fool? Mom, why are you calling this a fool? I don't even know what that is. I've never heard of it. It has whipped cream but why is it a fool? Or are you calling me a fool? I don't want to be a fool. Mooooooommm."
And then one big spoonful of raspberry swirled whipped cream into her mouth. And in 3-2-1…
Her: "Oh mom, this is really, really good." Smiles and licks and more creamy swirled spoonfuls into her rosebud shaped mouth.
Me: "Give me a bite."
With the look of shock and awe and a wickedly fast turn of her entire torso, she guards her glass jar of Raspberry Fool like she's just rebounded the game winning shot in the finals of the WNBA championships.
And replies curtly, "No!"
Me: "Seriously? Not even a bite?"
Her: "Uggggh. Okaaaaaaay," as she wipes the raspberry swirled cream from the sides of her mouth and hands me the jar.
Just another example of the generosity that's shared when I deliver leftovers of the day's recipe creations to my sweet—and can I say it again—more than generous 10-year-old. Sheesh. Who's the fool now?
This Raspberry Fool recipe is probably going to be the easiest dessert you may ever make, love and crave in your whole entire life. It's a bold statement, but I'm standing by it.
Compared to others, this no-bake dessert recipe seems like almost half a recipe. For most desserts, the finished product of a Raspberry Fool is merely the starting blocks with much more work to be done.
Cream is whipped. Raspberries are made smooth and sugar and vanilla spike up the sweet flavors.
And then. Fold it. And fold it. And mark it with a…oh, how about a B. And spoon it in my mouth if my daughter will let me.
I took some of the leftovers to Smudge's friend for an after school treat. She loved it too. And since she knows where her treats come from, she even gave me a bite.
Making me, no more the fool.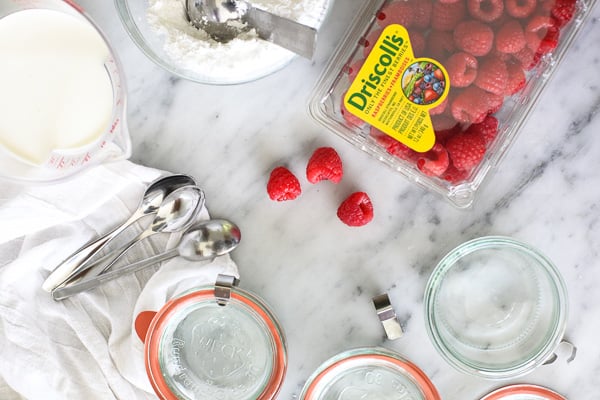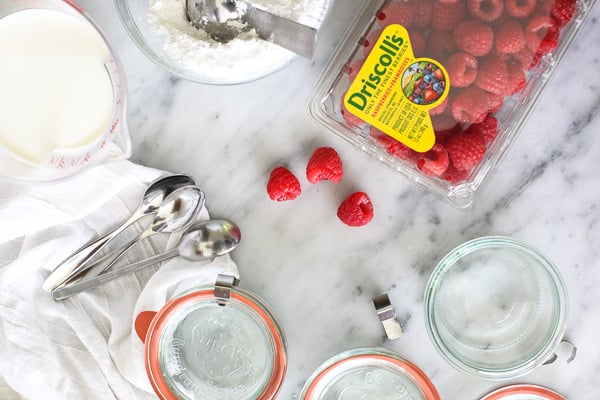 What's in Raspberries and Cream?
I'm a big fan of Costco. Some may say it's a store of excess. Just where do you propose we store a pack of 48 paper towels?
But to me, it's a shopper's delight and Driscoll's raspberries are always in my cart. Plump and juicy, they go into Smudge's morning oatmeal, our afternoon smoothies and are perfectly poised on the end of each hand's finger, and sometimes even a thumb. Exactly why they're the star of this super simple dessert and when you have raspberries, you have dessert.
Besides fresh berries, you'll need granulated sugar, whipping cream, powdered sugar, and vanilla extract to make this quick and easy dessert recipe.
If you have other fresh berries on hand (strawberries, blueberries, you name it!), feel free to use them in place of the raspberries. Fools are quick desserts that are easily adapted.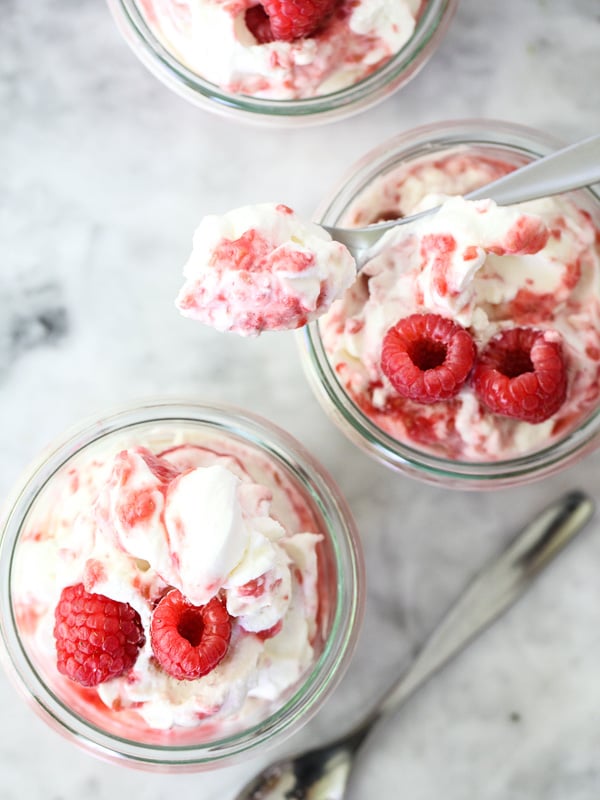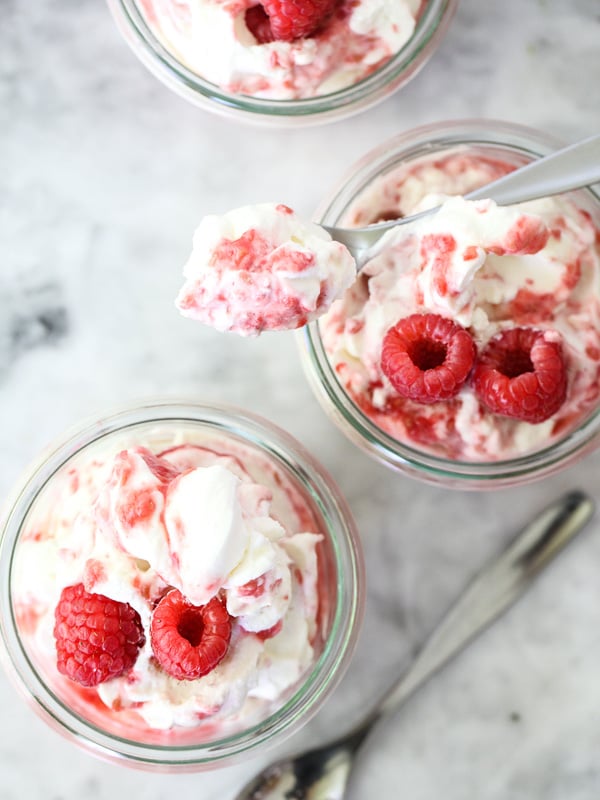 How to Make Raspberries and Cream
To make this easy raspberry recipe, simply puree the berries in a food processor or blender with a little sugar. In a bowl, whip the cream, powdered sugar, and vanilla until stiff peaks form (an electric mixer is the best tool for this).
Once the cream has been whipped up, gently fold in the pureed raspberries. Spoon the mixture into serving dishes or glass jars and garnish with a few whole raspberries, if desired.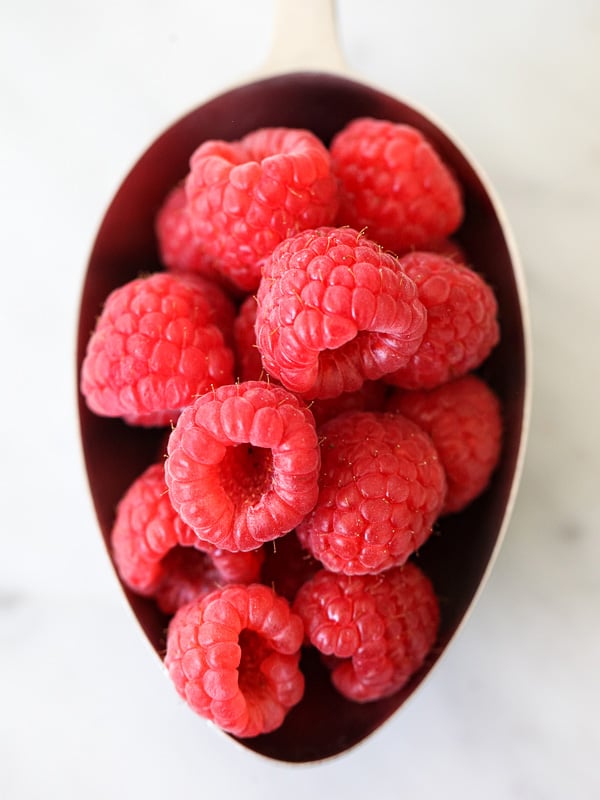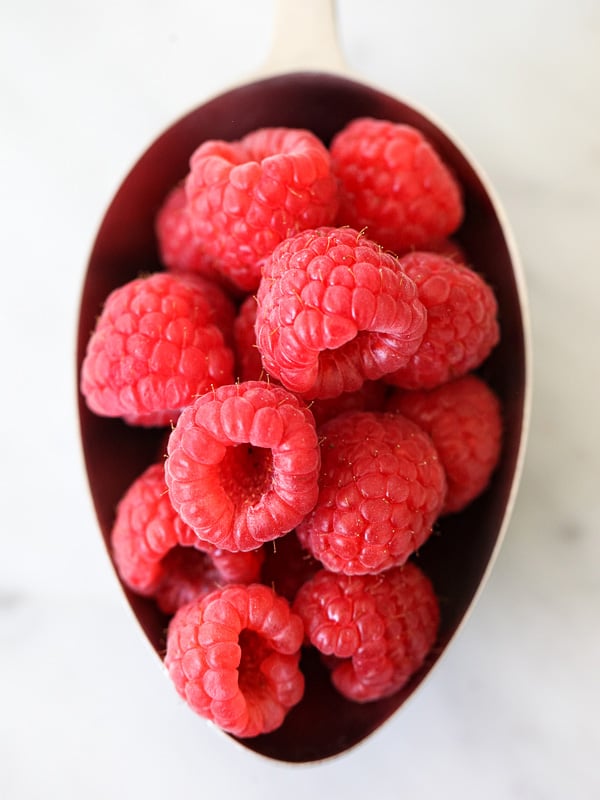 Can I Use Frozen Raspberries?
I wouldn't recommend using frozen raspberries here. This is one raspberry dessert that's much better when you stick to fresh berries.
Can I Prep This Raspberry Fool in Advance?
Raspberries and cream is best enjoyed the day you make it, but if you want to prep this raspberry recipe for a picnic or potluck later in the day it should last until then. Just make sure to store your Raspberry Fool in an airtight container in the fridge in the meantime. If the whipped cream becomes too warm, it'll melt.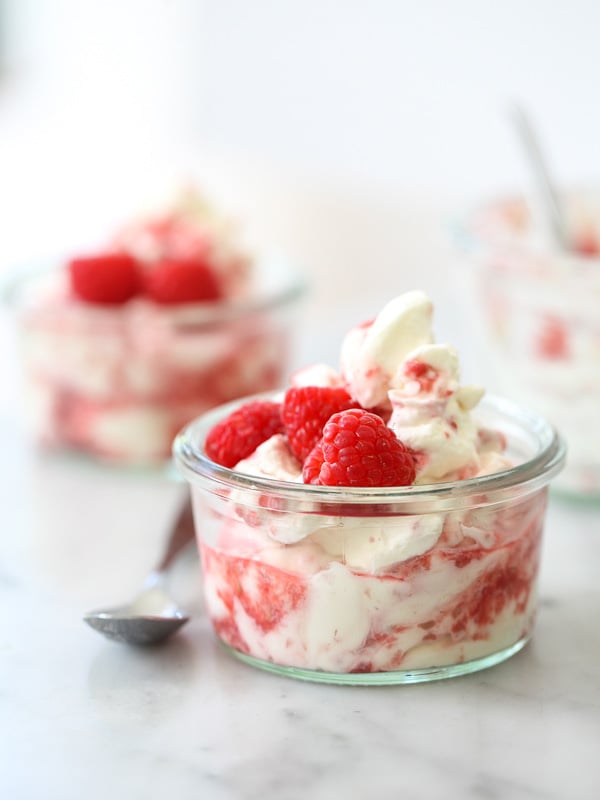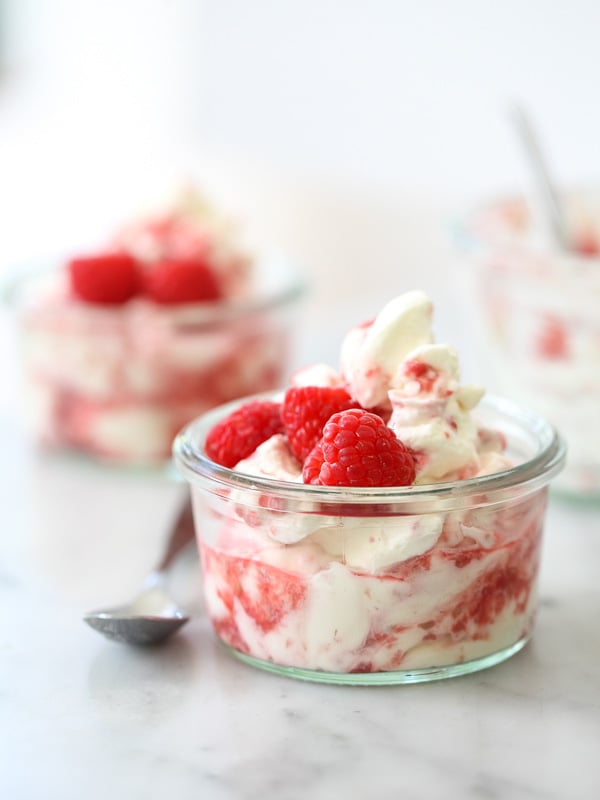 Tips for Making This Easy Raspberry Recipe
I used my KitchenAid hand blender to do the job of pureeing the Driscoll's raspberries and whipping the cream. If seeds in your puree aren't your thing, simply press the puree through a fine mesh strainer or sieve into a small bowl. Personally, I like the texture they add to each fluffy mouthful.
I added vanilla to this batch of cream, but I thought about giving almond extract a try since it pairs so well with raspberries. Or use a tablespoon of brandy or even orange-flavored liquer for a new profile of flavor.
Be sure NOT to overmix the fool. The key is gently folding here folks, so that ribbons of raspberries dance in their heads.
While I have some beautiful crystal bowls that were my grandmother's, I used my small Weck jars for spooning the fool into. With a secure lid it makes them easy to toss into a cooler and take on a picnic or lunch box for dessert on the run.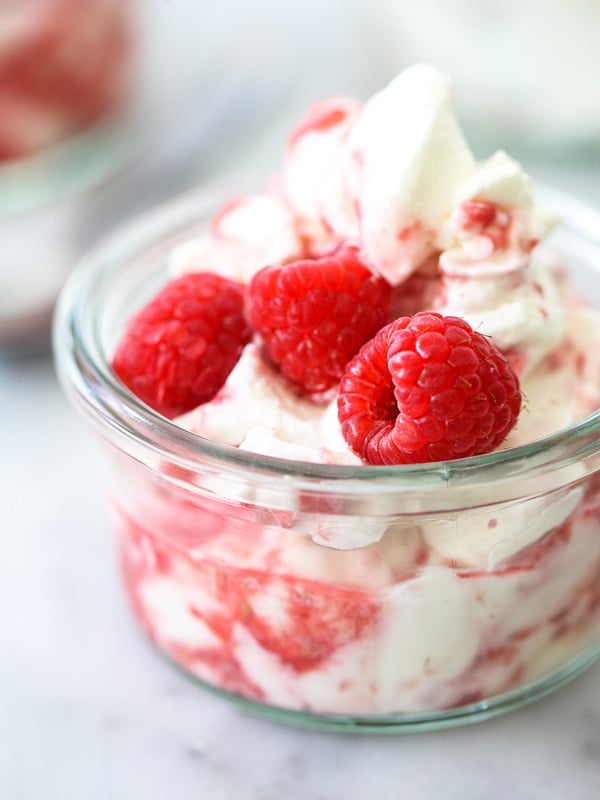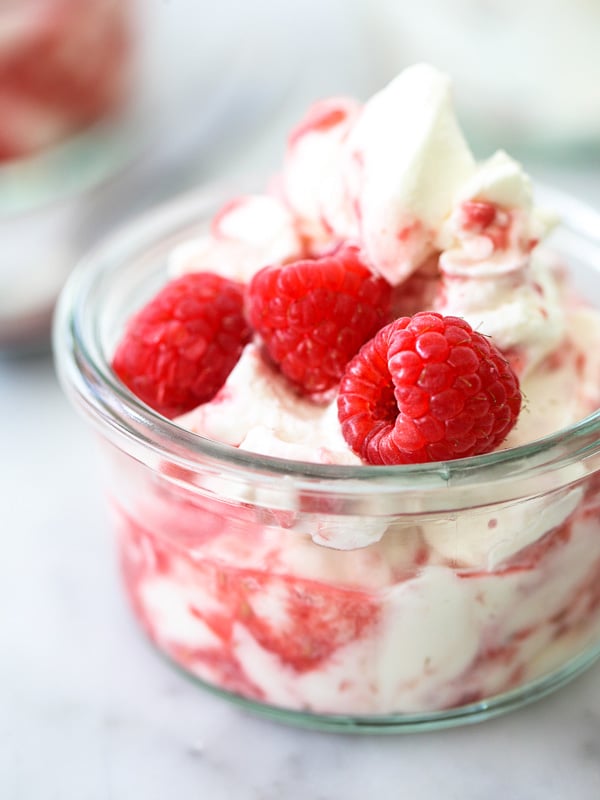 More Raspberry Recipes to Make Pronto
If you make this recipe, please let me know! Leave a comment below or take a photo and tag me on Instagram or Twitter with #foodiecrusheats. 
Print
Raspberry Fool (Raspberries and Cream)
Raspberry Fool is a quick and easy raspberry dessert recipe. It's essentially raspberries and cream that's been swirled together to make an elegant treat!
Ingredients
2

cups

Driscoll's raspberries

12 ounce package

2

tablespoons

granulated sugar

2

cups

whipping cream

¼

cup

confectioners sugar

powdered sugar

1

teaspoon

vanilla extract*
Instructions
Puree 1 ½ cups of the Driscoll's raspberries in a food processor or blender with the 2 tablespoons of granulated sugar.

In a large bowl, add the cream, confectioners sugar and vanilla extract. Mix with an electric hand mixer or whisk by hand until stiff peaks form.

With a rubber spatula, gently fold in ¾ of the pureed raspberries into the whipped cream mixture, leaving visible swirls. Gently fold in the rest of the puree but be careful not to overmix. Spoon the fool into 4-6 glass cups or small bowls. Top with additional raspberries and serve.
Notes
*I added vanilla to this batch of cream, but I thought about giving almond extract, a tablespoon of brandy, or even orange-flavored liquer a try. 
Nutrition
Calories:
331.35
kcal
|
Carbohydrates:
16.06
g
|
Protein:
2.11
g
|
Fat:
29.61
g
|
Saturated Fat:
18.28
g
|
Cholesterol:
108.69
mg
|
Sodium:
30.75
mg
|
Potassium:
119.9
mg
|
Fiber:
2.6
g
|
Sugar:
10.82
g
|
Vitamin A:
1179.4
IU
|
Vitamin C:
10.96
mg
|
Calcium:
61.57
mg
|
Iron:
0.28
mg
More No-Bake Desserts You'll Love
This post is in partnership with Driscoll's. Visit www.driscolls.com for more berry recipes and to enter their summer sweepstakes.
Craving more life balance, less stress, and better health? Check out my Nourished Planner, the daily planner to help create simplicity and under-schedule your life.
We send good emails. Subscribe to FoodieCrush and have each post plus exclusive content only for our subscribers delivered straight to your e-mail box.
Follow me on Instagram, Facebook, Pinterest and Twitter for more FoodieCrush inspiration.
As always, thank you for reading and supporting companies I partner with, which allows me to create more unique content and recipes for you. There may be affiliate links in this post of which I receive a small commission. All opinions are always my own.