Acai juice, pomegranate juice and raspberries are full of antioxidants with all sorts of health benefits in this sweet and tart superfood packed smoothie.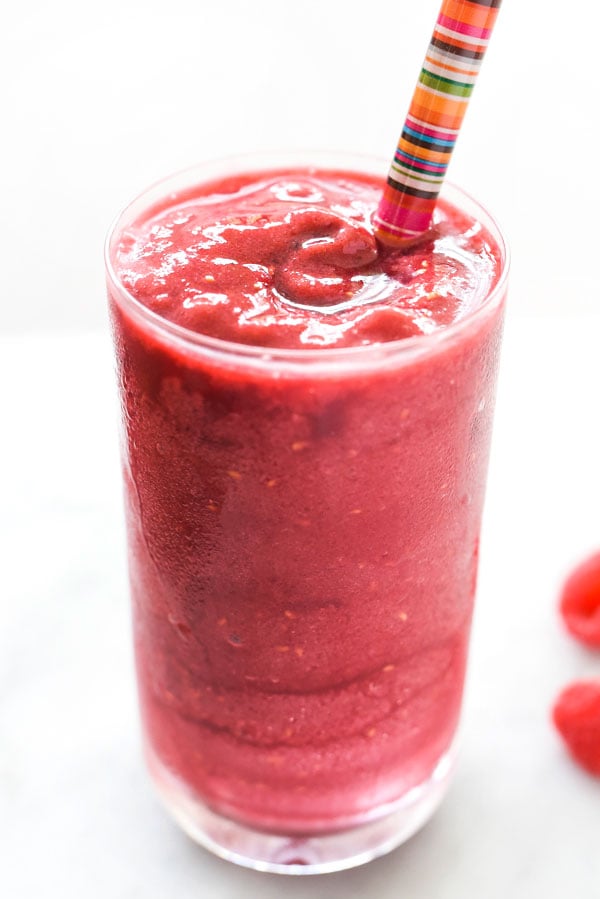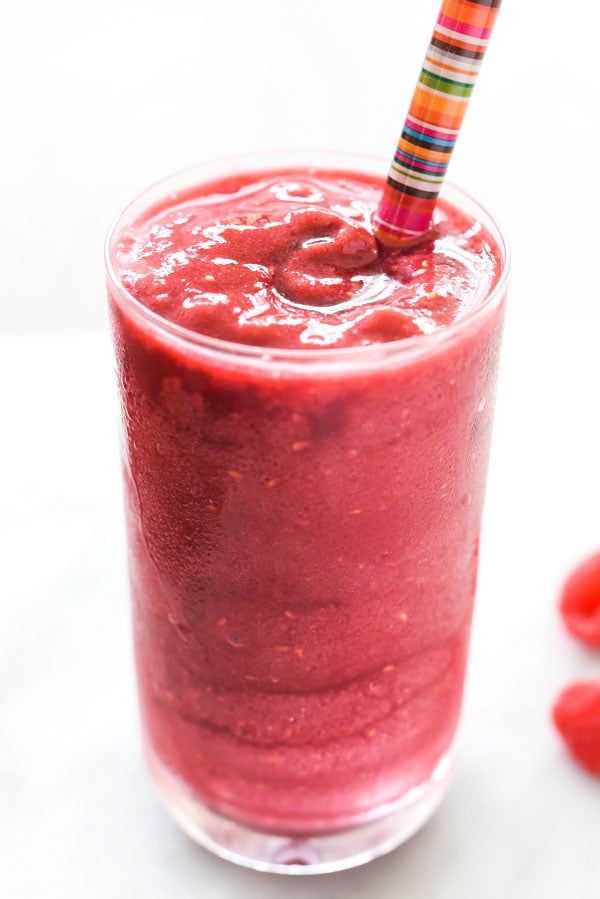 Because if you're like me and my soon to be 6th grade babe who this week declares, "School's out for summer!" (cue Alice Cooper) you will in short order be seeking anything cool, frothy and delicious to take away the bite of summer's heat that is about to descend upon us like a triple-woven wool blanket.
Honestly? I'm looking forward to it. Remind me of this come August when I'm walking across the hot grocery store parking lot, sweltering as I peel my tank top from my sweaty skin and seriously debate booking a flight to Alaska.
Until then, let's just enjoy it, shall we?
One thing that will be making our summer all the more chill is this new cookbook from my friend Deborah of the blog Taste and Tell. It pretty much says it all in the title, Best 100 Smoothies for Kids. But like all good things in life, it's truly not just for kids. Pass me a straw!
I've shared Deb's amazingness on the blog before when she wrote Red Velvet Lover's Cookbook and again when she created these blue ribbon state fair inspired recipes for FoodieCrush magazine. No, the girl does not stop.
Deborah's new smoothie cookbook Best 100 Smoothies for Kids is filled with all kinds of chilly goodness.
Smoothie recipes taste good all of the time, but Deb has helpfully slotted her creations to fit ever mealtime. She's made recipes specially for light smoothie snacks (Lemon Poppyseed), heartier smoothies for lunch (Avocado Vanilla) and smoothies that even help with bedtime (Sleepytime Honey Almond).
Nothing like a little tryptophan sweetness to put the babes into dreamland.
The recipes are supremely simple and don't include a bunch of unnecessary layers of ingredients that simply add calories and fillers. In fact, most of the recipes use just 3-5 ingredients. Which in turn makes it so easy for Smudge to make them herself. Bonus!
Any and every mom will relish in the fact that Deb has avoided using processed sugars for sweetening. In fact, she barely uses any sweeteners at all. Instead she relies on the natural sweetness of the fruit itself with the occasional shot of dates, honey or agave. Now, doesn't that make sense when you're being healthy?
True to form, Deb is not going to miss sharing dessert, even when it comes to smoothies. Raspberry Cheesecake, Carrot Cake, Snickerdoodle and Thin Mint smoothies are all represented. Snickerdoodle is already on our list to make next.
But first, it's all about this breakfast time smoothie.
About the health benefits of this recipe
I chose to share this smoothie recipe because it is chock full of antioxidants and is all kinds of healthy snuck into a snack. You're kids will never know they're doing themselves good. But you will.
In nearly all of Deb's recipes there's no need for additional ice to thin out the flavors. Instead, frozen fruit, in this case raspberries, add the chill and thickener.
Back in the day when I worked at a natural foods magazine, we talked about raspberry ketones a lot. They are the phytonutrients found in raspberries that help with cardiovascular health, anti-cancer and anti-inflammatory and the management of obesity. Another superfood indeed.
Acai is the berry of a palm tree harvested from the Amazon and is a true superfood. The berry juice has been shown in studies help with the lowering of cholesterol, weight loss and provides heart-healthy fats (from a berry!) and fiber.
The pomegranate is the most powerful antioxidant of all fruits and plays an important part of sustaining a healthy immune system. Unique to the others in fruitlandia, pomegranates possess a unique compound called punicalagin, shown to benefit the heart and blood vessels and improving cardiovascular health.
If you make this recipe, please let me know! Leave a comment below or take a photo and tag me on Instagram or Twitter with #foodiecrusheats.  
Print
Acai, Pomegranate and Raspberry Smoothie
Acai juice, pomegranate juice and raspberries are full of antioxidants with all sorts of health benefits in this sweet and tart superfood packed smoothie.
Servings
4
8-ounce servings
Ingredients
1

cup

acai juice

1

cup

pomegranate juice

3

cups

frozen raspberries

or 1 12-ounce bag
Instructions
Pour the juice and pomegranate juice into a blender.

Add the raspberries and blend until smooth.
Purchase Deb's cookbook, Best 100 Smoothies for Kids, here.
Follow Deborah here:
Taste and Tell blog
Instagram
Twitter
Facebook
Pinterest
Thanks for checking me and Deb out. Have a great day and cook something good.
As always, thank you for reading and for supporting companies I partner with, which allows me to create more unique content and recipes for you. All opinions are always my own.  
Are you following me on Instagram, Twitter, Facebook and Pinterest? Thanks for reading and  subscribe to FoodieCrush to have each post delivered straight to your e-mail box.