It's no secret around here that I'm a big fan of cheese. Whether it's in gooey sandwiches like this one or mixed into salads like this one or in cheesy chorizo dips too.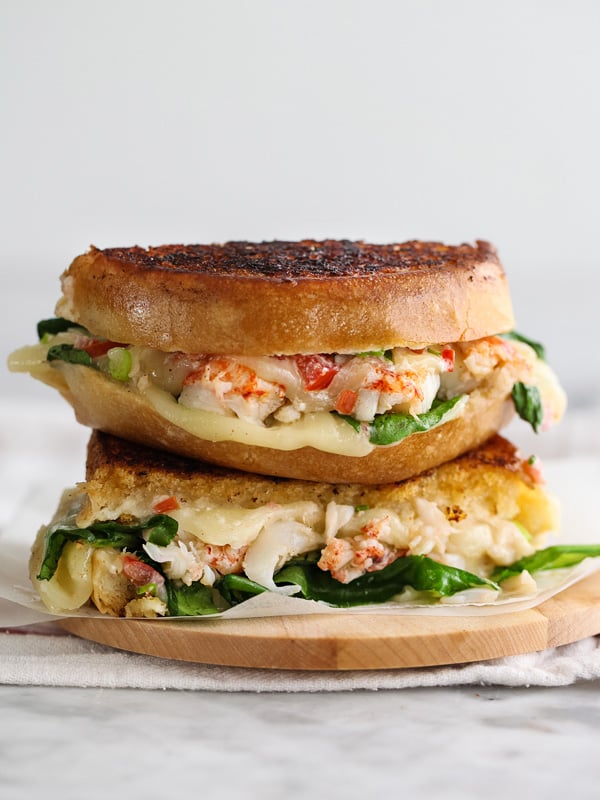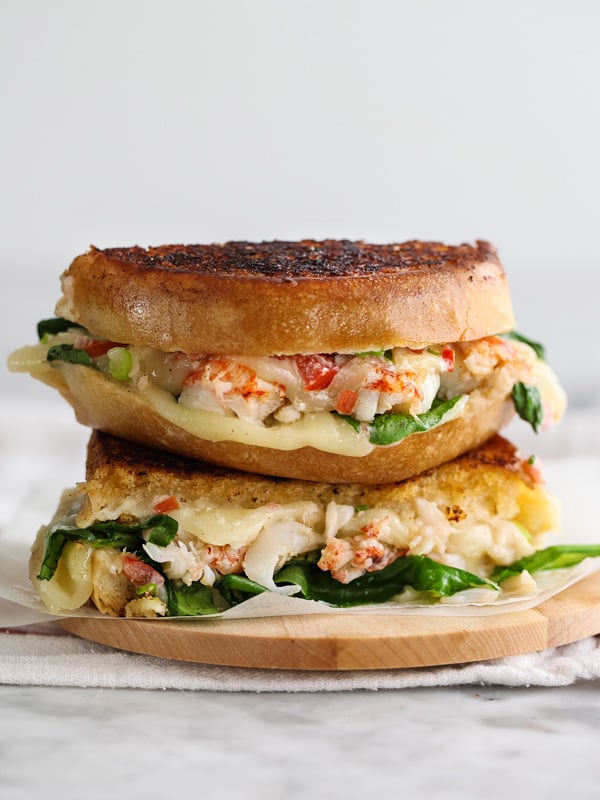 I love cheese.
And thus, my lust of cheese makes it even more exciting that once again this year I'll be a judge for the 2014 Wisconsin Cheese Grilled Cheese Academy's Grilled Cheese Recipe Showdown.
Last year I traveled to Madison, WI where I judged the Grilled Cheese Recipe Showdown and ate an amazing assortment of cheese in between buttered bread.
Eating 15 grilled cheese sandwiches in one sitting? Sure, sign me up.
Last year's grand prize winner was this Kennebunkport Lobster Grilled Cheese sandwich. That's a pic of it above. I knew it was going to be a winner as soon as I tasted it. And Instagrammed it. And ate the whole dang thing.
You know how on Top Chef or those other recipe judging shows how the judges daintily eat just a bite or two of each recipe? Well, not me. I mean, I'm not going to be wasteful for goodness sake especially when there are plates of melted cheese at hand.
This year I'm hoping you'll be one of the chosen to wow me with your entry. Because I'm ready for some lovely new tastes to devour.
To enter is easy, and there's a $10,000 prize package at stake. I mean, that could make a whole lot of cheese sandwiches.
Head over to the Grilled Cheese Academy site here for more info. The contest officially begins on April 1. How appropriate for Grilled Cheese month.
And if you're in need of some serious GC inspiration, THIS is the place to go. Wow. And my Grilled Cheese Pinterest board ain't too shabby either.
And now for this grilled cheese.
This Kennebunkport Lobster Grilled Cheese was the grand prize winner of last year's recipe showdown. With a mix of creamy sweetened Mascarpone cheese and super meltable provolone that drape big chunks of freshly cooked lobster. And all sandwiched between two pieces of buttery sourdough bread.
But what really gives this recipe a kick is the chili paste that's mixed into the butter that's spread on the toasted top and bottom of the sandwich.
I'll vote for that.
Print
Kennebunkport Lobster Grilled Cheese Sandwich
Ingredients
4-6

tablespoons

½ to ¾ stick butter, room temperature

1

teaspoon

chili paste

½

cup

4 ounces Wisconsin Mascarpone Cheese, softened

2

scallions

thinly sliced (white and green parts)

¼

cup

tomatoes

small dice

4

slices

country-style white bread

4

thin slices Wisconsin Provolone Cheese

½

cup

arugula

1

cup

cooked Maine lobster

coarsely copped
Instructions
In small bowl stir together butter and chili paste. Set aside. In medium bowl stir together Wisconsin Mascarpone Cheese, scallions and tomatoes. Spread Mascarpone mixture over each bread slice, evenly dividing.

Top Mascarpone on 2 slices with 2 Provolone slices followed by arugula, evenly dividing. Arrange lobster in even layer over arugula, then top with remaining Provolone slices followed by remaining bread slices, Mascarpone-side-down.

In large nonstick skillet, melt 2-3 tablespoons butter over medium heat. Place sandwiches in skillet and spread remaining butter over sandwich tops. Cook sandwiches until bottom bread is golden brown, about 3 minutes. Using a spatula, carefully flip sandwiches, pressing down gently. Continue cooking additional 3 minutes, or until both sides are golden brown and filling is warm and melted.
Notes
recipe by Veronica Callaghan, Grilled Cheese Academy Recipe Showdown winner, 2013
Thank you for reading and supporting companies I partner with, which allows me to create more unique content and recipes for you. As always, all opinions are my own. 
Are you following me on Instagram, Twitter, Facebook and Pinterest? Thanks for reading and  subscribe to FoodieCrush to have each post delivered straight to your e-mail box.