Happy Friday and it's finally, officially, one-day-after-the-calendar-declaration-there's-stuff-a-blooming, SPRING has SPRUNG!
On a pogo stick, no less.
Thanks to all of you who commented last week about what you want to see in these here listy-listos of favoritos ala Friday-a-ohs. I put some of your comments to task and will be implementing them as the sands of the hourglass keeps sifting by.
Sob.
Last weekend we took a big jet air liner to Seattle (am I the only one who remembers this song?) for a quick trip to tour of the city.
We ate, and ate, and ate, we watched fish fly though the air, felt all springy thanks to barely budding buds at Pikes Place Market, contributed to a wall of gum (ew) and just like the locals we put our umbrellas to use. Get a snapshot of our weekend here and I'll be sharing more soon.
Besides bringing home precious memories of family time (ahh, cute) from Seattle, I'm so happy this guy decided to come home with us. We had to have him because he looks so much like our poochers Chewy.
It's good to be the king.
We can't stop adopting little critters. Unlike our other creatures at home, our new Lion King will have his snout filled with cookies, so technically he'll be feeding us instead of us feeding him.
Now I just need to get to baking some cookies. Sounds like a great weekend plan! Check out some I need to try at the end of the post below.
Until then, onto my Friday Faves.
You have to see these 13 famous quotes modernized for the internet. Seriously funny and scarily on point. What has happened to sociiiiiieeeety?
This house in La Jolla makes me green with envy. I'm packing my boxes and moving right in. I love, love, love indoor outdoor living.
This food blog is giving me a serious case of spring fever. I love the combination of gardening and fresh and healthy recipes. I may have to give this recipe a go.
I discovered this cookbook at the library a while ago and it's been haunting me ever since so this week I finally ordered it and can't wait for it to arrive.
While I was at it, I ordered more sea salt flakes. These are my absolute favorite. And I then I had to try the lemon flavor, it sounds like it would be so good on salads or grilled veggies.
Lifesaver! Did you know you can print directly from your phone to your home or office printer? Yep, there's an app for that. Brilliant for when you're playing hooky from work and shopping for shoes instead of rotting away at your computer. Not that I'd know anything about that…
By this report, classic mid-heel pumps paired with short pants are the IT look for spring for a comfy, simple look. Well, I have the comfy part down.
so…
I think I may have to add this pair of black pumps to my otherwise dull  aka comfy, simple wardrobe. Kitten pumps. Rrrrreeer!
Dream come true. 5 ways to do nothing and become more productive.
I have a bit of a gold obsession, and lately I've been craving some gold flatware. I have a few random pieces but think a bigger set would look stellar in photos.
I am coveting this set of gold utensils because they are simply STUNNING!
but…
I don't want to break the bank so this gold set will more likely be the right fit.
What do you listen to while you work? Spotify? MP3s? Your co-workers who talk way too loud on the phone? I finally found my favorite Pandora station! Rock on crouton.
The houseplant returns! I've even given in and gotten myself a fiddle leaf fig. He hasn't found a pot yet, but my, isn't he handsome?
This post should give you an idea or two of how plants add to your home-ie-ness. I'm especially partial to those shelves of succulents.
and…
If you have no idea what in the heck a fiddle leaf fig is, here's a plant guide to the hippest green things you need in your house now.
And now after visiting my friend who is a store designer for Nordstrom and so he gets all of the greatest stuff in Seattle, I'm on the hunt for a terrarium. This one is pretty cute, but I think I want bigger. Anyone have any good suggestions on where to find a super fun large one?
Have you heard about the Little Free Libraries? What a cool idea, right?!! This is the one I pass in my neighborhood while I'm on my walking route. Smudge was so confused when I said we were going to the library.  I'd love to put one in my front yard, it'd be fun to make (here's how) and teach Smudge a little about community. My Little Library would be filled with cookbooks and books about dog training. Come by!
Two totally different reasons to take selfies on Instagram, both with unique purposes:
1. To boldly prove it to the IRS,
and…
2. To adorably prove your love for your dying grandmother.
Since I take 99% of my family pictures and stuff other than for the blog on my iPhone, I'm digging this comparison of iPhone lenses. This would be a fun way to experiment.
You take a bunch of pictures too, right? And then they sit on your computer or in your phone. I'm trying to get better but so far…not much luck.
That's why this is a cool DIY idea, above, of how to display one of your favorite photos. On your own bench. Now where's my bus?
Get these 10 tips and tricks for quick and easy spring cleaning,
and…
Save at the store with these DIY cleaning products. Now if I can just enlist my husband and his wicked mopping way.
I may be a day late for the start of the game, but this downloadable printable March Madness basketball bracket is too cute to not share. I love calligraphy. Type geek. That's me.
Let's bake!
In between spring cleaning, clearing up my winter-trashed-up yard, hitting Smudge's first spring basketball game and doing some spring skiing I need to fill our new Lion King cookie jar with some goods.
I have a penchant for Chocolate Chip Cookies. And Reese's peanut butter cups. And for some reason I saw a bevy of CCC—some with PBCs!—recipes on the web this week. Here are a few that are going on my to-make list.
Chocolate Chip Cookies and Milk Shot Glasses
I think this week's chocolate chip obsession started here and just snowballed into full blow cravings that won't stop. You're going to wish you'd thought of this one. Recipe here.
Stuffed Peanut Butter Chocolate Chip Cookies
I'm not really one to stuff my cookies, unless it's with more chocolate chips, but my weakness for peanut butter cups has stifled my restraint. Recipe here. 
Favorite Chocolate Chip Cookies
He says they're the best, I'll be happy to put them to the test. Maybe they're the best thanks to 14 tablespoons of brown butter. Flutter and faint. Yes. Recipe here. 
Deep Dish Chocolate Chip Cookie with Caramel and Sea Salt
Okay, there's no way these are going to fit into my new Lion King cookie jar. But. I have a strange feeling they wouldn't stick around long enough to find out. Finger lickin' love.  Recipe here.
Chocolate Chip Cookie Dough Pie
Who needs pie crust when you can make cookie crust instead? Hello internet, did you hear that? Recipe here. 
The One. The Only. Chocolate Peanut Butter Cheesecake
Pure decadence. There are no words. Only bites. With lots of milk. Not a cookie. Who cares? Recipe here. 
Peanut Butter Chocolate Granola Cookies
Only 5 ingredients and bam! Protein-packed with granola to boot. You could make mini ones for breakfast cereal with milk! Hey. I'm getting an idea…Recipe here.
And my family fave…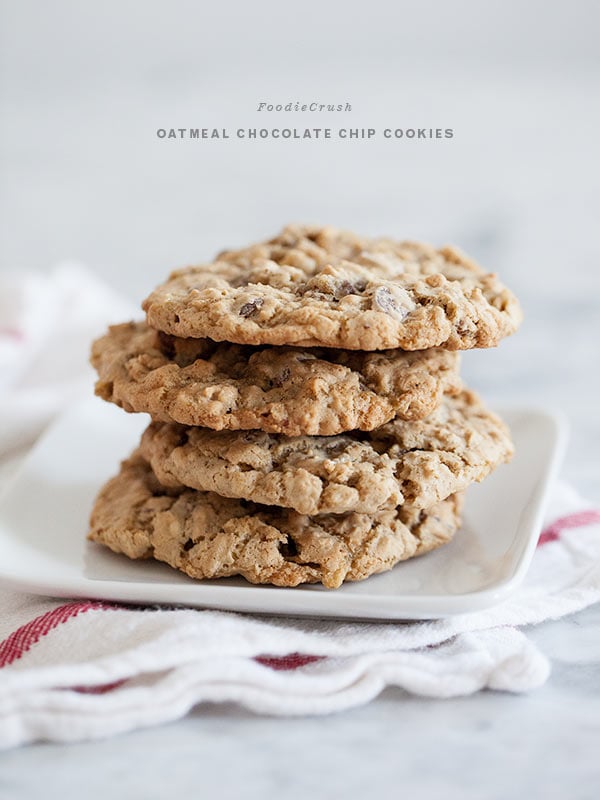 Chocolate Oatmeal Cookies
These weren't trotting around the web this week, but they're just so dang good it's hard to break out of my chocolate chip cookie rut! Recipe here.
So now it's time to preheat to 350. Get going and bake on.
Happy weekending!
Thank you for reading and supporting companies I partner with, which allows me to create more unique content and recipes for you. As always, all opinions are my own. 
Are you following me on Instagram, Twitter, Facebook and Pinterest? Thanks for reading and  subscribe to FoodieCrush to have each post delivered straight to your e-mail box.