Hey hey and happy Friday!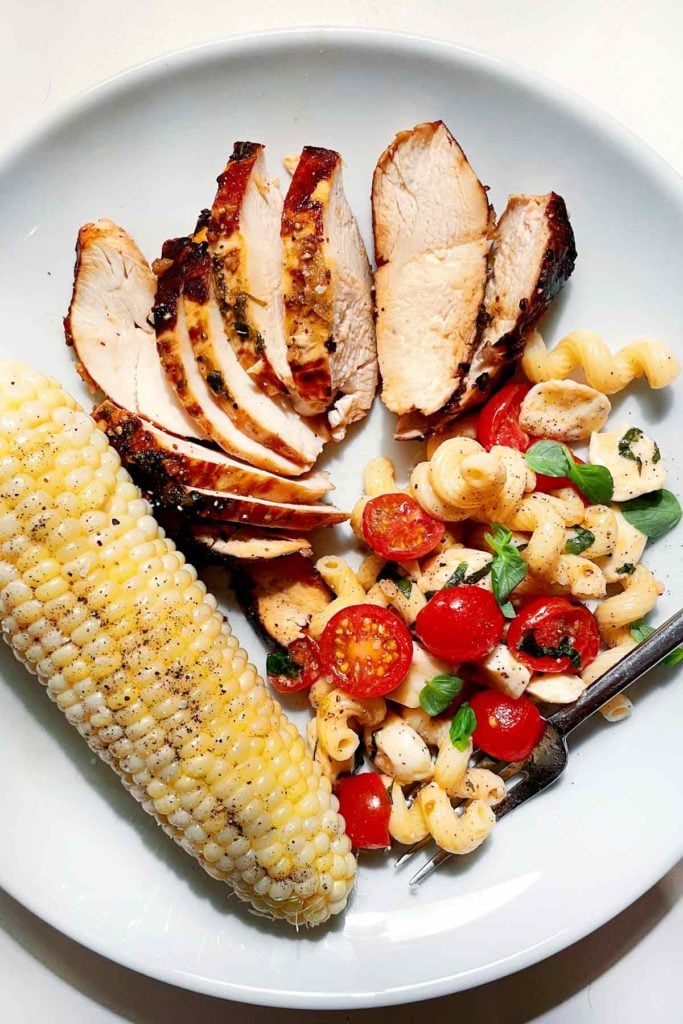 Three day weekends can go one of two ways: Relax and kick back, or kick in and get things done. My weekend will be a combo of both. Planting my herb garden will be the getting things done part and escaping to our cabin for some R&R, thinking fondly of those I've lost in my life, and doing some good cooking will count as the kick back portion. Frankly, I'm ready for both.
We'll definitely be grilling up a storm like we did a few nights ago (pic above) when we made:
This week I've run out of time to write much as an intro, and it's likely you're pretty okay with taking a break from me waxing on, so let's just get to the reason you're here and head straight to this week's list of Friday Faves.
Oh, and also, let's go Utah Jazz!
Enjoy!
Lisa Kudrow sings "Smelly Cat" with Lady Gaga? Okay, that's enough for me to sign up for an HBO Max trial.
Whoa! This 25-foot tall sculpture made from bananas is insane! And really cool.
and…
These little cracks of art would be so wonderful to step upon (or around). How happy.
Now YOU can choose whether to show or hide likes on your Instagram posts. Hide or show? Which do you prefer?
Stop feeling like you have to be everything to everyone.
Work for 52 min, break for 17 –> I need to try this productivity hack.
How to plant a salad garden. I'm on it.
30 pasta salad recipes to make all summer long.
Cheesy chicken parm on the grill!
This orzo salad looks deeee-vine.
Holiday weekends call for fun in the sun and these fruity Jell-o shots.
Ice, ice, baby. Er, make that an iced vanilla matcha.
Cooking 101 Q&A:
This sauce looks just right atop grilled pork chops.
These skewers are the right kind of jerk to have in your life.
or…
Give jerk salmon bowls a try.
My fave –> If you haven't tried Korean sushi rolls yet, this recipe is why you should.
Stacked and pretty as a picture, get ready for cornbread salad.
Where's my fork??!! All that's missing from this lovely poundcake is a mess of sliced strawberries and some whip cream.
Air fryer recipe alert: Falling for falafel.
Instead of a whole cheesecake, try these more manageable lemon cheesecake bars instead.
These coconut shrimp just got a Southern classic upgrade. YUM.
and…
This oatmeal is like eating a candy bar for breakfast.
5 Google calendar tricks that will help you save money.
11 of the most popular houseplants for your indoor jungle.
This famous home's virtual tour is a mid-century dreamers dream.
The Nordstrom half yearly sale is happening NOW, and it's only online. Here's a few goodies:
This ice shaver would make some pretty killer snow cones.
or…
Try this small batch iice cream maker for when the cravings strike.
7 trainers share the workouts that got them in the best shape of their lives.
I've been vindicated! Why a long bath is almost as good as a long run. 
Scientists have figured out how we can live 'til 120 years old. Imagine that!
That's it! Have a safe and memorable Memorial Day! XOXO
We send good emails. Subscribe to FoodieCrush and have each post plus exclusive content only for our subscribers delivered straight to your e-mail box.
Follow me on Instagram, Facebook, Pinterest and Twitter for more FoodieCrush inspiration.
As always, thank you for reading and supporting companies I partner with, which allows me to create more unique content and recipes for you. There may be affiliate links in this post of which I receive a small commission. All opinions are always my own.