Hello friends of the FoodieCrush and Happpppy Friday!
It's felt so good to be back in work mode this week. Er, I should say, back in office mode.
As a solopreneur/food blogger/business owner there are a lot of hats to wear. Taking photos for the blog. Taking photos for clients (like the salmon dish above that I shot for Deer Valley Resort this past Monday.) Researching. Recipe developing. Writing. Social media-ing. E-mailing. Scheduling. Travel coordinating. Nourished Planner-ing. Accounting (officially the worst part of my job ever!)
Plus there's that little wife/mom/daughter/friend thing that should NEVER, EVER be thought of as second place, since it should always come first.
I'm guessing I'm a lot like the rest of you, always juggling, always jiggering, and always trying to loop what's happening today and what could be tomorrow because my mind is overflowing with it's never-ending list of to-dos that put me smack dab at the front and the tail and in so many different directions.
But only when I let it.
So when I finally give myself permission to just CHILL THE FREAK OUT, and focus on doing one thing at a time so I can do it well, instead of trying doing 18 different things and do them just okay, I'm finding myself so much calmer and a whole hell of a lot more clear headed, with an actual focus to get.things.done.
This week I forced myself to stay away from the kitchen (because cooking is such a gooooood distraction) and sit at my computer for several days in a row. I answered all the emails, caught up on most of the billing, edited photos, made schedules, updated my calendar and even wrote some stuff…it felt SO GOOD to go back to being an office girl again.
Because while I LOVE the recipe creation and the photo taking part of this job, there's so much else to stay up on that when I don't, my creativity is like a NASCAR driver coming into pit road for a tire change: totally rushed, not paying attention to what's on the fringes around me, and all the sudden it all comes to a screeching halt in a plume of smoke. And I totally stall.
So that was my week…but I want to know, how was yours? Seriously, I want to know!
So here's the deal. Simply reply back with an email to [email protected] and say, "hey! my week was awesome because I xxx-ed" or "my week sucked because I xxx-ed," and for the first 100 e-mail replies I get back along with your mailing address—through midnight Sunday, Sept. 18, 2018—I will send the first 100 replies one of my Nourished Planners, FOR FREE, so you can get inspired to get your life back in order too. Because I want you to be well-nourished too.
Oh, and btw, almost Happy St. Patrick's Day to you all! We'll be celebrating in the green back up at Deer Valley Resort and The Montage Deer Valley this weekend where spring skiing is at its prime and where a new snow storm is in the forecast! I'll be sharing over on the Instas so if you want to follow along, that's where I'll be.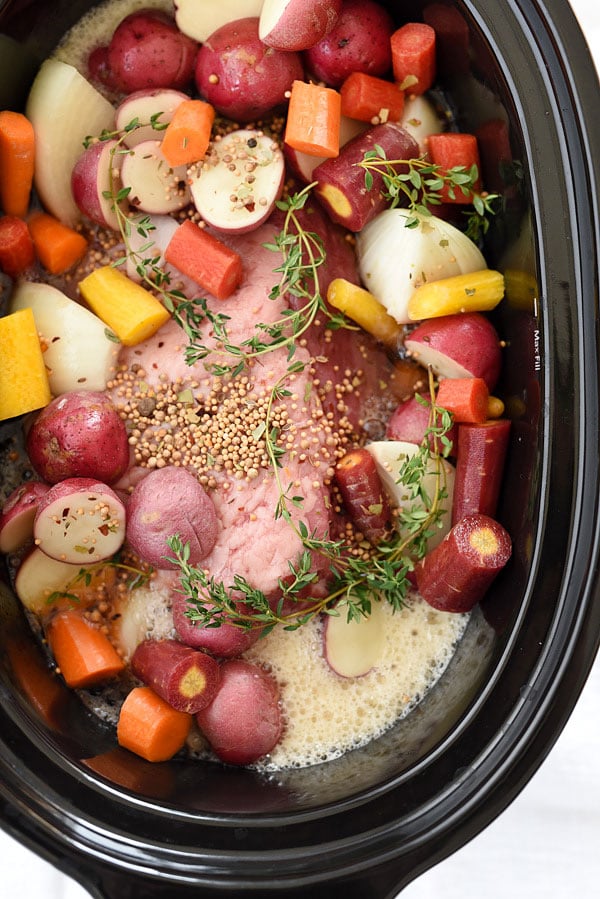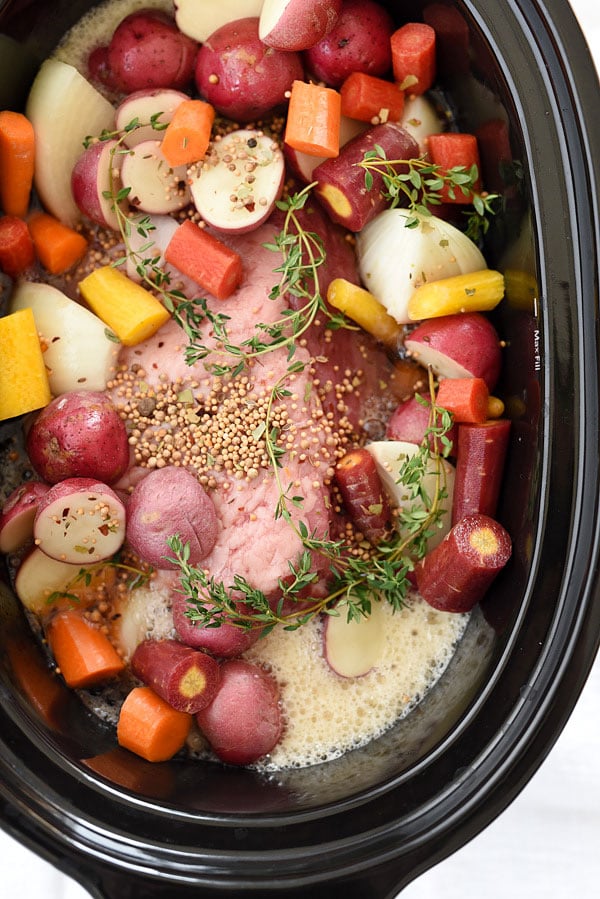 But on the corned beef front…Pinterest is going NUTS for my slow cooker corned beef and cabbage recipe, but maybe it's just due to all of my own clicks because we've  made the recipe three times this week. THREE TIMES! Why? Because I wanted to perfect it for the Instant Pot so we've already made it twice to be sure it was right and the third time I'm sharing making it will be sharing it on Instagram stories today! So head over there at some point, where I'll be either going LIVE or doing it in Stories for ya'll to see.
Seriously, it's kind of the best corned beef EVER! And now I pretty much have enough for the whole neighborhood to enjoy my favorite Reubens til' the corned beef cows come home.
Okay, enough about me. Let's dig into this week's list of Friday Faves…
What Went Up This Week…
Once I got back into the kitchen, I shared these delicious bites:
Crunchy Green Salad with Dilly Chickpeas and Avocado because salads that make a meal are the best kind of salad, and let me tell you, this one hits the spot, so much so that I've got it on lunchtime repeat.
ps. what day is best for me to post recipe round-ups for your meal planning?
So you gotta tell me. What are you craving? What do you want to see? Email me at [email protected] and let me know. Because seriously, I'm here to deliver what you want to see and if I don't hear from you, I'll never know! So tell me, friends o' the Friday. What sort of recipes do YOU want to see?
RIP, Stephen Hawking. This is really fascinating. Coincidence?
Still working my way through the Oscar-nominated movies and just stumbled upon the coolest IG. Movie lovers, you're gonna LOVE it.
Also, these adorable sisters reenacting Oscar-nominated movie scenes are so good. So dang cute.
Watching stars getting starstruck is awesome. Like US mag says, "Stars! They're just like us!" and it's frigging true!
People are freaking out over this dog with the human-like face and now I am too. #nightmarez
This matchmaking attempt is the cutest. Really though, I hope they get together. #momknowsbest
and…
NBD. Sat next to this Olympic gold medalist yesterday while getting my nails done. Who needs Hollywood when you have the Olympics training ground in your backyard?
This married couple later discovered they were in a picture together 11 years before they even met! You guys, I think about stuff like this ALL the time. So crazy.
How to break up with your phone. Done.
I love that Monique is keeping it real because I totally get how she feels when it looks shiny on the outside, it's sometimes a big tub of tar on the inside.
An important message about equal pay in the workforce. So powerful.
Gah, this ad gave me all the feels. She's so awesome.
I LOVE THIS POST because I am ridiculously bad at not backing up our family photos and also NEVER printing them out. What good do they do on my phone or hard drive?? These tips are such an easy solution!
It's official: Hip hip hooray for rosé (season)!
Design ideas to steal from celeb kitchens. I'll take Chrissy Teigen's kitchen with Khloe Kardashian's pantry and Gwyneth's abs. Thank you very much.
This mom just might have the right idea for feeding dinner to hangry kids! Because it really is all about THEIR timeline, not ours.
Congratulations, Jess, the new book is PERFECT, and I'm so excited to start cooking from it!
and…
Guinness short ribs? In the slow cooker???!!! FORGET ABOUT IT!
I'm a sucker for a no-bake pie.
Making this cauliflower curry for #meatlessmonday
If you're thinking about Easter eats,.you need to think about THESE!
Pretty sure this ice cream is my spirit animal.
Seriously craving this Spanish twist on carbonara like whoa.
Has the avocado toast trend gone too far? Um. Yes. But I'll still eat it nearly every day.
Lenny Kravitz's $38 MILLION DOLLAR SPEC HOUSE!!?? Who builds a million dollar spec house?? Rock stars. That's who. Forget the adoring fans or creative outlet, THIS is why my husband should be a bone fide rock star! (even though he is to me always and forever.) THAT BATHROOM!
soooo, more likely in my budget…but still…
This Cali home tour is a little closer to reality. Plus, that light! Those beams!
I've heard thought the grape vine that this 3-minute mask is amazing. Has anyone tried it?
This robe looks like the perfect way to treat yoself for self-care Sunday. And super affordable.
Totally feeling the jungle vibe of this PJ set. Go bold or GO HOME!
Love the scallop detail on these workout leggings.
Such a pretty rug (and it's on sale too). I LOVE the ikat!
One last thing…
I'm thinking about doing a couple of themed Friday Faves, like:
beauty fave themed
travel themed
organization themed
summer fave themed
fashion themed
kitchen fave themed
etc etc etc…
Would you like a few themed Friday Faves thrown into the Friday Faves mix? Email me back or comment below and let me know!
Okay friends, that's all for now. I hope you have a fabulously lucky weekend!
As always, thank you for reading and supporting companies I partner with, which allows me to create more unique content and recipes for you. All opinions are always my own.  
Thanks for reading and subscribe to FoodieCrush to have each post delivered straight to your e-mail box.
Craving more life balance, less stress, and better health? Check out my Nourished Planner, the daily planner to help create simplicity and under-schedule your life.
Follow me on Instagram, Facebook, Pinterest and Twitter for more FoodieCrush inspiration.
SaveSave
SaveSaveSaveSave
SaveSave
SaveSave
SaveSave
SaveSave