And a happy ho-ho to you too!
Here it 'tis, the holiday ala winter issue of FoodieCrush magazine, complete with mouth-watering images, the stories behind some of your favorite food bloggers and favorite recipes, recipes, recipes.
Thank you so much to Denise of TLT-The Little Things for creating the cover image of her lush Mini Pavlovas with Pomegranates, a recipe that will add a delectable taste to any wintery féte.
And to celebrate the issue's launch I'm doing a Food Blogger Gift Guide giveaway.
Last week I posted some great food blogger gifts that go well beyond the kitchen, creators of products other than delicious delicacies. And now it's one reader's chance to win all 5 of these fun products.
But more about that at the end of the post. First, let's take a look at the new issue.
[issuu width=600 height=500 embedBackground=%23000000 showHtmlLink=false backgroundColor=%23222222 documentId=121212060039-f758c557d7254dafa4a35196f0a233ba name=foodiecrush-winter-2012-13 username=foodiecrush tag=christmas unit=px v=2]
Download the iPad version to iBooks here.
Thank you to the contributors below who made this issue a visual treat to see and a tasty addition to your kitchen.
A festive holiday brunch is the perfect way to celebrate health and happiness with friends that are family thanks to the recipes and stylings of Jillian and Robert of A Better Happier St. Sebastian.
Food blogger Tori Avey of The Shiksa In the Kitchen mixes the history of food with easy entertaining tips for the ultimate Hanukkah feast.
The holidays wouldn't be the same without handing down family favorite stories and recipes to those we love. Featuring  Vanilla Bean, Local Milk, London Bakes, TLT-The Little Things, Apt. 2B Baking Co., Naturally Ella and The First Mess.
These are the stories behind three sets of friendships that have blossomed beyond the blog to become BBFs/Blogging Buddies Forever, featuring Add a Pinch, She Wears Many Hats, Cookies and Cups, Confessions of a Cookbook Queen, How Sweet It Is and Eat Live Run.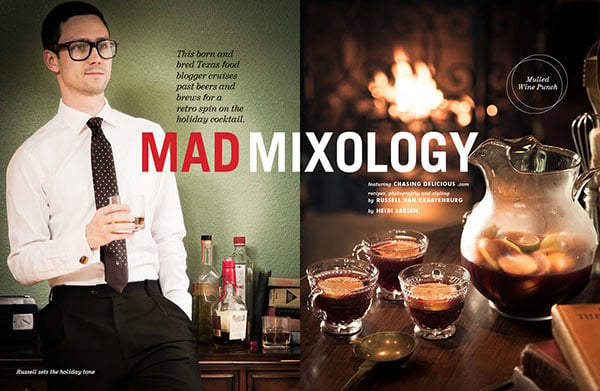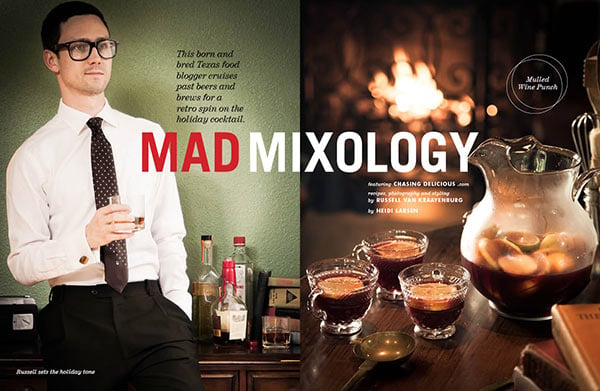 Russell of Chasing Delicious takes us on a retro tour of one of the most important ingredients for a festive holiday: Custom  blended cocktails. Also, get a free download of Chasing Delicious's Complete Holiday Cocktail Encyclopedia.
Behind the scenes with food bloggers turned podcasters Shutterbean and Joy the Baker share their holiday Do's and Don'ts in an exclusive Homefries podcast for FoodieCrush listeners only.
And there's nothing like cookies to put the final touch on the holidays. Marian of Sweetopia shares her decorating step-by-step instructions to create elegant, marble swirled sweets. What's her secret? Dig in and find out!
Plus, more food bloggers' holiday tips and favorite products.
And now in the spirit of celebrating food bloggers and their talents, here's your opportunity to enter the FoodieCrush Holiday Gift Guide Giveaway.
One lucky reader will win all five of the products I mentioned in the FoodieCrush Food Blogger Holiday Gift Guide. These products are provided by the bloggers below, please visit their sites and do some holiday shopping.
One lucky winner will receive: 
One pair of Hand Crocheted Earrings of your choice from Garlic Girl
Letterpress Recipe Cards from Love and Lemons
Chunky Knit Cowl from The Faux Martha
Photo Cards from White on Rice Couple
Plush Friends Doll from Vanilla Bean
PLUS a full digital package of Cookie Cravings and Holiday Cookie Cravings ecookbooks
To enter to win the Food Blogger Holiday Gift Guide, leave a comment below telling us, "What is your favorite article or recipe in the new FoodieCrush Winter Issue?"
For bonus entries:
1. Join FoodieCrush on Facebook and leave a separate comment letting me know you did so.
2. Follow @FoodieCrush on Twitter and leave a separate comment letting me know you are a follower.
3. Subscribe to FoodieCrush newsletter and leave a separate comment letting me know you subscribed.
4. Follow FoodieCrush on Pinterest and leave a separate comment letting me know you follow.
5. Tweet the following about the launch of the Winter Issue of FoodieCrush magazine: "I read the Holiday Issue of @FoodieCrush mag and you can too, plus a gift guide #giveaway" and let me know in the comments.
***Congratulations to Alice who wants the cowl and cards and won the prize package. Enjoy!***
The giveaway is now closed. The giveaway is only open to U.S. residents. Be sure a valid email address is included with your comment(s). Winner will be chosen randomly and announced on this post. We will email the winner and if the winner doesn't respond in 48 hours, a new winner will be chosen. Products will be shipped by product donors mentioned above.
Disclosure: The product in this giveaway is provided by the participating bloggers noted above and I did not receive compensation for my opinions or referrals to other food bloggers' sites.   
Thanks for reading and please keep in touch. Subscribe to Foodie Crush and follow me on  Twitter, Facebook and Pinterest and check out  Foodie Crush magazine and  Cookie Cravings Holiday Cookie Cookbook.