Thanks for checking out the Holiday/Winter 2012-13 issue of FoodieCrush magazine. If you like what you see, please share this page with your foodie friends and start cooking.
[issuu width=600 height=500 embedBackground=%23000000 showHtmlLink=false backgroundColor=%23222222 documentId=121212060039-f758c557d7254dafa4a35196f0a233ba name=foodiecrush-winter-2012-13 username=foodiecrush tag=christmas unit=px v=2]
We're sad to say that at this time technology has not yet caught up with our wish to visit the linked food blogs when viewing via the Issuu platform on the iPad. If you'd like to visit these sites mentioned in the articles, please check out the Holiday/Winter Issue on your desktop or laptop computers or download the PDF link below.
If you'd like to download this issue to your iPad to view offline in iBooks, or to download to your desktop, please click here
.
To view in iBooks on your iPad:
Click link above
Select "Download"
Once Download has completed, tap cover. In upper right hand of screen select "Save in iBooks"
Sit back, relax and enjoy.
Thank you to the contributors below who made this issue a visual treat to see and a tasty addition to your kitchen.
A festive holiday brunch is the perfect way to celebrate health and happiness with friends that are family thanks to the recipes and stylings of Jillian and Robert of A Better Happier St. Sebastian.
Food blogger Tori Avey of The Shiksa In the Kitchen mixes the history of food with easy entertaining tips for the ultimate Hanukkah feast.
The holidays wouldn't be the same without handing down family favorite stories and recipes to those we love. Featuring  Vanilla Bean, Local Milk, London Bakes, TLT-The Little Things, Apt. 2B Baking Co., Naturally Ella and The First Mess.
These are the stories behind three sets of friendships that have blossomed beyond the blog to become BBFs/Blogging Buddies Forever, featuring Add a Pinch, She Wears Many Hats, Cookies and Cups, Confessions of a Cookbook Queen, How Sweet It Is and Eat Live Run.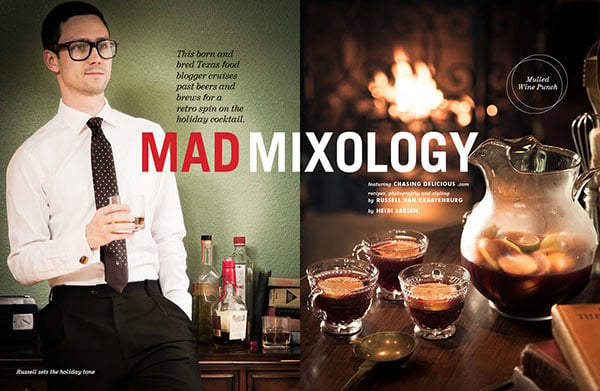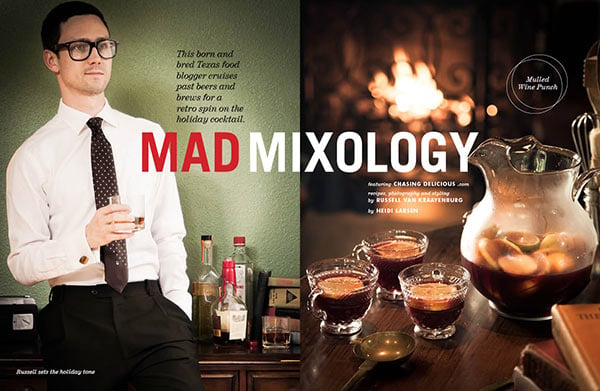 Russell of Chasing Delicious takes us on a retro tour of one of the most important ingredients for a festive holiday: Custom  blended cocktails. Also, get a free download of Chasing Delicious's Complete Holiday Cocktail Encyclopedia.
Behind the scenes with food bloggers turned podcasters Shutterbean and Joy the Baker share their holiday Do's and Don'ts in an exclusive Homefries podcast for FoodieCrush listeners only.
And there's nothing like cookies to put the final touch on the holidays. Marian of Sweetopia shares her decorating step-by-step instructions to create elegant, marble swirled sweets. What's her secret? Dig in and find out!
Plus, more food bloggers' holiday tips and favorite products.