These simple and decadent almond cookies are sandwiched between a layer of rich dark or milk chocolate filling and are then dipped in dark or white chocolate and sprinkled with chopped nuts or crushed peppermint candy for a delicious crunch.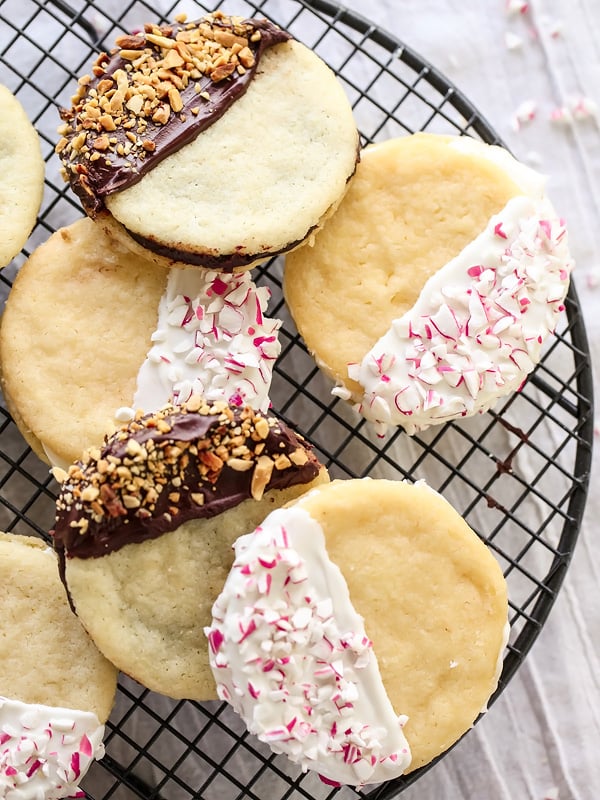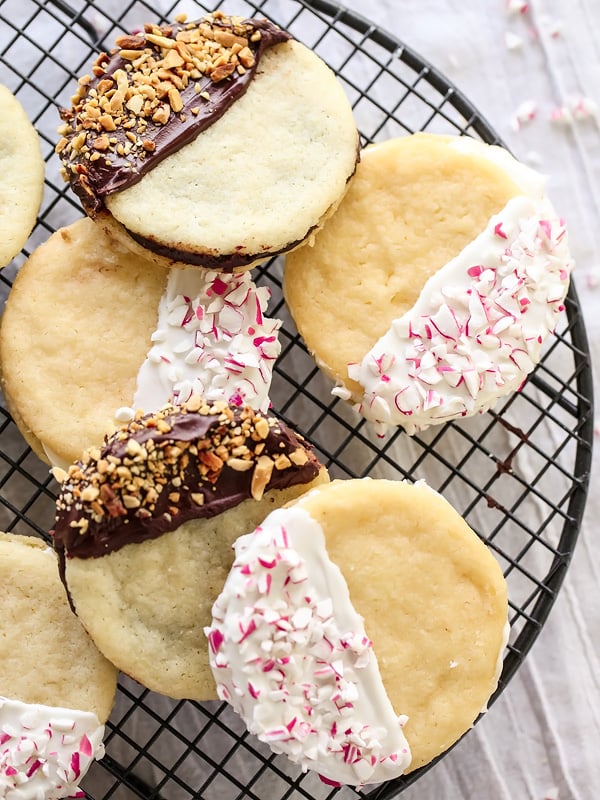 This whole thing started with my wish to teach my 10 year old daughter a little bit about the true spirit of Christmas. To reinforce to her and her friends that it's better to give than to receive. And I have to say, my wish was granted in spades.
My daughter is an only child. And let's face it, she is totally and utterly spoiled. And I am 100% okay with that.
We're, ahem, "more mature" parents who've lived a lifetime of pre-kid fun, travel and experiences. So when she surprised us and showed up in utero with an unanticipated pee test (which is a whole 'nother story for another day,) it was no surprise to us or those around us that she'd have 100% of our attention, our love, and the keys to our wallet.
But in turn, my husband and I agreed that this girl was in no way going to grow up a prima donna. A spoiled brat. A young adult who doesn't appreciate the love and luxuries she's been lucky enough to receive. And in my opinion, that's our job as parents. To be sure to instill the work ethic and gratitude that damn well better be drilled into our children's core.
And because of that, the idea of Santa's Milk Drive was born.
This past fall I received an e-mail from the blogger network Mom It Forward to participate in a charity event with the Utah Food Bank to pack kid's back-to-school backpacks with food for themselves and their families. For kids who unlike my daughter, don't have a lunch to eat. For kids who don't have food at home to pick and choose from and ponder over as they look at it with an empty stare trying to decide which yogurt or cheese or leftover to simply pluck from the fridge to have as an after school snack. Just for a snack. Not even for dinner. Just pretty much a whole meal for a snack if they like. I want her to know how lucky she is, just like I was.
I was so excited to join in this philanthropy (hello Chi Omega sisters!) and bring Smudge along with me so she could see what it's like for those less fortunate than she is. And she was excited too. Until we found out that you have to be 12 years old to volunteer. We were bummed, but we weren't to be deterred.
After I mentioned that we couldn't participate in the event to Kristi of the Utah Dairy Council (a co-sponsor) I said I'd love to be involved in something similar and get my daughter and her friends involved. Long story short, the two of us brainstormed and came up with the idea of Santa's Milk Drive.
 An homage to Charlie's Angels. But who gets to be Jill?
 "Oh my gosh Katie! You're right! It worked! They're doing all the work and we get the cookies!"
 "Sure, why not? What's one more gallon of milk?" That's a good man you got there mama of binki boy…
What Is Santa's Milk Drive?
The Great American Milk Drive is the first-ever national program to help deliver milk to hungry families who need it most. Made possible by the nation's dairy farmers and milk companies, the goal of the campaign is to deliver two million gallons of milk to food banks across the country.
Santa's Milk Drive is a grass roots, aka grass-food-blogger-effort, to raise awareness of the demand for milk at food banks across the nation.
A few milk facts:
Milk is one of the most requested items at food banks, yet it is rarely donated.
Of the 46 million Americans food banks serve, the average person gets less than 1 gallon of milk per year.
The entire dairy industry from dairy farmers to dairy processors has come together and joined with Feeding America food banks to help get milk to those who need it most.
And now, so have a bunch of 10 year olds!
"Hey mom! We're on T.V.! Fans: Line up for autographs on the left and don't bother the patrons."
BooJam: "That was so easy!" Gracer: "Easy? Seriously? Those stickers sure look heavy."
Utah food blogging milk maids Annalise of Completely Delicious , me, Barbara of Barbara Bakes and Dara of Cookin' Canuck. Why am I always the tallest?
 "Do it. Do it. Do it." Breathe. Breathe. Breathe. Hey! He did it!"
"Take THIS, lady!"
This past weekend I gathered a few of Smudge's friends, and the lot of us—along with my husband and other local food bloggers—headed to a brand spankin' new Kroger/Smith's Food and Drug for their weekend grand opening to solicit shoppers to donate to Santa's Milk Drive.
I must say, I couldn't have been more proud of these girls and the effort they put forth in approaching total strangers and asking them for donations. GASP! As if they should talk to strangers, and even worse, be seen by their friends doing it. But these gals were all in it together and kicked some serious booty.
At day's end they'd helped persuade customers to donate over 200 gallons of milk to the Utah Food Bank via Winder Farms.
And if a bunch of 10 year olds can do make a difference, so can you.
How YOU Can Help By Donating Milk
If you're anywhere in the U.S.: Help by donating a gallon of milk online here.
By simply inputting your zipcode, your gallon of milk will go directly to your own local food bank. Everyone deserves milk with their Santa Cookies, and all year long. And if 10 year olds can make it happen, so can you.
And now to the recipe…
About the Recipe
This cookie recipe is perfectly dunkalicious. It's perfect for Santa's Christmas Eve plate and…duh...Santa's milk. With a shot of homemade Bailey's in my book.
A simple almond cookie sandwiches a decadent chocolate ganche, in your preference of either white or semi milky chocolate. It's your cookie, it's your choice.
I originally found this recipe in an issue of Bon Appetit. From 2001. That I made these cookies from THE YEAR IT WAS PUBLISHED. Or the year some of my readers were born. Ugh. But it's so good it deserves a refresh.
Refresh I did by adding a white chocolate and peppermint variation. But not much more than that. Because it is perfectly good in it's original form.
I first made this recipe as a group of cookies I made for my bosses as a Christmas gift. I made like 6 cookie recipes for them as their lovely homemade gift. I doubt they even took them home. Man, what a waste on them. I wish I'd given them to my friends instead. Because these cookies are way better than those bosses were to me. And these cookies are still too good to be true.
This dough is a bit fragile and will soften very quickly the more you work it, making for a tough time to create cut out rounds as they will easily stick to the parchment paper after rolling them out. To combat this, I roll out the dough between two pieces of parchment paper then pop in the fridge for about 5-10 minutes to harden. Then, I cut the dough and then move the dough rounds with a spatula so they're spaced about 2 inches apart on the baking sheet. If the dough rounds get sticky again while you're moving them around, simply refrigerate again for a few more minutes.
This year I added the white chocolate and peppermint baking chips variation to the original almond and regular chocolate combo. If you'd like, switch up the nuts to pecans, walnuts or pistachios. But the almonds…oh, they're good. But it's your mouth. It's your choice. Go for whatever tickles your tastebuds. Or some beautiful colored sugars would be a fun addition.
If you try this recipe, please let me know! Leave a comment below, or take a photo and tag me on Instagram or Twitter with #foodiecrush!  
Print
Chocolate Dipped Almond Cookies
Ingredients
For the Cookies
¼

cup

slivered almonds

1

cup

sugar

, divided

1

cup

2 sticks unsalted butter, at room temperature

1

large egg yolk

2

teaspoons

vanilla

¼

teaspoon

salt

1 ½

cups

all purpose flour
For the White Chocolate Filling
½

cup

whipping cream

6

ounces

white chocolate

, chopped
For the Chocolate Filling
½

cup

whipping cream

6

ounces

semisweet chocolate chips
Garnish
3

ounces

semi sweet chocolate chips

½

cups

slivered almonds

, toasted and chopped

½

cup

peppermint baking chips
Instructions
For the Cookies
Place the slivered almonds in a food processor and add ¼ cup sugar. Grind almonds finely. Beat the butter and remaining ¾ cup sugar until well blended. Beat in the egg yolk, vanilla extract and salt. Add the ground nut mixture and flour and beat until moist clumps form. Mound into 2 balls and flatten each ball into a disc. Wrap in plastic and refrigerate for at least 30 minutes and up to 2 days.

Line 2 baking sheets with parchment paper. Roll out half of the dough between the two sheets of parchment paper to ¼-inch thickness, sprinkling with flour on both sides of the dough and rotating as you roll so it doesn't stick to the paper. Place the dough still in the parchment paper on a baking sheet and refrigerate for 10 minutes. Use a 2-inch round cookie cutter or biscuit cutter to to cut out cookies. Peel away the the extra dough from the cookie rounds and gently rearrange the cookies on the parchment to space them ½ inch apart. If the cookies start to stretch, refrigerate for another 5-10 minutes until they're firm enough to move.

Chill cookies for 10 minutes before baking.

Gather scraps and reroll the dough using the same technique as before, in between two pieces of parchment and refrigerate for 10 minutes and cut out more cookies.

Bake cookies for 10-11 minutes in the middle rack of the oven or until the cookies begin stop bubbling but are still light in color.

Cool for 5 minutes on the baking sheet then transfer to a rack to cool completely. Repeat with remaining dough.

For the White Chocolate and Semi Sweet fillings:

Divide the cream between two separate sauce pans. Bring to a simmer and remove from the heat. Add the white chocolate to one pan and whisk until smooth. Add the semi sweet chocolate chips to the other saucepan and whisk until smooth. Pour the mixtures into ramekins or small bowls and let cool for about two hours.

Place half of the cookies, bottom side up on a work surface. Spread the white chocolate ganache filling on half of the bottom side up cookies and the semi sweet chocolate ganache on the other half. Top each with a second, plain cookie bottom side down, pressing lightly to join the cookies.

For Garnish:

Melt the semi sweet chocolate and the white chocolate in individual ramekins at 30 second increments, stirring between each burst of microwaving. When the chocolate starts to melt, reduce the microwave bursts to 15 seconds. Don't heat for too long without stirring or the chocolate will seize and become a big clump of unusable chocolate.

Dip the end of a cookie in the semi sweet chocolate or spread evenly with a knife. Sprinkle with the toasted almond bits. Alternately, dip the cookie in the white chocolate or spread evenly with a knife and sprinkle with the peppermint baking chips.

Transfer to a cooling rack and allow the chocolate until set and repeat with remaining cookies.
Notes
Very slightly adapted from Bon Appetit
Remember to join these cookie loving gals and give some milk to those in need for extra dunking of Santas' milk for #SantasMilkDrive for the Great American Milk Drive and Feeding America. Or, follow along and contribute to the cause on Instagram and Twitter with the hashtag #santasmilkdrive.
Make it a great day friends, and cook something good.
XO, Heidi
As always, thank you for reading and for supporting companies I partner with, which allows me to create more unique content and recipes for you. All opinions are always my own.  
Are you following me on Instagram, Twitter, Facebook and Pinterest? Thanks for reading and  subscribe to FoodieCrush to have each post delivered straight to your e-mail box.  
SaveSave