Baby it's hot outside. Dog days of summer. And just another excuse to fire up the grill.
And a little rescuing was what I was in need of, rescue from the same old grill recipes. Luckily my friend Angie (doesn't hurt to have friends that are personal chefs if you know what I mean) invited us over for a little grilling. But not the average chicken or burgers tonight. No, pizza was on the menu and it was happening over the coals.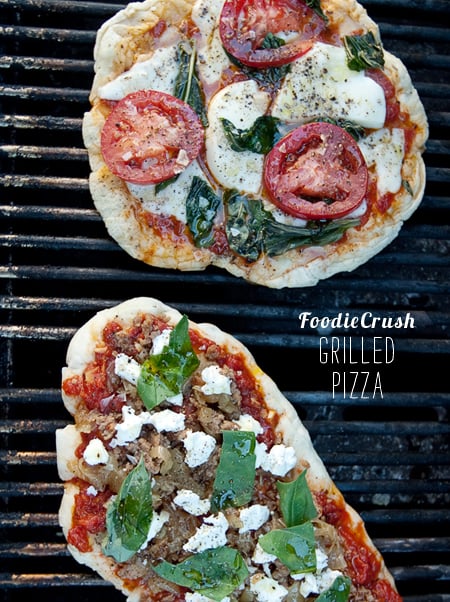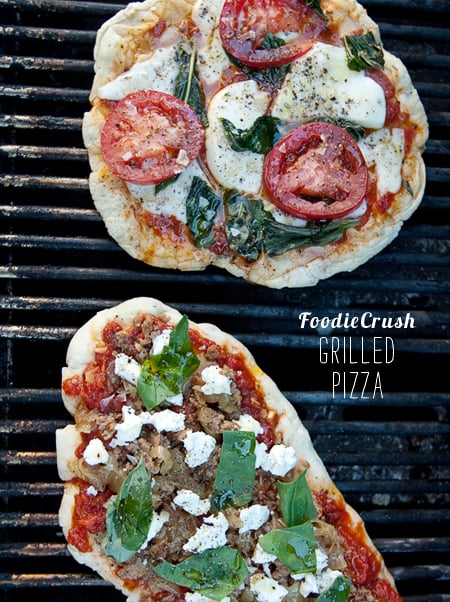 photo > foodiecrush
Angie knows how to do it up right and whether its an impromptu weeknight dinner or a catered affair for 30, there's always an enviable and savory spread at her table.
photo > foodiecrush
For dough we both love Ina Garten's pizza dough recipe, (check out the recipe and step-by-step instructions thanks to Flavia from Flavia's Flavors) complete with a touch of honey to sweeten it just right. (Is it me or is it science that says honey helps activate the yeast resulting in a super pliable and soft crust? Especially when rolled out thin. Yum.)
photo > foodiecrush
Make your pizza in whatever shape you please, rustic to rounds. Just make it a size for easy transfer onto the grill, i.e., this is not meant to be a 18″ NY-style pie. **One of Angie's secrets is optional but turns out a great grilled pizza: Grill the crusts half way before you dress them, and for back-ups, have a little store-bought naan on hand for those emergency grill flare ups (read: burned crust because you're chatting too much.)
Then, top dough with homemade pizza sauce (in 2 T of olive oil sauté 3 smashed garlic cloves, a bunch of fresh basil and then add 1-28 oz. can tomato sauce, 1 teaspoon salt and simmer for 20 minutes. Remove garlic cloves and basil and add more olive oil to taste).
photo > foodiecrush
Then add on plenty of super-fresh, gorgeous toppings and create combos that are often found only in gourmet pizzerias. And DO NOT forget the fresh mozzarella and basil.
photo > foodiecrush
To finish, top with crushed red pepper, torn basil leaves, sea salt and another round of olive oil for a little dash of summer love.
And of course there are far more recipes begging to be taken advantage of on the grill. Here are three from appetizer to dessert that you MUST try this summer. I know I will.
photo > Scandi Foodie
The vibrancy of Maria's photo initially stopped me in my tracks, but it was the simple recipe for Scandi Foodie's Grilled Peaches and Haloumi Salad—a grilled combo of succulent grilled peaches and firm haloumi—that put it to the top of my recipe to-do list.
photo > Week of Menus
Both sweet and savory, crispy and soft, Joanne took a break from a family vacation, and the heat, for some much needed alone time at the grill to create Week of Menus Crostini with Figs, Brie and Prosciutto, a rustic and decadent mix of summertime flavors.
photo > Sunday Morning Banana Pancakes
I'm with Heather and share her love for a crispy topping on any 'crisp' dessert. Sunday Morning Banana Pancakes Cherry Berry Crisp is the perfect excuse to ditch the diet and splurge with a scoop of ice cream. Warning: use a grill-safe vessel for cooking or you'll end up with a cracked crisp.
And don't forget to send us your favorite holiday cookie recipe to be considered in our 50 Best Holiday Cookie Recipes feature in FoodieCrush magazine, edited by Maria Lichty of Two Peas and Their Pod. Submission deadline is September 1, 2011.
Thanks for reading. If you liked this post, please subscribe to foodiecrush and follow me on twitterand Facebook and Pinterest